3 Financial Pitfalls Every Manufacturer Should Avoid
The manufacturing industry is largely comprised of small businesses. In fact, according to the latest information from the U.S. Census Bureau, more than 98 percent of manufacturing companies in the U.S. are considered to be small (with fewer than 500 employees). Further still, nearly 75 percent of manufacturing companies actually have fewer than 20 employees.
Within these smaller organizations, financial decisions always loom incredibly large. Every dollar counts, and one misstep can have disastrous consequences. That's why it's important to steer clear of these common pitfalls.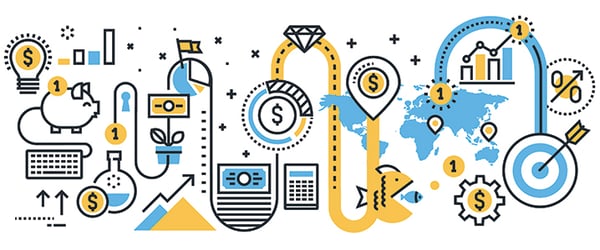 1. Negotiating Weak Contracts
No matter how tedious it can be to negotiate contracts, doing so is necessary for your business. A strong contract serves as a legal record that holds all parties accountable to the agreed upon deal and limits your exposure to risk and less than desired outcomes. That said, a weak contract could put you in just as precarious a position as having no contract at all. Besides the normal specifications often outlined in RFQs and other preliminary records, contracts should offer one critical piece of information — a contingency plan.
Because unpredictable circumstances happen to even the best manufacturers, having a contingency plan in your contract is essential. What happens if you cannot make quota? What is the payment plan? What is the supply order flexibility? Where is inventory being stored, and how secure is it? Customers can have a load of questions, and you should have honest answers for all of them. This is for their protection just as much as your own. You don't want to give anyone a reason to not make a payment.
2. Extending Payment Terms
Sometimes your most loyal customers need a hand during a particularly rough patch they are experiencing with their business. During these times, you may consider extending the terms of payment despite not knowing what the repercussions will be.
It may be the right thing to do, especially if you're close to the customer. However, it also puts your business in a risky position. All too often, after a payment period has been extended, shop owners begin to sweat when customers take advantage of the new arrangement. Don't get me wrong, it's not because the customers won't pay, but the job shop has expenses piling up with nothing to settle them with. Only a handful of manufacturers have been able to juggle all their expenses in these situations.
3. Overconfidence During Boom Times

When things are going well, it can be tempting to break the bank for a few items on your wish list. However, unless these purchases will directly improve your business, it's best to be cautious with your spending. After all, nobody ever suffered from having too much money in a savings account.
Besides, new equipment and systems can complicate operations and processes, while new untrained employees might hinder progress during production periods. All of a sudden, your boom time is now a struggle. That's not to say new equipment and employees aren't helpful, but just make to have a plan to seamlessly integrate new additions.
Avoiding Other Pitfalls
Financial mistakes aren't the only ones that can get manufacturing companies into trouble. Download our eBook to find out what other mistakes can doom job shops.
Did you find this useful?