Giving Thanks: B2B Customer Appreciation Tips For Manufacturers
You already know that your customers mean everything to your manufacturing business. Every once in a while, however, it's important to let those customers know it, too.
Why Does Customer Appreciation Matter?
You likely spend a lot of time, money, and energy bringing in new clients, but very few companies expend anywhere near that much to retain the customers they already have. In fact, just 43% percent of B2B firms consider customer satisfaction a key goal.
This oversight can prove incredibly costly. On average, a mid-sized B2B company receives 30% of its revenue from existing customers, but B2B companies lose around 24% of their clients every year. Reducing this churn by as little as 5% can increase your profitability by 20% to 125%.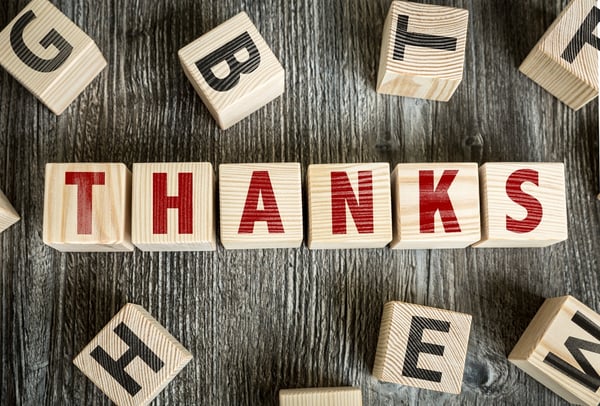 Customer Appreciation Tactics
Clearly, an emphasis on customer retention can make a big impact on your bottom line. With that in mind, here are a few small — and simple — steps you can take to step up your customer appreciation efforts.
Spend Quality Time Together
Your customers know you are busy, so taking time out of your schedule is a great way to show them just how much they mean to you. You can get together for a meal, an event, or just a meeting in their office. Wherever you gather, take the time to listen to your customer, gauge their feedback, and communicate how much you care. This face-to-face time can be invaluable.
Send A Great Book
Is there a book that has inspired you, motivated you, or shaped the way you lead your business? Then share it with your customers! This can be a great way to give your clients insight into your values and company culture, while at the same time providing them with a memorable gift. Plus, every time they look at the book on their desk or share it with a friend, they'll be reminded of your company. Not bad.
Share The Love On Social
If your customers are active on social media, you should be an active part of their presence. Following their accounts, sharing their updates, and liking their content takes just a few minutes a day, but it shows them that you are invested in their success — not just in making money off of them.
Host An Event
What's better than making one customer happy? Making all of your customers happy. Hosting a customer appreciation event — like a cocktail hour or dinner — is a great way to bring your customers together and show your gratitude for all of them in one fell swoop. It also offers your customers a chance to network with one another and maybe even pick up new business opportunities for themselves, which is a great way to engender strong, long-lasting relationships.
Offer A Charity Donation Of Their Choice
Corporate Social Responsibility has become a bit of a buzzy term, but with good reason. Companies want to do business with other companies that are not only good for their bottom lines, but good for society as well. Do some homework to learn about the causes that matter to your clients, and then offer to make a donation to those charities on their behalf.
Get More Customers. Thank Us Later.
Retaining your existing clients is essential for any manufacturing company. But so is bringing in new customers, and that's where we can help. Every day, Thomas partners with manufacturers and industrial businesses to deliver comprehensive advertising and marketing services that are proven to help them connect with B2B buyers and grow their businesses. To learn more about how we can help you, get in touch today.
Did you find this useful?