Infographic: The Disconnect Over Financial Risk In The Supply Chain
Mitigating risk is among the most critical priorities for any procurement professional, and one of the ways they do that is by assessing a supplier's financial and operational stability during the supplier evaluation process.
In fact, THOMASNET.com, in partnership with Dun & Bradstreet, recently conducted a survey of more than 1,000 buyers and suppliers, and we found that 89% of buyers believe that a potential supplier's financial stability is important when evaluating potential partners.
Clearly, monitoring a supplier's credit profile is important to buyers. But are suppliers making sure their profiles are in order? Perhaps not, since just 40% of suppliers who took our survey stated that they knew the current status of their own company's credit profiles.
Check out our infographic to learn more about this disconnect and to see how, if you are a supplier, it may be costing you customers.
---
Share This Infographic
| | | | | |
| --- | --- | --- | --- | --- |
| LinkedIn | Facebook | Twitter | Google+ | Email |
---
Managing Risk In The Supply Chain Survey Results
To find out what role a supplier's business credit profile plays in the sourcing and selection process, THOMASNET.com polled 726 suppliers and 582 buyers. The results of the survey revealed a significant disconnect between the two sides of the supply chain.
The survey found that 63% of buyers in a decision-making position have eliminated a potential supplier from consideration due to a poor business credit profile. However, just 9% of suppliers believe a poor credit profile has ever kept them from winning business.
Other key findings include:
89% of buyers believe that a potential supplier's financial stability is very or somewhat important; but 40% of suppliers do not even know the current status of their company's business credit profile.
84% of buyers in decision-making roles assess a supplier's financial stability before narrowing their list of potential partners down to just one supplier.
47% of buyers have worked with a supplier that unexpectedly went out of business due to financial problems, but 82% of suppliers believe their company's credit profile needs no or little improvement.
New Supplier Evaluation & Risk Reports Make It Easy To Reduce Risks And Monitor Credit
THOMASNET.com has partnered with Dun & Bradstreet to make it easier for buyers to mitigate risk earlier in the supplier evaluation process and empower suppliers to take control over their credit profiles.
New Supplier Evaluation & Risk Reports, available exclusively on THOMASNET.com, combine detailed company capability information from THOMASNET.com and in-depth supplier risk data from Dun & Bradstreet. It's a powerful tool that buyers and suppliers can use to start better B2B relationships.
To learn more about the reports, click here.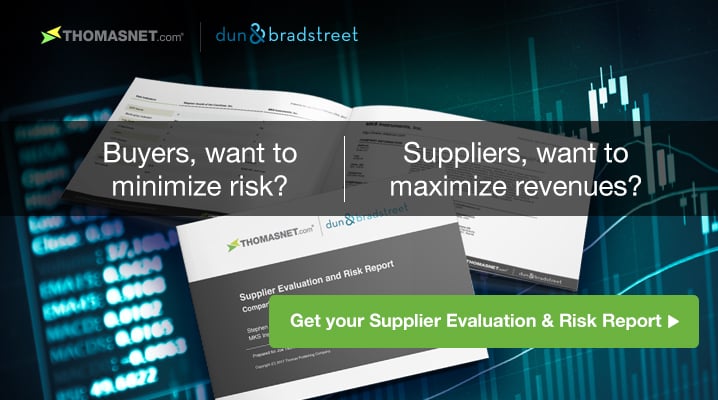 Did you find this useful?