Two Huge Resources for When You're Sourcing Something Completely New to You
Whether you're someone who only occasionally needs to source a new product, component or service, or you're an institutional buyer assigned to a completely new category, gaining the right knowledge fast is the key to sourcing success.
Through our new Thomas Insights offering, and our popular Custom Quotes® service, the Thomas Network at Thomasnet.com® delivers the information and support you need to help you find the right product and supplier, every time.
Let our insights inform your research and education process.
With the recent launch of the new Thomasnet.com 4.0, we introduced Thomas Insights: over 300,000 pages of industry-related information, including white papers, educational content, eBooks, product videos and new product announcements, as well as industry news and other actionable information to fuel your decision-making process. This is in addition to detailed information on more than 500,000 North American suppliers, over 6 million industrial products, and more than 10 million 2D and 3D CAD models from leading OEMs.

Check out our brief video on what's new with Thomasnet.com 4.0.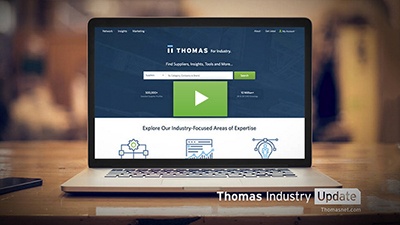 Take the guesswork out of custom manufacturing.
The Thomas Network at Thomasnet.com offers a one-of-a-kind solution for when you need to source custom manufacturing services. Custom Quotes® is a free service in which you tell us what you're looking for using an intuitive online form, and our experienced engineers will review your requirements and recommend up to 5 qualified job shops that fit the bill. There is simply no easier way to get expert, professional assistance in ensuring that the materials, processes and suppliers you choose are the ideal solution for your needs.
Get the most out of the Thomas Network at Thomasnet.com.
If you haven't already, sign up for a free user account at Thomasnet.com. Signing up enables you to unlock the full power of Thomasnet.com, giving you immediate access to 100 percent of the tools, information and resources available on the platform.

Did you find this useful?
Related posts