Proactive Prospect Targeting: You Don't Know When They'll Need You, But You Do Know Where They'll Be
Since its inception, the Thomas Index has analyzed our data from the Thomas Network at Thomasnet.com to bring you sourcing trends from the industrial space.
The active in-market buyers on our platform provide a vast amount of information every day. This real-time behavioral data allows us to identify trends in sourcing as they are happening.
Here is a quick overview of the topics we've covered:
July 7, 2017 – Reported a surge in "Steel" sourcing likely due to the fear of potential import rule changes and tariffs by the Trump administration. This was also very likely powered by Kobe Steel admitting to existing customers that they had falsified material data prior to this information becoming public.
July 26, 2017 – Recognized a strong and consistent increase in the sourcing for "Printed Circuit Boards" driven by both a scarcity of copper foil and the increased production of lithium ion batteries for electric vehicles.
August 10, 2017 – Tracked an increase in sourcing for "Private Labeling" that reflected a push of large brands adopting this approach.
September 11, 2017 – Detailed the lift in supplier evaluations for "Custom Injection Molding."
September 15, 2017 – Covered the impact of Hurricane Harvey on sourcing activities from one of the largest oil and gas regions in the world.
September 25, 2017 – Shared the growth of sourcing for "Automation Systems Integrators," as more businesses move toward the IoT and Industry 4.0.
October 2, 2017 – Explained the data from the Thomas Index with a look "behind the scenes."
October 9 2017 – Publicized the lift in sourcing for "Bearings."
October 18, 2017 – Exposed the sourcing opportunities for "Copper," "Aluminum," and "Steel" as a result of the falsifying of data by Kobe Steel.
October 30, 2017 – Highlighted the four week sourcing trend in "Electrical Supplies," "Glass Jars," "Plastic Compounding Services," and "Compression Springs."
November 6, 2017 – Identified the industries with the largest growth in sourcing "Metal Stamping" services year over year.
November 13, 2017 – Published the four week continuous increase in sourcing for "Abrasives," "Environmental Consulting Services," "Sensors," and "Plating."
November 20, 2017 – Predicted a spike in sourcing for "Additive Manufacturing" between December 2017 and January 2018.
December 4, 2017 – Explained increase in sourcing for "Transportation Brokers" by detailing how government regulation changes and economic projections will create both a scarcity and need in the market for this service.
We have shown through our data that every market goes through phases of both scarce and abundant opportunity. It's clear that businesses look for new suppliers for many different reasons. You don't always know when they'll need you, but you do know where they look first – the Thomas Network at Thomasnet.com.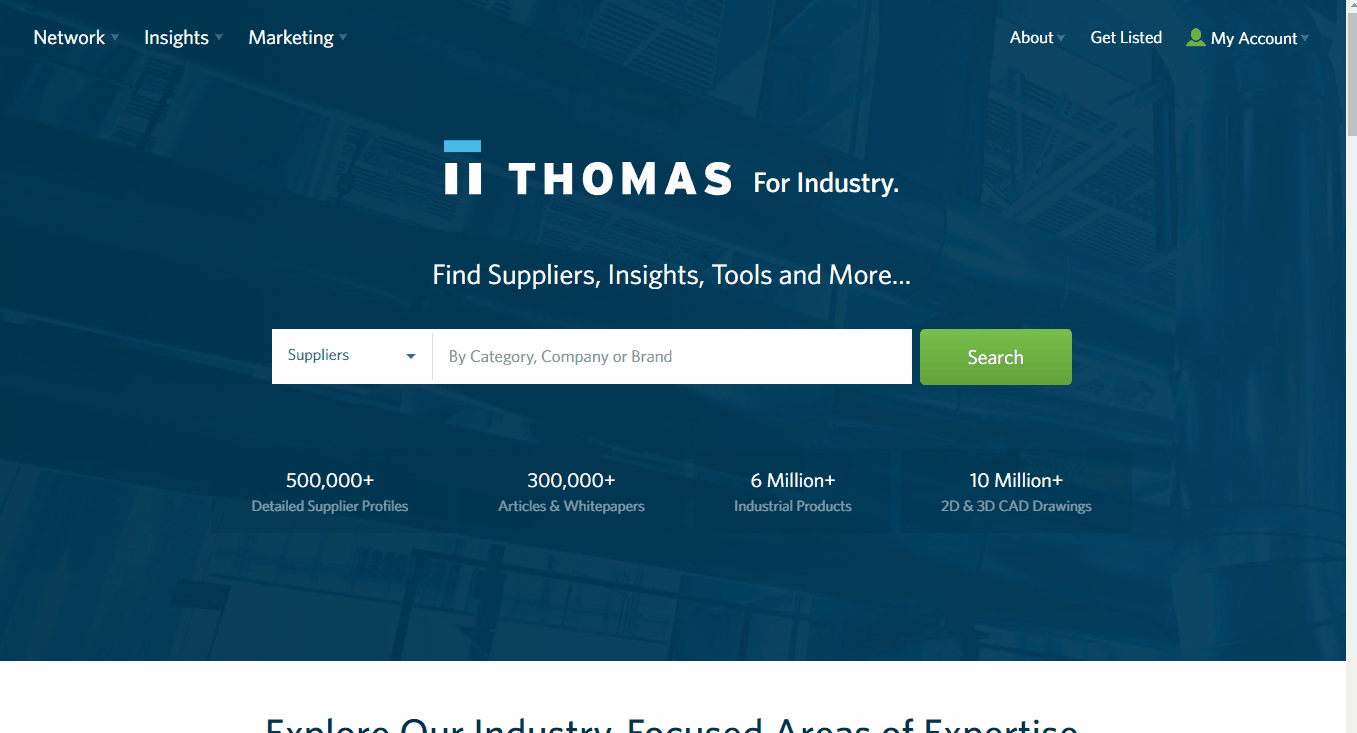 To grow your business, you need to be where your prospects turn to find suppliers. Position your business on the Thomasnet.com platform to reach in-market prospects. Our active registered user base of over 600K buyers and engineers evaluate a new potential supplier every two seconds. The industrial market is always on, and so is Thomasnet.com.
To see who is actively sourcing for your products and services right now, request your In-Market Buyer Report from Thomasnet.com. We look forward to partnering with you to grow your business!

Did you find this useful?