How Does Google's Latest Adwords Update Impact SEO and PPC?
By now you've likely heard about the changes Google is making to its search results page, and if not, here's your 15-second recap:
Up until recently, a standard search brought up a page of organic results with advertising slots on the top and side of the page. Now, they're removing sidebar ads in favor of product listings and adding more paid slots on the top and bottom.
While this sounds like a small tweak, it's actually a pretty big change for search engine marketing.
For starters, there's more opportunity for paid advertising, which impacts PPC strategy. We're predicting a number of positive and negative repercussions from this update. Obviously, with more advertising spots dominating the top of the results page and no sidebar buffer, more people are going to fight for the prominent positions.
While this change will likely cause an increase in cost-per-click due to competition, Google is adamant that there is no need to "overreact to this change and get your bids out of whack with where they should be." It is worth mentioning that all these changes are said to be a response to how users actually engage with Google's search experience — needless to say, they've collected a lot of data over time.
So it's obvious we will all need to keep a close eye on the reporting and bid increases for paid search strategies, but let's move on to discussing organic search engine optimization.
Let's take this search of "corrugated metal roofing" as an example.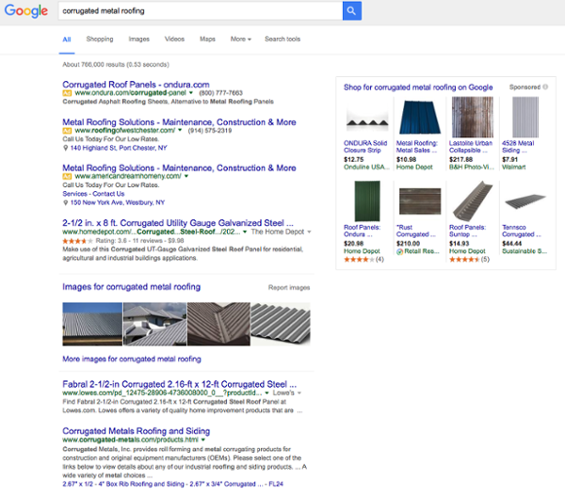 You can see the advertisements at the top and product listings on the side, and they're also incorporating images into the results in this case. So, say you've invested time, energy and a lot of content into ranking for this team, and you've finally made it to page one. See how far down a user has to scroll to bring up organic results?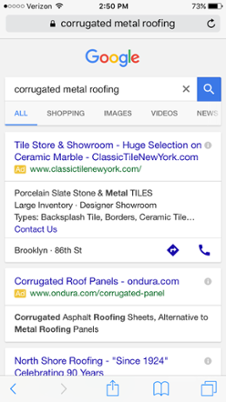 On a desktop, this isn't a worse case scenario, but look at mobile.
Think of how much scrolling it takes just to get to the organic search results…
There's a lot of traffic data that shows the percentages of the top organic positions and how much traffic each spot, one to 10 will likely get. Since organic listings are getting pushed down further due to PPC listings, that drops the traffic percentages even further and makes it that much more important to get to the top spots on page one of Google.
The more users have to scroll down the search results page, the less traffic you're going to get. It's just that simple.
I can't emphasize enough the importance of a strong search engine marketing strategy. Want to learn more? Contact us today.
Did you find this useful?