Top SEO Tips And Tricks For Increasing Web Traffic In 2015
Earlier this week we hosted a webinar detailing some quick tips and tricks to boost SEO rankings for industrial companies. By the end of the presentation, attendees had a list of 5 websites to get high quality backlinks from, along with detailed instructions on how best to navigate each site.
The websites themselves initially confused a number of attendees, since at first glance they seem exclusively like B2C networks. However, each of these free link-building opportunities can be useful in the industrial space, too. The websites discussed were Pinterest.com, Flickr.com, Delicious.com, Slideshare.net, and Vimeo.com.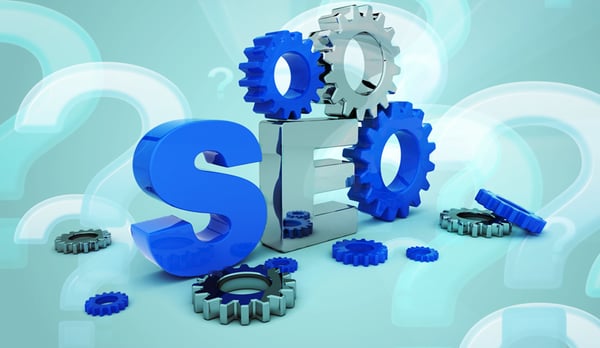 For a full breakdown of each site, the individual benefits, and how to get high-quality backlinks, feel free to download the on-demand presentation. In this particular post, however, we'll be answering some of the more popular questions that we received during and after the webinar.
Q: What does a site like Pinterest or Flickr have to do with manufacturing? Are these links relevant for an industrial website?

A: While these websites might seem like more consumer oriented platforms, they offer a number of opportunities in the industrial space. First of all, they provide valuable backlinks (for free!). Just by creating a free profile and adding in your company's URL, you're beginning to optimize your presence online. As you continue to fill out more information, you have further opportunities to use industry-specific keywords that you're aiming to rank for. And as you start to use each of these networks and create posts, you're providing even more content that relates to your business and/or industry. Pinterest isn't all about dessert recipes and DIY projects, there are a number of manufacturing-related accounts already pinning updates. You can further add to the conversation.


Q: When creating an account on a social sharing platform, is it better to sign up as a person or as the company?

A: Either option will work, it just depends on how you want to control your brand. Many companies will use branded accounts with a logo as the profile image. Others will choose a persona (such as the company president or other employee) to post as. As long as the URLs are going back to the company website, either option will work. If you're hoping to gain more of a following on these networks, however, you might have better luck signing up as a person instead of the company. Most people prefer to interact with other people, so you'll likely see more engagement that way. At the end of the day, it's all a matter of preference.

Another attendee asked a related question – what happens if you are using a person to create profiles and they leave the company? For this reason, we recommend creating profiles using key leadership, such as the president or a high-level director at the company. They don't have to be the ones posting the updates, but as long as the login information is available and able to be passed on to another employee, the account can continue as usual despite any turnover. You may just want to change the login information after the previous account manager leaves, to keep everything secure.


Q: Can you re-post the same videos you already have on YouTube, or do they have to be different on each site?

A: Unlike most other forms of content where you could be penalized for using duplicate content, Google is unable to "read" videos. So you can (and should) post the same video across every network. Just be sure to use different titles, descriptions, and tags when uploading them. One easy way to do this is to try to incorporate different types of keywords for each network. So on Flickr.com, you might consider using terms that relate to your location (ex. Metal Stamping in Southern California), whereas on Vimeo.com, you may want to try other types of keywords you're hoping to rank for (ex. Women Owned Metal Stamping Company). There are numerous opportunities here, just be sure the keywords are incorporated naturally into the text, and stick with just a few main ones on each network.


Q. How can you see which backlinks your competitors have gotten?

A: Using a tool like ahrefs.com allows you to enter a URL and get access to that website's rankings and linking information. You'll be able to see how many backlinks they have, and which websites they're getting backlinks from. You can then use this information as a "cheat sheet" to build up your own list of sites to get backlinks from.

And if you want to go after a backlink from a site, but you don't see that site on your competitor's list, don't worry. You can still try to get the link, and you actually might be in a better position since your competitors might not have even considered using that website. It just gives you another opportunity to rank ahead of them.


Q: If you are already using Facebook and Twitter and have posts there, can you add links to your new sites in older posts?

A: While it is recommended to cross promote content across your social media channels, there are some limitations. On Twitter, for example, you cannot edit previous tweets. You can only create new posts that link to your other content. On Facebook, you can edit past posts, but if you're adding a link to a post from 3 years ago, there's a good chance nobody's going to see it anyway. So, you might as well create some fresh posts that link back to your content on other networks. You should also fill out your profiles to include links to your other networks, so that if people are visiting your Facebook page, they'll have easy access to click through to your Pinterest page, or whatever other online properties you have.


As you begin to navigate more social sharing sites for backlinks, you should see numerous opportunities for self-promotion. The more actively you engage on these platforms, the more people will be exposed to your content (and links!). So while you may start out setting up accounts strictly for backlinks, don't forget the strengths of each network. Social media and SEO work best together as a unit, rather than separately in a vacuum. In the end, all of your efforts should be funneling into one central digital marketing strategy.
Want a more detailed explanation of the SEO strategies discussed in this post? Talk to one of our experts.
Did you find this useful?