What Voice Search Optimization Means For Your Industrial Marketing
An increasing number of people are talking instead of typing their searches. In 2016, Google CEO Sundar Pichai announced that 20% of mobile queries are voice searches. Google's voice recognition technology is now 95% accurate, and there are more than 33 million devices in circulation that can process spoken commands.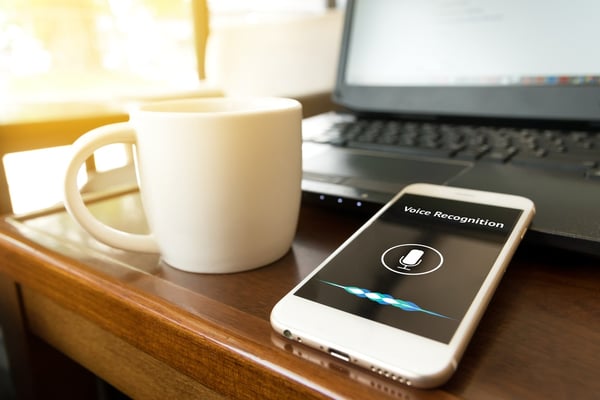 This trend has presented marketers and SEO specialists with a new challenge: optimizing content for voice search. The process can diverge from text-based optimization practices because speech often involves different structure, phrasing and context. Voice keywords are usually longer and sometimes more difficult to analyze.
For industrial marketers the advent of voice search could change how their potential customers look for parts and services. Imagine a procurement manager who holds up his phone and shouts out a keyword like this (formatted the way a search engine would process it): "ok google search for aluminum suppliers." Or maybe it would be "Alexa show me CPVC pipe manufacturers."
Below are some real keywords that illustrate how people in the manufacturing and industrial world are voice searching. In this example they are attempting to find solutions for sound and noise-related problems.
Ok Google show me a product for stopping noise
Ok Google give me install instructions on ibn f10 noise filter
Ok Google looking for legalities of noise in business
Ok Google i'm looking for soundproof panels
Alexa show me how to soundproof a room
Here are two about finding companies that provide craning and relevant equipment:
Ok Google crane companies
Ok Google crane companies new london county connecticut
Alexa show me an overhead crane
Some of the queries are structured exactly like standard typed searches, while others are more conversational. Manufacturing companies will need to account for both styles to fully succeed in optimizing their content for search engines.
If you are interested in investing your time and money in optimizing your digital assets for voice search and voice-first devices, use these quick tips to get started.
Consider Adding Schema Markup To Your Site
In the context of the web, a schema is the structure of a database. It organizes data based on certain qualities and sources.
Every major search engine company in America collaborated to create Schema markup, a tool that helps people have an easier time with certain elements of SEO. You can add the feature to the HTML on your site.
Conduct An SEO Audit of Everything You Have
Evaluate the following aspects of your website and online presence in the context of voice search optimization. Check to see what is running well and what needs improvement.
Page speed
Mobile compliance
Use of natural language
Reviews
Site hierarchy
Images with alt text
Site navigation
Focus on Featured Snippets
The first organic search result on an engine is actually not the highest ranking you can obtain. On many search engine result pages [SERPs] there are these boxes that contain bits of information Google has scanned from another search result and chosen to highlight. Some marketers call them "position 0."
These sections of search result pages are called featured snippets, and they are the most valuable SEO real estate you can claim. Planting your flag in one will increase chances of appearing in relevant voice searches.
Emphasize Questions
Questions are more common on voice search, and they often make perfect titles and keywords for pages and blog posts. Try to be the person who is asking the same question and has the best answer.
Don't Be Late To The Party
In his latest book, marketing entrepreneur Gary Vaynerchuck said marketers need to learn about voice search "fast and early." Arriving before your competitors will allow you to attract leads that will eventually become more difficult to acquire. This strategy could make you — after Google and Alexa — the next person customers talk to.
While the rules of voice search optimization are still being written, it's important to make sure potential buyers can find you wherever — and however — they are searching. For help building an all-encompassing SEO strategy, speak to our team of industrial marketing experts.
Did you find this useful?