7 Ways to Make Your LinkedIn Profile Work for You
You know that you should be on LinkedIn, but you're not entirely sure why. You're not actively looking for a job (hopefully), so why bother creating a profile on this professional network? It's a sentiment shared by many people in the industrial space.
Ultimately, the goal is to expand your network to boost exposure for your brand. The more connected you are online, the more opportunities you have to promote your company.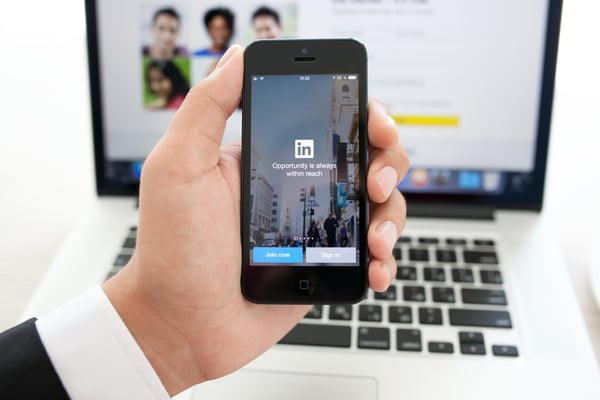 But having a profile isn't enough. You have to know how to optimize your LinkedIn profile to its fullest potential. Here we've outline some basic steps that will help you (and your manufacturing business) get found in search results.
1. Smile for the Camera
People like putting a face to a name, and beyond that, many names have more than one face attached to them. Fortunately for me, as of this writing I'm the only Rebecca Benison on LinkedIn. However, if a potential connection spelled my name wrong and forgot the "i" in my last name, suddenly 135 results appear! Even narrowing it down by location, there are still two possible Rebecca Bensons in the New York City area. If none of us had pictures, it would be that much more difficult to distinguish who the correct Rebecca is. Make it simple by including a clear, professional picture.
2. Document The Details
Your profile has a number of sections where you can fill out everything about your professional background. Use these to your greatest advantage by including as much detail as possible. In the Headline section, think of a brief way to describe your current position (job title and company work well here). Include your geographic location, as this can further help people find you if there are multiple profiles with the same name as yours.
You'll also see that you can add a Summary that highlights relevant skills and how they apply to your primary job function. You can get a bit more creative here since this is a more informal description of what you do. When you get to the Experience section, this is where you should treat it more like a resume or CV by outlining your full responsibilities and results. You'll also be able to add media in this section, including links to articles or blogs you've written, photos and/or videos of you speaking at an industry event, and more. This further helps establish you as a leader in your field, so feel free to add whatever materials you feel are relevant for each position.
3. Get Linked (To Your Company)
As you fill out the companies you've worked for in the Experience section, make sure you're linking to those companies' LinkedIn pages when possible. Once you start typing, you should see the pages pop up as an auto-fill option for you to select. Doing so will allow visitors to your profile to click the link back to the company pages, increasing exposure.
4. Build Connections
We could go on about filling out your LinkedIn profile for days. There are so many sections you can add that will enhance your presence and better tell your story. As you make your way through, remember to look for and connect with other individuals. You can search for people you went to school with, past and current co-workers, and people you may have met previously at in-person networking events. The more people you connect with, the more visibility your company can receive on this platform. But don't make a habit of requesting to connect with strangers unless you can provide a good reason for doing so. If you find a procurement manager at a company you'd like to work with, feel free to reach out and explain the nature of the connection. You don't have to connect with thousands of other users to have the greatest impact, you just have to think of the strategy behind your connections.
5. Join Groups
LinkedIn groups are a great way to find and connect with likeminded individuals. They are also a great way to share information about your company. Find groups that are related to your industry and would likely be interested in business updates. When you post links to press releases, blog posts, or other promotional materials, make sure that you label the post as a Promotion. You can also post General updates, which can be interesting articles from trade publications, and Job posts if you're hiring. Also feel free to contribute to other people's discussions if you find them relevant. Aside from industry groups, you may also want to get involved with alumni groups, associations, regional networking groups, and others.
6. Like Company Pages
As you fill out your profile and get started on this network, start looking for company pages to Like (starting with your own). Once you Like a page, you'll start seeing its Company Updates appear in your newsfeed. As these updates appear, you can Like, Comment on, or Share them. Any time you take one of these actions, your network will be exposed to that post, and therefore to the Company Page as well. So if you've built up a network of 200 connections, that's 200 more people that will now be able to see this post even if they are not directly following the company. We've seen companies with less than 50 followers suddenly get hundreds of views on a post because one or two people simply hit "Like." This is why it's so important for you, and everyone else at the company, to create an optimized LinkedIn profile to promote the business with.
7. Get Active
After some initial set up and navigation, you'll find that LinkedIn is pretty similar to other social networks in that you can regularly share updates with your connections. Feel free to post and share company news, as well as any other updates you find insightful. Just remember that this is a professional network, so keep the backyard barbeque photos and personal opinions either on Facebook or at home.
Now that you know how to create an engaging and effective LinkedIn profile, the next step is to get started! If you already have a bare-bones profile set up, log in and start filling it out. If you've never gotten around to checking out this network, now's the perfect time to take a tour. Once you get settled, you'll find that there are even more ways for you to maximize your LinkedIn exposure. Just take it one step at a time and you'll soon be on your way to success.
Did you find this useful?