Social Media Definitions For Manufacturers
For today's industrial marketers, content is critical — but it's not enough to simply publish a blog post. Once a piece is written, you need to help it reach as many people as possible. One of the easiest and most effective ways to amplify distribution is through your company's social media channels.
Whether you've already hammered out a sophisticated social strategy or you're just getting started, this glossary of social media terms will provide the keys to optimizing these channels.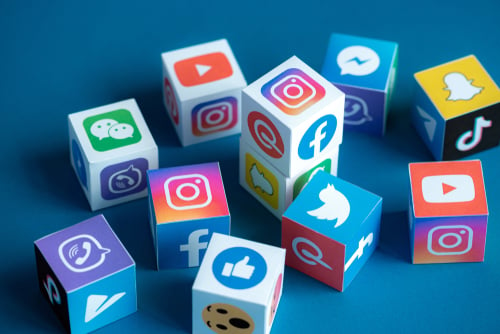 A
@ (at symbol): This symbol is used across many social platforms at the beginning of an account name, also known as a username or social media "handle." You can "tag" someone's account by putting this symbol in front of the handle to alert them of your post.
Analytics: Metrics that indicate performance of a post or profile. Common social media analytics include number of followers, impressions, likes, shares, mentions, comments, link clicks, and profile visits.
A/B testing: Also known as split testing,

A/B testing

is a common marketing tactic used to measure the impact of making small variations to campaigns and materials by testing two versions simultaneously. With social media, you can A/B test things like post text, images, emojis, length, and style to see how your audience responds.
Algorithm: Most social platforms use an algorithm, or a set of rules, to sort and surface the most relevant content — rather than the most recent — to the top of a user's feed. Algorithm changes are controversial because they have an immediate impact on post reach, and can force unexpected pivots in social strategy.
B
Boosted post: "Boosting" a Facebook post is a simple way to reach a broader audience outside of your organic followers. When you click to boost a post, you can select a target audience, budget, and duration for Facebook to then push to get you more impressions.
Brand advocate: A person or customer who enjoys a product or service so much that they speak favorably of it via social media, blogs, in person, or through other forms of communication to pass along word of mouth recommendations.
C
Canva: A simplified graphic design tool that allows non-designers to use drag-and-drop features to easily create graphics for web and print media.
Comments: Adapted as a digital "letters to the editor" feature, comments sections invite the audience to provide feedback in response to published content.
Click bait: Content, primarily article headlines or social media copy, that is designed to grab people's attention and entice them to click on a link. Click bait is criticized as being sensational, misleading, and spammy because its primary goal is often to inflate pageview statistics for advertising purposes.
Chatbot: A piece of software that uses artificial intelligence to conduct a conversation. In social media, chatbots can help increase engagement by automating replies and answering common customer queries. Since 2016, Facebook has allowed third parties to leverage Facebook Messenger to create their own chatbots.
Crowdsourcing: Obtaining information by "asking the audience" or soliciting feedback from a broader group such as posting a request for recommendations on Facebook
Connections: Another word for someone within your online network such as a Facebook friend or Twitter follower.
D
Direct message (DM): A private message sent through social media that is visible only to the sender and recipient.
Display advertisement: One of the most popular forms of digital advertising with placements on the top, middle, and sides of nearly every website.
E
Emoji: A digital icon of a face, object, or symbol used in text fields to represent emotion.
Engagement: The different interactions of people on social media, which vary by platform but can include follows, likes, comments, reposts and retweets, mentions, and shares.
F
Facebook: The world's largest social network, with more than 2 billion monthly active users. For social media marketing purposes, the platform has built a massive advertising network for targeted audiences and "look alike" audiences.
Fans: Users who have liked a particular Facebook page, such as a small business or corporate account.
Followers: The number of accounts that have "followed" or opted into receiving your posts on their social media feeds.
Followers-to-following ratio: The amount of followers someone has divided by the amount of people they're following. This metric can be used as a basic indicator of the quality of an account. For example, someone with a low followers-to-following ratio may simply follow accounts as a method to gain more followers, rather than posting relevant content.
Filters: Tools that allow people to alter photos and videos with augmented reality and other effects.
G
Geotagging: Adding geographical data to the metadata of images, videos, and other social media posts to provide followers more information about the location.
GIF: Short for Graphics Interchange Format, a GIF is a short clip of a moving image (usually about 2-5 seconds in length). Now the second most popular form of image file on the internet after JPEG, GIFs can be custom-made or cut from longer existing files such as movies, television shows, and other pop culture materials.
Google Analytics: A free suite of tools that shows users real-time traffic to their websites as well as detailed insights and reporting features.
H
Hashtag: Originated on Twitter and subsequently adapted to other social platforms, hashtags are words or phrases preceded by the hash symbol (#) to identify or "tag" posts with a specific topic.
Handle: Another word for a social media account or username.
Header image: The large lead image on a user's social media profile.
I
Instagram: A photo- and video-sharing social networking platform designed to be mobile-first. Instagram was launched in 2010 and purchased by Facebook in 2012.
Impressions: The overall number of times a post was seen by a user, whether or not an action was taken.

Inbound marketing

: Rather than buying email lists or cold calling, this marketing approach focuses on creating educational content to entice people to visit your website and learn more about your services on their own.
L
LinkedIn: A social networking platform for professionals, primarily used for networking, recruiting, job-hunting, and thought leadership.
Like: A feature to show support or agreement for a social media post.
Listicle: An informal term for an article that is either fully or partly comprised of a list. The list can include facts, quotes, images, or other examples surrounding a single theme. This content style was originally popularized by Buzzfeed and has since become an internet staple for its easily digestible format and shareability on social media.
M
@Manufascinating: A popular Instagram account that showcases "oddly satisfying manufacturing videos." Manufacturers can tag their videos with #manufascinating to be featured on the account.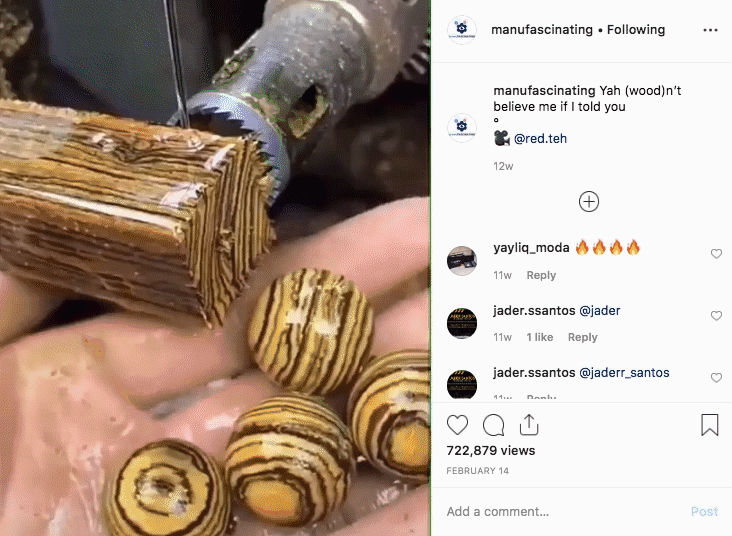 Meme: One of the most popular types of content to "go viral," a meme is a piece of text, image, or video, usually intended to be funny, that is shared widely across the internet, often with users adding their own small variations to the format.
Mention: A metric for social listening to track how many times your brand was name-dropped on social media.
Marketing automation: Tools such as

HubSpot

that streamline and automate workflows, manage multifaceted cross-channel campaigns, and provide reporting metrics to optimize performance.
N
Native advertising: Media designed to look like a publication's original editorial content but that is actually paid for by an advertiser to promote their product or service.
Newsfeed: A list of updates on the homepage of a social media site.
Newsjacking: Aligning marketing or sales activities to a breaking news event or popular story to capitalize on public interest for business benefit.
O
Organic reach: The number of people who have seen your posts "organically" without any paid or promoted distribution.
P
PPC:

Pay-per-click advertising

, also known as paid search advertising, in which sponsored ads appear alongside organic search engine results. Advertisers select keywords for which they want to display ads and then pay any time someone clicks on one of them.
Personas: One of the most essential parts of inbound marketing,

buyer personas

are semi-fictional, research-based profiles of your ideal customer. Designing content around specific buyer personas will help ensure you get your business in front of the right people at the right time.
Pinterest: A social network that allows users to share and discover interests by "pinning" images and videos to a virtual board.
Podcast: A series of spoken audio episodes revolving around a specific theme, such as manufacturing.
Q
Quora: A question-and-answer website where users can solicit facts or crowdsource opinions from other members of the online community.
R
Reddit: A social news aggregation, content rating, and discussion website where users can share, vote, and comment on posts.
---
---
Reply: A direct response to someone's social media post.
Retargeting: A popular form of online advertising where brands track the actions users have taken on their websites in order to later display ads to them when they visit other sites.
Retweet: On Twitter, a retweet is a re-share or forward of someone else's tweet so that it becomes visible to retweeter's followers, thereby extending the reach of the original post.
S
Share: Publishing text, photos, links, or other content online for your connections to see.
Subscribe: Opting into receiving notifications about a connection's updates.
Social selling: A primarily B2B sales tactic of using social networks to develop relationships and share thought leadership as part of the sales process.
Sponsored post: Organic content that a person or company has posted on their social media profile and then paid to promote to a broader audience.
SEO: Search engine optimization, or the practice of making enhancements to your content for the purpose of increasing visibility in search engine results, and thereby boosting traffic to your website.

SEO tactics

are designed to appeal to the algorithms that search engines like Google and Bing employ to rank keyword search results.
T
Twitter: An online news and social networking platform known for its short-form microblogging style, where users are limited to 280 characters per post or "tweet." Twitter's easily scannable format makes it a popular platform for breaking news and real-time event coverage.
Tag: A feature that allows users to engage with a person or brand by mentioning or "tagging" an account with the "@" symbol in their posts.
Target audience: Your intended readership for social media posts and advertisements. Nearly all major social platforms allow you to customize your target audience — by selecting preferences for age, location, job title, etc — to ensure your content displays to the desired group of recipients.
Thumbnails: An image with a reduced file size intended for sharing on social media. The standard dimensions for Twitter, Facebook, and LinkedIn thumbnails are 2:1. Instagram posts originated as 1:1 squares but can now vary in size and dimensions.
Trending: Coined by Twitter, "trending topics" refer to the most used keywords on a social network over a certain period of time. Most social networks aggregate trending topics to catch you up on what everyone has been talking about as soon as you log on.
Troll: On the internet, a troll is someone who intentionally posts unsolicited, controversial, and upsetting comments for the sake of starting arguments, provoking conflict, or distracting from the original discussion.
U
User-generated content: As opposed to branded content, user-generated content (UGC) refers to original media such as videos, images, text, and audio created by unpaid contributors. UGC is generally seen as more authentic and trustworthy than content brands have paid influencers to promote.
Learn More: 8 Manufacturing Content Marketing Ideas (With Examples!)
V
Vlog: Short for "video blog" or "video log," a vlog is a popular form of video streaming content. Vlogs can be personal, informative, or revolve around a specific topic, with vloggers maintaining full creative control. Thanks to YouTube, the vlogging community has grown exponentially, with many creators developing huge followings for their channels.
Viral: In the age of social media, "viral" has taken on a new meaning. "Going viral" refers to when someone — a text post, photo, video, or other piece of information — is quickly circulated widely across the internet.
Videos: One of the most engaging pieces of content for social sharing, videos are live or animated recordings of moving visual images.
W
Webinar: An online meeting or presentation held in real time or viewed on-demand. They are often interactive and allow participants from all over the world to submit questions, take polls, and have a live discussion throughout the presentation.
**Did you know that Thomas hosts webinars, and live events? Join us at a Together for Industry event near you.
Y
YouTube: An American video-sharing website owned by Google that allows users to upload, view, share, like, rate, and comment on videos. Popular content includes both user-generated and corporate media videos including video blogs, television clips, music videos, movie trailers, live streams, and audio recordings.
Learn More About Social Media Marketing
With ever-changing algorithms and shifting consumer preferences, there's always more to learn about social media marketing. This glossary will help set the guideposts for your strategy — but don't hesitate to refer back to it anytime you need a refresher!
Ready to put your marketing skills to action? Download our eBook, "How Inbound Marketing Drives Growth" and learn how to integrate social media with your other marketing strategies.
Did you find this useful?