11 Top Content Marketing Ideas For Manufacturers (For Each Stage Of The Buying Process)
So you've realized that your traditional growth tactics just weren't working, and you're ready to get your inbound marketing strategy off the ground. Great! To refresh, inbound marketing focuses on creating educational content that pulls people toward your industrial website.
So what do you need to drive qualified buyers to your website? Content! Let's go through some of the best content marketing ideas for manufacturers and industrial companies.
Skip to:
Stats In Manufacturing Content Marketing Today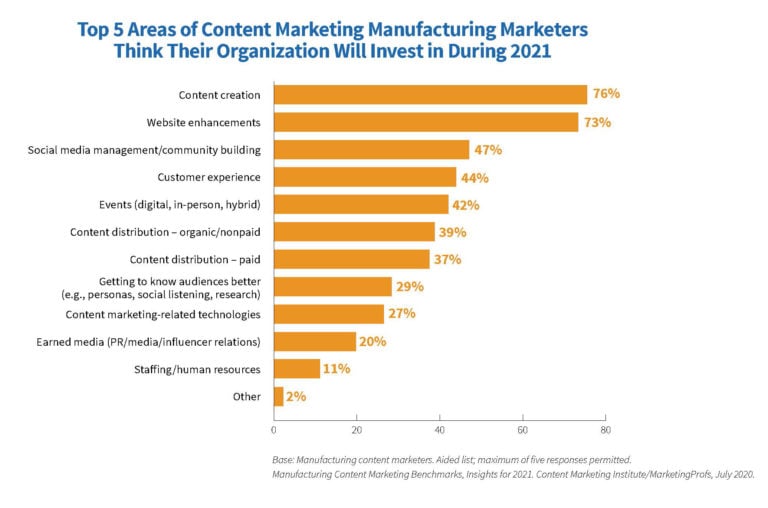 The challenges of 2020 have shifted manufacturers to adjust some of their marketing strategies and shift their trade show dollars into the online content creation and digital world. According to new research by Content Marketing Institute, 70% of manufacturers surveyed have changed their targeting/messaging strategy, 60% have adjusted their editorial calendar, and 57% have put more resources toward social media/online communities.
Content creation and website enhancement top the chart for areas of content marketing manufacturing marketers will invest in next year. It's no surprise manufacturing marketers are seeing positive results with their content marketing efforts. According to the report, 30% of manufacturing respondents report that their organization has been extremely/very successful, with another 61% indicating moderate success.
Create Marketing Content That Helps Buyers Do Their Jobs
"One of the underlying themes, as well as obligations, to market in our B2B ecosystem is to share our expertise," said Jason Kline, Director of Marketing at Consolidated Electronic Wire & Cable. He stressed the marketing strategy isn't just about branding at Consolidated, but rather engaging with customers and potential customers with a myriad of useful approaches to content. He is happy to have a powerful ally in that endeavor. "The industrial experts at Thomas help us to develop meaningful content that can aid folks through the buying process in our industry. Whether you're a first-year procurement manager or a twenty-five-year engineer, we've got direction to help you make educated decisions and that helps us grow our company."
Content marketing will remain an important tactic of a B2B digital marketing strategy but many marketers are challenged with keeping their audience's attention. One way to combat that challenge is to be familiar with the concept of funnels. There are traditional sales funnels, acquisition funnels, and funnel cakes (sorry, just wanted to see if you were paying attention).
Inbound marketing has a funnel of its own, and while it can vary due to factors such as pricing, your competitive landscape, and business model, it can generally be broken out into three distinct phases — education, evaluation and conversion.
These phases align with the way today's buyers make their purchase decisions: First, they research their challenges or explore an opportunity (education); then, they begin investigating different options (evaluation); and, finally, they choose a company to do business with (conversion). A fourth stage (delight) occurs after buyers make their purchases when it's time for you to keep them happy.
A comprehensive, successful inbound marketing program must include content that meets the needs of people at all three stages — helping buyers at the top of the funnel move to the middle, shift those in the middle to the bottom, and turn prospects at the bottom into customers.
Read More: How To Meet The Needs Of Your Buyers
With that in mind, here are some content marketing examples you can use to connect with potential buyers across all stages of the funnel.
Top Of Funnel Content Marketing Ideas
The top of the funnel is where you begin to establish a rapport with the visitors who have landed on your site, hopefully by way of organic SEO and smart PPC and SEM programs. They're likely searching for high-level information about specific products and services, need answers to questions, or want a possible fix to a problem that they're experiencing.
You want to provide helpful content to as many of these people as possible, enticing them to fill out a form (and become part of your contact list to nurture) as a result. Here are some content ideas to utilize:
1. Blog posts
Blog posts are the most common form of content marketing, but different posts can serve different purposes. For buyers at the top of the funnel, you want to provide educational content that distills complex concepts into useful insight. This post from The Rodon Group about the injection molding process is a great example, providing helpful, expert-level information in a very accessible way.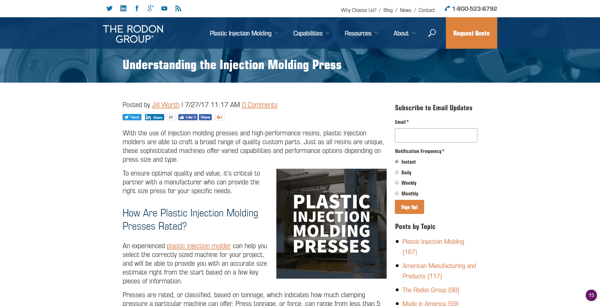 2. 101 eBooks
If you want to tackle a topic in more depth than a typical blog post can afford and capture visitor information in the process, an introductory eBook can be a great tool. Test Devices Inc., a rotational testing systems and services provider does this successfully with their Spin Testing For Manufacturing 101 eBook. They provide an in-depth but easy-to-understand look into the capabilities, processes, and benefits of spin testing that would help anyone investigating the topic.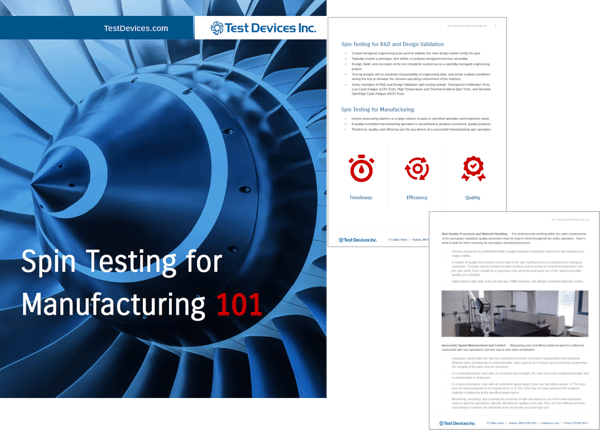 3. Industry Research
The products and services you offer aren't the only things that your potential customers are concerned with; they have other priorities and projects on their plates as well. Providing insight beyond your capabilities can position you as a really valuable partner — and industry reports are especially powerful in this regard.
The 2017 Automotive Manufacturing Report from CGR Products, a custom cutting and fabricating services provider, provides the industry insight that resonates with potential partners while steering clear of self-promotion. It's also packaged in a visually rich and engaging format, which makes it even better.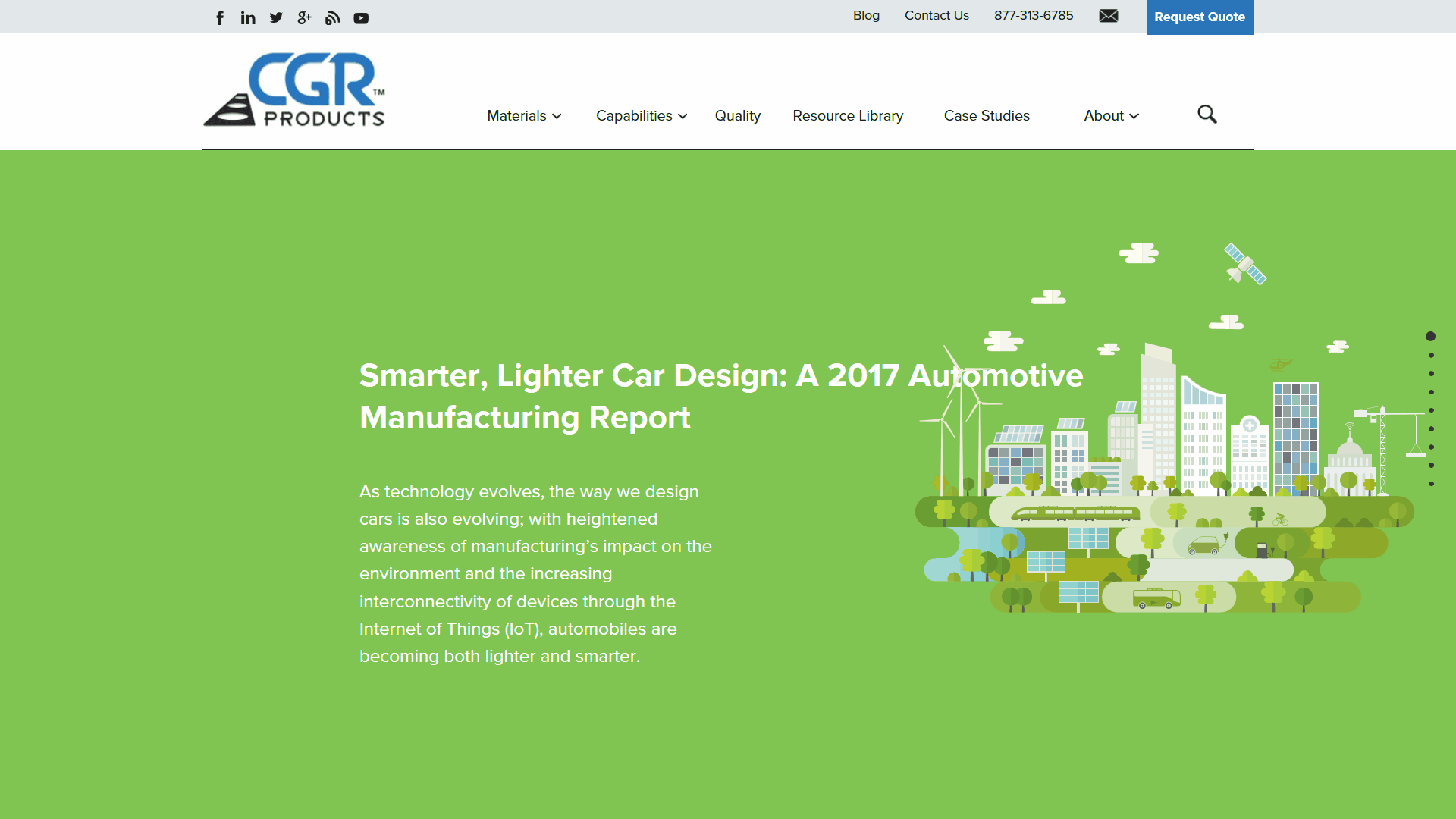 More Examples: 5 Interactive Graphic Examples For Manufacturers
4. Factory Tour Videos
For industrial manufacturers, giving prospects a tour of their factories or plants helps showcase their processes and capabilities and adds a human element to help build a connection. In fact, 92% of marketers who use video say it's an important part of their marketing strategy, up from 78% in 2015 — see more factory tour examples here for inspiration.
Don't forget to publish your factory tour video on your homepage and About Us page, and promote it on your Thomasnet.com company profile and social media networks to get the most views.
💡 Thomas Fact: Our platform is home to more than 1.3 million B2B buyers, engineers, and procurement managers sourcing for manufacturers and industrial suppliers. Advertise your business to qualified in-market buyers and decision-makers today.
"We are extremely pleased with the activity generated by our Thomasnet.com program. New RFQs come in so often we have trouble keeping up. Even more astonishing is the quality of the leads and the number of new customers we have converted into sales."
**When you purchase video advertising on Thomasnet.com, we include video content production for FREE for OEMs, Distributors, and Service Companies
5. Social Media Posts
Social media doesn't seem like the obvious choice to most manufacturers and industrial companies as a platform that helps engage B2B customers. It is an important rule of thumb because marketing involves being everywhere your buyers are. If you're just starting out on social media, it's important to understand that you might not see leads right away, because building your network takes time.
Be active on social media to help increase your brand and grow traffic to your website. Always include a link back to your website. Your content on social media should be informative and entertaining simultaneously — just make sure your messaging is consistent across all your posts. Don't post fun content one week, corporate messaging the next week, and sales content the following week.
In this Instagram example below, viewers can get easily entranced by how wooden parts are created. It's visually appealing, captures the user's emotions, and helps with branding — yet it's just a simple video played on loop.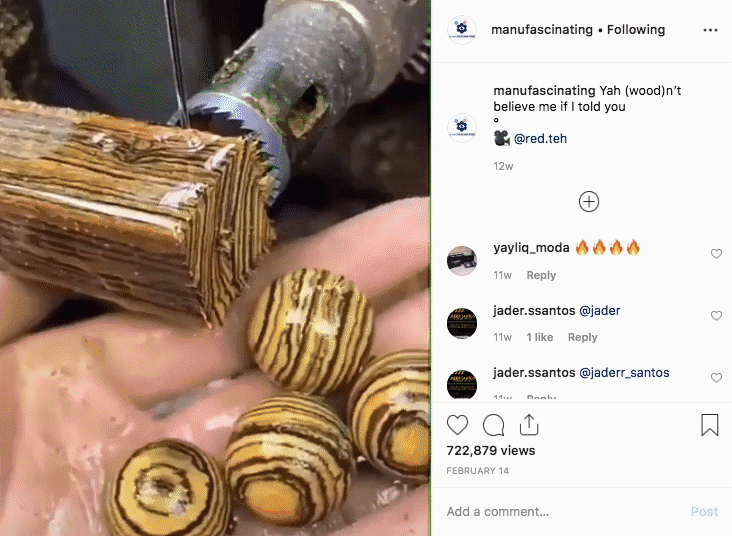 Each social media platform has its own purpose too. Buyers browsing on LinkedIn are not looking for the same content on their Instagram feed, so make sure you adjust your content accordingly. Understanding your buyer's behavior will help you create the content they're looking for.
Keep in mind, social media platforms are always revising their platforms — for better or worse. Thich means that a social media strategy you used last year might not be ineffective today. You'll need to stay up-to-date with the latest news for each platform and make changes to your strategy.
For more on the type of content that works best on each platform, visit the below resources:
Middle Of Funnel Content Marketing Ideas
While the top of the funnel is the widest (there are more people at the top of the funnel, after all), the middle of the funnel is often the deepest. That's because the evaluation phase typically takes the longest to progress through, especially for B2B buyers.
This is your chance to really build on your initial relationship, establish trust, and start to showcase what separates you from your competitors with a variety of content. Remember, however, that you don't want your content to read like advertisements — focus on providing helpful information.
6. Comparison Guides & Industry-Focused Content
Buyers have many different options, and they may not know which one is right for them. Help set the record straight with a comparison guide that spells out the pros and cons of different approaches.
Thread rolling manufacturer CJWinter dives into the differences between thread rolling and thread cutting in their guide. They explore each method's impact on costs, lead times and quality to help buyers choose the right tactic for their specific applications.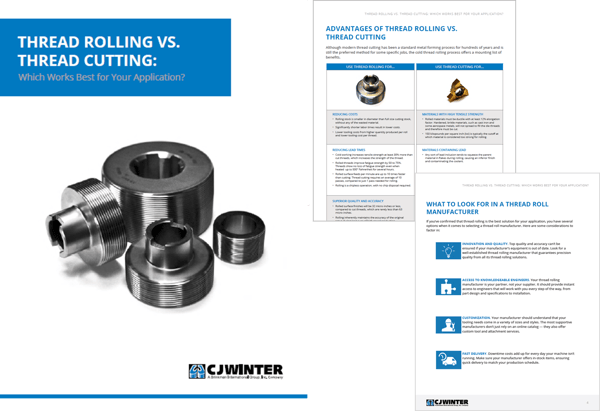 Alternatively, you can create industry-focused website pages that target the key markets you work in and those you continuously want to do business with. For example, buyers in the defense industry are concerned with counterfeit parts, inaccurate data, and incomplete quotes.
Big companies with complex supply chains care about many different things that go beyond what your online presence may list. Who you're currently working with can be a deal-breaker when reviewing new suppliers. Alleviate their concerns and ensure they're partnering with a quality supplier by publishing website pages labeled specifically for an industry (like aerospace and defense) that detail your product data, sizing dimensions, performance curves, etc.
Learn More: How Big Companies Choose New Suppliers
"Diversified content on our site has really helped us stand out as a leader in the industry," said Eoin Lynch, Executive Director of Sales and Marketing at Tex Tech Industries. "Some aerospace technology can be complex, but our graphics, data sheets, and videos from Thomas Marketing Services break it down for buyers to understand what they need and how we help them."
Tex Tech has an "Industries" tab in their navigation. They promote high-quality graphics and data to showcase their advanced technology products.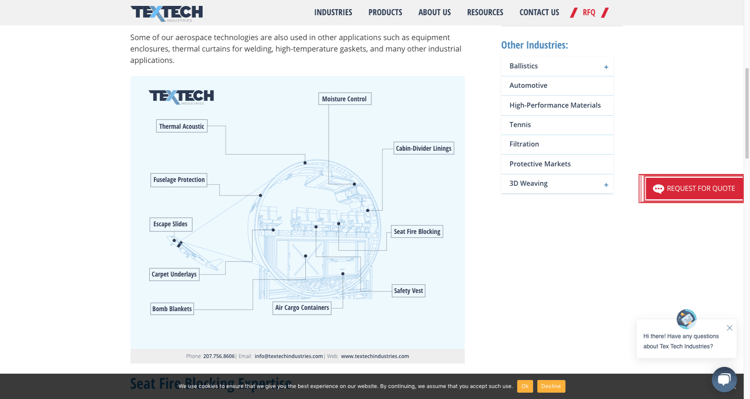 Unsure of the right type of content you need to target buyers in the industries you want to do business with? Request our free digital health check — we'll assess your website, compare it against a competitor, and let you know exactly what you need to engage with more customers online.
"We tried other people with our website and marketing but found their focus wasn't on manufacturing, and Thomas is. We get a lot of activity now and steady results weekly — a lot of inquiries thanks to Thomas and our online marketing efforts," Ron Delfini, President at Engineering Specialties, Inc.
7. Case Studies
One of the best ways to win new customers is to show how you've helped your existing ones. A robust case study library highlighting your track record of success can be tremendously helpful in this regard.
ESI, a custom metal stamping company, does a wonderful job with its case study library. Not only do they show their work, but they also point out the different industries and applications that they serve.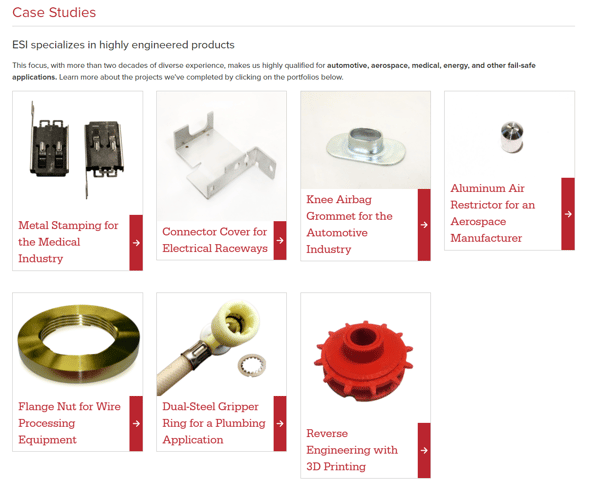 8. Buyer's Guides
As buyers edge closer to the bottom of the funnel, they start formalizing the process for selecting a supplier. Help them define and optimize this process and guide them in the right direction with a step-by-step buying guide.
For example, American Crane offers four buyer's guides to help prospective buyers of electric overhead cranes select the right equipment for them. These guides not only include information on different products, but also on best practices established by an industry trade group.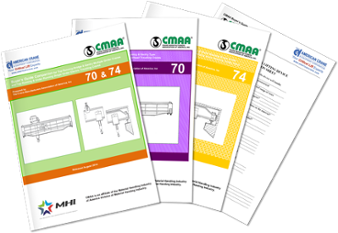 Bottom Of Funnel Content Marketing Ideas
This is it, it's your chance to close the deal and convert your leads into customers. It's OK to get a little more promotional, but still focus on the benefits you can provide to buyers.
9. Product Videos
Videos have become an increasingly critical component in the content marketing arsenal. They can increase your ROI, and in fact, now account for about 74% of all online traffic.
So it's no surprise why more manufacturers and industrial companies are using video marketing to increase their brand awareness and help put the human element back into marketing.
Videos make it easier for buyers to understand complicated industry topics and services. Companies like Paratherm use video to educate viewers on the details of their products. Hudson Technologies added a Tooling video to their Custom Tooling website page to supplement the written content marketing.
Additional Video Content Resouces:
10. Spec Sheets And Brochures
At this point, buyers want to know exactly what you're capable of. Specification sheets and brochures focused on your products and services are therefore critically important.
Mattei, a maker of compressors for commercial, industrial, OEM and transit applications, has detailed brochures and specification sheets for their different product lines, and it's all organized in an easy-to-access and easy-to-navigate portfolio on their website.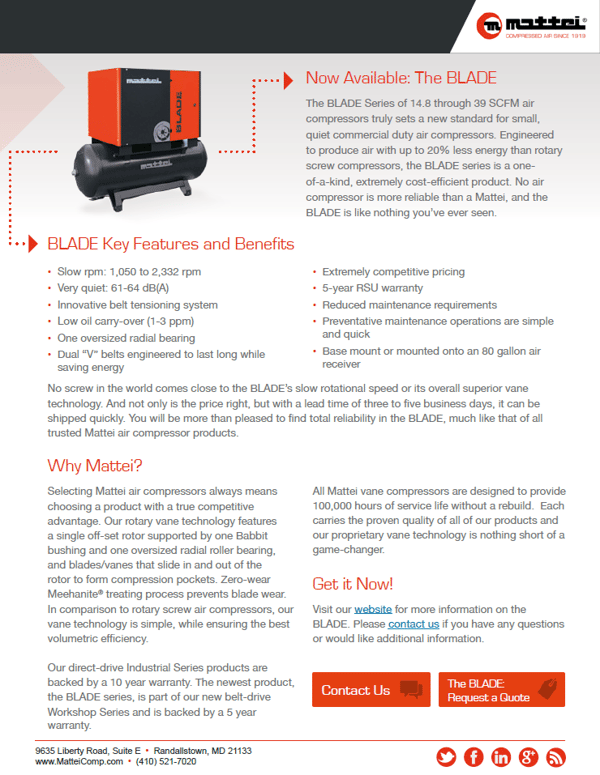 11. Custom Calculators
Compressed Air Systems, who is also a supplier in the compressed air space, has a similar layout on their website that helps visitors navigate the industrial products easier. They provide a custom calculator to help their engineers and B2B make better data-informed decisions — and as the buyer enters their data into the calculator, Compressed Air Systems sees that information on their end and becomes better equipped for customer support and sales conversations.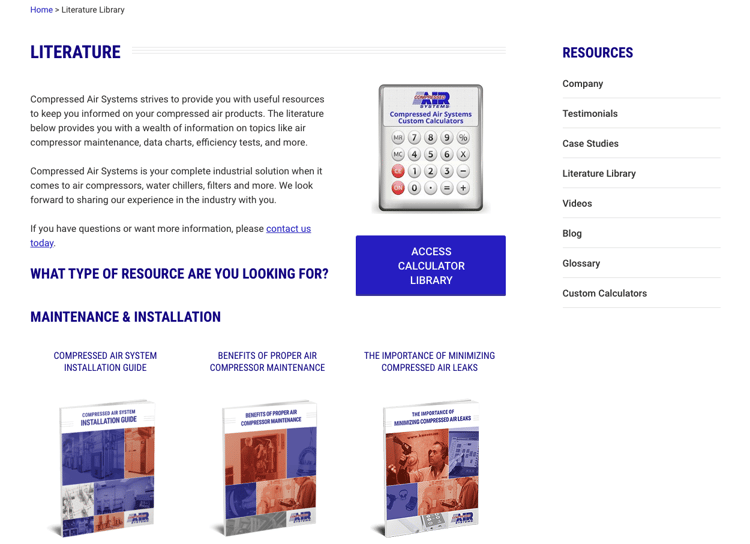 Read What's Next: Digital Marketing Ideas For Industrial Distributors
Bonus: Content Marketing That Showcases Manufacturing Innovation
We continuously hear about ways that industry 4.0 and smart manufacturing are changing how we manufacture goods and products. But what you may not know is how you can incorporate new technological innovations into your content marketing strategy. Innovating the way you manufacture will help you stand out from competitors, provide you a unique selling proposition and maximize output, but does all that matter if nobody knows about it?
You Might Be Interested In:
Incorporating a new machine to your shop floor is a great opportunity for a press release to reach new buyers and an email campaign announcing the latest advancements can be a great way to nurture existing prospects and customers. Perhaps your business has adapted to the world of smart manufacturing with different IIoT processes and technologies. Why not spread the word about this with an advertising campaign that promotes your company's goals to as a cutting-edge leader in your sector of industry?
Thomas offers advertising options in Thomas Industry Update, the industry's leading daily email newsletter that gets read by more than 310,000 professionals across various industries. With TIU advertising opportunities, (example below) manufacturers and industrial companies can choose from three advertising options to promote their company to targeted, opted-in professionals and the most qualified prospects in industries like automotive, electronics, food & beverage, and more.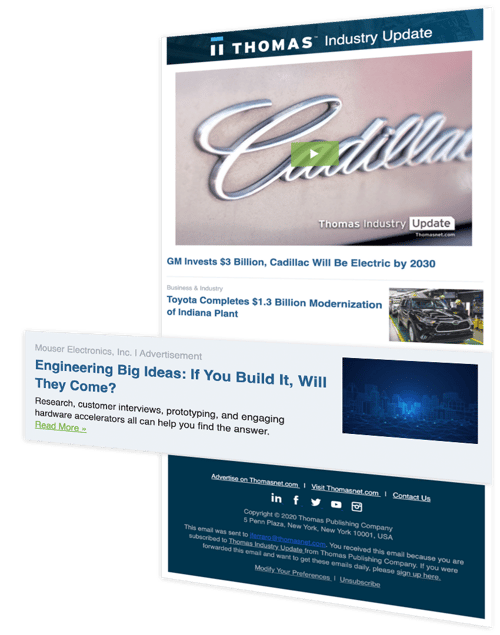 One manufacturer of industrial adhesives, Toagosei America Inc., drove over 73K website impressions from industrial decision-makers in one newsletter send. Their content advertising strategy directly yielded an increase in brand awareness and qualified website traffic.
The manufacturer's advertisements received high click-rates from professionals in the plastics assembly industry — an industry they were not specifically targeting in previous online marketing campaigns. But now they have the insight and potential to get more leads and break into a new industry.
"We knew we wanted to make more buyers and decision-makers aware of what we have to offer. The team at Thomas explained the benefits of advertising in the Thomas Industry Update and it ended up being a great way to help us generate that awareness and we earned new contacts for our sales team to call on," said Mark T. of Toagosei America.
Is increasing your website traffic to a qualified audience part of your content marketing goals? Contact us to see how an advertisement in TIU could be a good solution.

Need More Content Marketing Ideas?
We hope that these great examples of content marketing from fellow manufacturing companies provide you with the inspiration you need to create your own awesome content.
Many U.S. manufacturers are busy overcoming the challenges of today so we understand that you already have a ton on your plate — and becoming a professional writer, designer and marketer probably aren't at the top of your to-do list (or the middle, or the bottom, for that matter). But continuing to promote your business through the world's economic changes should be your priority.
Thomas can partner with you for your industrial content marketing needs so you can focus on what you do best. We've partnered with thousands of industrial companies to develop a digital marketing strategy that produces great content and, more importantly, generate new business opportunities.
"Partnering with Thomas has been a tremendous success. We are seeing 1-3 qualified inquiries a week now and are working on expanding our supply base to support the new opportunities," said an executive at Conformance Coatings & Prototyping.
Contact us to learn how we can help you do the same and request a free digital health check — we'll review your website and tell you exactly what you need online to increase your engagement with B2B buyers, procurement managers, and engineers.
"Thomas saw our blindspots that we didn't know existed and filled them with data and technology to help us to fuel our sales and marketing efforts," said Brad Godwin, CEO of E2Global. "The leads generated are qualified and real."
Additional Resources:

Did you find this useful?