5 Proven Digital Marketing Ideas For Industrial Distributors
As major corporations reshore and bring manufacturing work back to the U.S., industrial distributors are moving to create more value by building on commercial and operational excellence and digitizing to create the online experiences customers are looking for.
So with B2C expectations driving change in B2B, here are some digital marketing ideas industrial distributors can implement to foster customer loyalty and increase revenue growth.
1. A Media-Rich Online Product Catalog
According to Deloitte, eCommerce customers want:
intuitive, easy-to-navigate ordering platforms

high-quality, 3D product images

visibility into inventory to know if an item is in stock

access to detailed measurements and specification

relevant, faceted search options to facilitate comparison of similar items

fast access to complementary products

the ability to buy online with a variety of fulfillment options
A healthy manufacturer-distributor relationship — and strong sales — rely on useful data. But maintaining and updating technical product information can become complicated and time-consuming for both sides. When a manufacturer sends his distributor a data feed that lacks product specs, certifications, CAD drawings, and other rich details, significant manual effort is required to populate the distributor's eCatalog templates.
The solution starts with discussing file formats and selecting standards for sharing, including file formats and labeling techniques. Implement a media-rich online product catalog solution that can be updated regularly, easily, and correctly by all teams.
Online catalogs have many advantages over their printed counterparts, one of the biggest ones being their flexibility. Mistakes can be corrected, products added or removed, designs changed, and features updated without reprinting the catalog. An online catalog can be integrated with your company's order database to create an additional sales channel. This enables it to be a search engine-friendly system, allowing customers to browse SKUs and purchase products at any time with minimal customer assistance. Errors on quotes can be significantly reduced since compatibility and pricing data have been approved before any customer viewing the information.
Having all important product information online makes a company's products instantly available to a worldwide client base. You can update language and images to suit any geographical location, especially important for breaking into a new market and selling industrial products to a worldwide clientele. After implementation, online catalog systems tend to quickly pay for themselves, offering many diverse advantages that include improved productivity, increased sales, and fewer returns.
Learn More: How To Sell Industrial Products In A B2C World
Showing products side by side allows customers to easily compare attributes and pricing too. And live comparison options on websites can help by walking customers through the options that are best suited for their needs.
2. Offer Downloadable CAD Drawings In Multiple Formats
In today's marketplace, design engineers often find parts and products directly on the internet instead of contacting suppliers for them. Use this to your advantage by integrating a CAD program within your website where 3D drawings can be viewed, panned, zoomed and rotated. This enables engineers and designers to access the information they need in the exact format they require and makes it simple to purchase even the most complex products.
An online product catalog like Dehumidifier Corporation of America's lets customers and prospects see the complete product spec and CAD drawing. When content is categorized by factors such as material, role, and industry, the products can be found quickly and easily — and the customer is likely to do repeat business.
3. Content Marketing, Reviews, & Resources
Reviews and ratings build trust and reliability in your company. Offer a platform for customers and experts to share recommendations and testimonials, like U.S. Air Filtrations did with a "What Our Clients Are Saying" section. Send email marketing to your top and happy customers asking them for reviews you can publish on your website.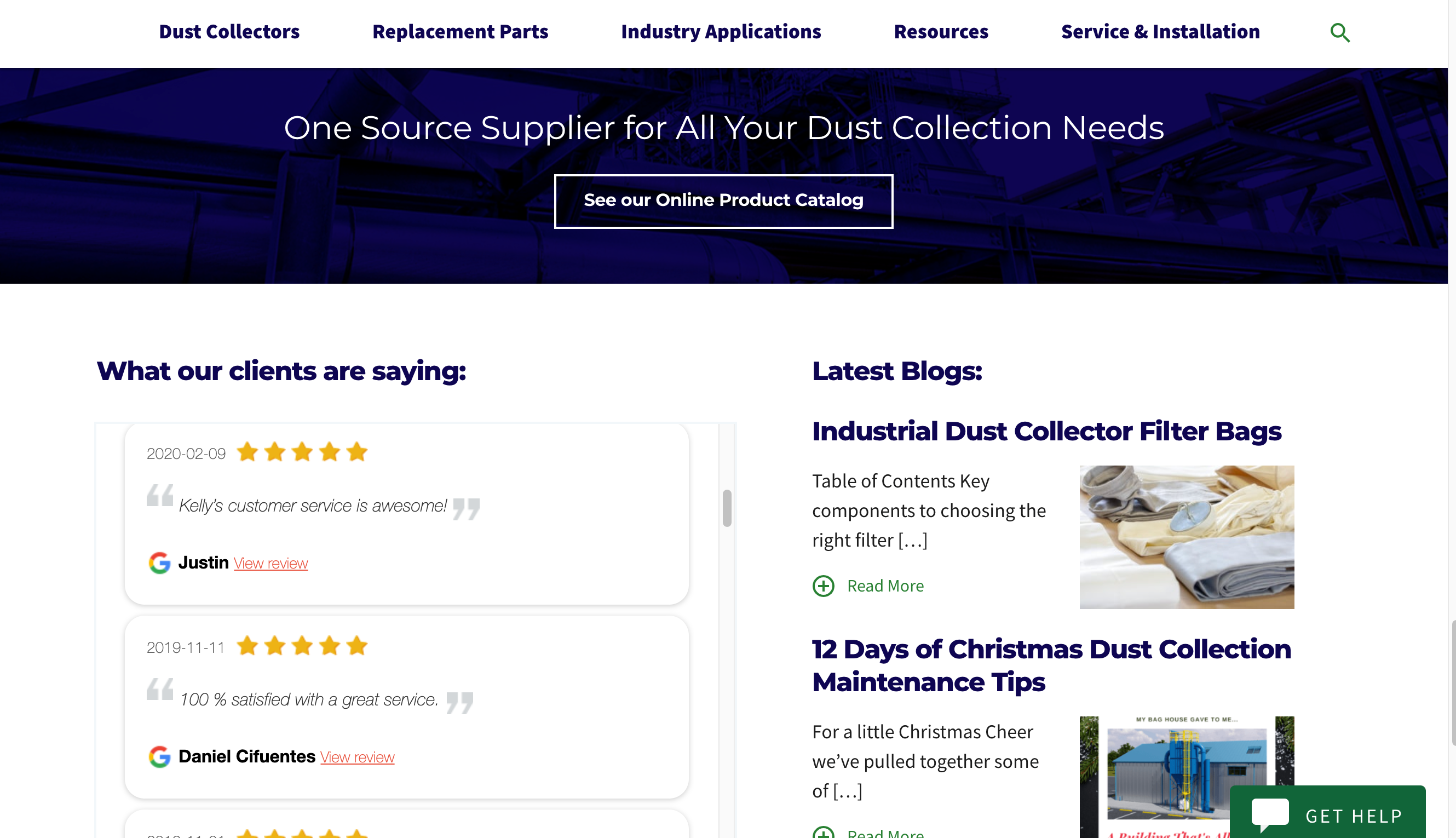 Learn More: 9 Email Marketing Types You Should Be Sending And Why
Provide your customers with resources like blogs, eBooks, and guides to help them make an informed decision on the best products and solutions for their needs. Similarly, regular email campaigns and outreach about new products and product updates can help you close sales sooner. Provide helpful content by product line and send 'reorder reminder emails' when a customer recently bought a consumable product, like a lubricant you know they may need to reorder soon (this is where your digitized product data comes into play too).
Why do these matter? Here are some fast facts:
20% of millennial buyers start with vendor websites and 17% look to peer reviews

Email marketing continues to generate the highest ROI for small businesses

97% of B2B respondents said that it was important vendor websites offered easy access to content
See More: Top 11 Content Marketing Ideas For Manufacturers
Unlike traditional growth methods, reporting from your digital marketing efforts will guide and refine your strategy to show you what's working and what you can improve on. These insights will also give you intel on buyer trends and data to adjust your business plans accordingly. Hundreds of manufacturers download the Thomas Sourcing Activity Snapshot regularly to see what's trending in the industry. To see what industrial services and products were sourced the most last quarter, download the Q2 2021 Sourcing Guide here.
4. Update Your Contact Us Page
Ask your suppliers to link to you from their website and vice versa as this can also help with search engine rankings and help drive more traffic. Many suppliers include a "distributor locator" on their site to showcase where buyers can purchase products, but pages like this sometimes have dated location or contact information.
See how Schroeder Industries does it below. Search engines like Google determine local ranking by relevance, distance, and prominence, which refers to how well your location content matches what someone is searching for, how far away their location is to you, and how strong your overall online presence is. So it's important to make sure all necessary pages with your company information are updated and consistent so buyers can find you.
Learn More: How To Get Business From Local Buyers Using Digital Marketing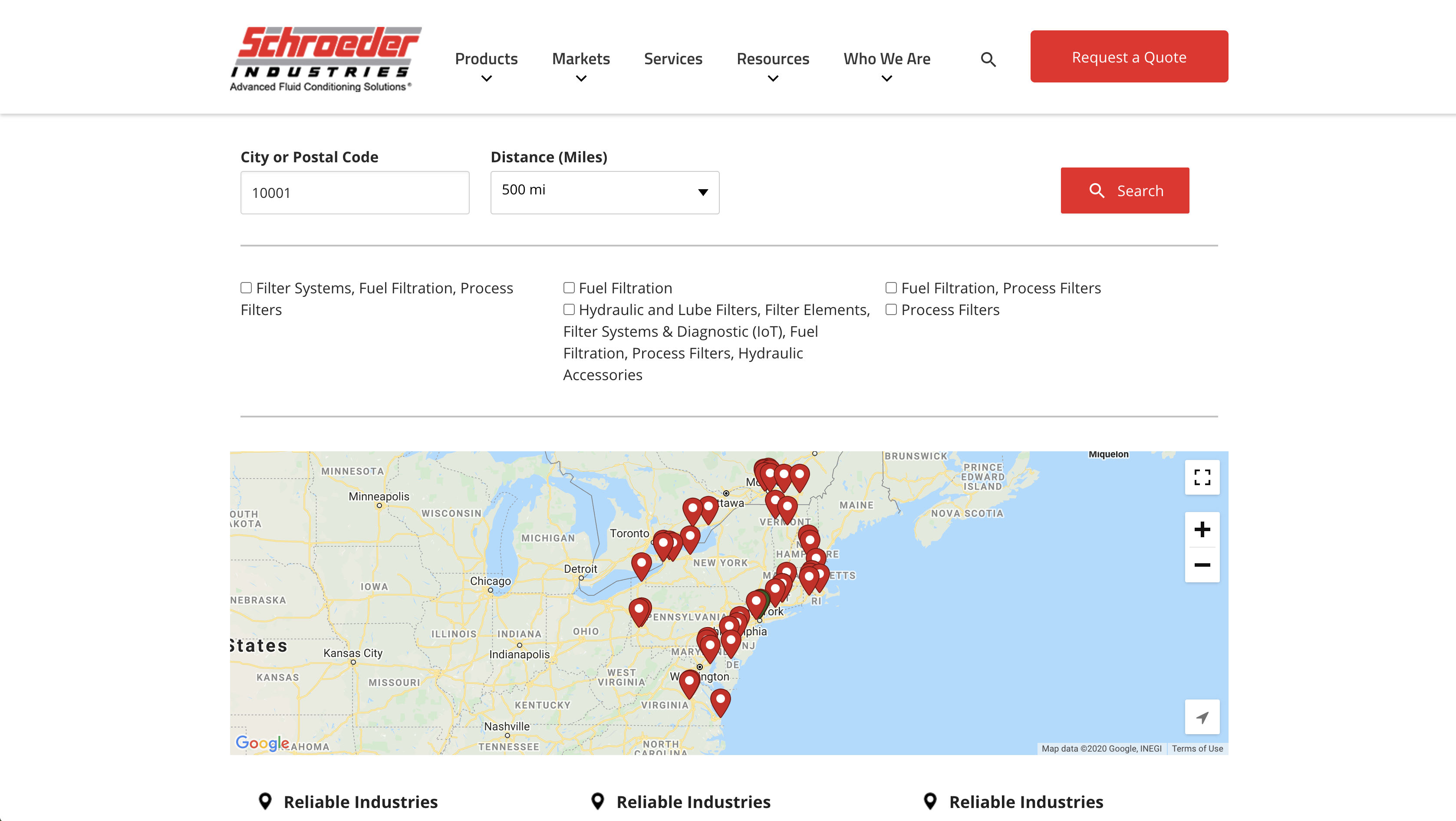 5. Online Company Business Directories
To increase your reach and visibility online, a free (but powerful) marketing idea is listing your business on relevant online business directories, like Google My Business, Yelp, and Thomasnet.com.
When creating these business profiles, make sure you have a consistent business name, address, phone number, a link to your website and company description. Add a multimedia option, like a video or photo that showcases your business well, like the location of your facility or your shop floor.
See More: 5 Places To Advertise Your Manufacturing Business
Increasing the number of citations in these directories (especially on Thomas) increases the number of backlinks to your website — this means it helps with SEO and boosting your website in search results.
"Qualified leads are coming to us now, and since prospects can easily search our capabilities and qualifications, those who contact us are more inclined to do business with us."

Future-proof Your Business With Digital Marketing Today
Traditional growth approaches should be reimagined with technology, online efforts, and marketing to simplify the buying process and truly energize and enable the business. According to McKinsey, industrial distributors who move quickly (in the digital space) can create deeper customer relationships and sustainable competitive advantages to outperform consistently in the years ahead. Industrial distributors can implement many other marketing ideas to drive growth, like SEO and advertising campaigns.
What's Next: The Ultimate Guide To Marketing For Manufacturers & Industrial Companies
To learn how you can future-proof your business with digital marketing tactics, contact the team at Thomas. We offer a free digital health check to see what marketing ideas you can implement to stay ahead of competitors.
"We tried other people with our website and marketing but found their focus wasn't on manufacturing, and Thomas is. We get a lot of activity now and steady results weekly — a lot of inquiries thanks to Thomas and our online marketing efforts," Ron Delfini, President at Engineering Specialties, Inc.
Additional Resources For Distributors:
Did you find this useful?