A 2022 Ecommerce Website Checklist For Distributors
According to IBM, 80% of B2B buyers now expect the same buying experience as B2C customers.
Earlier this month, we showcased six B2B ecommerce website examples to help you get more sales and create a better online experience for customers. To take your lead generation efforts further, we're outlining a beginner's ecommerce website checklist to make sure your customers give you repeat business.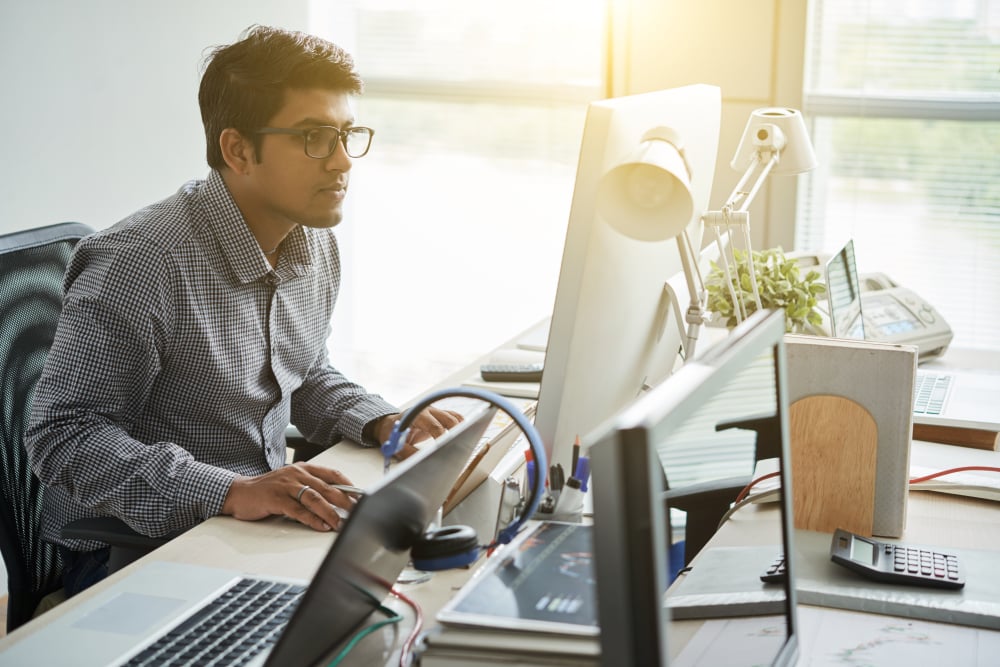 In the industrial space, businesses generally target engineers, procurement managers, and plant MRO managers who all have different primary concerns based on their job focuses.
| | |
| --- | --- |
| | Engineers — Primarily concerned with form, fit, and function. A design engineer's primary job focus is to analyze project requirements and develop different possible solutions to achieve their design intent. |
| | Procurement Managers — Main concerns are cost, lead-time, quality, and ongoing deliverability. They are responsible for identifying suppliers, ordering products, confirming delivery, and negotiating contract terms. |
| | Plant MRO Managers — Buy for planned purchases and emergency orders. They are tasked with keeping the systems of a large plant or installation running smoothly through planned maintenance and upgrades and swiftly restoring service after a system failure. |
Why You Need An Updated Website
Industrial companies have a ton of complex data. From detailed product and material characteristics to 2D and 3D drawings, users need to have the ability to access this information with ease in a variety of formats across multiple devices. In an era where we expect news delivered to us easily, seamlessly, and quickly, the same applies to industrial users trying to access that data.
A seamless user experience is critical. According to a Thomas industrial buyers survey, 73% of B2B buyers surveyed said they pay attention to a supplier's website when deciding whether to submit RFIs.
If a plant manager is walking around his business, he expects to be able to access and navigate your website and catalog easily from his smartphone, rather than taking the time to walk back into an office to browse on his computer. According to Statista, mobile web traffic has consistently accounted for about half of all global web traffic since 2017 — so having an optimized mobile website experience matters too.
Preparing Your Website For Ecommerce Checklist
1. Use a Database-Driven Product Information Platform
Buyers want product data that's accessible where they want it whenever they want it. Make sure your database is up to date and complete. Consider a platform that gives you the ability to automate orders, integrate tracking of shipments, download product data, submit RFQs, and buy directly online. You'll want a catalog configuration that is simple enough for your customers and all the necessary members of your business to update and navigate through.
2. Look Into A Payment Process For Online Sales
Buyers and suppliers only do business with companies they trust. You'll want your payment system to be secure and have applicable compliance standards or else you'll experience shopping cart abandonment.
It's important to remember that procurement professionals likely source at least three quotes or estimates before making a purchase. Rather than intending to buy, they may simply be ticking a box as part of their process. Make sure you understand their purchasing habits so you can align your processes to their needs.
Read Next: How to Reduce Shopping Cart Abandonment on Manufacturing Websites
3. Create Individual SKUs Pages Of Your Product Data
When you update product data once, your data should be automatically updated in real-time across all of your sales channels too. This may require a lot of planning and organization on your end, so we recommend partnering with a team of industrial catalog creation specialists to do the heavy lifting for you. Thomas has specialists who will create individual SKU pages of your product data, structure each product category, brand your catalog according to your website design, and more. Our team is supported by degreed engineers who understand the complexities of your products.
UNLOCK PROSPECTS: See which B2B buyers are searching for your industrial products with our free custom in-market buyer report
4. Update Your Marketing Plan
Believe it or not, your ecommerce platform is related to marketing, so you must outline the marketing initiatives you'll take to send people to your product page(s). Feel free to add or remove platforms as you see fit. If applicable, each marketing initiative should include its budget, timeline, and point of contact.
If you need help building this out, download our free eBook 10 Ways Manufacturers Spend Their Marketing Budget.
5. Use Paid Search Ads And Display Ads
How will you advertise on Google or other search engines, and where will these advertisements point to? Will you be using a retargeting strategy to reach out to website visitors with an advertisement who did not complete their purchase?
See Examples: Display vs Search vs Social Ads
Display advertising on the Thomas Network allows you to target industrial buyers, procurement managers, and engineers when they are sourcing for your related products. Studies show that it takes 5 to 7 brand impressions on average before someone will remember your company. A display ad that is professional, high-quality, and points to one of your product pages strengthens your brand and increases the likelihood of a sale.
6. Automate Your Email Marketing
Use your list of existing contacts in your CRM with email marketing. Regularly scheduled emails with links back to your website keep your business top of mind throughout their buying process.
See More: 9 Types Of Email Marketing You Should Be Sending
7. Align Your Content Marketing
How will blogs, ebooks, and your content marketing initiatives support your ecommerce sales? Ensure all your content is aligned and has calls-to-action (CTAs) that point back to your product pages or other relevant website pages.
Learn More: 32 Industrial Lead Generation CTAs
You'll want your product pages to rank on search engines so your buyers and your distribution partners can easily find what they need online. Make sure all your high-quality graphics and media items are tagged appropriately for SEO.
8. Educate Your Team
The right ecommerce platform makes it easy for your team to interact with customers and lessen customer support time. Make sure they're trained on the new functionalities of your website.
Sell More Industrial Products Online
Your website should serve as the foundation for your growth plans because today's buyers are younger, connected and more informed than ever before. Design engineers need to quickly discover, configure, and insert 3D CAD models directly into their projects. Procurement and sourcing professionals need drawings and specifications to back up their purchases.
Allowing these buyers to easily find the data they need via a dynamic eCatalog is crucial in today's digitally connected world. Supplying users with the rich CAD files, drawings, and specs they need, allows them to do their jobs quicker and easier via a more streamlined approach — ultimately making you their partner of choice. This list is not meant to be all-inclusive but should guide you in targeting your sales goals. After you've updated your website, additional testing should be done to increase visitors and convert them into customers — every business is unique. Thomas offers a free digital health check to help you see exactly what you need online to engage more buyers, engineers, and procurement professionals.
Additional Resources To Create A Better Online Customer Experience:
Did you find this useful?