6 B2B Ecommerce Website Examples To Help You Sell More In 2021
Today, if you want to sell direct to consumers, you need to create a smooth online user experience that instills feelings of trust in your products and services. For industrial distributors, this means designing their website to include a comprehensive, digital product catalog. Engineers and sourcing professionals expect the websites they do business with to provide the same experience as personal shopping websites like Amazon or Target.
Here's a roundup of our favorite manufacturing companies with B2B ecommerce websites that drive sales and build a strong supplier-distributor relationship.
1. Morton Machine Works' Website
Morton Machine Works manufactures quality tooling components supplying to industrial distributors, catalog houses, and OEMs throughout the world. Morton Machine Works has been in the manufacturing business for more than 70 years and they understand the importance of producing custom parts according to specifications.
In addition to offering their product catalog as a PDF on their website, their full product portfolio is available to browse online with dozens of pages for thumb screws, washers, clamp straps, etc. Engineers need the precise component for their product — a dynamic product catalog that lists the material, size, radius, and CAD drawing helps them get their job done and likely to do business with Morton again.
An opportunity for manufacturers and suppliers to help get new prospects in the pipeline is with an "Industries-Served" section. We love the "Industries" tab on their website. Morton's products are used by many industries, including medical equipment manufacturers, automotive, and oil & gas. Morton takes the opportunity to showcase their expertise in these industries with graphics and links to each of their commonly used products.
See More: 10 Content Marketing Ideas For Manufacturers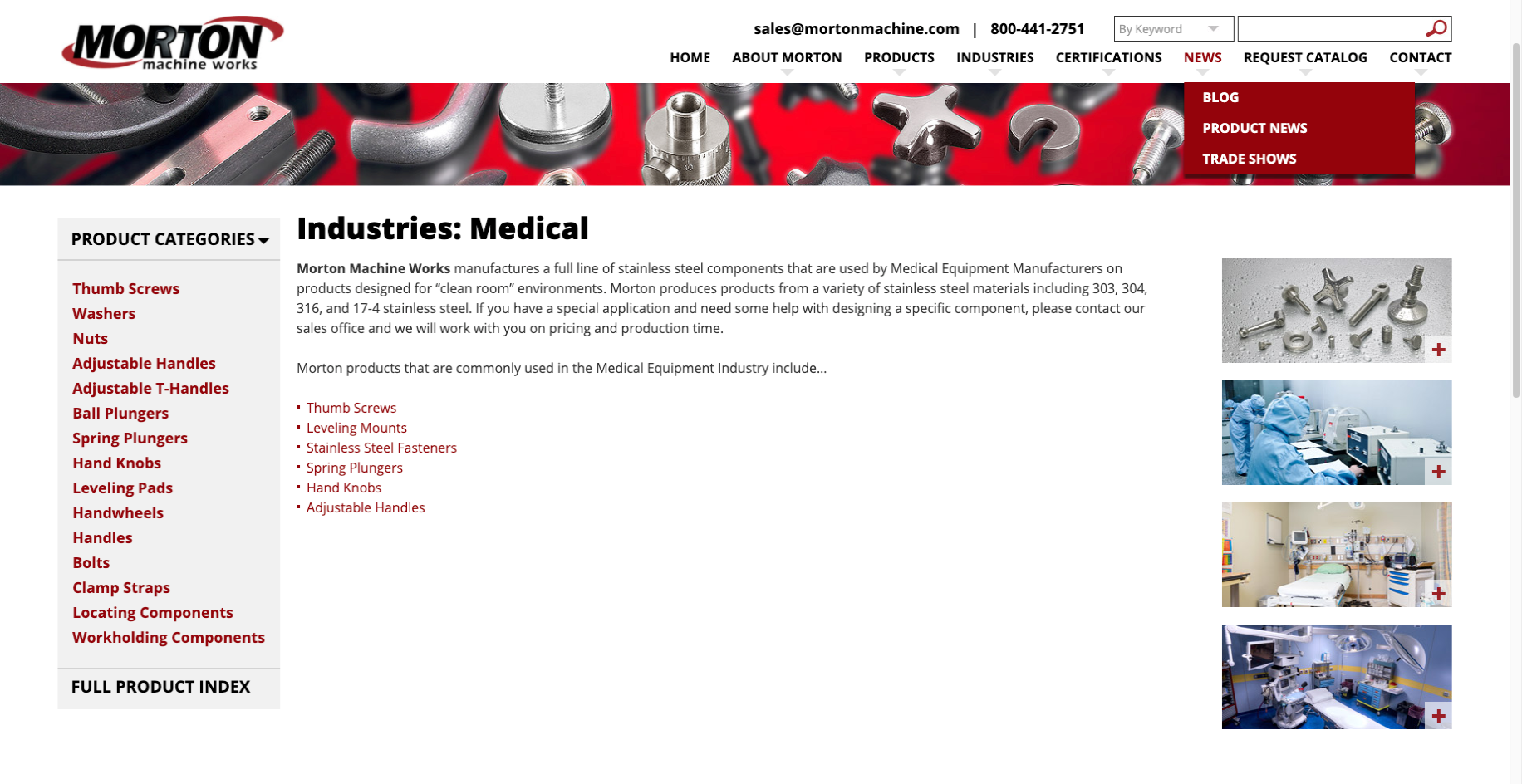 2. Kitz Corporation Of America's Website
Kitz is one of the world's leading manufacturers of carbon steel, stainless steel, gray iron and ductile iron, and bronze and brass valves. To offer their expansive product range conveniently to customers, Kitz updated their website with ecommerce technology that has them in control of their product data through backend tools for self-maintenance and allows their customers to be in control too, with a self-serve interface. There are also numerous options for the customer to complete an action on any given page (Request Quote, Request Information, Add To PDF Submittal Cart etc.) which caters to the buyer no matter where they are in their buying process.
Learn More: The 3 Most Influential People In The Industrial Buying Process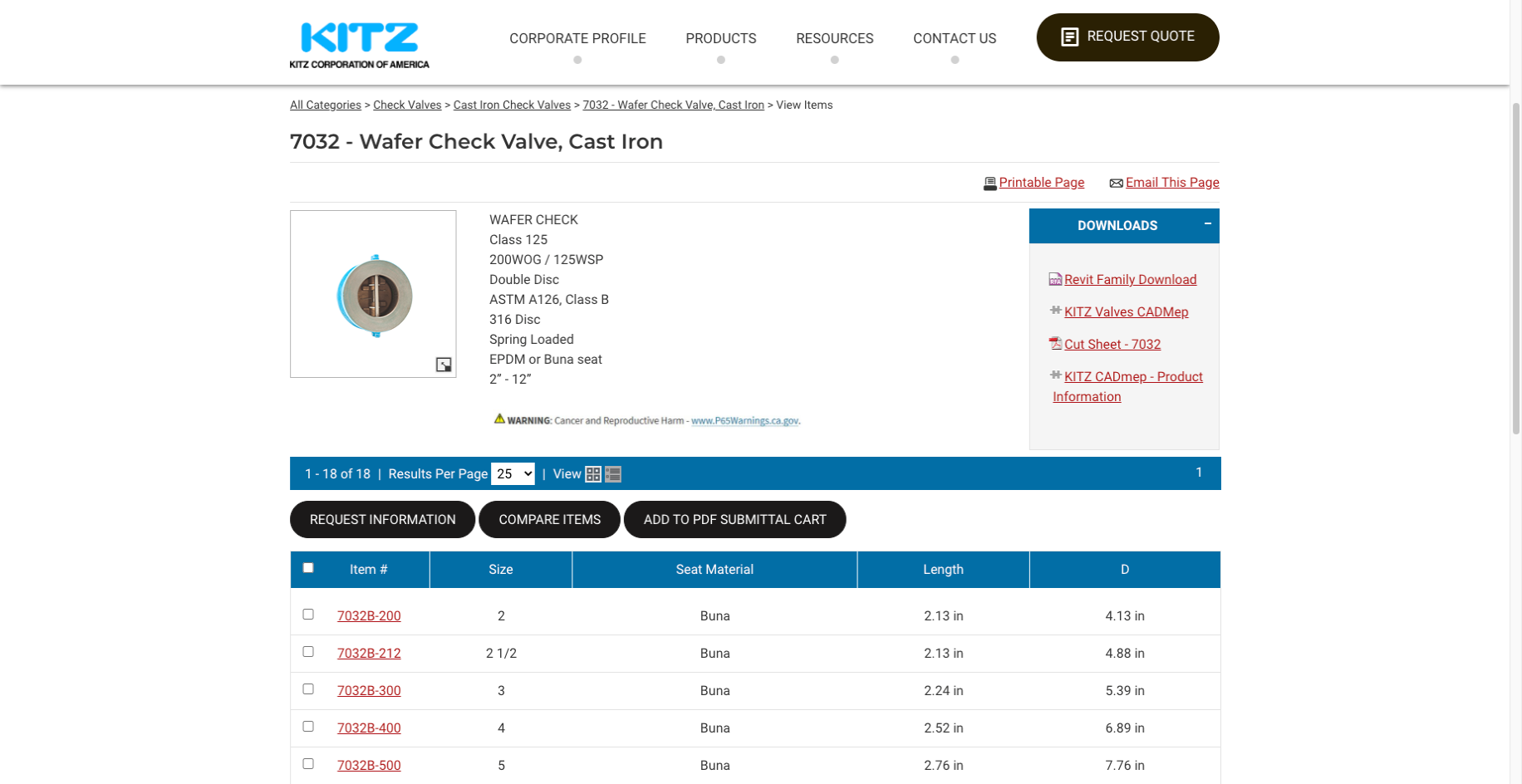 3. Oriental Motor's Website
Oriental Motor offers an extensive product line-up of about 50,000 that provides an optimal motion system, such as AC motors, speed control, position control, mechanical motion and thermal management requirements.
Their website is well-equipped to meet international sales and service networks. The Motor Sizing tab features sizing tools to accurately calculate the product's specifications. Engineers can enter pulley specifications, external force, mechanism angles, and more.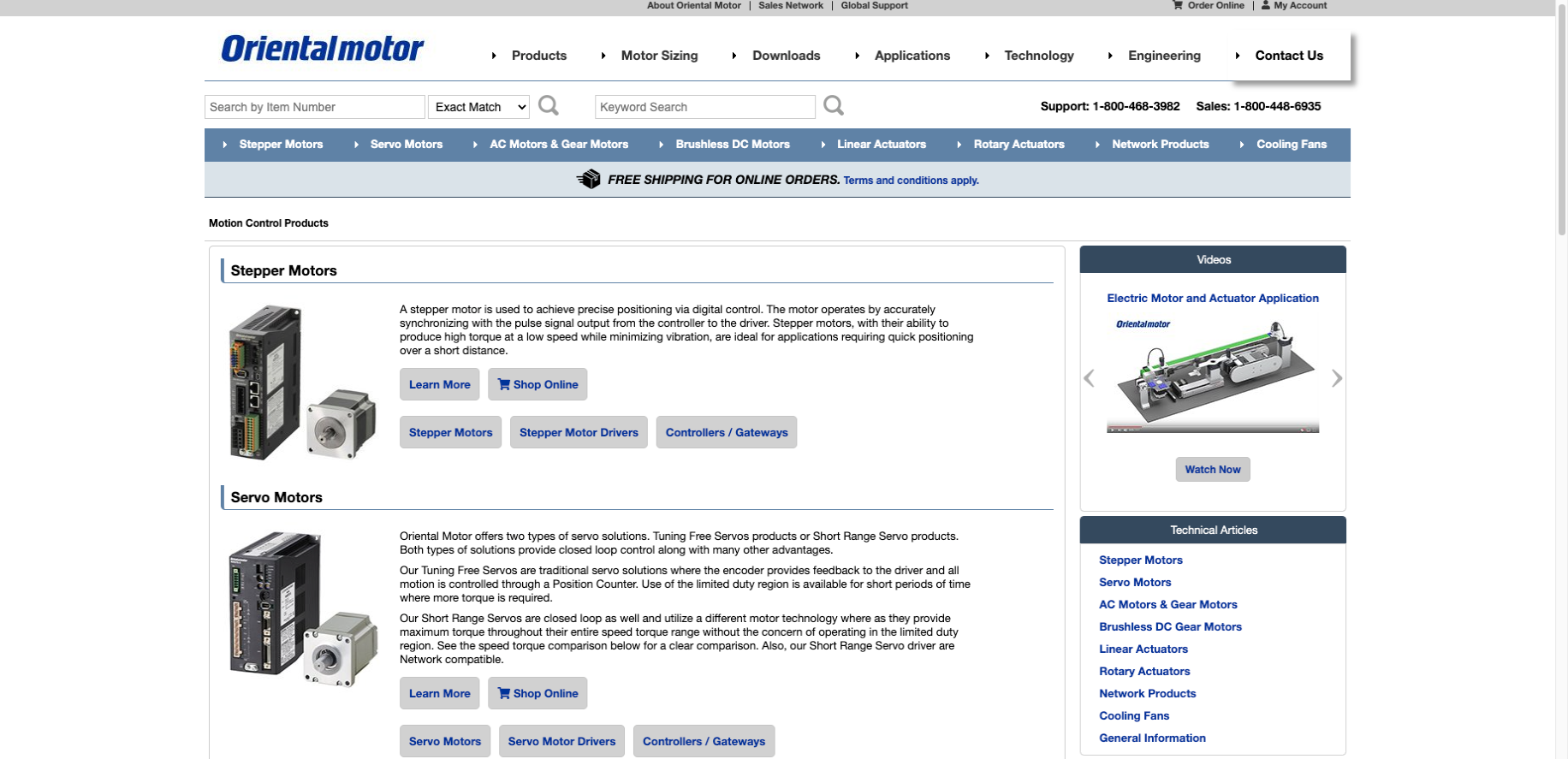 In a recent Demand Gen Report, 97% of B2B respondents said it was important that vendor websites offered easy access to content. Oriental Motor features videos on their product pages too — a crucial online content component manufacturers can benefit from to increase website engagement. Studies have shown that prospects and customers prefer to watch videos of products. And marketers who incorporate videos in their online strategies have seen 49% faster revenue growth than those who don't.
---
4. PTI Pelonis Technologies' Website
PTI Pelonis Technologies manufactures cooling fans and blowers, induction motors, and specialty heating products for commercial and industrial use.
We love how their website has a myriad of resources for engineers and B2B buyers — CAD files, calculators, infographics, catalogs, etc. There's also an "exit-intent" popup for website visitors to download either a centrifugal fan guide, ultra-thin flexible heater catalog or micro motors summary. Exit-intent lets you make an additional effort to convert website visitors into a lead as they're intending on leaving the page.
While these downloadable resources help the website visitor, PTI benefits by receiving contact information for their email prospect list. According to HubSpot, salespeople spend 17% of their time prospecting and researching leads. When you build a prospect list organically with people who are actually interested in your services, you increase the quality of your lead.
Learn More: How Sales & Marketing Pros Can Build Effective Email Prospect Lists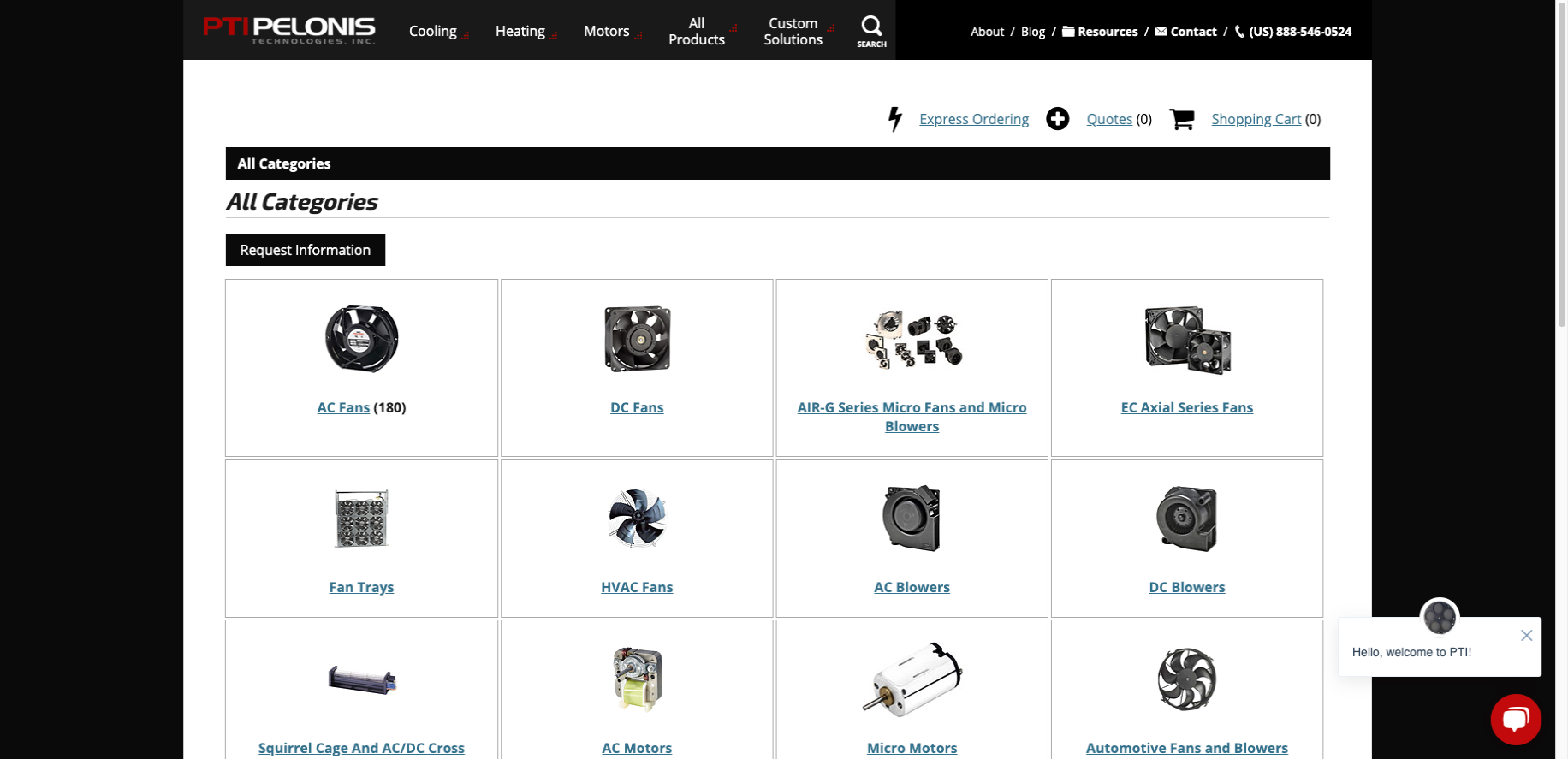 5. Swagelok's Website
Swagelok's resources are truly focused on the customer's experience. From aiming to reduce procurement costs, building assemblies, reducing energy costs, to addressing safety concerns and solving logistical challenges, Swagelok understands the importance of building a brand that displays trust and loyalty.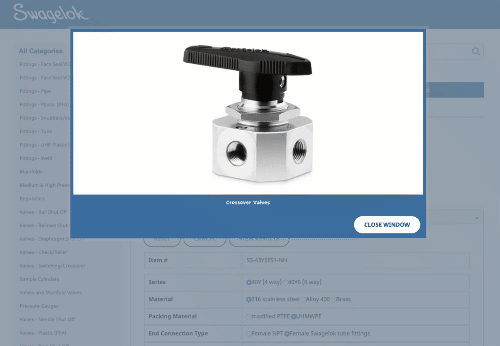 Their website is dedicated to communicating those efforts and showcasing their full business model to set them apart from global competition. Today, reshoring is creating opportunities for manufacturers. According to a Thomas survey, 69% of companies across the manufacturing and industrial sectors "are likely to bring manufacturing production and sourcing back to North America." Swagelok ensures no opportunities are missed with a robust online product catalog and the option to request CAD files.
Thomas' Navigator and Connect technologies include product configuration capabilities, part comparison, CAD/BIM viewers, and the ability to include spec sheets for download to give buyers rich, up-to-date product information. When their buying process is quick and simple, they are more likely to be a repeat customer.
Learn More: 5 Steps To Get High-Quality Leads With CAD
Manufacturing companies like Swagelok also increase their visibility online with a company profile on Thomasnet.com, where more than a million buyers source industrial products and services. Manufacturers are redefining their marketing strategies by being everywhere their B2B buyers are. Create a free Company Profile to get started.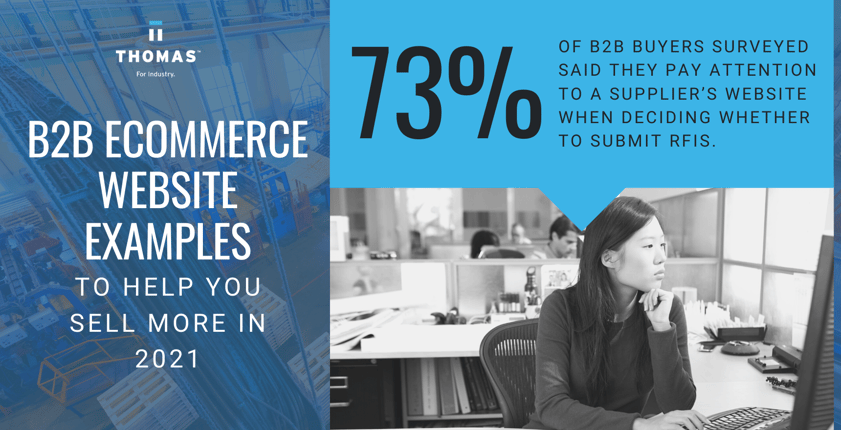 6. TE-CO Workholding's Website
TE-CO is a leader in workholding technology, including clamping and set-up tools, tooling components, inspection and gaging for CMM applications. Their website is powered by the Navigator Platform, making it easy for industrial distributors to do business with them. The solution organizes detailed product information, eases the buying process, and ultimately generates more sales from current customers and new ones.
TE-CO's website allows all parties to easily make updates to their catalog as needed. It reduces customer service and engineering hours and increases customer satisfaction on an interface internal teams and distributors can easily work in.
We love that TE-CO's website features a guide for engineers to learn how to download 2D and 3D CAD models at any time, in their preferred format. Recent polls showed a large majority of manufacturers don't give their CAD files out at all, while others only share them by request. CAD files are one of your best assets and they are proven to convert leads 2.5x more than text-based assets — learn how here.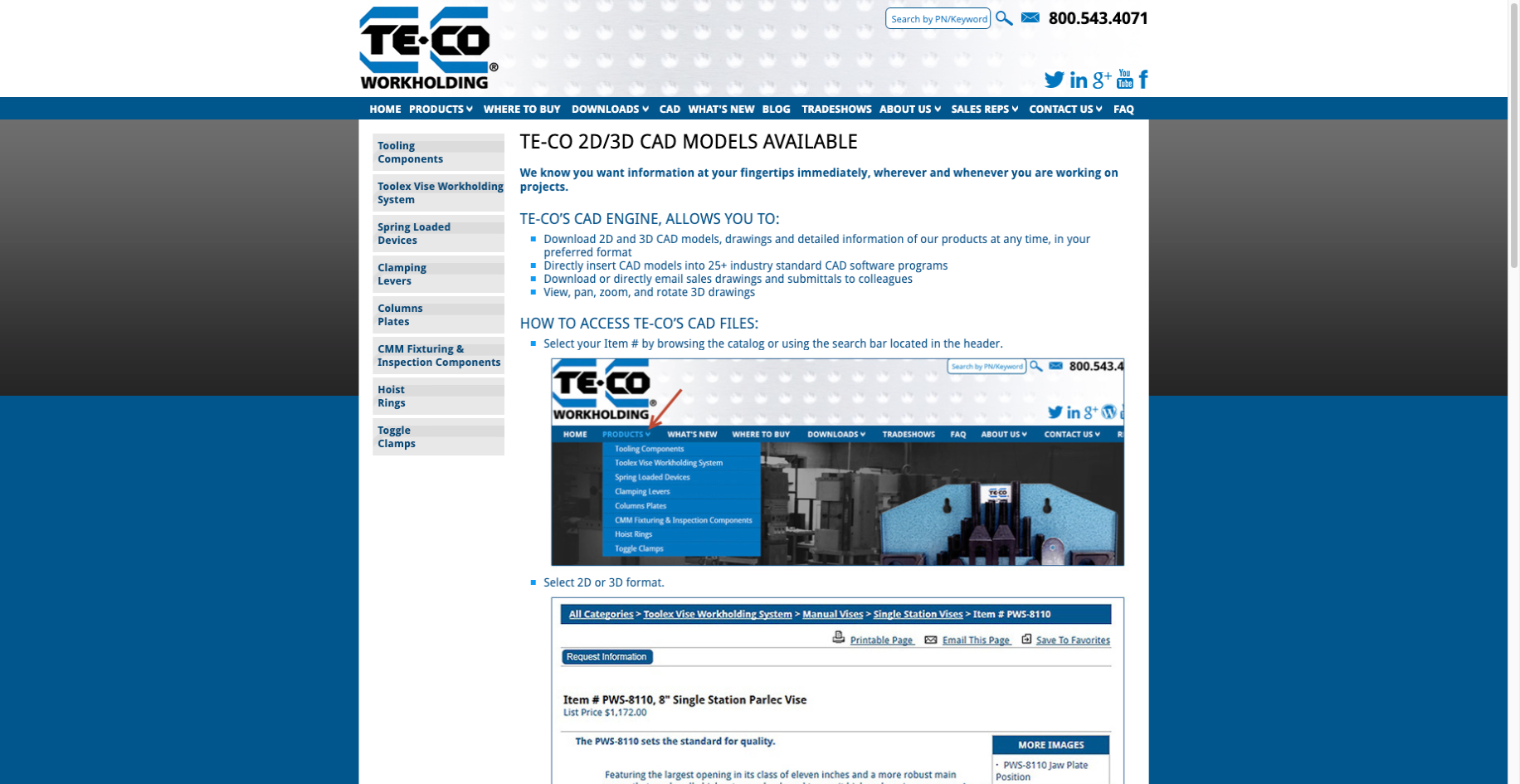 Use Your Website To Sell More In 2021
According to Net Solutions, more than 80% of surveyed B2B companies plan to invest in an ecommerce platform to provide a unified experience for their potential customers. Will you be one of them?
Thomas is the leading industrial resource that has connected buyers to suppliers for more than 122 years. Our product solutions help you get spec'd and purchased again and again. Contact our team of industrial marketing experts to build a solution that fits your needs and budget or visit the below resources for more B2B ecommerce insight. We offer a free digital health check that reveals exactly what you need to engage more engineers and buyers online.
Did you find this useful?