5 Steps To Get High-Quality Leads With CAD Assets
If you're keeping up with the latest manufacturing lead generation strategies, you may have already heard that up to 88% of businesses ultimately buy the part after downloading a CAD model. CAD files are proven to generate high-quality sales leads. But are you fully embracing them as a marketing asset or are you only sending them by request from sales? Not sure? Let's walk through the basic model of using CAD files for high-quality lead generation.
1. Serve Engineers And Buyers With Their Jobs To Be Done
Not familiar with jobs to be done theory? For example, in a B2C scenario, nobody drives to Home Depot to buy a quarter inch drill bit just because they want to own a quarter inch drill bit. You get in your car, you drive to Home Depot, you find the drill bit in the aisle, you pick the one you want, then you decide to pay cash or credit card and then you get home to make a hole in something. The job to be done is to make that quarter inch hole. All of those steps in the process are the things that need to happen for that job to be done. The same process happens in manufacturing and industrial industries everyday, but on a massive scale.
Research has shown that there are about 139 different jobs to be done for sourcing products and adding suppliers to your supply chain. After a new partner joins your supply chain, there's another 63 jobs that they have to do to maintain keeping that business in the supply chain going forward. And across every job to be done, the theme remained the same that every single job started with the phrase, "minimize the time it takes to." For example:
"Minimize the time it takes to determine which product or service best satisfies the prioritized performance-related criteria"
"Minimize the time it takes to determine which criteria will not be met by the top ranking product/service"
"Minimize the time it takes to confirm that selected product/service meets the prioritized criteria prior to making the purchase"
One of the main reasons for that is because we're running much leaner as businesses and we have to be as efficient as we possibly can — but generating leads that the sales team really loves still remains a challenge because manufacturers are missing out on these opportunities to help their customers' jobs to be done.
Many manufacturers make the common mistake of just wanting more leads. But it's really quality over quantity. Having a massive amount of leads where your sales team does not having strong conversation or opportunities doesn't help anyone.
2. There Are Leads Throughout The Buyer Journey — Not Just From RFQs
70% of the buyer's journey is complete before the buyer engages with your sales team. If you're waiting until the RFQ phase, you're missing out on 70% of that opportunity that's coming beforehand. Buyers and engineers are remaining anonymous longer than ever now. So by the time that they reach out for an RFQ, the game has been played and tons of decisions have already been made.
If you wait until the RFQ process to engage with your buyer, you become a price, a commodity, and a lead time. You don't have as much information to impact their decision making and you have almost no ability to become a trusted advisor at that point either. It's really just trying to figure out how to get across the finish line and complete that job for the engineer.
Getting high-quality leads is about trying to help your buyers do their jobs as opposed to just giving them a price. The more that you help them, the more predisposition you're going to create for your own brand and your own product.
As seen in the industrial buying process graphic below, each arrow represents each stage a buyer goes through before contacting you. Sales qualified leads (SQLs) come in during the shortlist and purchase stages. That's where your RFQ is going to be generated. But much farther up the buying process is where decision-making begins — this is where your company gets vetted to see if you meet the qualifications of their need. Simply put, the idea is to make a positive impact to your opportunities in those beginning stages before they get to the shortlist stage on their own.
Another Angle: How Big Companies Choose New Suppliers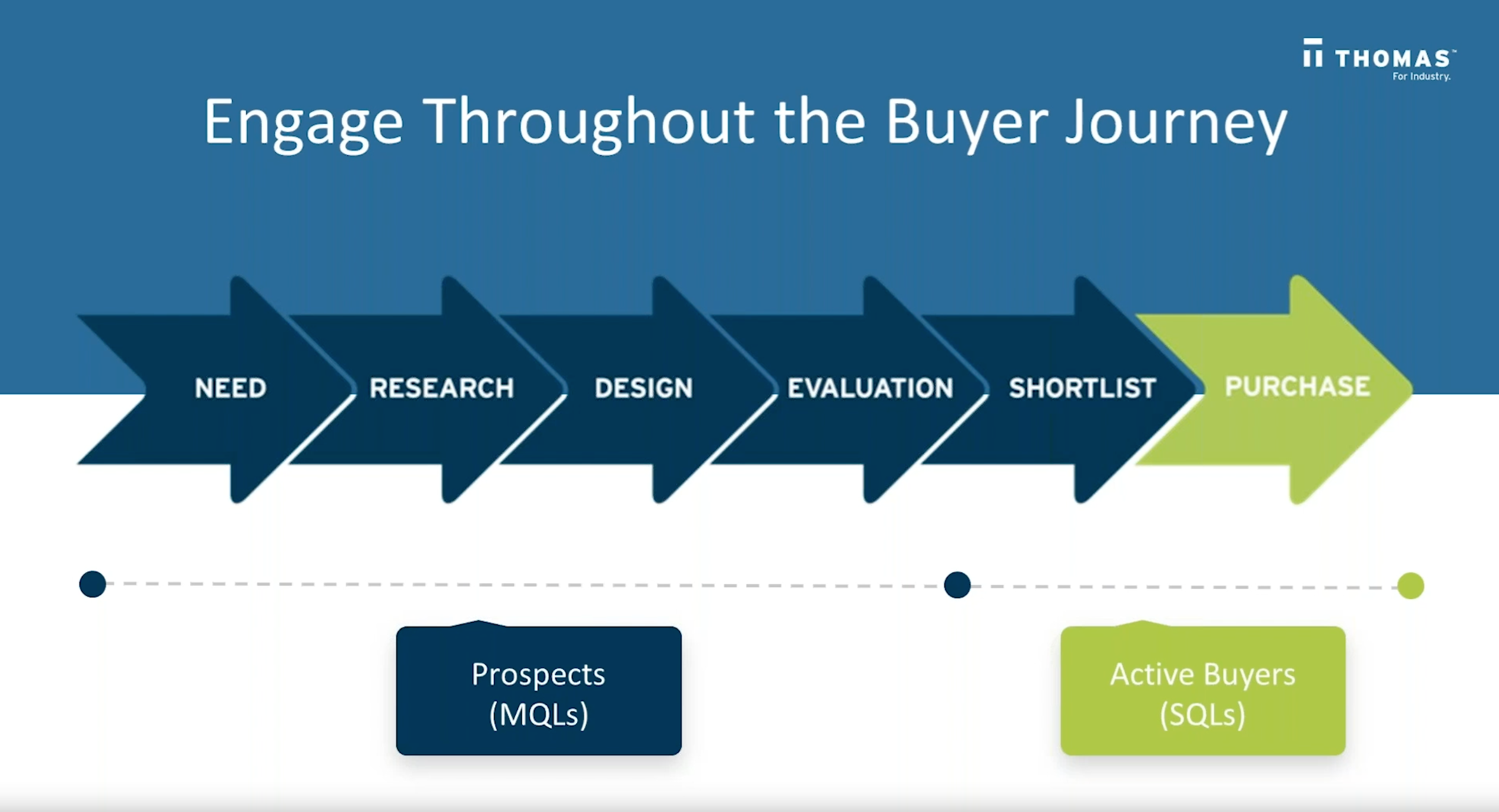 3. Understand Who Your Prospect Is
When industrial marketers sit with manufacturers and industrials to try and dig into where their best opportunities come from, they discover it inevitably it comes from the middle of the buying process.
When engineers are making those decisions around design and evaluation and picking the exact products for their form fit function as opposed to looking at price and lead times on it, you have a much different, yet productive conversation. There are different groups of prospects for every manufacturer, but engineers are fantastic for your sales team as far as the highest quality of leads because they are the ones that make the decision on what products or services should be utilized to generate the component or product or assembly. They are your first chance at getting spec'd and making it to the bill of materials (BOM).
4. Leverage The Existing High Value Assets You Already Have
As manufacturers, you know that you have tremendous amounts of technical assets: CAD files, text sheets, graphs, etc. But where are they on your website? Don't bury them 40 pages away, making it difficult for your website visitors to find (by the way, that doesn't help increase SEO traffic).
Think back to that audience you're trying to reach and what they're trying to accomplish. They need your assets to do their jobs every day. Recent polls showed a large majority of manufacturers don't give their CAD files out at all, while others only share them by request — and that's the opportunity missing to get high-quality leads.
CAD files are one of your best assets and they are proven to convert leads 2.5x more than text-based assets. In fact, recent studies have shown that engineers are actually the primary downloader of CAD files, accounting for over half — 53.30%. Managers and directors came in next, accounting for 21% of all downloads.
It's important to note that there's a lot value in your CAD and there's a general phobia when it comes to sharing them. While you don't want your products to be manufactured by someone else, there are ways in which to make your CAD detailed enough that they are good for specification by those engineers, but they're not manufacturable models.
5. Use CAD As A Marketing Project, Not Technical Project
It's a common mistake of manufacturers to tense up when they think of using CAD files for lead generation and associate it as a technical project, rather than a marketing project. There's a common misconception that their engineering teams need to be brought in when they are already at full capacity with workload. But the reality is that using CAD files for lead generation is a marketing project — not a technical project.
CAD files as a marketing tool is just another asset that you're using for lead generation. It would be used in the same way that you would use any other of your content marketing assets, like an eBook or a PDF of an installation guide. CAD files are another asset that you would offer for download to generate leads for your sales. The best part is that all of this exists inside your facility right now.
Manufacturers should understand that using CAD files for lead generation is not something that that needs to be a heavy lift. Many manufacturers partner with industry experts at Thomas and the Traceparts Network to help take control of their lead generation strategy — ask us for a free digital health check to see exactly how you can improve your online presence and drive more high-quality leads.
Did you find this useful?