Why Manufacturing Quality Certifications Help Win Business
For manufacturing companies, attaining and maintaining quality certifications can take a lot of time and effort. However, your certifications can be a powerful sales and marketing tool.

Certifications Matter To B2B Buyers
Whether it's a well-known standard like ISO or ANSI, or a more niche accreditation like QS 9000 or IRIS, quality certifications let buyers know that you can meet their specific standards. It's a sign of trust that can separate you from your competitors.
Here's a list of some other quality certifications buyers look for to assess your organization:
ACC (The American Chemistry Council)
AISC (The American Institute Of Steel Construction)
CEN (European Committee for Standardization)
CSA (Canadian Standards Association)
EASA (European Aviation Safety Agency)
Quest Forum (Quality Excellence for Suppliers of Telecommunications Forum)
The Foundation for Food Safety Certification
(ITAR) The International Traffic in Arms Regulation
See More: The Complete List Of Diversity & Quality Certifications For Manufacturers
In fact, when buyers source for new products and suppliers, quality certifications are important. According to our recent survey, Quality Certifications ranked in the top six of all factors that B2B buyers use to evaluate suppliers.
Unfortunately, suppliers often overlook the importance of their quality certifications when it comes to industrial marketing. As a result, they tend to make it unnecessarily difficult for buyers to find and verify this critical piece of information. It's a seemingly minor error that can add up to a huge loss of potential revenue.
Don't make that mistake. Here are some tips you can use to leverage your quality certifications to win more business:
Put Your Certifications Online
Buyers are already 70% of the way through the industrial buying process before they reach out and contact a supplier. They do their initial research and discovery online, anonymously. That means your important information — like your quality certifications — need to be online, lest you get eliminated early in the process.
Just listing a bunch of ISO numbers isn't sufficient; buyers want to see your certification. This means having high-quality images, with up-to-date certifications at all times.
Make Your Certifications Easy To Find
Don't make buyers dig for essential information. Include a link to your quality certifications in your website's navigation.
Beyond your website, you need to put your quality certifications front and center when buyers are looking for the products and services you offer. This means listing your business and maintaining your profile on Thomasnet.com — every second, a buyer visits the platform to source products and services and find a new supplier.
If you have quality certifications, you need to make sure your potential customers know about them. It could mean the difference between winning new business and being left off the shortlist.
Quality certifications are just one of the many factors that buyers use to evaluate suppliers — and one of the many items that suppliers consistently overlook. To explore the other factors that buyers evaluate you on right now, download our free eBook, How To Make The Industrial Buyer's Shortlist.
How Manufacturers Present Their Certifications Online
There are many different ways that you can present your certifications online. The obvious choice is your company website. Many manufacturers even have site pages entirely dedicated to laying out the different certifications they have because if you have it, flaunt it.
A Dedicated Site Page For Certifications
Renown Electric, a manufacturer of electric motors and repair company has a certification page on its website so that buyers can see that Renown is a quality business to work with. The motor company lists out all the certifications they have obtained throughout the years within their website's side rail section. What's unique about this page is that Renown put together a free downloadable offer for their ISO 9001:2015 certificate. Providing a gated downloadable certification goes beyond showing buyers that you're a quality supplier, but it also helps improve lead generation efforts.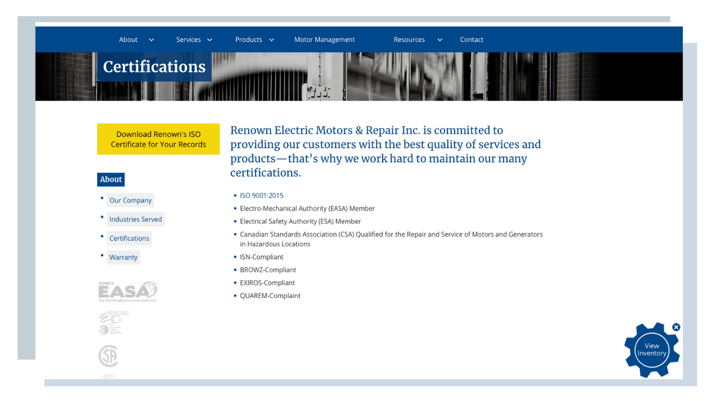 Similarly, in the example below, Outlook Group has an "Our Credentials" section on their website that lists the numerous certifications they have to serve different markets like food and beverage and medical and personal care.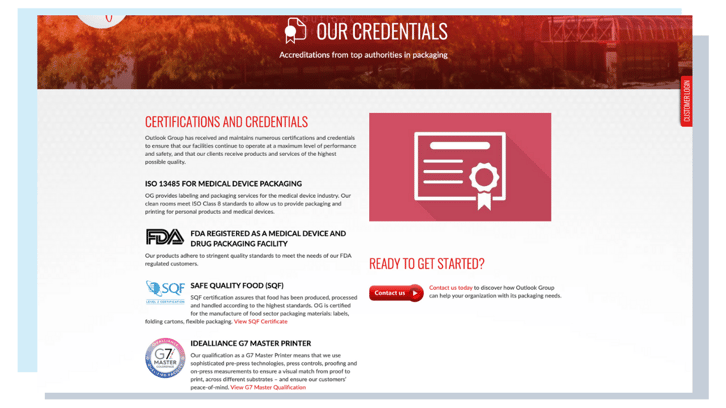 Certifications In Your Website Header & Footer
Tex Tech Industries is a textile manufacturer that takes full advantage of the certifications they have across multiple content types. An ISO 9001:2015 certification is positioned in both the header and footer of the company website. The footer also showcases its Thomasnet.com badging with a "Verified Supplier Badge" and a "COVID-19 Response Supplier Badge," which is also highlighted on the Tex Tech Industries Thomas company profile.

Tex Tech takes its certifications a step further by including it as a main point in a company video. It is stated within the first five seconds of the video that the manufacturer is ISO 9001:2015 certified to reinforce further that they are a "proven leader in the high-performance materials market."
Add Certifications To Your Thomasnet.com Company Profile
AMECO USA is a CNC machining business that provides vertical turning and milling services. This manufacturer exemplifies the use of certifications on its Thomasnet.com company profile. Under the "Certifications" tab of the supplier's listing, buyers can see that AMECO is AISC and Nadcap certified.
A key element within the AMECO supplier profile is its ownership and diversity status. This manufacturer is a "Veteran-Owned," "Small Business Enterprise (SBE)." Displaying your diversity certifications on your business listing alongside quality certifications can be a huge value proposition when prospects are looking to shortlist your company. Some businesses won't partner with others unless they are certified.
Learn More About What Helps Manufacturers Win New Business
Obtaining quality certifications has many benefits to suppliers, but they mean nothing unless your prospects know about them. There are many components to lead generation for manufacturing companies, and showcasing your certifications online is just one of them. That's because more than 70% of B2B buyers now are tech-savvy millennials, and they're researching your business online before contacting you. It's important to align all your content across your website, Thomasnet.com Company Profile, blogs, videos, and advertising campaigns.
Thousands of manufacturers across North America advertise their business on Thomasnet.com to get seen by more than 1.2 million B2B buyers, engineers, and procurement managers sourcing for suppliers — it's free to create a company profile.
"Thomasnet.com simply delivers the purest industrial audience on the internet, and being there has helped us connect with new customers in new industries," said Pete Elzer, President of Apex Plastic.
Additional Resources To Create A Strong Online Presence For Buyers:
Did you find this useful?