How To Become A Top Manufacturing Supplier (7 Tips)
Most of us know that supplying a quality product or service on time and at a fair price is critical to achieving customer satisfaction.
But what if you're not the only one that can do this for your customer?
Competition is more fierce than ever — with getting new business and maintaining current relationships — so we want to help you become your customer's first choice for their next order and rank as a top supplier.
Read below for our tips on how to become a top manufacturing supplier.
Respond To All Inquiries Within 24 Hours
In a recent Industrial Buyer's Search Habits Survey, results revealed that 44% of B2B buyers expect a response within 24 hours. This means if you're slow to respond, they'll likely turn to a competitor.
Commitment is the key to meeting this goal, and from what what've seen, it's important to have an organized system for managing your responses — and sticky notes won't cut it.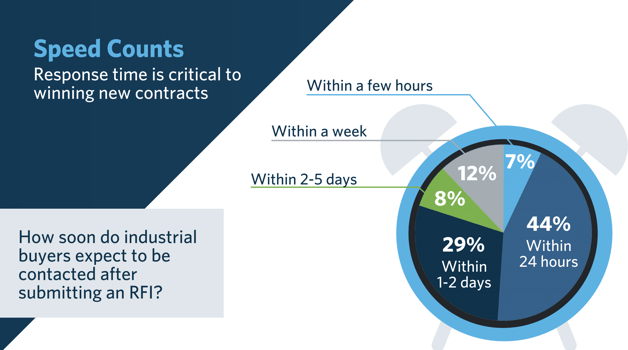 We recommend you create a digital track record to keep a log of who has sent you an RFQ and when your response went out.
If the inquiry was a phone call, send an email to summarize the call, and if you need more time to provide the information that the customer has requested, note this in your email and provide the date by which you will follow up. If you don't have the information by that date, reply with a status report.
Essentially, whenever you send a message that requires follow up, flag the message for follow up with a due date.
And it's a good idea to work through your follow-up list every day to ensure the 24-hour rule is never missed.
Respond Thoroughly And Accurately
The content of your response is as important as the timeliness.
Be sure to address every item, not just the one you happen to be focused on.
Try to anticipate what questions might arise from your response — answer them before they are asked.
It's important to understand that big companies have a qualification process. If you understand their challenges, concerns, and what they're looking for, you can increase your chances of gaining new business.
In fact, 74% of buyers choose the rep that was first to add value and insight. So, make sure to re-read your entire response before sending to check that content is thorough, accurate, and relevant before hitting "send."
(This is where having an online resource library will be helpful. Depending on where the buyer is in their purchasing process, you can also send along additional marketing materials, product information, case studies, and website pages for them to review.)
Invest In Digital Marketing Efforts
Word of mouth referrals and cold calling only hit the tip of the iceberg when manufacturers want to maintain customers and win new business, especially in comparison to inbound marketing efforts that many industrial companies are taking advantage of.
Digital marketing is an umbrella term that covers many forms of online advertising that includes:
Putting your business online can be an overwhelming or scary feat, but once you learn some of the basics, you'll realize that it's the best way that you can reach your prospects and earn more contracts.
You need to be where your buyers are — in today's increasingly digital world, more consumers and businesses are doing their own research online before even considering contacting a company about a product or service. Not to mention that almost half of the industrial buyers searching for your products and services are millennials.
Last year, manufacturers began realizing they were no longer able to avoid the reach and effectiveness of digital marketing and have adjusted their approach with an increase in website usage to generate new customers.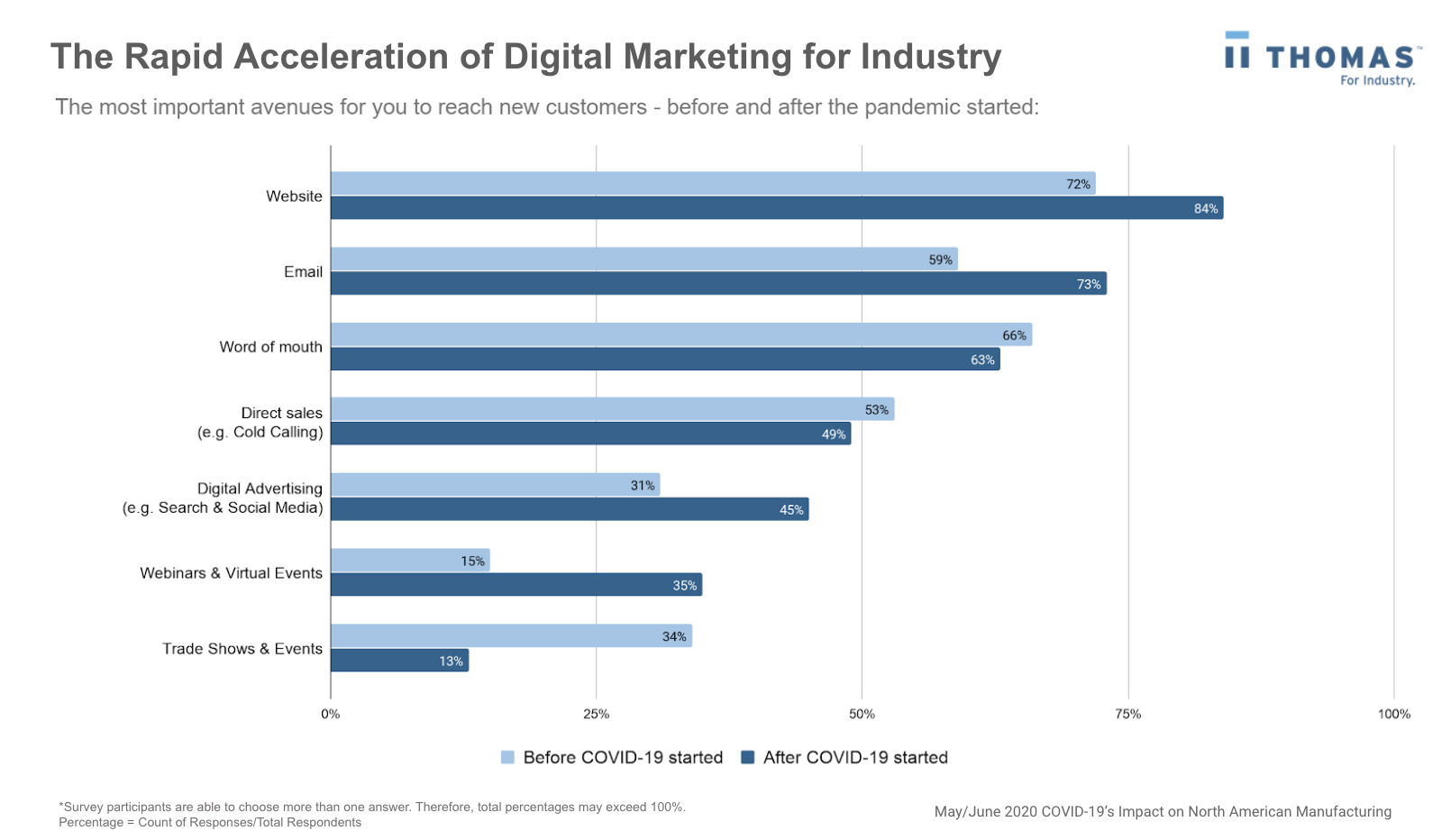 How CGR Products Used Digital Marketing To Reach More Buyers
CGR Products is a custom cutting and fabricating services company that was looking for new ways to attract more large OEMs. This supplier saw very little return at trade shows and their advertising opportunities had dried up. The CGR Products team knew they needed to explore new avenues if they wanted to maintain their business and grow.
After evaluating that digital efforts would cost less than travel to in-person events, the team partnered with Thomas Marketing Services to redesign their website, and create quality online content that would drive prospects to specific pages about their business and products.
By generating greater awareness, CGR turned targeted traffic into customers. Within the first year of working with Thomas, CGR saw a 32% growth in website traffic, 280% growth in leads per month, and gained $4 million worth of quotes.
"It's not unusual to receive email comments or to receive positive messages about our online efforts," said Alan Johnson, Director of Marketing at CGR Products. "Some vendors and partners have commented we are getting ahead of the curve in a mature market and that has greatly contributed to our growth."
Use Technology And Data To Make Better Decisions
Accommodating the varying business needs of your customers is a difficult challenge that can be made easier with technology. You need an ERP system that is robust and customizable, and you need information systems personnel that can help you use all of the available functionality.
Failing to keep up with new technologies is one of the pitfalls for industrial companies. No matter how good your staff is, they will make mistakes, so use technology to eliminate the possibility of human error whenever you can. Train them on what's new and encourage them to provide feedback on how to make your processes more efficient.
The buyer's journey will continue to evolve over time — and your responsiveness to these changes can make or break you. Not sure how to start? Experts say to start small, while thinking big. View the video below, "What The First Step To Digital Transformation?" for some beginner insight.
Make Problem Resolution A Top Priority
Problems are inevitable — you will cause some, and others will be of no fault of your own.
In either case, these are often the times when your customer needs you to perform at your best, and they are likely to remember what you did or did not do to help minimize the impact of the problem on their business.
Determining the root cause and taking preventive action is important, but be sure to make containment and corrective action your top priority until the impact of your customer's problem is minimized.
Strengthen Your Supply Chain With Local Partners
Industrial companies nationally and globally are looking for ways to maintain and strengthen their supply chains while also decreasing disruption. More and more procurement professionals are looking to reshore manufacturing efforts and source suppliers locally.
This increase in local sourcing not only benefits industrial buyers, but will help push the industrial suppliers' agenda as well.
Here are some benefits of partnering with local buyers of your industrial products and services:
Reduce supply chain costs
Increase revenue
Help your local economy
Environment
There are many ways to connect with buyers at a local level. One of the best ways is to list your business on Thomasnet.com (it's free) and will place your business in front of more than 1.3 million active buyers sourcing for industrial products and services.
Accommodate Business Needs Of Your Customer
Procurement managers, engineers, and B2B buyers have set processes when choosing a manufacturing vendor that helps them filter out possible mismatches based on pricing, quality, capacity, and reliability.
If your customer needs you to offer blanket orders, consignment inventory, vendor-managed inventory, long-term agreements, scheduling agreements, lot traceability, customized documentation (i.e. packing slips, certificates of compliance, shipping labels) or other services, find a way to make it happen. Then set your prices accordingly.
Eliminating certain choices right away ensures that raw materials will fit quality and quantity specifications and the final product or service will meet project requirements.
Final Thoughts On Becoming A Top Supplier
Landing an account with your dream customer or becoming the go-to manufacturer for your specialties can be challenging. Keep in mind that searching for a supplier can also be a tough and stressful process.
Your job as a supplier is to make the buyer's decision in choosing you an easy one. Knowing what information is required, what questions to ask, and how much time for each step will ensure a much smoother evaluation process.
We hope that these tips can help you begin the journey to becoming a top supplier, strengthening your supply chain, and winning new business.
If you're interested in learning about specific ways to engage with more prospects you're going after, contact our team or visit the additional resources below. We have been connecting buyers to the right suppliers for more than 120 years. Our free digital health check can let you know what you need to engage with new customers and how your efforts compare with competitors.
Did you find this useful?