How to Keep Up with Changing Technology & Trends
There's plenty of coverage and chatter on IoT trends, being replaced by robots, and legacy equipment vs. digital manufacturing in our industry. That's a good thing because technology becomes more integrated with every aspect of our lives each day.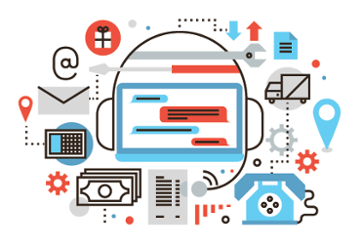 But taking a step back from industry trends and looking at the actual employees — workers who run machines, answer phones, design parts, etc. — many have big concerns. Here's one I want to address in this post: "The world is changing so quickly. I'm afraid I might someday find myself out of the loop."

This is a legitimate thought in this day and age, and it's more common than you might think. I have great news for you, though, because if your only concern is is staying current, then it's only a matter of finding the best resources to learn from.
And because everyone learns and consumes information differently, here are some of the best ways to start learning and keeping up:
Web Content
The Internet is great. Have you ever heard that before? Well, it is. You can get a constant feed of information as it's released. This can be done through blogs, podcasts, forums, resources from trusted business, or a simple query on a search engine.
Don't have the time to be constantly searching for content? Consider setting up a RSS Feed that will funnel content to you a couple time of day from your resources of choice. Maybe you're interested in trends around a couple of topics? Then set up a Google Alert on those topics (i.e. 3D printing) and let the latest news be emailed you whenever that topic is reported on. And speaking of email, newsletters from your favorite companies delivered straight to your inbox might be the best option for you.
Social Media
"Isn't social media part of web content?" Yes, but I think we can also agree that social media has come into an entity of its own.
Twitter has acted as the equivalent to an RSS feed to millennials for years, while groups on LinkedIn and Facebook often allow you to talk to review content and interact with industry experts across the country. Most companies also have company profiles on all the major players, giving you a direct line into their world. Following their channels can be a great way to get up to date information while connecting to employees on the inside track.
Print Content
Some people digest information better in print than on the screen, and that's okay. There is a slew of publications for you to flip through — from Inside Supply Management to Inbound Logistics, general to niche. Of course, they are not as up to date as receiving information online, but they are often more conducive to learning and retaining that valuable information that you are looking for. It doesn't matter if you get your news through a book, magazine, newspaper, white paper, or an academic report. The whole point is just to learn.
Training
"But I'm more of a hands-on person. I learn more in a classroom environment, under a structure and deadlines." Lucky for you, there are plenty of ways to do that.
Your local colleges may offer certification courses or degrees in what you are looking for, and you may be able to enroll to know the latest and greatest in academia. But, if you're like most of us, weeks of classes might be out of the question. Webinars, online tutorials, and online classes are all available at the push of a button, and often for free. Massive Open Online Courses (MOOCs) like Coursera and EdX offer classes from accredited universities that can be taken at your own leisure. And if your company is looking for some in house training, many businesses are willing to do onsite training, bringing the classroom to you.
In Person
Sometimes the best way to get information is being at the announcement itself. Many conferences announce what they are working and what you should look forward to in the coming years. Conferences allow you to connect with others in your profession as well as get some insight on the trends to come. Are crowds a bit intimidating to you? Then smaller gatherings like a meet-up offer the same benefits as the large conferences in a smaller and more intimate setting.
Whichever path is the right one for you, I can't stress one point enough. Information is great to learn, but even better to use. Make sure you make time to review and implement your newfound knowledge. Try it out. Test the waters. Adjust and adapt to your business. After all, knowledge is power.
Did you find this useful?