The Evolution Of 3D Printing
From reducing costs to increasing efficiency to spurring innovation, many people are excited about the impact that 3D printing will have on the future of manufacturing. However, the truth is, it already has made a significant impact on the industry.
Take a look back at the evolution of 3D printing to see how the phenomenon started and how it has helped the manufacturing industry evolve.

The 1980s: Setting The Foundations Of 3D Printing
3D printing was only an idea in the 1980s. In 1981, Hideo Kodama of the Nagoya Municipal Industrial Research Institute in Japan discovered a way to print layers of material to create a 3D product. Unfortunately, Kodama was unable to get his patent for the technology approved.
Meanwhile, in France, the French General Electric Company and CILAS, a manufacturer of laser and optical technology, found a way to create 3D printed objects. However, the companies didn't see a use for the technology, and they soon abandoned their discoveries.
Finally in 1986, an American engineer named Charles Hull created a prototype for a process called stereolithography (SLA). Hull used photopolymers, also known as acrylic-based materials, to evolve from liquid to solid using ultraviolet lights. Hull patented the SLA printer and other companies followed suit. Hull is commonly referred to as "the father" of 3D printing.
Learn More: An Overview Of Additive Manufacturing
Two other key technologies were patented during this period as well – Selective Laser Sintering (SLS), which uses powder grains to form 3D printed products; and Fused Deposition Modeling (FDM), which uses heat to layer 3D models. These 3D printing models set the foundation for 3D printing.
The 1990s: More Technologies And More Adoption
With the foundation of the technology already created, companies began experimenting, expanding and, ultimately, commercializing 3D printing.
Several new 3D printers came to market, including the ModelMaker from Solidscape®, which deposited wax materials using an inkjet print head, which was more common to traditional printing.
New processes, such as microcasting and sprayed materials, allowed 3D printing to be used for metals, not just plastics.
However, the technology was still cost prohibitive. As a result, adoption was limited to high-cost, low-volume product production. Thus, it became a natural fit for prototyping new products in the aerospace, automotive and medical industries.
The 2000s: 3D Printing Explodes
While there were iterative changes and innovations related to 3D printing throughout the early 2000s, 2005 marked the year that 3D printing went on the path to becoming more mainstream. Many of the early patents began to expire, and inventors and entrepreneurs sought to take advantage.
A professor in England named Dr. Adrian Bowyer made it his mission to create a low-cost 3D printer. By 2008, his "Darwin" printer had successfully 3D printed over 18% of its own components, and the device cost less than $650.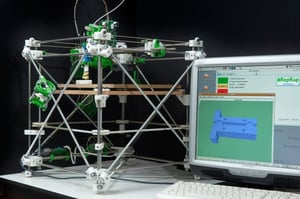 When the FDM patent fell to the public domain in 2009, more companies were able to create a variety of 3D printers and the technology became more accessible.
3D printing began making mainstream headlines, as concepts such as 3D printed limbs and 3D printed kidneys were fascinating and potentially powerful.
The 2010s And The Maker Movement
As the cost of 3D printers continued to decline, the demand for the technology began to soar, and they became more commonplace in the home and in businesses.
On the shop floor, manufacturers began leveraging 3D printing in a variety of ways. Machine parts could be repaired quickly, and inventory shortages could be fought with ease.
By 2014, the industry generated more than $1 billion in revenue. But along with the impressive financial impact of the technology, 3D printing also made an impact on how people work.
People were now free to make and create new products on their own, without relying on companies or technology firms. This empowering shift is fueling The Maker Revolution, which values creation and focuses on open-source hardware.
According to a 2017 analysis by A.T. Kearney, 3D printing was expected experience a compound annual growth rate (CAGR) of 14.37 percent to nearly $17.2 billion between 2017 and 2020.
2020: 3D Printing Responds To COVID-19
Throughout the decades, the technology of 3D printing has continued to disrupt the manufacturing industry. In March 2020, many manufacturers and engineers stepped up to fight the COVID-19 pandemic and the amount of calls to action of the 3D printing community to supply necessary material and products is something no industry expert would have predicted.
More than 1700 3D printing specialists have offered to 3D print masks, respirators, valves, and more. A leading 3D printing, CNC machining and injection moulding company announced on Twitter, "We already have a number of customers who've reached out to us for help in expediting the production of components for #COVID19 test kits and ventilators. Working on a 10,000 run part order to be shipped out tomorrow. Never been more proud to do what we do! #digitalmanufacturing"
Many other similar manufacturers are working quickly to produce medical supplies — at no charge. To see which buyers are in-market for the additive manufacturing services you offer, request our free Custom In-Market Buyer Report.
"Thomas saw our blindspots that we didn't know existed and filled them with data and technology to help us to fuel our sales and marketing efforts," said Brad Godwin, CEO of E2Global. "The leads generated are qualified and real."
The Future Of Additive Manufacturing & 3D Printing
It has been inspirational to see the evolution of 3D printing and to see manufacturers across all industries work together to shape the industry and economy. According to Statista, the worldwide market for 3D printing products and services is anticipated to exceed 40 billion U.S. dollars by 2024.
Additive manufacturing suppliers and 3D designers continue to list their company on Thomasnet.com to increase their RFQs and grow their business (list yours here). As the 3D printing community continues to evolve, we are curious to see how the rest of the manufacturing industry evolves too.
---
Editor's Note: If you're sourcing suppliers for COVID-19 items, click here for those manufacturers and distributors. If your industrial business can support the production of essential supplies to combat the COVID-19 outbreak, please complete this form to notify us of your availability and willingness to dedicate resources. Thomas is working with State and Federal Government offices to help mobilize manufacturers to deliver supplies and services.
---
For more additive manufacturing articles, visit:
For additional insight into other industries, visit:
Did you find this useful?