How To Grow Your Steel And Metals Manufacturing Business
Steel continues to be one of the most sourced products on the Thomasnet.com platform. It is no surprise that steel and metals represent an important supply source to today's aerospace, aviation, and medical industries.
So how can steel and metal manufacturing businesses continue the momentum of their business growth? First, make sure you have a clear business plan. Some manufacturers try to grow their manufacturing business by doing everything possible. In this post, we'll help you choose business goals that are realistic and how you can document them so you can see your milestones and track your growth along the way. Doing so will ensure you're not as overwhelmed and your employees stay motivated too.

Create A Business Plan
If you're just starting out, a good business plan will save you time later and potentially attract angel investors if you plan to seek out that kind of funding. There are several factors to consider, including your legal requirements, where you'll be selling, your day-to-day roles, and when you'll start making money. There are also production and personnel data you should detail in your business plan and answer questions like:
How are your steel products or service produced?
What does it cost to produce your steel products or service?
Is there an adequate pool of talent for future hires?
Do you have an organizational chart?
Do you have a management strategy?
💡 Get Your Free Business Plan Template: Establish A Roadmap For Future Growth
Understand What Your Employees Need To Thrive
You may have heard before that when you keep your employees happy, they keep your customers happy. It's true that both your employees and your customers are at the heart of what you do — and key to business success.
Amerequip Corporation, a designer and manufacturer for the utility tractor, skid steer loader, and lawn & garden equipment markets, implemented several steps contributing to their $150 million annual revenue. One of the first steps was improving the culture of their internal teams. They needed to improve processes and reduce employee turnover to ensure they were equipped to handle more growth. Ameriquip modified their working hours with morning and afternoon shifts that run 10 hours each, Monday through Thursday, and a weekend shift that comprises three 12-hour days, Friday to Sunday — and they're now able to fill their talent pipeline.
Flexibility is what the modern workforce is looking for today, and it's a solving factor of one of the challenges many U.S. manufacturers are still experiencing to bridge the generational gap. Addressing internal improvements can ultimately lead to efficiencies, improved quality control on the shop floor, and increase your customer base.
Build On A Customer-Centric Model
As a business owner, we know you're already focused on servicing your customers — but don't get so busy tending to their needs that you forget they're key to attracting new ones. Keep your customers happy by communicating with them regularly — outside of regular customer service needs or problems. Involve them in your new growth plan and ask them for feedback about what you could be doing better. This helps you keep their needs top-of-mind while opening opportunities to address new challenges for other customers. Also, reminding customers of your presence when they least expect it can go a long way in keeping them in your accounts receivable column. You may get a customer referral out of it.
➡️ Thomas Fact: More than 5000 manufacturers have requested a free custom in-market buyer report to see which buyers are sourcing for their services.
Take Advantage Of Modern Technologies
We can't stress it enough — it's an increasingly digital world today and the strength of your online presence is more important now than ever. Many manufacturers may argue that they don't need an online presence because they have sustained growth through word-of-mouth referrals and traditional growth methods. But this creates a false sense of security.
Add Videos To Your Marketing Arsenal
Video conferencing has taken a big role in meetings and tradeshow dollars are being shifted toward online solutions. More manufacturers are investing in different ways to stay connected with their customers.
Learn More: 10 Ways Manufacturers Can Spend Their Marketing Budget
But investing in digital marketing strategies doesn't always have to cost an arm and a leg. While it is an investment that secures the future of your business, you can start with small efforts that address your prospects' buying habits. According to Content Marketing Institute, more than half the engineers and technical professionals surveyed for the 2020 Smart Marketing for Engineers report indicated that they spend at least one hour per week watching videos for work (those aged 45 and younger reported spending the most time watching videos).
Steel and metals businesses looking for new customers should understand that the workforce is now largely millennials. And in response, smart manufacturers partner with industrial marketing experts to produce videos that keep millennial prospects and customers engaged.
Some machining or steel processes can be complicated for buyers. Videos help explain the size, conditions, capabilities, and products and services available from your business. The other most common reasons manufacturers use videos are:
Videos are easy to share. Videos are visually appealing and make them the ideal format to share on social media and emails.

Videos are proven to increase sales. Reports show that 77% of consumers reported that they'd been convinced to buy a product or service based on a video.

Competitors are already using videos. 92% of marketers who use video say it's an important part of their marketing strategy — up from 78% in 2015.
And according to HubSpot, marketers who incorporate video in their content marketing strategies have seen 49% faster revenue than those that don't. Manufacturers can get a factory tour or company profile video like the one below produced for free with an advertising program — click here to learn more.
Use Industry-Focused Content
Due to the in-person limitations of COVID-19, manufacturers are using the effectiveness of digital marketing to generate new customers.
As expected, companies are 21% less likely to invest in trade shows while the use of webinars & virtual events (20%), search & social media (14%), and websites (12%) all increased in light of COVID-19.
But in today's super-connected digital world, a website is not enough to get more customers. To fuel growth, manufacturers use a compilation of emails, videos, advertising, SEO strategies, and diversified website content.
Start small with an "Industries Served" page on your website and list all the markets your services supply. As you grow, include high-quality photos and graphics to validate the quality of your work further.
"Diversified content on our site has really helped us stand out as a leader in the industry," said Eoin Lynch, Executive Director of Sales and Marketing at Tex Tech Industries. "Some aerospace technology can be complex, but our graphics, datasheets, and videos from Thomas Marketing Services break it down for buyers to understand what they need and how we help them."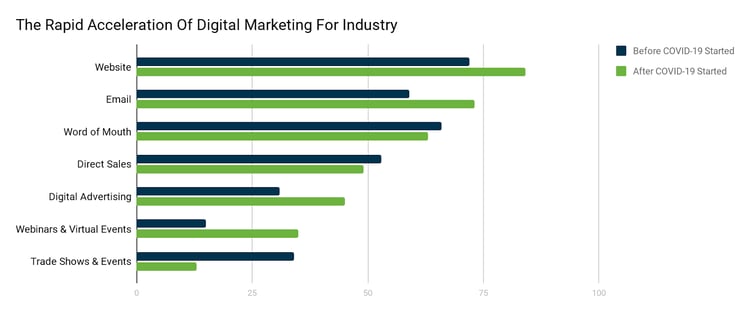 Corrugated Metals set a record for quotes and tapped into the aerospace industry after investing in online advertising from Thomasnet.com — they were contacted by the U.S. Air Force to create a custom part for them.
"Advertising with Thomas lets us develop accounts that build our backlog and keep us more stable as the economy grows," said Ken Carlton, VP of Corrugated Metals. "One Thomas lead that came to our company spawned an entirely new company for our business."
Steel and metal manufacturing companies looking to grow need to take advantage of the digital revolution not only from a marketing perspective, but to improve operation models and the supply chain. Digitization in the steel and metals industry will give supply chain access to real-time information and appropriately respond to unpredictable changes in the market while decreasing risk and providing growth opportunities.
Success Story: Growth For Continental Steel & Tube Company
The manufacturing industry has always aspired toward supply chain consolidation. Sourcing your products from fewer suppliers can significantly benefit your company's bottom line and reduce frustrations.
This kind of consolidation helped Continental Steel's Don Ascione grow his business in a way he didn't plan for — but recognized and capitalized on as a metal specialist with a world-class network. Continental Steel has established itself over the years as a company whose specialty is sourcing hard-to-find metals. Ascione, the company's founder, utilized his operations management background and connections from around the United States and Mexico to amass a tremendous network of metal suppliers.
By supplying numerous fabrication contacts with necessary materials, Ascione also created a tight-knit network of fabricators. This network allows Continental Steel to act as a manufacturer's representative for the fabrication companies and sell projects to customers looking for pressure vessels or staircases (as an example).
Continental Steel has an advantage to really help the customer because he can choose the best fabricator for the job and provide the best pricing on the raw material for the project. The customer gets the best of both worlds, and the network gets more business as well.
When Ascione realized the opportunity to generate revenue from connecting customers with the very fabricators he was supplying, he leaped at the chance. It couldn't have happened without Continental Steel's expertise, knowledge, reliability, and firm establishment as a leading source for procuring elusive metals.
Knowing that opportunities like these are few and far between, Ascione seized the opportunity to nurture this new stream of revenue. Pairing a network of metal specialists with fabricators is tremendously helpful for clients. Rather than looking to Continental Steel for metal procurement exclusively, groups can now find the fabrication services they need for their project, which they previously would have needed to quote from elsewhere.
Continental Steel is now positioned to meet all of its clients' needs, from finding whatever metal materials are required for the project, to developing the top-quality final product. Clients know that the caliber of fabrication will be unsurpassed because of the wide reach to find the best for the job.
His team works to find metals and fabricators for his clients so they don't have to do it themselves. And now Continental Steel has become a leading source for metals procurement around the globe and a premier source for custom fabrication, as well.
---
UNLOCK YOUR FREE PROSPECTING REPORT: See the buyers and companies searching for your services with a free Custom In-Market Buyer Report — your next new contract might be on this list
---
Promote Your Steel Business
Navigating the digital landscape can be tough, along with changing global policies, and complicated distribution channels — as a manufacturing business owner, you already have so much on your plate to manage. But Thomas has been powering the manufacturing industry for more than 122 years, connecting buyers to suppliers and helping engineers get their jobs done.
"As a small machine shop, it's critical that every marketing dollar I spend attracts the right kind of customers — those that I actually want to do business with. My Thomasnet.com program paid for itself within the first 3 months."
Steel and metals manufacturers looking for new customers can sign up for a free company profile on Thomasnet.com to get seen by more than 1.2 million procurement professionals sourcing for industrial products and services.
Our industrial experts have compiled the below resources to help ensure your business grows and continues to prosper no matter what economic or global health situations come your way.
Our related blogs to keep you up to date on the latest industry tips:
Our online solutions to help you grow:
---
Editor's Note: If you're sourcing suppliers for COVID-19 items, click here for those manufacturers and distributors. If your industrial business can support the production of essential supplies to combat the COVID-19 outbreak, please complete this form to notify us of your availability and willingness to dedicate resources. Thomas is working with State and Federal Government offices to help mobilize manufacturers to deliver supplies and services.
Did you find this useful?