The Last Phase Of Inbound Marketing: Keeping Your Customers Happy
Buyers often encounter different challenges every day, and each phase of the buying process has opportunities (using inbound marketing!) for suppliers like you to position yourself as the best partner.
Inbound marketing is defined as the data-driven approach to marketing that attracts people to your brand, engages them, and converts them to lasting customers. The approach is multi-channel and accounts for where people are, and how they want to interact with you using the main driver of quality content. It allows you to bring visitors into your site through various forms of channels like blogs, email marketing, and social media.
Unfortunately, a lot of marketers don't even consider this last element of inbound marketing after the sale is made. That phase — customer delight — is perhaps one of the most important of all.
What Is Customer Delight?
Hubspot defines customer delight as "Exceeding a customer's expectations to create a positive customer experience with a product or brand." Keeping your customers happy sounds fairly simple, right? But too often, especially in sales-related industries, professionals move on to the next prospect after closing or only speak with their new customer a couple of times after the sale.
Customer satisfaction goes way beyond merely delivering a product that doesn't break or providing a service that isn't faulty. How do you handle those inevitable scenarios where something goes wrong? Or, if everything is fine, do your clients still hear from you? You may be providing excellent service, but communication is still key.
Here are some ways to do customer delight right: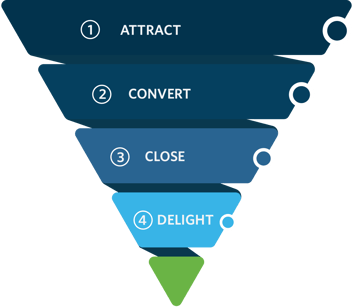 1. Keep Your Customers Happy And Do The Unexpected
You know what's better than a generic thank-you card or standard "It's great to work with you" line in an email? Let them know you're in town and that you would like to stop by for a visit — consider bringing in warm bagels and hot coffee! An in-person meeting just to check-in shows you care. Ask about their families, vacation plans, all the activities you also do on your time off. Apply your humanity to your business personality. This goes a long way in building real relationships with your clients and keeps them feeding the revenue stream. And as an added bonus, if something does go wrong, they won't be so quick to lose their cool if you know the names of their kids. That which is unexpected is especially appreciated.
During your meeting, ask them about their business goals. Learning about their goals helps put yours in a new perspective. Although this meeting is about your customers, this might the perfect timing for a quick customer testimonial.
2. Customers Expect You To Be A Good Listener
Touching base with your customers makes sure they're satisfied with your efforts, and that they're generally doing well — but are you really listening to them?
Never let any of these opportunities go without providing some company updates. Perhaps there's a new strategy or service you're offering. Keep your customers updated along the development process. After all, you're communicating something new to help solve their needs.
Learn more about how inbound marketing contributes to where traditional growth tactics fall short in the guide, How Inbound Marketing Drives Growth For Manufacturers.
You never know when you might be able to assist your customers in one way or another, and reminding them of your presence can go a long way in keeping them in your accounts receivable column. Ask for feedback to find out what you could be doing better. Don't take anything personally. Simply address their suggestions and concerns.
3. Personalize All Your Efforts
Your communications and correspondence should be sprinkled with anecdotes and information that will make your customers feel seen as the individuals they are. Extend courtesies and goodwill to your customers even when there isn't an immediate or apparent reason to do so. Go a step further in your content marketing efforts and educate your customers with valuable content offers that helps them accomplish challenges further down the road.
Stuck on what content to share? That's why understanding your buyer personas is key to creating targeted, meaningful messaging. Here are some questions to start with:
What are your buyers doing?
What do you buyers want?
What are the demographics of your buyers?
Where do my buyers turn to for information?
The more you know about your target buyers, the easier you can create personalized content that draws them in, keeps them interested, and happy after the sale.
Learn More Examples: Content Marketing For Industrial Companies
Current Customers Are Key To Getting New Ones
Your current customers are key to getting new customers so it's important to understand how and why they partnered with you. There are so many marketing channels to organize and track your efforts, and a different tool for each channel. Plus, trying to manage a campaign across all these different platforms can take up a lot of time and resources — and that lowers effectiveness. That's where partnering with a marketing expert comes in.
If you're looking to grow your business or you're struggling to relate to and retain clients — or you just want some more top-notch customer delight examples — give us a buzz and let us help with a customized lead generation strategy.
Did you find this useful?