Industrial Marketing: Train In-House vs. Hire An Agency vs. Freelancer?
Has one of your key marketing/sales employees resigned and you're out in the wild trying to find a replacement? Industrial marketing requires a lot of time and expertise. If you don't quite have either, you're not alone. Many manufacturing companies don't have in-house marketing departments, and those that do often have limited budgets and personnel.
Or if you're beginning your first industrial marketing plan, how do you go about it? Your options are likely to train current employees, seek out freelancers, or hire an agency — and this could be one of the most important decisions you'll make on the path to growing your business. Let's look at the pros and cons of each.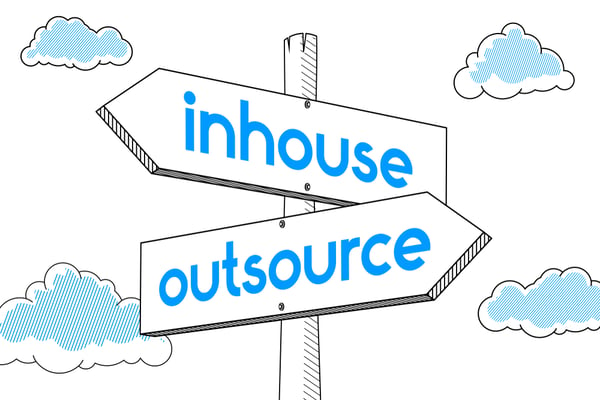 Training Your Staff to Help With Industrial Marketing
There's nothing inherently wrong with hiring staff members who require training to get the job done, especially with a ton of free training resources available online.
Positives of training employees in-house
Job Growth: It's no secret that employees want the opportunity to learn and grow, and this could be a route that's beneficial for your rockstar performers and your company.
Low Cost: There are thousands of blog posts, eBooks, and courses for digital marketing

available online.
Negatives of training staff with marketing
Time Investment: One of the major drawbacks in doing so is that training takes time — time that you might not have if you need to

get in front of buyers, engineers, and procurement professional ASAP. A

nd if you have more than one marketing need, how can you prioritize those efforts when you're down a marketing expert?

Expertise Level: While an employee can work to pick up a few tricks through training (and trial and error), your business really needs a well-rounded marketer with experience in search engine optimization (SEO), video production, email marketing, writing, editing, pay-per-click, etc. — and the technology and platforms behind those components. You'll want your marketing expert to have experience with online campaigns to promote all that great content you're creating too. For example, do they have a creative eye to produce a factory tour video and host it online in front of your target audiences? (Because it isn't enough to just upload it to YouTube these days.)
Learn More: Thomas includes video content production for FREE for OEMs, Distributors, and Service Companies with an advertising program.
If you have go-getters who are eager to learn and have a basic understanding of writing and marketing, it's worth them taking the time to beef up their skillset. Even if you end up bringing on freelance help or an agency, it's great to have someone in-house with a working understanding of digital marketing and how it can help your business grow.
Outsourcing Marketing Services to Freelancers
A freelancer is an independent employee, or a person with a particular area of expertise, such as writing, designing, or performing, who works on their own schedule and takes on projects they select from a variety of clients. There are several pros and cons to hiring a freelancer for your industrial marketing needs.
Positives of hiring freelancers for marketing services
Contract Hire: Hiring a freelancer is a fantastic way to bring specialized marketing knowledge into your company without agreeing to a long-term commitment. You get the expertise you need without bringing on a full-time marketing staff.
Rate Negotiation: Freelancers set their own rates, which can sometimes be flexible and tailored to your specific tasks on a project-by-project basis.
Highly-Skilled: The best freelancers are successful because they are extremely talented at what they do and have experience working on a diverse range of projects for clients in different fields or industries.
Negatives of outsourcing marketing projects to freelancers
Sole-entities: Freelancers are one-person shops; if they get sick or take on other jobs with other clients, you and your project may take a backseat.
Scalability: Because freelancers work alone, you can't scale freelancers or ask them to do additional tasks beyond your contract. You can hire additional freelancers, but if you work with multiple freelancers, they often have different processes, prices, and methodologies. This lack of consistency can make it difficult to grow smoothly.
Niche Experience: Finding freelancers with manufacturing and industrial experience along with the tactical expertise you need can be difficult. If you decide to hire a freelancer for a project, you'll need to take the time to create a clear plan with documented guidelines for them to follow so they understand your needs and communicate your brand well. Working with them in the beginning may feel the same as onboarding a new employee.
When To Work With Freelancers And Where to Look For Them
Freelancers are perfect for smaller projects requiring a particular skill set for your creative marketing needs. Additionally, allowing for rate negotiation means hiring a freelancer may be more appropriate when you have a minimal budget. When you don't have the designated staff or time to write a blog, an eBook, or to create a video, hiring a freelancer can get the job done for you. Freelancers can be hired for just about anything and will save you the effort and headache from figuring it out on your own.
There are many platforms where you can hire writers with the technical skillset of a tier one marketing professional or even a strong background in engineering. Here are some of our favorite freelance platforms:
Upwork for Content and Design
Upwork gives the best overall ability to see which freelancers are best and most qualified for your job. Because it's easy to use, it's a great option for small businesses and manufacturers just starting out with their marketing plans. You can outsource some of your blogs and eBook designs to Upwork freelancers. The platform charges a 2.75% transaction fee on each invoice, which is actually a lot lower than other freelance websites, but pricing is flexible — you can either pay by the hour or per project. What we love about Upwork is that it matches our project with a list of freelancers who specialize in that particular field of work based on the projects they've already completed.
Fiverr Outsourcing Starting at Five Dollars
Fiverr is another popular website that gives you access to a surplus of freelancer writers to hire — starting at $5 per project with options to upgrade depending on your marketing needs. Fiverr makes hiring a breeze. If the job description is clear and the freelancer's profile is reputable, you can have a new hire in a matter of minutes. One major difference between Fiverr and Upwork is that on Fiverr, companies purchase projects already pre-defined by the freelancers. You purchase from a list of services rather than you posting your job for freelancers. While you can search through dozens of categories like "Marketing Strategy" and "eBook Writing," keep in mind you still have to sift through your potential matches and vet if they have any industry experience.
VoiceBunny for Video Marketing Voice Overs
A voice over is a production technique in videos where you are using a person's voice without seeing the actual person. VoiceBunny has provided us with fast turnaround and great quality voice overs. You are given three options to choose from depending on how much involvement you want to have in choosing the right voice for your video and how flexible you are with your deadline. Pricing starts out at $35 and are priced based on the length of the script. They also provide additional services like adding the recording to your video. What we love about VoiceBunny is that you can receive your voiceover the same day (their average turnaround time is 6 hours!) without sacrificing quality.

Should You Hire A Marketing Agency?
When your budget allows, working with a industrial marketing agency typically provides a much broader range of resources to create a more robust marketing solution while saving you time and reducing project management stress.
Positives Of Partnering With A Marketing Agency
Multiple Resources: Marketing agencies have dedicated experts in various areas including web design, content writing, social media, or email campaigns. They all serve as an extension of your team.
Scalability: An agency becomes a "one-stop-shop" for all your marketing needs, allowing you to implement a full-scale, strategic industrial marketing program that's working all year round.
Accountability: An agency builds success through a quality reputation and satisfactory performance with their clients.
Proven Processes: As a professional firm, agencies will typically have processes in place to provide a consistent experience through time-tested methods.
Negatives Of Hiring A Marketing Agency
Cost: Unlike hiring a freelancer, who is typically self-employed or a sole proprietor, an agency tends to be more expensive than a freelancer due to overhead expenses and salaries. However, for the cost of hiring one marketing expert in-house, you can spend the same amount of money to hire a marketing agency.
Niche Specialties: As with freelancers, finding agencies specific to industrial manufacturing may be difficult. You'll want to partner with an marketing agency that can understand your business — and your buyers' journey — to ensure the strategies and manufacturing content they are implementing are most effective to generate leads.
Learn More: What To Expect When Hiring An Industrial Marketing Agency
When To Work With An Industrial Marketing Agency
Typically, manufacturers hire an industrial marketing agency for large-scale projects, such as a website redesign, or to meet ongoing, long-term lead-generation goals. Many manufacturers choose to hire an agency to help achieve marketing and sales alignment, when leads fall through the crack, or when they need more qualified leads for their sales team.
It isn't enough to simply have a website in today's digitally connected world — all of your online efforts need to be maintained daily and your website should be the foundational active tool that helps you sell better. According to a recent industrial buyers survey, 73% of B2B buyers surveyed said they pay attention to a supplier's website when deciding whether to submit RFIs. If your website is not up to date or doesn't have the information buyers are looking for to help them get their jobs done, they'll move to a competitor's website.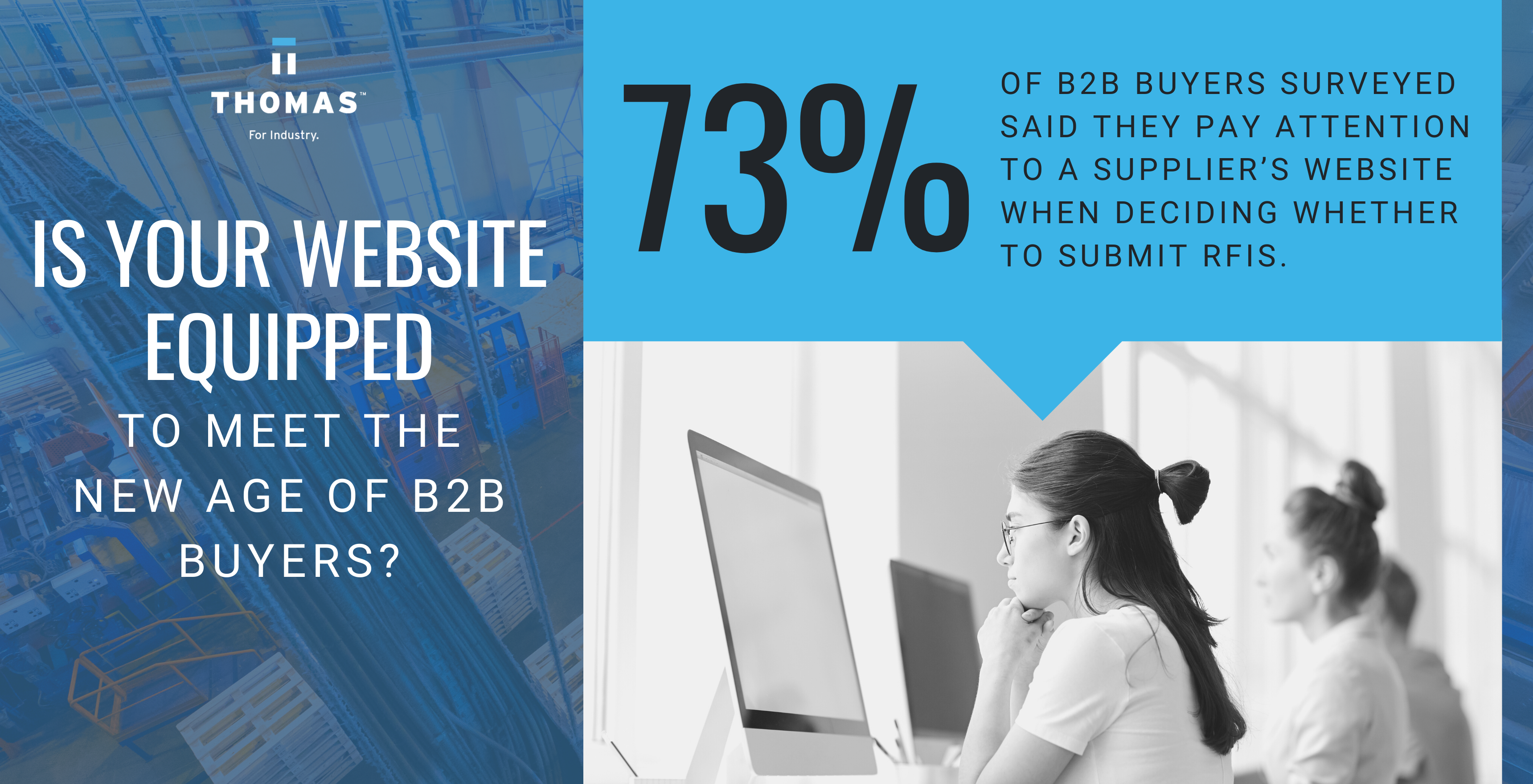 Managing multiple freelancers can take time and resources, so consider an industrial marketing agency when your marketing needs outgrow your staff's ability to handle numerous freelancers effectively. If you've tried creating marketing content in-house, hired freelancers, but you still aren't seeing the results or ROI you hoped for, it may be time to outsource. Finally, look to an agency when you need a partner who can quickly grow with your business, add new capabilities and strategies as buyer trends and goals change. And remember to ask them the right questions to help you zero in on the right marketing partner for you.
When deciding who you should outsource to, it's important to consider a partner that can help you with more than one of your marketing needs. For example, are they able to provide support for your website and email campaigns — you'll want to ensure your brand messaging on all platforms is aligned. Seek a partner that has launched campaigns for tens of thousands of industrial clients — and helped them increase sales. We understand how confusing all the components of a successful marketing strategy can be. Get in touch with our team today to take your marketing to the next level and generate leads. Our marketing team is supported by degreed engineers who understand the complexities of coating processes, cnc milling services, tubing fabrication, and more.
With Thomas running our lead generation efforts and marketing, our sales increased by 60% in just one year.

Thomas maximized our company exposure, drove a record number of qualified leads, and helped us turn these opportunities directly into sales dollars.
You Might Also Be Interested In:
Did you find this useful?