6 Marketing Challenges Manufacturers Struggle With (And How To Fix Them)
In the early days of the internet, few manufacturing companies dedicated resources to online marketing. This created a distinct competitive advantage for early adopters of digital marketing efforts to increase market share.
Today, most manufacturers have invested resources in at least some digital engagement form, even if those efforts are limited to a website or directory listing. But some manufacturers are still finding themselves challenged selling new business and bringing on new customers.
Here are the most common marketing challenges manufacturers struggle with and how to fix them.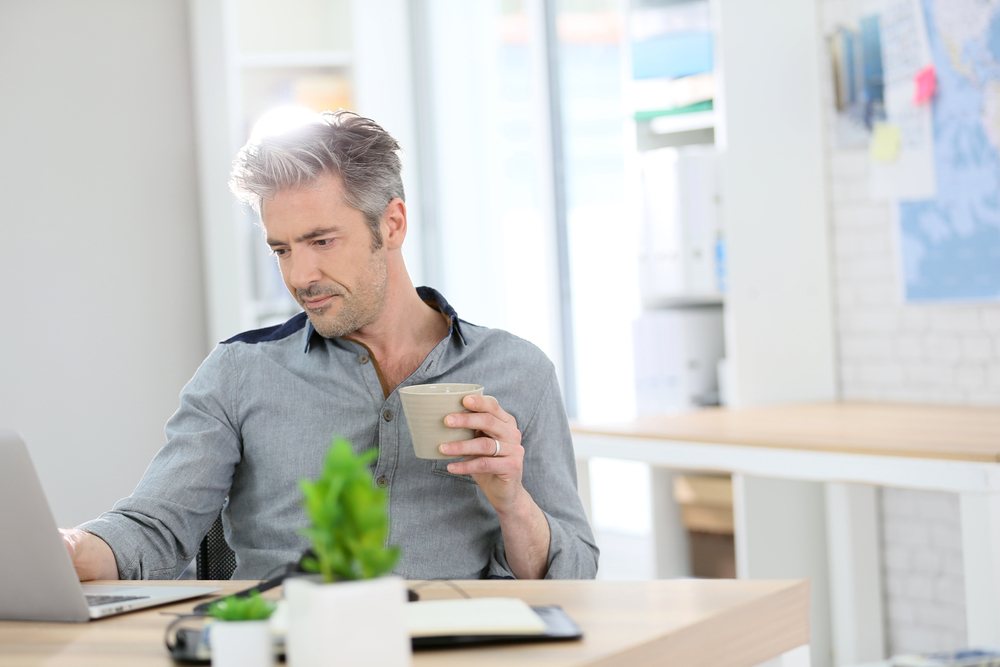 1. Building Email Contact Lists
Purchasing email lists might seem like a quick and easy way to connect with an audience, but it's usually a mistake. When you purchase an email list, there's no guarantee that the names on the list will have an interest in your company or product.
Without a prior connection to your company, recipients on these lists are less likely to engage with you, and they may even flag your messages as spam. Having your messages seen as junk mail can lower your company's reputation and its emails, and it may even decrease your company's ability to connect with legitimately interested prospects and contacts.
Read More: Top Emails Types You Should Be Sending And Why
The Fix
Create impactful content that builds relationships with the target audiences you hope to do business with. Then build landing pages with forms for website visitors to exchange their information for your content offerings. When your online content provides value while standing out, you can more easily curate an audience following actually interested in the products and services you provide.
More Inspo: 10 Content Marketing Ideas (With Examples)
Although email inboxes can be crowded and competitive, thoughtful email marketing allows your company to be creative and brand yourself in a way that speaks to your target audience. According to recent B2B surveys, emails continue to be one of the top ways to nurture contacts into leads and stay connected with customers.
Email marketing has the highest ROI for small businesses and continues to be one of the top ways to nurture contacts into leads and stay connected with customers.
2. Addressing The Full Buying Process
In today's digital-driven world, B2B buyers get as far as 70% of the way through the purchase decision-making process before they even speak to a supplier. That's because today's B2B buyers are digital natives and expect content to be available on-demand, optimized for any device, interactive, and highly visual. They have higher expectations and rely on online tools, supplier discovery platforms, and your website, to research, compare, and evaluate suppliers and products on their own.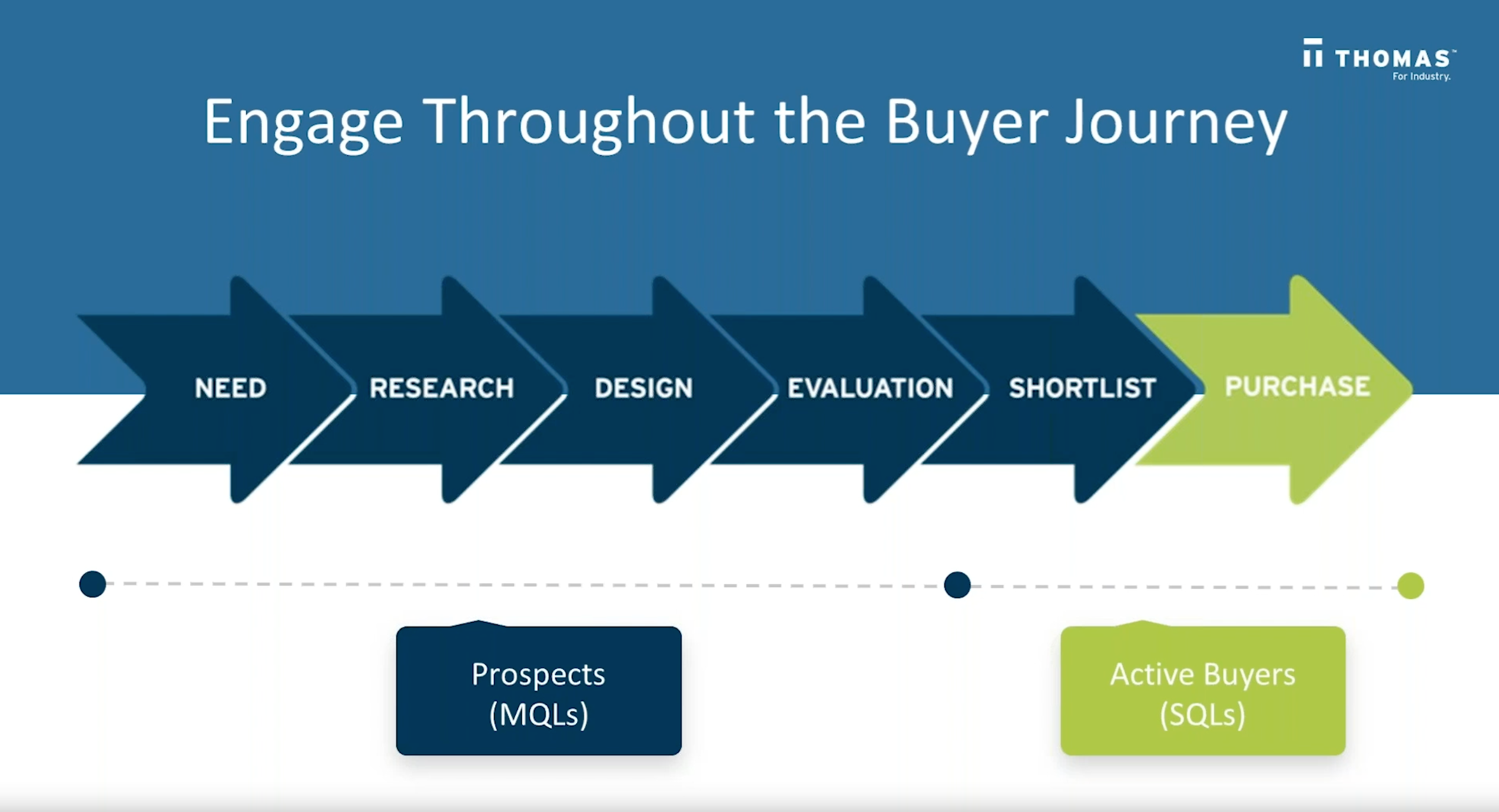 During the need phase, smart, targeted PPC and SEO can help prospects gain awareness of your solutions. Strong content marketing, including blogs, white papers, and videos, can help buyers do their research. Engineers and certain buyers need rich product data, in the form of spec sheets, CAD models, and BIM files, to get through the design phase.
Toward the end of the buying process, when it comes time to evaluate and shortlist suppliers, buyers rely on Thomasnet.com. Platform users are typically past the stage of researching the right solution they need, and are actively evaluating suppliers in the Thomas Network to provide that solution and become a part of their supply chains. And, of course, an updated, optimized industrial website is crucial across all phases of the buying process.
Learn More: The Ultimate List Of B2B Marketing Stats
The Fix
Industrial marketers need to be both patient and persistent in building their digital presence and services. Rather than waiting for buyers to come to you, you need to connect with buyers on their terms, throughout the buying process with a variety of content formats. That also means being everywhere they are online — and you can start with a free company profile listing on Thomasnet.com, where more than a million B2B buyers source products and services.
"Advertising with Thomas lets us develop accounts that build our backlog and keep us more stable as the economy grows," said Ken Carlton, VP Corrugated Metals. "One Thomas lead that came to our company spawned an entirely new company for our business."

3. Hesitating With New Marketing Tools
As an industrial marketer, it's important to keep yourself open to new things — especially the latest marketing best practices, tools, or opportunities. There are many components to digital marketing for it to work effectively — a clear website layout, landing pages with forms, informative content, SEO, etc. If you close yourself off to one of these components, you could miss out on prospects to grow your company and connect with new customers.
Don't be tempted to stick with just one marketing tool or strategy just because it seems to be working. Likewise, don't hesitate to invest in a new online marketing tactic because you're unsure it will work.
The Fix
Hire an industrial marketing agency and make sure they share results of how they've helped similar companies like yours grow. Your marketing agency should help you explore innovative ways to put you in front of your customers to establish your business as a thought leader, valued resource, and a trusted supplier.
Learn More: What To Expect When Hiring An Industrial Marketing Agency
4. Updating The Website
Today, buyers often prefer to self-educate, research and select suppliers on their own time, on their own devices. They don't want to speak to a salesperson when they can get the information they need themselves. From a business owner's standpoint, a salesperson can only work so many hours, whereas a comprehensive, informative website works 24/7 to bring in new leads and engage new customers.
But some manufacturers don't have enough resources or time to update their website to be a lead generation machine — and other times, they are unsure of what to update.
The Fix
Good industrial marketers don't just rely on their feelings or a hunch to make a decision. Rather, they use hard data to inform their decisions. In fact, they often use A/B testing to determine which marketing approaches will yield the best results among their customers.This data helps them continually tailor their approach to adapt to ever-changing trends and customer interests.
They also make use of growth-driven design to revise, upgrade, and optimize their websites. Unlike traditional web design, it doesn't require a big, one-time investment.
Marketing tools like HubSpot, Google Analytics, and Thomas WebTrax lets you know which pages are getting the most action so you can more easily replicate those pieces to bring in more leads. Hear how one Thomas WebTrax user uses the tool to be better informed during sales conversations.
5. Lead Management
A strong industrial marketer realizes that not all leads are created equally. It's important to pursue different leads in different ways to help ensure your success. For example, someone filling out a form on your website for an eBook download is quite different from someone filling out a form for a demonstration or consultation with your company.
The former is considered a marketing-qualified lead (MQL) — someone interested in your product or service, but who likely needs more information before actually buying it. On the other hand, the latter is a sales-qualified lead (SQL) — someone who is interested in buying your product or service now, without the need for more background information or education to persuade them.
The Fix
If you pull the trigger too early and have your sales reps contact prospects who are merely browsing for information, you run the risk of putting them off. Recognizing the difference between MQLs and SQLs is critical to turning "leads" into revenue effectively. Use a marketing tool like HubSpot that lets you keep track of all the actions your leads complete and helps you prioritize which leads to follow up with and when.
6. Not Enough Resources
The manufacturing industry can be complicated, and so is digital marketing. Manufacturing companies are often light on office staff and heavy on labor. Likewise, digital marketing cannot be done effectively on the side by an employee with another set of responsibilities.
The internet is always open. Digital marketing should be working for your business every minute of every day. If you're only dabbling with your marketing efforts, you'll only get part-time results. Imagine if you only applied partial effort to maintenance, customer service, or product quality. It's pretty safe to say that your business and your staff would feel the effects.
The Fix
Some manufacturers choose to freelance a marketing professional, hire someone full-time, or outsource to a marketing agency. When your budget allows, hiring a marketing agency provides a broader range of capabilities for your needs, while reducing the time it takes to manage an additional employee. When vetting your options, make sure you choose the option that ensures you can get found online and continue to bring in high-quality leads now and in the long-term.
Read More: Industrial Marketing Agency vs Freelancer vs Training Staff
Contact TMS today to learn more and discuss your options with an expert. Dedicating resources to marketing will allow you to focus on your core competencies while enjoying the peace of mind that new opportunities are being created for your business.
Did you find this useful?