How to Increase Your SEO Traffic in 30 Days
"What's the quickest way for me to improve my website's SEO ranking?"
This is a common question many SEO managers, including myself, get asked, and the honest answer is: "There isn't one."
There is no magic bullet or quick fix for good SEO. The algorithms that search engines use to rank sites and pages — Google's are particularly challenging — constantly change. This negates any possible SEO "hacks" you could try.
The true key to good SEO is a long-term strategy that makes use of proven best practices but remains flexible as situations change. It doesn't matter if you're well-seasoned in the search engine marketing field or are just wrapping your head around what's in store, you can start optimizing in just 30 days — it starts like this:
Day 1 — Optimize Titles and Descriptions

When you search for a keyword, Google presents a list of relevant websites. What you're looking at are what Goggle calls "snippets," the title, URL, and meta description of each of those pages.
Good titles and descriptions are very important for good SEO. Your page title has a direct impact on how your page ranks, so it's important to get it right. It should be short, because Google only displays 70 characters in a title. It should be easy to read and include at least one keyword.
The meta description doesn't impact your ranking directly, but don't ignore it — it is an excellent marketing tool and a major driver of clicks.
Day 2 — Optimize Images with Alt Attributes
Image recognition technologies are advancing quickly but, as of now, search engines still have trouble fully interpreting images.
They need textual support to do it properly, which makes alt attributes very important.
Alt attributes work in three ways:
They provide search engines with information and context relevant to the image
They provide a description of the image to readers in the event that the photo doesn't load properly
They are used by text-to-speech software for the visually impaired
Make sure that your alt attributes are brief, clear, and contain strong keywords.
Day 3 — Find and Fix Broken Links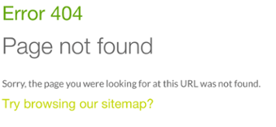 We've all clicked on a link only to find a 404 (file not found) error. It can be incredibly frustrating — for human users and search engines alike.
These 404 errors are most commonly caused by broken links, which are hyperlinks that director a reader to an incorrect or nonexistent URL.
Broken links aren't only a frustrating problem for readers; search engines will find all 404 errors on your website, too. The more errors an engine finds, the less well maintained it assumes your page is and the lower your ranking will be.
Day 4 — Refresh Your Redirects
Redirects are simply part of operating a website, they're pretty much unavoidable. But if you're smart about it, they don't have to hurt your rankings.
Status code 302, a temporary redirect, is the most common redirect. They're used a lot during server relocations, redirecting URLs until the new server is established. The problem is that they're often left permanently, even though there is a unique status code for permanent redirects: 301.
Review your redirects, keeping only the 302 redirects that are truly temporary, changing the rest to 301s.
Day 5 — Standardize URL Structures
URLs are like street signs — the clearer they are, the more easily those streets can be navigated.
Automatically generated URLs are usually long strings of numbers and non-letter characters that are hard for both humans and search engines to keep track of. Implementing a simple, organized, and descriptive URL naming system will improve user experience, lowering bounce rates, and help get more of your pages indexed.
Days 6 to 30 — Internal Links, Keyword Research, Content Curation, and more
Good SEO is a lot of things — part science, part art, always in flux. What is it's not is simple, and there's no simple fix. Improving your SEO is a long-term process of best practice implementation, monitoring, tweaking, and refining.
Every step is important, though, and these five steps will help. For the rest of the 30 day plan, download our free resource, "How to Increase Your SEO Traffic in 30 Days."
Did you find this useful?