Top SEO Questions Manufacturers & Industrials Ask
Recently, we hosted a webinar SEO 101 for Manufacturers: Targeting The Right Google Traffic. We went back to the basics and discussed the important steps manufacturers should take to get the most out of their website, content marketing, and SEO efforts. Let's take a look at the questions our audience of manufacturers and industrial companies asked at the end of the webinar and how we answered them.

Can Landing Pages Improve SEO In Any Way?
In marketing, the term "landing page" typically describes a standalone page on your website designed specifically for a targeted marketing campaign. Technically, any page can be a landing page, so the answer to this question can be both "yes" and "no." Your landing page can improve search rankings if:
It's part of your sitemap (visitors/crawlers can access it from your homepage and/or main navigation).
It has at least 500 words.
The content is educational and informative, not overly promotional or technical.
The content links to other pages on your website.
There are subheads that act as sub-categories for the main topic.
Your landing page probably won't improve search rankings if:
It has less than 300 words.
It's an "orphan" page — meaning, it's not part of your main sitemap; you can only access it from a specific campaign.
It's worth noting that the latter type of landing page is not necessarily bad for SEO either — it just simply serves a different, more targeted purpose in your marketing efforts. We frequently create eBook landing pages like these for our marketing customers with the goal to convert visitors into marketing-qualified leads. Rather than use those landing pages to drive traffic, we'll create longer-form, more educational blogs like this one and then add a CTA on that blog page to the landing page we want to convert the visitor.
Should Alt Text For Photos And Graphics Follow A Certain Format?
Alt text (short for "alternative text") is a tag assigned to images to describe the image's content. There's no specific format required for image alt text, but it's recommended that the alt tag be as descriptive as possible for two reasons:
The more descriptive the alt text, the less competitive the keyword. Your image has a better chance of ranking in Google's image search for "progressive die stamped part" than it does for "metal stamping."
Since alt text is served in place of images if the image cannot load properly or if the visitor is visually impaired, you want to make sure that text accurately describes the image it's replacing.
Moz, an industry leader in SEO, offers excellent guidelines for writing image alt text: while keeping it descriptive, don't get too fluffy with your keywords. Include keywords but keep it under 125 characters. For example, "20' square & rectangular stainless tubing" follows alt text best practices because it contains keywords and is descriptive enough to help the image stand out from others.
I Don't Have A Lot Of Images I Can Use Across Different Website Pages — What Should I Do?
Multimedia is an extremely important component for strong SEO. Google's goal is to serve helpful, easy-to-consume content for its users, and a 1200-word essay without any images or videos doesn't exactly meet that goal.
We run into this scenario with a lot of our manufacturing and distributor customers for several reasons:
Custom manufacturers perform services and a bunch of images of equipment isn't exactly "fun."
Many finished products are under NDA by the OEM and cannot be photographed or shared.
Professional-grade images for small parts can be difficult.
If you're in this situation, we recommend throwing together graphics or an infographic to illustrate your content and bring your page to life. It can be as simple as leveraging a Diagram in Google Slides or an illustration tool like Canva (Google Slides is free, and Canva offers a free model).
Check out the infographic designed using Canva: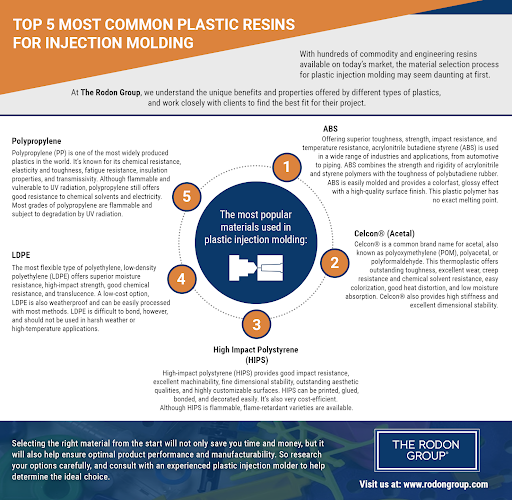 How Can I Be Sure Google Is Crawling My Sitemap And Indexing My Website Properly?
As we mentioned in the webinar, a well-constructed sitemap allows Google to easily crawl through each page of your website and rank it accordingly. Think of one of those fancy champagne towers you see at weddings and parties:
Google's bots should be able to easily "flow" from each parent page to the respective child pages below it. If a glass sits outside the tower, or the sitemap, it's known as an orphan page and makes it more difficult for Google to find and categorize.
Orphan pages aren't necessarily damaging to SEO, since they're sometimes used as landing pages for targeted campaigns — but if you're trying to use that page to improve search results, it should be easy to access from your homepage navigation.
How To Build A Sitemap
We recommend outlining your sitemap in a Google Sheet first to get an overview of each page's Title, Meta Description, and URL.
Start by using a crawling tool like Screaming Frog to crawl every page of your website.
Export the results into a spreadsheet and structure accordingly. Any non-content pages (images, PDFs, javascript) and blogs do not need to be included.
Highlight the pages you want to set as parent pages (or main links in your navigation) and list the child pages underneath them. Make sure the URL structure follows the parent page. So, the "Linear Guideways" page listed under "Products" would have the URL www.website.com/products/linear-guideways.
From there, you can also use the spreadsheet to optimize each page's Title and Meta Description before you make all the changes to the live site.
How To Submit Your Sitemap To Google
Once you've finalized your sitemap, your first step should be to publish it as a page on your website. Many Content Management Systems (CMS) like WordPress will auto-generate the sitemap page for you so that new pages are automatically added.
It's also a good best practice to submit your sitemap xml to Google. You can do this by verifying your website with Google Search Console and entering the sitemap in XML or text format. Follow Google's Search Console help if you need more information.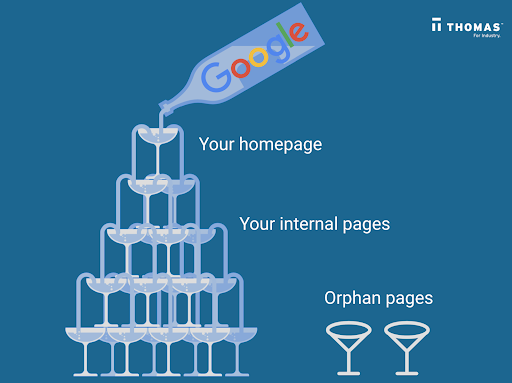 Are Title Tags Still Important?
Yes, title tags help Google quickly understand the type of content your page contains. This goes back to what we mentioned above in our Sitemap overview — the more quickly and easily Google can crawl and categorize each page on your website, the more easily it can rank your pages for its relevant keywords.
Of course, we're not just writing content for Google's bots — title tags (the blue titles in search results) also help your human visitors tell what's on a page.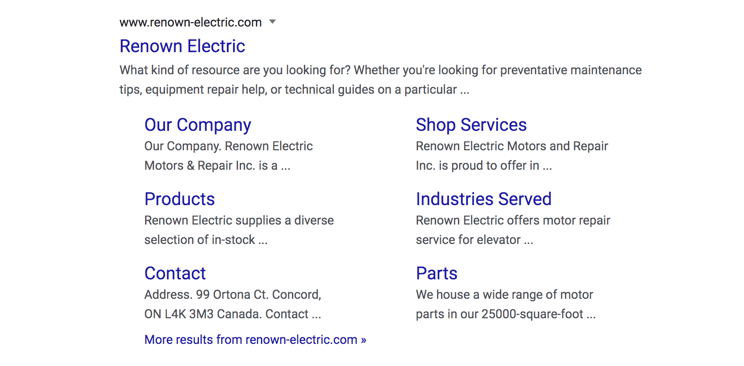 How Can Videos Improve SEO?
Videos boost SEO in a few ways:
They promote your content in Google's video search results, increasing your visibility and click-through rates to your website.
By publishing your video on YouTube, you're exposing your brand to the second-largest search engine on the Internet.
By publishing the video on your website page, you're telling Google that page has high-value, easy-to-consume content, (both written and multimedia).
When you publish videos on your website, it can also increase the average time spent on your page and decrease bounce rate. Both are metrics Google looks at when ranking websites.
Adding Videos To Your Website
To improve SEO, we recommend publishing the video on YouTube first and then adding the embed code directly into the page:
Since the video doesn't technically "live" on your website (it lives on YouTube) embedding it will also avoid slowing down your site speed — another factor critical for search engine optimization.
Can I Publish Videos On The Homepage?
Absolutely! While we recommend creating videos for more specific keywords and pages, a video on the homepage can engage your audience and encourage them to spend more time browsing your website. It can also tell a story about your brand and help them to convert. (Thomas can help you create videos content for free — find out more here.)
Recently, Thomas' marketing team has been leveraging videos in the website's design as a background. We've A/B tested these across several websites and have seen increases in conversions with the video variations.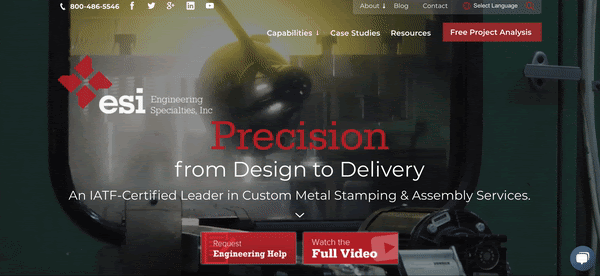 How Does Page Speed Affect SEO?
Page speed has been immensely more important for SEO over the last few years. Think about it: if Google's goal is to serve the best experience to its users, it's not going to rank pages that make their user wait to load.
There's no "industry standard" for page speed metrics, but our SEO team will monitor our customers' websites and bring our development team in if we start to see the page speed score fall below 70. Google's free tool, Page Speed Insights, not only assesses your site's speed and provides a score for both the Mobile and Desktop View — it also outlines any issues that are causing the site to slow down.
Some common issues that we'll find are slowing down websites include:
Heavy plugins weighing down the website
Large images that need to be compressed
Website code that needs to be minified
Javascript needs to be reduced
The website host is on a slow server or can't support your website's size
An SEO analyst and/or developer can help you out with most of these items except for the last one — if you've identified that your host is the issue, consider switching to a well-established hosting provider like WPEngine.
Read More: WordPress vs. Wix: What's The Best Platform For Manufacturers?
More SEO Resources For Manufacturers
Remember, having a website is just the first step to increasing your manufacturing brand. If your goal is to bring in more traffic and get high-quality leads, you need to maintain your website with continuous content and SEO efforts. And we understand it can be a lot of extra work to manage, especially when you may already be short on time growing your manufacturing company. Below are some additional resources manufacturers have used to help with their SEO traffic — and if you need help along the way, contact our industrial marketing experts.
Did you find this useful?