WordPress vs. Wix: What's the Best Website Platform for Manufacturers?
Consumers buy differently today than they did 10 years ago.
Before the internet, sales teams relied on cold calls, print advertising, and word of mouth to grow their business. Today, the marketing and sales landscape offers a virtually endless number of platforms and channels to reach buyers.
However, none of those digital marketing channels are effective without a strong website.
A few years ago, transformation in the manufacturing industry was off to a slow start. Still a relative newcomer to the B2B digital marketing world, there were companies that hadn't updated their website in a decade — or some that didn't even have a website (make sure to check for signs your website is out of date if you're not sure).
But in recent years, we're seeing manufacturers who are ready to get their hands dirty and create a new website on their own. With so many easy digital tools out there, it's no surprise manufacturing and industrial companies are taking the initiative.
One of the best options in the website builder market for manufacturers today is WordPress. More than 75 million websites are using WordPress as a Content Management System (CMS) right now (that's 34% of all websites in the world). This platform allows you to create strong experiences for your customers and gives you the tools you need to make edits as needed and make sure your site is getting found by relevant users.
And then there's Wix, which our data shows is another popular alternative you may have come across for website design is Wix. So how does Wix stack up against WordPress? Which one should you choose for your website platforms? Let's go through a quick comparison.

What's the Difference between WordPress and Wix?
The biggest difference between WordPress and Wix for manufacturers is customization.
Wix is appealing to small manufacturing businesses and startups for its drag-and-drop features that allow you to design a simple website without any formal training in design or development. However, these businesses then find themselves running into limitations very quickly.
Think of it as a standard industrial product versus custom manufactured products: Standard products may come in different sizes or specs, but overall the fundamental design and structure can't be changed.
Here's how that breaks down: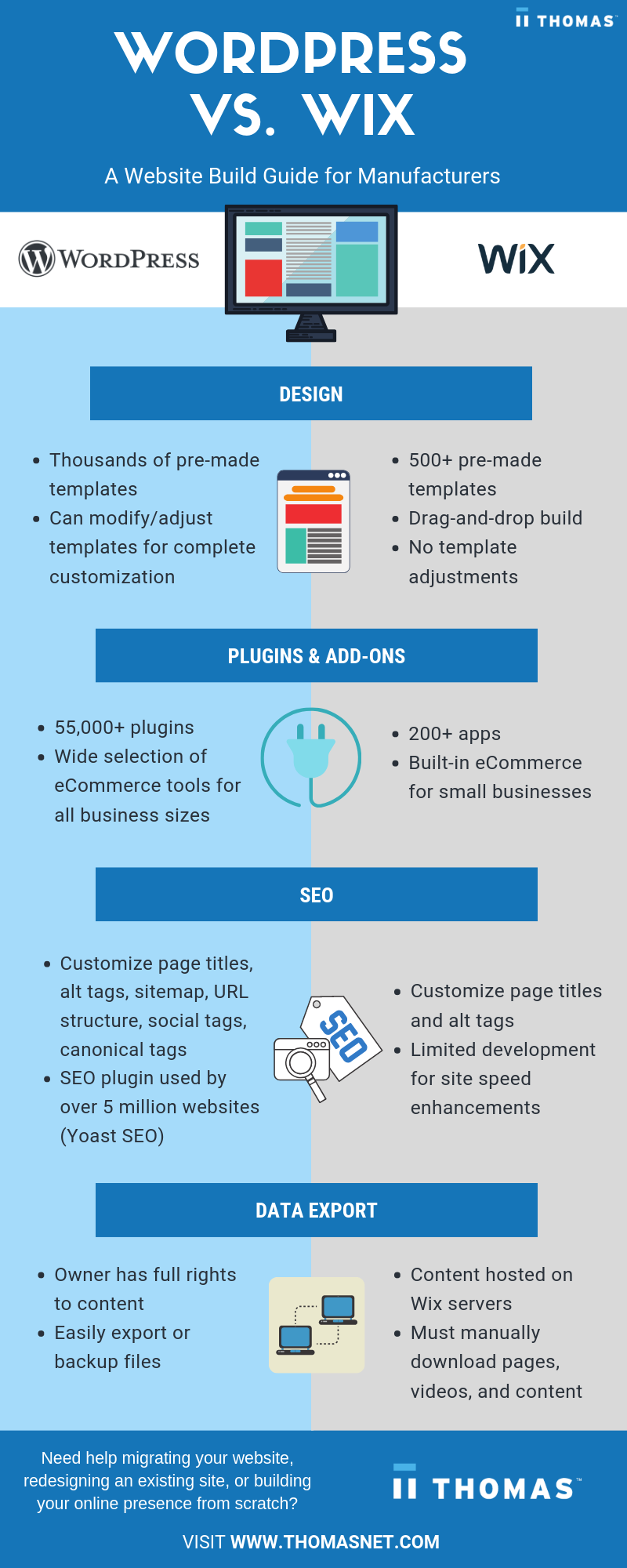 With WordPress, users download the software before they can build a site (a good thing, because it creates a website platform that can be modified and redistributed again and again for free). Although Wix users don't need to spend much time to learn the platform like WordPress users, WordPress offers more powerful and customizable page builder plugins.
Since Wix is tool/service and WordPress is a software, they're both completely different experiences getting started.
WordPress vs. Wix: Which is Optimized for SEO?
Let's refresh your memory on the marketing acronym, SEO. SEO stands for Search Engine Optimization and it's the process of optimizing your website to get a higher ranking in Google and other search engines.
Learn More: SEO Basics For Manufacturers and Industrial Companies
Smart growing manufacturers and industrial companies use WordPress because it offers them greater flexibility for design and content — which contributes to better SEO. SEO a big part of the strategy to generate more qualified leads and is one of the top reasons why most industrial companies use WordPress for their website. As we covered above, Wix's limited customization can get in the way of advanced SEO tactics, such as development optimizations for site speed.
In 2019, an analysis of over 150,000 small business websites, despite Wix taking up a significant market share as CMS it performed the worst Google PageSpeed scores.
As a company grows, the purpose of the website evolves with it and more webpages may need to be created to support new products, services, and the customers' changing needs. You can't just create a website and expect people to find you online if you don't have new content to increase SEO. Remember, better content that's targeted to your buyers moves your website closer to the top of the first page of Google, which increases your chances of getting found by more customers searching for the products and services you offer.
Fun fact — WordPress actually started out as a blogging platform before it evolved into a website builder, so you can also expect WordPress to be more advanced in that department than Wix.
WordPress vs. Wix: What's The Best Platform For Lead Generation?
Wix is a great tool for small business owners because of its easy-to-use templates and intuitive interface. While the Wix App Market does offer over 250 marketing, analytics and other business tools, it does not compare to WordPress's 58,000 plugin offerings.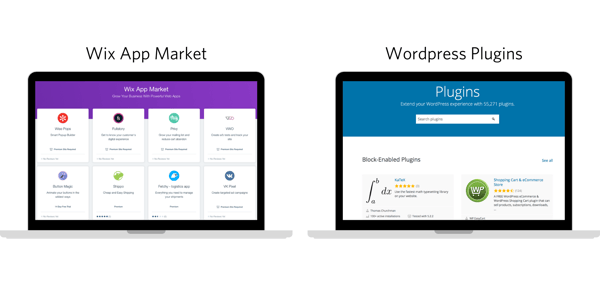 Regardless of which platform you use, effective lead generation needs a clear goal and strategy. Your website is the foundation of your lead generation efforts but there are many components that should be aligned in order to see results. You should understand who your prospects are, their buying habits, be up to date on buyer trends, and leverage all channels of digital marketing to successfully drive traffic and convert them to leads. That includes leveraging emails, videos, paid campaigns, and more.
Dive Deeper: 32 Industrial Lead Generation Tips, Tricks, And Ideas
Migrating From Wix To WordPress
Migrating a website from Wix to WordPress is, unfortunately, no easy feat, as Wix servers own all the content you build. So if your business is growing and you're looking to upgrade from Wix to WordPress for advanced SEO and customization, check out the following checklist:
6 Steps to Migrate Your Website from Wix to WordPress
1. Purchase new web hosting
Since using Wix means that Wix hosts your site, migrating your site over to WordPress will require you to purchase a new web hosting account. Once you make this purchase, you'll be able to install WordPress to your account.
2. Set up a temporary domain
If you set up your domain using a premium domain with Wix, you'll need to create a temporary domain on your WordPress side while you're still moving all the content over from your live Wix site.
3. Settings & plugins
Before customizing your website it's important to do some backend setup. Upon logging into your WordPress account, you'll see your dashboard. At this point it's good to navigate to the following to get you started:
Settings > Permalinks and update your url structure to make it more readable.
Settings > General create your site title and tagline.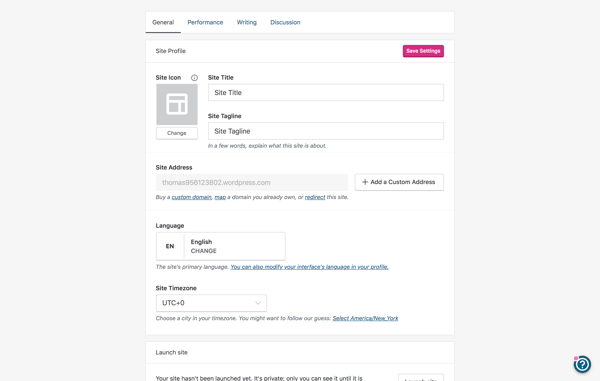 It's also a great idea to check out some essential plugins and their features. There are many to choose from, but these plugins can help your website perform better in terms of SEO, content, scheduling and more. Some of our favorite plugins include: Yoast, Jetpack, Google XML Sitemaps, and Gravity Forms.
4. Design your new website
Next, it's important to customize your website design. WordPress offers thousands of themes to get you started on building and crafting your business' online presence. Perhaps you need some website design inspiration?
Here are additional references to guide your design: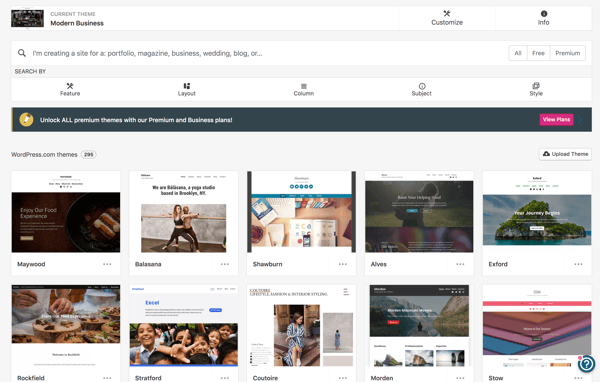 5. Transfer blog and website pages
While you can download your blog RSS (Really Simple Syndication) feed for easy migration of blog-specific content, the only way to transfer other website content to WordPress is manually or through paid services with website experts. The length of time it will take for the full transfer to happen is really dependent on the size of your site and the pages and content you have to publish.
Learn More:
6. Transfer domain name to new provider
If you had a premium domain registered Wix, you'll need to transfer that over once your site content is moved.
Sign into Wix
Navigate to Subscriptions
Click domains in the dropdown
choose the relevant domain
Select the Advanced tab
Choose transfer away from Wix
Click send code
You will receive an authorization link via email to transfer to WordPress.
Choosing which CMS to use is a business decision that shouldn't be an afterthought. Each platform comes with different capabilities, features, and tools that can make or break your digital marketing efforts. We understand the above steps go a little beyond the website basics but creating a high converting, optimized manufacturing website is a necessity for the success of your business and is no longer a "nice-to-have" — so it's important to stay informed so you can make the best decision for your company's bottom line.
Need help migrating your website, redesigning an existing site, or building your online presence from scratch? Contact our website design experts for help. Our industrial marketers are supported by design engineers so we understand the complexities of your manufacturing business. We can run a free digital health check on your website to let you know exactly what you can improve to reach more B2B buyers and increase sales online.
"A key thing about Thomas is the ability to generate a lot of leads across various industries. We wanted to help educate our customers," said Renown Electric. "Through eBooks, blogs, a revamped website — they actually drive our own knowledge out and customers appreciate the insight."
BONUS: Best eCommerce Platform For Manufacturers
The rise of adoption in eCommerce and product data management technologies continues to escalate. But there are many product solutions and tools for manufacturers to choose from. Which platform generates leads while supplying engineers and B2B buyers with what they need to make an easy purchasing decision? Read the comparison of two top-name brands in the eCommerce industry in our recent post: "Thomas Navigator Vs. Shopify: What's The Best Catalog Management & eCommerce Toolset For Manufacturers?"
Did you find this useful?