4 Industrial Distributor Website Examples That Increase Sales
Today, as an industrial distributor, your website needs as much attention as your commitment to your partners. In fact, according to a Thomas industrial survey, 73% of B2B buyers surveyed said they pay attention to a supplier's website. And as expected, there is a 12% increase in website usage by manufacturers and industrial companies to connect with more buyers and customers.
The industrial distributor industry plays an essential role in the economy. In 2015, they generated $2.5 trillion in revenue in the United States, growing about 1.2% annually. Those who will continue to grow the industry can scale, enhance their digital platforms, and provide a seamless customer experience.
According to McKinsey, industrial distributors who move quickly (in the digital space) can create deeper customer relationships and sustainable competitive advantages to outperform consistently in the years ahead.
57 Percent Of Professional Buyers Surveyed Said Omnichannel Convenience Was One Of The Top Three Improvements Industrial Distributors Should Provide.
Let's take a look at our favorite industrial distributor website examples that have embraced the digital revolution.
Industrial Distributor Website Examples To Inspire You
1. Sequoia Brass & Copper
Providing informative content in the form of blogs, eBooks, and PDF guides can help build your contacts base of prospective customers. But when you provide unique content, you contribute to establishing your company as a thought leader in the industry.
Sequoia Brass & Copper is a privately held supplier of nonferrous metals in plate, bar, and sheet forms. Their website shares various resources for buyers' metal-using needs, including a Tap Drill Selector Chart, Copper Alloys Classification, and a Weight Calculator.
The online weight calculator lets customers see which alloy, type, and shape they need for their project. It also works as an educational sales tool. Online calculators can reduce customer service time for your team so you can focus on completing accurate orders faster.
Read More: 11 Content Marketing Ideas For Manufacturers (With Examples)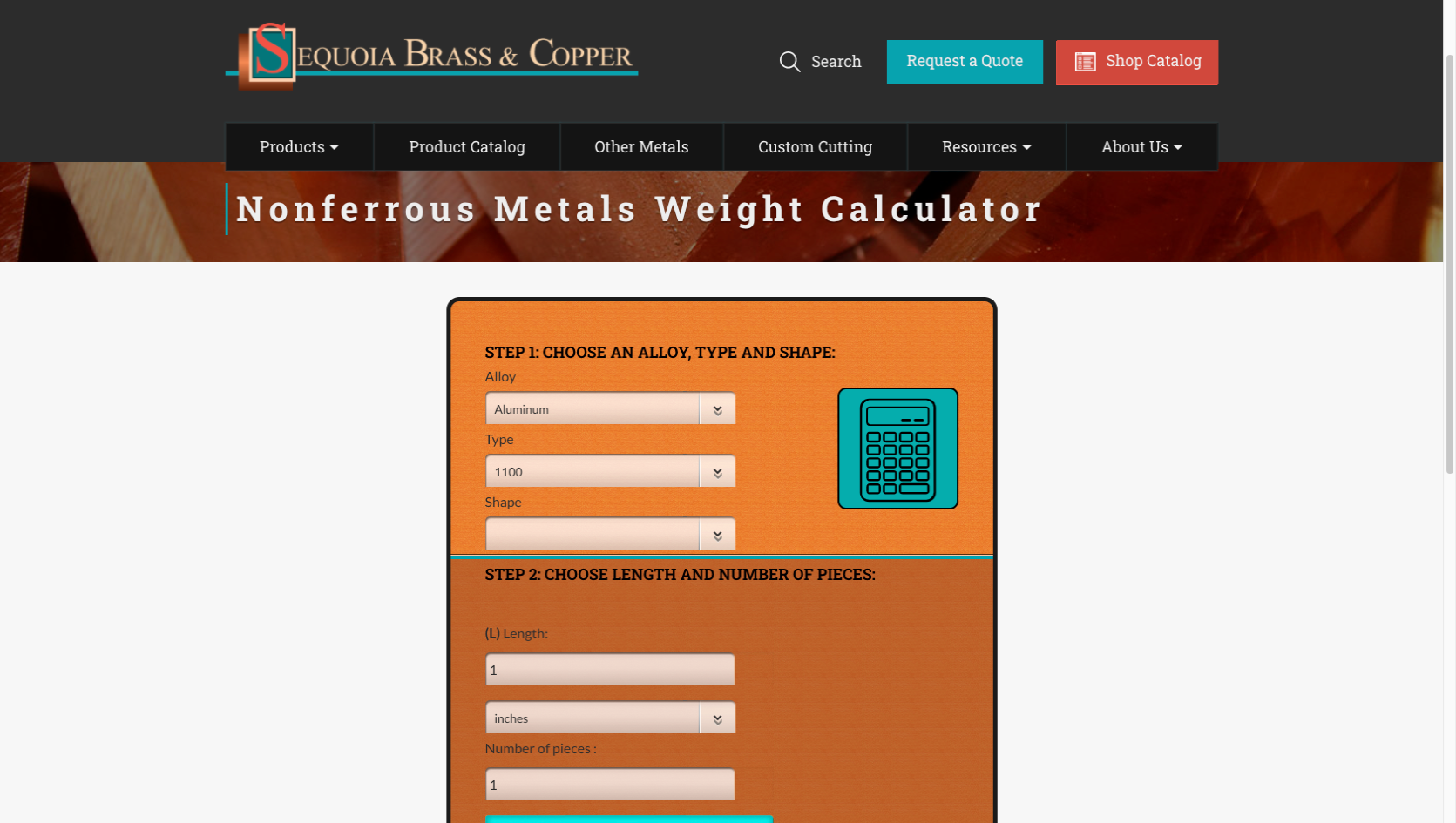 2. Colonial TelTek
In the age of Amazon and two-day deliveries (or one day if you're lucky), many industrial companies and distributors are challenged with keeping up with the changing ways buyers are demanding products.
A 2019 JumpShot e-commerce trends report showed that 54% of all online product searches began on Amazon in the second quarter of 2018 — up from 46% in 2015. In response, OEMs are strengthening their relationship with their local distributor partners to increase their reach online.
Colonial TelTek is an independent, family-owned, and operated telecom & electrical distributor. Their new website is designed to generate more traffic and deliver a better online experience for customers.
Built with the Thomas Connect platform, Colonial TelTek's website allows their product data to remain accurate and up to date from multiple manufacturers — easily increasing market reach. It helps small and medium-sized suppliers easily populate the website with information buyers are looking for, and OEMs can remain independent in the industrial e-commerce playing field. Click here to learn more about how Thomas Connect can solve your data challenges.
You Might Also Be Interested In: How To Sell Industrial Products In A B2C World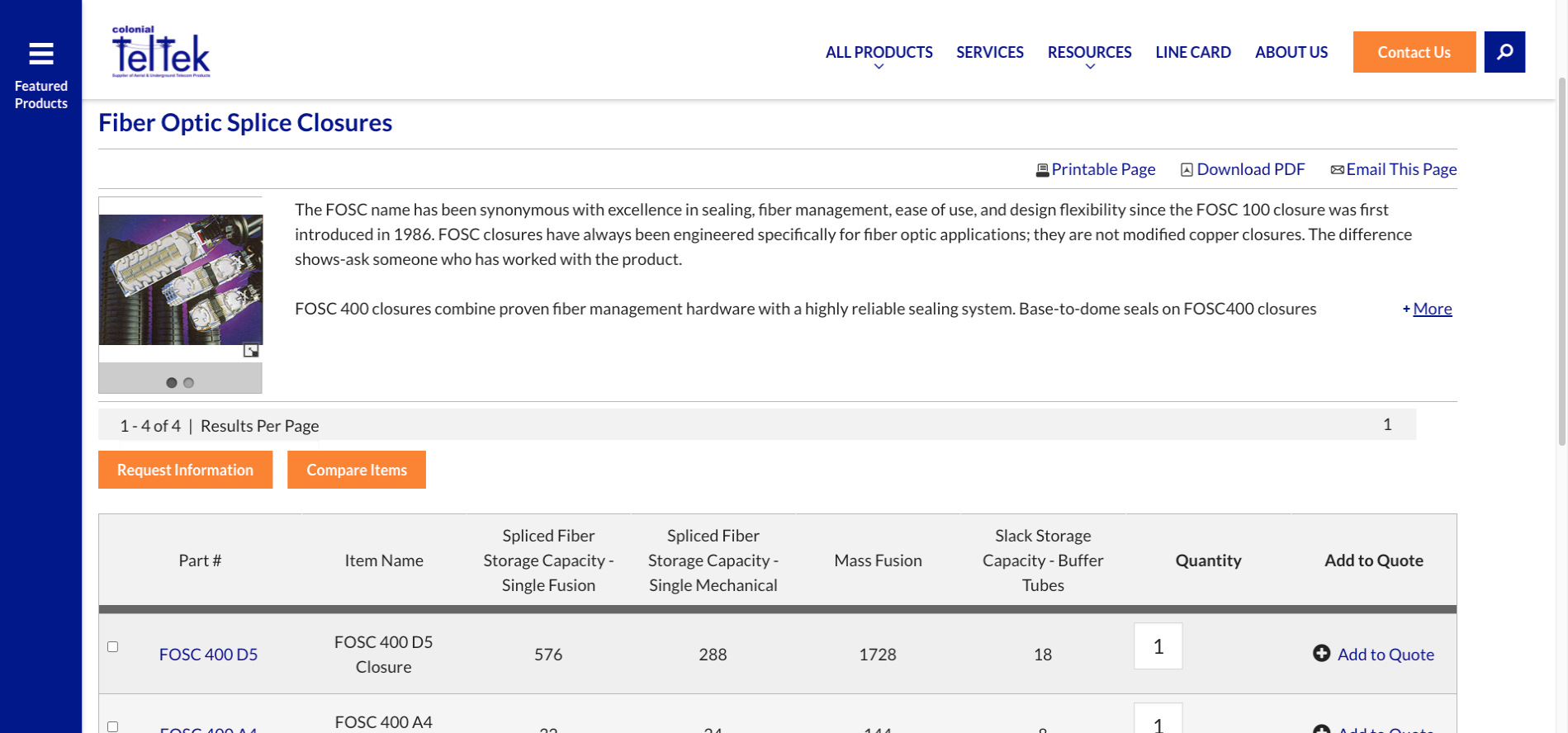 3. U.S. Air Filtration
U.S. Air Filtration helps their customers with air pollution control, and we love how their website is all about achieving their customers' goals. Throughout the website, the visitor finds no shortage of information about the quality of their services. Google and Facebook reviews are embedded right on U.S. Air Filtration's website. A satisfaction meter showing the wait time to speak to a rep or chat live with a rep encourages visitors to get in touch.
Learn More: The Value Of Client Testimonials
Buyers want to know if your products and services are worth their money. Reviews and testimonials steer online buyers in making a purchase decision because they portray your satisfied customers' experience. Positive reviews in their words show your potential clients they can trust your brand. Moreover, customer feedback will give you insight on what you can improve about your products and service experience.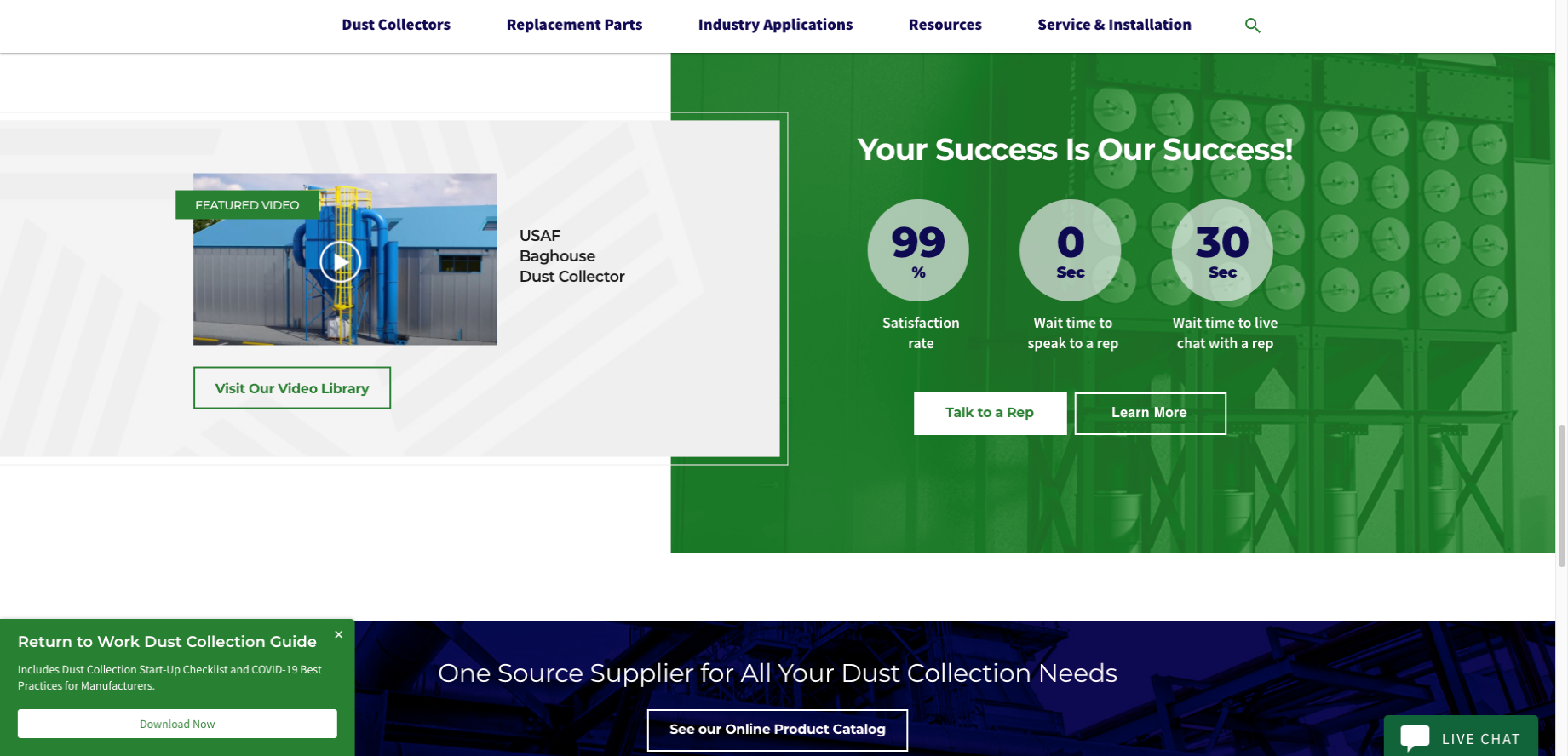 4. Schroeder Industries
Schroeder Industries provides a complete range of Advanced Fluid Conditioning Solutions. They have remained at the forefront of the fluid conditioning industry and their website plays a huge role.
Schroeder Industries' website features a myriad of industry-specific website pages for each of the markets they serve. Partners looking to decide to work with Schroeder can see how deep their technical expertise is after browsing these pages. From Automotive to Printing to Forestry to Railroads, there is a wealth of brochures and downloadable information.
We also love that there's more than one search function for products on their homepage, and there's a Distributor Locator in their navigation toolbar – key website components that make an effective sales generating website.
See More: 33 Industrial Lead Generation Tips, Tricks & Ideas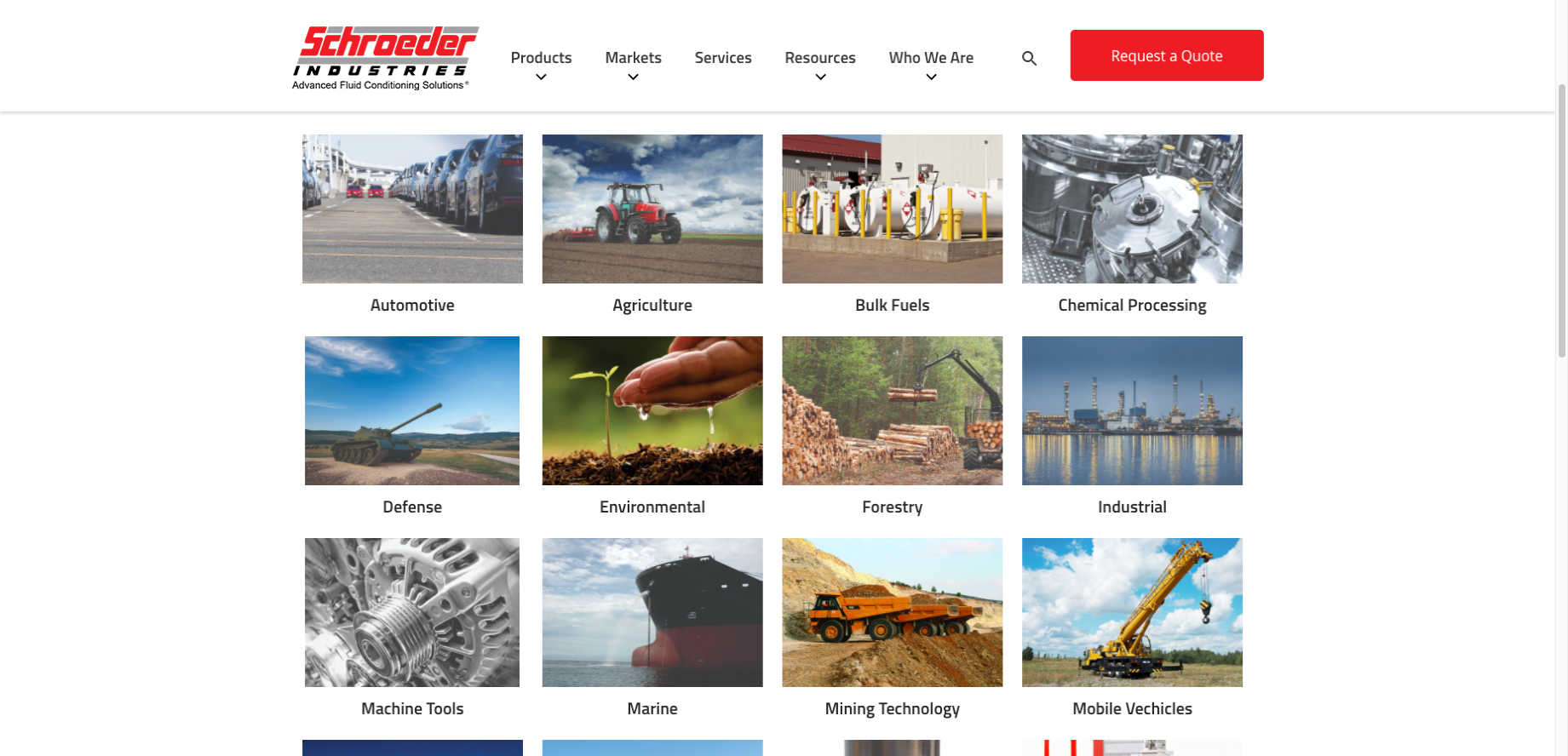 Use Digital Efforts To Increase Your Sales
Today, an industrial distributor's website requires more than an online product catalog. It needs to be useful, accurate, and easily accessible because buyers' habits have changed. Keep their attention with relevant blogs, videos, product comparisons, product configurators, CAD files for engineers, etc.
According to McKinsey research, 57 percent of professional buyers surveyed said omnichannel convenience was one of the top three improvements industrial distributors should provide. They want 24/7 customer service, a complete e-commerce website, order tracking, and real-time inventory management. Is your industrial distribution company able to meet those demands?
Thomas' website design, e-commerce products, and marketing services can help you meet their needs and generate new leads for your team. Contact the industrial marketing experts at Thomas for a free digital health check to see exactly what you need online to meet the demands of B2B buyers and distribution partners today. We'll assess your current efforts, compare them against your competitor, and give you insight into a real growth plan that works — we've been connecting buyers and suppliers for more than 122 years. TranPak, a pallets supplier wanted to become more visible to the right people: relevant purchasing agents and other industrial buyers ready to place an order.
A conversation with Thomas helped them strategize a new approach at reaching the right customers. They boosted sales 24% in the first year, and their increased visibility in new markets and industries enabled TranPak to expand from a local supplier to a national pallet supplier.
"Thomas puts us on a targeted platform in front of our biggest audience of qualified buyers ever. We're getting leads from places across the country where we've never done business," said Christian Ueland, President, TrankPak, Inc.
"The leads that we get from Thomasnet.com are qualified. They're purchasing agents that are serious about our products. We grew our business by 24% thanks to our presence on Thomas."
Additional Resources To Increase Sales:
Did you find this useful?