How To Sell Industrial Products In A B2C World
The online product sourcing landscape has changed. B2B consumers are no longer satisfied with data buried in catalogs and PDFs.
Like their B2C online experience, consumers expect a dynamic, user-friendly experience filled with compelling data. This movement is driving companies to invest in digitized catalogs and create a complete digital customer experience for online prospects.
How can B2B businesses, manufacturers, and industrial companies shift their current online strategies or elevate their existing lead generation efforts to sell their industrial products more effectively?
Be Where Your B2B Buyers Are Searching
Search Engines
If you haven't done so already, product manufacturers must establish a presence on search engines and destination websites, since that is usually where the search begins. And as you may have guessed, Google is the #1 search engine followed by BING. Getting found on these search engines is extremely important because your audience is searching here.
In fact, 87% of industrial buyers search on regular search engines, and their search phrases are very specific. Their searches usually contain 3-4 words describing exactly what they want. An example of a long-tail search term an industrial buyer might use is: "Automotive metal stamping Indiana" The search phrase is to the point; if the search was for "metal stamping," irrelevant results may appear.
Thomas Tip: Searches containing three or more words are referred to as long-tail search terms. To rank on the search engines, your website content should align with the various long-tail search terms your target prospects may type in the search bar to find you — click here for more on search terms and SEO basics.
Destination Websites
Did you know that 68% of industrial buyers search on targeted industrial sites, otherwise known as destination websites? Destination websites are focused, and provide visitors with an abundance of information from product sourcing to CAD downloads. A leading destination website in the industrial market is Thomasnet.com. Thomas has been bringing buyers and suppliers together for more than 120 years and allows buyers to:
Search over hundreds of thousands of qualified manufacturers, distributors, MRO providers and custom manufacturers by category, company name and UNSPSC commodity code, and more.
Search for the exact products they want by the specifications they require
Download 2D and 3D CAD models to facilitate and advance the design process
In becoming one of those qualified manufacturers on Thomas, your company becomes more visible to the right audience, an audience that is searching for your products — engineers, procurement managers, and MRO professionals.
Dive Deeper: The 3 Personas That Influence The Industrial Buying Process
Custom manufacturer, Tiodize, listed their business for free and is now partnered with Boeing. Thomasnet.com users can see your products on your company profile, but they can't contact you if you're not listed.
Develop A Content-Driven, Data-Rich Website
Reaching the right audience makes all the difference in increasing sales, but buyers will seek out different kinds of content depending on where they are in the buying cycle. While some engineers look for quick and informative videos, others prefer reading full guides. Offering varied types of content allow your business to potentially connect and develop stronger relationships with customers.
Thomas Tip: We offer free video production services with our advertising program. Today, videos have been helping manufacturers get more RFQs and sell complex products.
However, being in front of the right audience isn't the only important aspect to think about in today's world. All consumers are familiar with the breadth and depth of digitized product information available through online retailers like Amazon. And B2B buyers are consumers, too: the new B2B audience expects instant, 24/7 access to the specifications and details they need to find complex industrial products.
By the mid and late stages of the buying cycle, buyers will seek out sources of detailed technical information, such as product catalogs. A recent survey of industrial buyers shows that 82% find this kind of information influential — more so than pricing.
As a result of today's shifts in buying behavior, leading industrial manufacturers are transforming their online catalogs to resemble a rich experience like Amazon's, shifting to direct-to-consumer selling — and filling their catalogs with technical data and specifications to make it easy for engineering and sourcing professionals to find their products. Suppliers need to break out the big guns: sales drawings, technical specifications, tolerances, certifications, equipment lists and more. Many engineers and technical buyers require downloadable CAD drawings where applicable, and failure to deliver on this content means a major risk of losing the sale.
Content on your website at a minimum should include:
About Us Page
Product Categories and Descriptions
Interactive Product Catalog
Contact Us Page
Learn more about website basics for manufacturers here.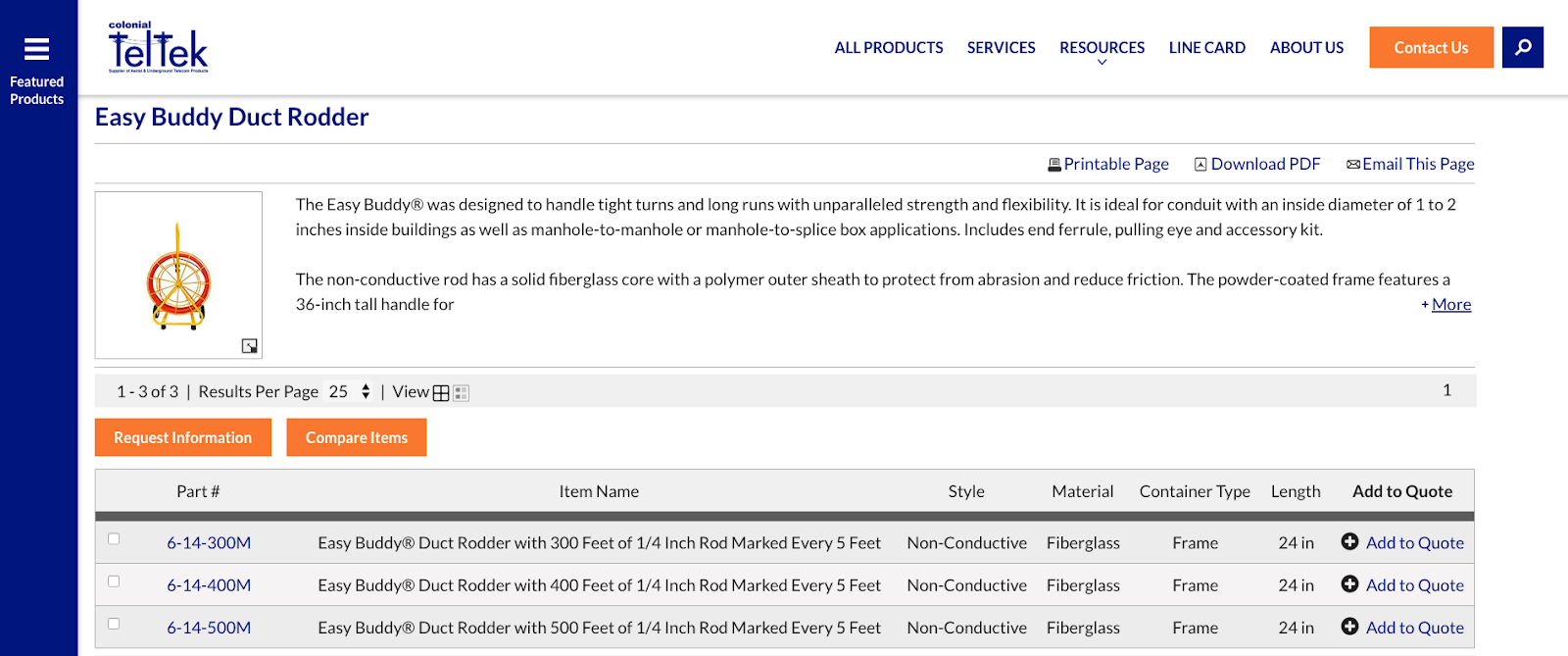 For Colonial TelTek, spreadsheets are now a thing of the past. They partnered with Thomas industrial marketing experts to upgrade their website to create a better buying experience for their customers and vendors.
"It's a win-win. Our vendors love that they can now add more product lines — when we sell more products, they sell more products," said Michael Lynch, VP of Colonial TelTek.
Communicate How Your Products Solve Problems
Today's buyers scour the web looking for as many details as they can find before creating their shortlists of potential partners. For manufacturers, generating high-quality leads and selling industrial products are all about having the right data, at the right place at the right time. Having your product data in one easy-to-access place allows engineers, procurement professionals, and MROs to find exactly what they're looking for at the right time. They need to quickly determine whether your company may be a good fit for their project so your product discovery and selection experience should be streamlined.
Customers will then be more than happy to trade their contact and project information for the rich data they need to get the job done, resulting in the generation of high-quality leads for your business.
Ensure that your website and product catalog aren't missing these key details:
Delivery Performance
Different buyers pay attention to different key performance indicators (KPIs), but there is one universal metric that virtually all procurement teams track: on-time delivery. If you have a strong on-time track record, highlight it in your online marketing. Provide specifics, numbers and, even better, references, and feature these details prominently in your materials.
Green Friendliness
Green procurement, or sustainable procurement, is becoming an increasingly important topic within the supply chain. As a result, it's also becoming an increasingly important differentiator for many customers when choosing a new supplier. If you have environmentally-friendly business practices or an ISO 14001 accreditation, make sure potential buyers know it.
Learn more: The Business Benefits Of Sustainability
Job Samples
When it comes down to it, nothing matters more to buyers than what you do, and you should show them just how good at it you are. Whether you are an OEM, custom manufacturer, service company or distributor, you should provide project samples complete with photos, a list of materials, specs, tolerances, turnaround times, etc. Describe the industries you have served, and include testimonials whenever possible. The more information you can provide on your past performance, the more likely you will win business in the future.
News And Press Releases
We understand: you're in the manufacturing business, not the news business, but public relations matters to manufacturers. However, buyers evaluating you want to see what's going on with your business, and providing a centralized place for news is a great way to control the message and ensure they get the full story. These press releases can cover new hires, innovations, acquisitions, product releases, etc. If the update is worthy of an announcement to customers, prospects or staff members, it's worthy of a spot on your website.
Safety
A supplier who doesn't take safety seriously represents a tremendous risk to buyers. Let them know that safety is a priority in your business with a strong workplace safety statement expressing your commitment to OSHA and other regulations.
Use A Product Catalog System Built For Industrial Products
The products and services you offer are valuable. But what's even helpful to buyers is your knowledge. Going beyond the catalog to show your in-depth understanding of big-picture issues impacting buyers – and communicating how you can solve them – will separate you from the competition.
Make sure you have an online system that can support your product catalog. The right online product management platform has you in control through backend tools for self-maintenance and allows your customers to be in control too with a self-serve interface to configure and select the exact products and components that meet their project requirements. Thomas offers a free digital health check to let industrial and manufacturers see exactly what they need to sell their products and services successfully online — request one here and in the meantime, check out the additional industrial resources below:
Did you find this useful?