4 Places To Advertise Your Manufacturing Business Online
In today's increasingly connected world, establishing a strong digital presence is crucial for effective brand exposure and lead generation. With more and more people accessing business and product information online, it's no longer adequate to rely solely on broadcast commercials, newspaper ads, or cold calling for effective B2B marketing.
As technology and industrial marketing methods continue to evolve, implementing a comprehensive, multifaceted approach is critical for staying ahead of the curve and ensuring potential leads become aware of your company. Below, we've outlined some ways to advertise your business online and generate valuable brand awareness.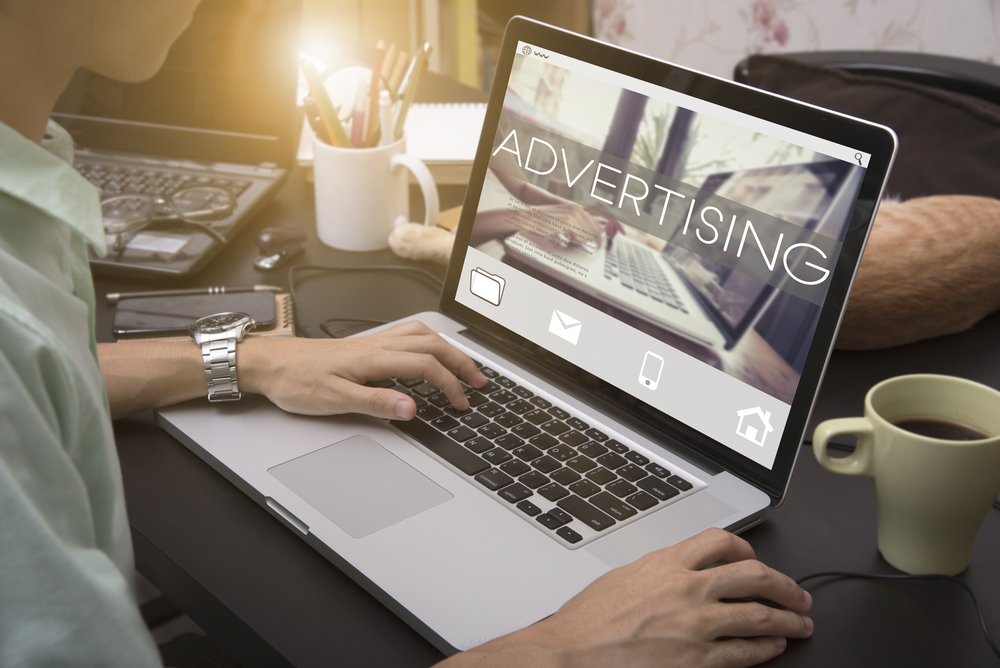 Manufacturer Advertising That Gets Clicks
1. Email Newsletters
Emails are one of the best ways to advertise your manufacturing business. It's a critical component of a lead generation campaign, and remains one of the most effective ways businesses stay connected with customers and top-of-mind with prospects.
Leads from website conversions, trade shows, and other advertising campaigns must be kept engaged with relevant, useful content, and emails provide a cost and time-efficient way to do so. This is just as important for potential leads as it is for existing clients; sending them periodic emails with industry-specific, directly helpful content will keep your company top-of-mind. And the numbers speak for themselves: Email has an average ROI of $38 for each $1 spent.
Segment your email lists to target specific users who have shared their contact information with you; for instance, design engineers may receive emails with more technical data than an email that would interest procurement managers. This allows you to effectively target different people at different stages of the purchasing process with personalized content, increasing your chances of a high-quality, engaged lead.
Dive Deeper: The 9 Types Of Marketing Emails You Should Be Sending
Manufacturers also have the opportunity to promote their content or place the spotlight on their business with online advertising campaigns in Thomas Industry Update, industry's leading daily email newsletter — see the advertising examples here.
"We wanted to make more buyers and decision-makers aware of what we have to offer. The team at Thomas explained the benefits of advertising in the Thomas Industry Update email and it ended up being a great way to help us generate that awareness and we earned new contacts for our sales team to call on. We would recommend TIU advertising to other manufacturers and industrial companies who are interested in growing their business," said Mark T., of Toagosei America.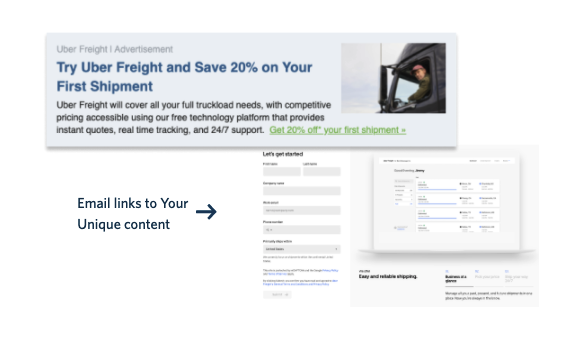 2. Online Business Directories
The majority of today's B2B buyers source new suppliers online with 20% of millennial buyers starting with vendor websites, and 17% looking to peer reviews. You can increase your reach further, with various free business directories for you to add your company information.
Make sure your company information is accurate and consistent across all directories. Include your company name, address, telephone and website link. Adding your website URL on high-authority business directories like Thomasnet.com contributes to backlink value and boosts your website in search results too. We recommend creating company profiles for the following directories:
Google My Business
Apple Maps
Facebook
LinkedIn Company Directories
Bing
Yelp
MapQuest
Super Pages
Yellow Book
Thomasnet.com
Listing your business on Thomasnet.com is one of the best ways to advertise your manufacturing business and attract valuable leads. Thomasnet.com helps connect B2B buyers and sellers, streamlining the product sourcing and supplier discovery process. In fact, there is more industrial and B2B buying activity taking place on Thomasnet.com than on any other platform — buyers evaluate suppliers every second on Thomasnet.com.
"About half of our new custom work comes from Thomasnet.com leads. We could not have competed for — and won — all the new business we have without our strategic Thomasnet.com program."
Thomasnet.com provides manufacturers with a powerful way to grow their businesses by showcasing industrial products and services to active and qualified buyers — not just anonymous traffic.
USTEK is a provider of custom electrical and mechanical technical components and has a small team on staff. Advertising on Thomasnet.com also gives the team at USTEK access to industrial marketing experts to ensure their business always gets the best exposure to B2B buyers. USTK's advertising company profile below helps increase their brand awareness, grow their businesses, and get more high-quality leads — all on the platform where their buyers are sourcing for their products.
"Over the past 18 months we've quoted 37 new RFQs, for brand new customers, which is fantastic," saod Amy Holbrook, Operations Manager, USTEK Inc. "Every single one of them came from Thomasnet. That was something that we would never have had the opportunity to do if it wasn't for our program."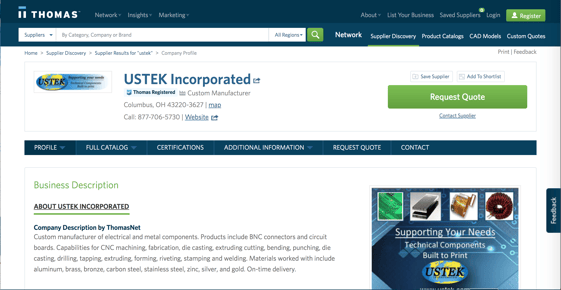 3. Search Engines Using Pay-Per-Click (PPC) Advertising
Another viable paid digital advertising option is PPC. PPC is essentially a way to get more targeted website visits and can be highly effective for generating traffic and leads on search engines. Research has shown that users click on paid search ads more often than other forms of digital advertising; people don't mind seeing advertisements if they're directly valuable for what they're already searching for.
Although starting a PPC campaign often involves some trial and error, Google AdWords makes it easy to get started. Flesh out a more targeted campaign based on when and where you want to advertise, as well as the specific keywords and negative keywords you want to target. Researching the right keywords can be a bit tricky at first, but the good news is that PPC campaigns are highly customizable for different budgets, allowing for very low-cost initiatives and testing — we list out 11 tips to make sure you're getting the most out of your PPC campaigns here.
See an example of a search ad on Google for the keyword phrase "metal stamping ny." A PPC strategy gets your business website at the top of search results.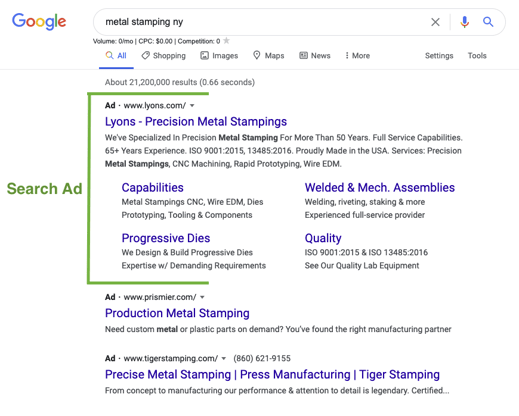 4. Social Media And Video Advertising
Enabling businesses to make personal connections with fellow industry professionals, social media and video advertising helps increase website traffic and convert more leads. Sharing applicable, well-curated content on LinkedIn and Twitter has helped establish manufacturers as knowledgeable industry leaders and give insider details to the company's culture. Social media also acts as an additional platform where businesses and users can interact directly, helping to position businesses as a go-to source for useful information and tips. And with more than 70% of today's B2B buyers falling in the millennial age range, social media is more important than ever for connecting with purchasing managers.
Paid social advertising is also highly effective in boosting brand awareness, as your ads will be targeted to specific users based on their browsing history. Facebook advertising, for instance, doesn't require you to have any prior connections with the people your ad will target. If their user profile matches your predetermined targeting, your ad will appear alongside their newsfeed or as sponsored content incorporated into their newsfeed.
Learn More: Display vs. Search vs. Social Ads vs. PPC In Paid Advertising
More manufacturers are using video advertising tactics on their Thomasnet.com Company Profile to showcase their factory floor and new products — see some video examples here that have proven to help close sales.
"Advertising with Thomas lets us develop accounts that build our backlog and keep us more stable as the economy grows," said Ken Carlton, VP of Corrugated Metals. "One Thomas lead that came to our company spawned an entirely new company for our business."
Learn More About Online Advertising For Manufacturers
These are just a few examples of the many different ways to market your business online. Not sure where to start with your advertising campaign or unsure which methods are right for your company? Thomas offers a free digital health check to let you know exactly where and how you can improve online.
With industrial trade shows canceled indefinitely, more manufacturers are shifting their marketing budget to online tactics to meet their business goals. The industrial team at Thomas can design and implement a results-based marketing program that helps you connect with buyers all year round and can help guide you with more ways to increase your manufacturing sales. Learn more about creating a strong online presence for your manufacturing business with the links below (and contact us if you need help along the way!):
Did you find this useful?