How To Find Customers For Your Manufacturing Business
While your specific business goals might be different than your competitors or the thousands of other manufactures out there, everyone wants to bring on new customers.
It doesn't matter if you're opening a new facility, expanding into creating new markets or products, or simply trying to expand your customer base, we're here to help you do so.
To start, industrial businesses will need an effective online marketing and sales strategy to help them achieve their business goals — because the B2B buyer behavior has changed. Innovative manufacturers and industrial companies use digital marketing to get more customers versus solely relying on traditional methods like in-person networking and trade shows.
Here are a few things to keep in mind if you're a manufacturer looking for more customers:
Optimize Your Website To Convert New Customers
Today's buying process begins on the internet.
That means (at a minimum) you need a website that's up to date and modern. It must communicate more than your company name and contact information.
Buyers want to know as much about you as they can to help answer these questions: Are you reliable? What markets do you serve? Are your capabilities able to meet their project requirements?
Surveys have shown that the purchasing decisions of industrial buyers are most heavily influenced by detailed technical information about the products/services they are sourcing, which is why common content and pages that attract new customers are:
Part-level specifications
Capabilities
Facility and equipment lists
Any high-level/significant projects
Some buyers only work with manufacturers or suppliers that have specific certifications, so make sure they're visible and up to date.
Also be sure to give buyers a place to contact you on your website — and if you publish an email address for buyers to submit RFQs, make sure you're following up with those submissions regularly. Our Industrial Buyer's Search Habits Survey revealed that 44% expect a response in 24 hours.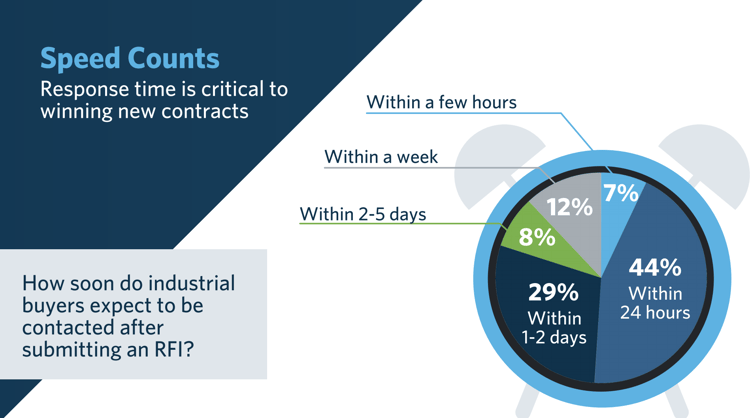 Be Where Buyers Search For New Suppliers
Add your company information to free local online directories to increase your reach even more. Manufacturers see an SEO benefit of qualified traffic by keeping their company name, address, and phone number on business listing directory pages such as:
Your potential customers are searching for you online and on these platforms, so it's important your company information is up to date and consistent across the directories. Publish photos of your products or services and use videos to encourage engagement — Videos are transcribable and searchable, making them one of the most popular channels to connect with customers, prospects, and even new employees.
Don't Forget About Your Current Customers
All customers are not created equal, but it's important to stay in touch with all of them — once in a while, it's a good practice to see how your former customers are doing, too.
Create regular email campaigns to keep in touch. Ask them for feedback on how you can improve and encourage them to share your business with someone in their network or post a testimonial on your Google Reviews. (Positive reviews will help convince others to do business with you!) You'll learn what keeps them happy and how you can be better — your email may even serve as a reminder for repeat business.
Create Content For Each Audience
Large or small, most organizations have different people involved at different stages of the buying cycle.
It seems like a challenge to reach them all, but it's actually a great opportunity to create several types of focused messaging (from what you've been working on above!) to make an impact on different target audiences.
Knowing what each of those interested parties needs can help you speak their language more effectively — and give you more chances to be in the right place at the right time when they're considering suppliers.
What makes sense to an engineer might sound like gibberish to a CFO, while if a supply chain specialist comes across messaging aimed at a company president, it's not that they wouldn't know what it was talking about — they probably just wouldn't care.
Here's a roundup of the potential customers manufacturing companies usually target:
1. Engineers
These are your "tech-heads," and they're all about specs and capabilities.
Since engineers are often the first to recognize the need for a new part or technology, you want to give them as much technical information as possible, including machinery, CAD drawings, and product data, in places like your free Thomasnet.com profile we mentioned earlier and your own site.
2. Procurement Professionals
The front lines of sourcing.
They're doing lots of legwork, so you want to make their job as easy as possible — it's the first step to proving that you're a better partner than another supplier. That means positioning yourself where they're sourcing, illustrating your understanding of the supply chain, and giving examples of your reliability and problem-solving skills.
3. Finance Managers
There's always someone who holds the purse strings.
These people are all about the bottom line, so show them how you're the best choice — even if you're not the lowest bid.
Value comes in more forms than immediate pricing — communicate the efficiency, quality, and expertise that sets you apart from the cheapest option. Have you saved customers money in the past? Stories like those are a great start toward showing your long-term value.
See how much other leaders are spending in 10 Ways Manufacturers Spend Their Marketing Budget.
4. Diversity Or Quality Officer
If you're dealing with government organizations, contractors, or public institutions, there's an excellent chance that they'll have diversity requirements, and many companies have quality requirements as well.
Don't make it difficult to discover which standards you meet — make your certifications as visible as possible.
5. Decision-makers
Decision-makers are usually anyone who has the last word.
It could be someone we've already talked about, like an engineer or CFO, or it could be the head of the company or partner.
Give each of those other target customers the tools they need to make the final push to whomever the ultimate decision-maker may be — it'll likely be some combination of everything we've talked about: technology/capabilities, efficiency, and value.
The Next Step To Getting More Customers
Building the right marketing strategy to help you achieve your business goals is more complex than can be summed up in one article. While industrial companies can "go at it alone," it's good to have a partner with experience devising and creating unique online marketing strategies.
Read What's Next: The Ultimate Guide To Marketing & Getting Customers For Manufacturers
Thomas has helped thousands of companies just like yours create online marketing strategies that help them achieve their business goals. We've been connecting manufacturers and B2B buyers for more than 122 years.
"Thomasnet.com has been a worthwhile venture for our company by substantially increasing our brand recognition and allowing those that need the products and services we offer to connect with us in a real way," said an executive at Blisterpak, Inc. "We are now well known in the region as well as a national marketplace and have been able to secure business that we would never have been considered for in the past."
Interested in growing your manufacturing company too and reaching more customers? Join more than 500,000 other North American manufacturers on Thomasnet.com who are growing their customer base every day.
Did you find this useful?