Grow Your Manufacturing Business: Expanding Into New Markets
American manufacturing is on the upswing. Hiring activity is at historic highs; reshoring is bringing production back to the U.S., and buyers are spending more on new suppliers than they have in recent years.
Business owners continue to be cautious with investments and costs, with good reason. Even as manufacturing and the economy as a whole make gains, the memory of tougher times looms. Fortunately, today's digital marketing landscape allows you to take substantial steps to grow your business and expand into new markets.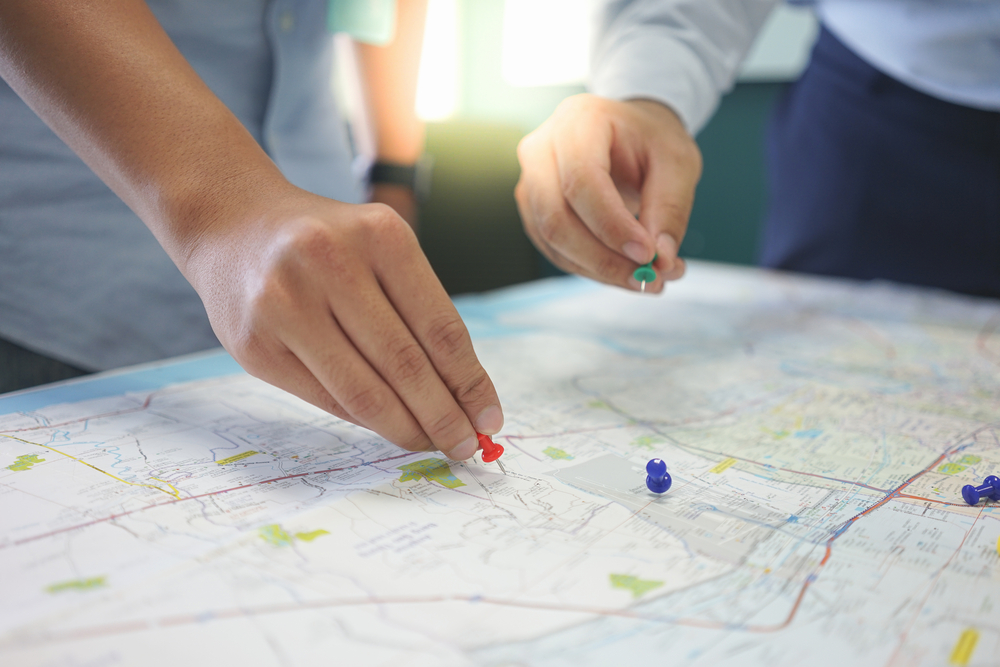 Through market expansion, you instantly open up brand new revenue streams — and inbound marketing helps make it possible. Read on to learn how.
1. Research Your New Verticals
Expansion into new industries and vertical market segments can help your existing product line do double duty (or more). How can you get started?
Choose Your Target
Your best bet is likely (but not always necessarily) a related industry. Do a lot of aerospace work? Use your safety record and transportation expertise to explore the automotive sector. (Get the insight on challenges and opportunities in the aerospace industry here — we list out the rest of our other industry-focused blogs at the end of this post.) Medical suppliers might make the jump to laboratory customers. Think of the larger "buckets" that your existing industries fall into, and see which other ones are alongside it. Develop personas for these targets too. It will help ensure you're reaching the right people with the right messaging.
Use Data To Determine Your Decisions
What is your rationale for trying to break into this new industry? What will make your breakthrough customer say "yes" to someone who hasn't worked in their market segment before? Of course, since you're moving to a new market, there are bound to be disparities. Make sure you have a documented plan on how to address these issues.
Researching the latest sourcing trends will help you understand what engineers and procurement professionals are searching for and helps you make smarter decisions that contribute to your company's bottom line.
---
Want to see which opportunities you can be losing to your competitors with a free custom prospecting report?
---
2. Get Necessary Certifications
Quality certifications can take time and effort to obtain, but should be showcased throughout your online presence. Well-known certifications like ISO or ANSI or niche accreditations like API or IATF matter to your buyers because they prove trust and help you stand out from competitors as a quality supplier.
Here's a full list of industrial certifications and their definitions.
Where To Place Your Certifications Online
A dedicated site page

Your website header and footer
Your Thomasnet.com company profile
Read More: Why Manufacturing Quality Certifications Help Win Business
3. Strengthen Your Online Presence
Your track record should do the work for you, but be sure to develop and promote quality content describing past projects, successes, and challenges — and how they relate to your new target markets. The power of an online content marketing strategy can expand your geographic boundaries, essentially without limits. Whether you're looking to go from a local to a regional supplier or from a national company to a worldwide player, a strong digital strategy will break down those walls.
Build Content Around Your Target Geographies
Say you're an automotive supplier in the Midwest, and you'd like to expand to the Southwest and Mexico. You can blog about the boom in production in that area, and create content on your website detailing your capabilities to ship there. Associating your company with your target area (in a sensible way) will tell search engines that you're relevant there.
Get The Word Out Online
Direct marketing might seem like a good solution here, but purchasing a list of prospects for a new area is costly and inefficient. Consider a press release instead, announcing your new service to your target areas. In addition to contributing to your SEO, adding this content to your Thomasnet.com company profile will ensure you get in front of the right buyers — more than 1.3 million of them.
Corrugated Metals landed a contract from a new industry (the Air Force!) after advertising on Thomasnet.com. "We set a record for quotes in Q1, increasing them by 197% over the previous year," said Ken Carlton VP of Corrugated Metals. "The average value of quotes has grown. The sales team can't believe how many good opportunities they have now. Advertising online with Thomas program has changed the way I market my business."
TranPak provides plastic material handling and they also had a similar growth story. They wanted to become more visible to the right people: relevant purchasing agents and other industrial buyers ready to place an order.
After learning about the markets that source on Thomasnet.com, TranPak secured top advertising positioning in targeted categories including "plastic pallets" and "export pallets." This boosted sales by 24% in the first year, and their increased visibility in new markets and industries enabled TranPak to expand from a local supplier to a national pallet supplier.
"The leads that we get from Thomasnet.com are qualified. They're purchasing agents that are serious about our products," said Christian Ueland, President, TrankPak, Inc. "Thomas puts us on a targeted platform in front of our biggest audience of qualified buyers ever. We're getting leads from places across the country where we've never done business."
Similarly, you can reach your target audience with an advertisement or spotlight article in industry's leading email newsletter, Thomas Industry Update.
Use A Multimedia Approach To Increase Your Reach
Make sure you stay connected on social media platforms and continuously update your website with blogs. Interact and comment when appropriate on your customers' social media channels, and support them through your own posts.
Adding an extra layer to the relationship keeps customers delighted and makes them more likely to turn to you for more of their needs. Consider adding videos to your content marketing arsenal. Marketers that use video content grow revenue 49% faster than those who don't. See 17 industrial video examples here to inspire you.
💡 Thomas Tip: Adding a video to your Thomasnet.com company profile increases your chances of receiving RFQs. Learn how you can get free video production services for your manufacturing company.
4. Upgrade Your Existing Outreach Initiatives
The ultimate in low-investment/high-reward is harnessing your existing products and your existing customers to drive more business. This works exceptionally well if you have a customer who only contracts you for one or two-part numbers, and you'd like to sell them more. Here's how you can open up the possibility of bigger orders without hitting them over the head with a sales pitch.
Since you already have these contacts, email marketing is a great option here. Again, avoid the hard pitch. Segment your list into those customers who are the best prospects, and target your messaging. You can tell them about the cost savings in consolidating suppliers or send an announcement about additions or enhancements to your product line and how it can benefit them. The key is providing relevant information at the right time. Email nurturing lets you do that.
But email marketing has changed a lot over the years. We get emails in our inbox all day, but sometimes they largely do not incite a response other than to hit the "delete" button. Why is that? Take a look at these common email follow ups:
"I've reached out several times, but have been unable to catch you live. Given your background, I wanted to ensure we connect."
"Shawn, a couple of days ago, I sent you a message, but I didn't see a response and just wanted to make sure I didn't miss it."
"I hope you appreciate my persistance." (Yep, "persistance" is misspelled in this one.)
"I just wanted to follow up with you as I think we were a good fit for your logistics needs and I would like to engage you on that subject."
Do you see the trend? There is a simple reason none of these folks are likely to never get a response — your engineers, procurement managers, and MRO professionals do not care what you want or what your needs are.
Read More: Email Marketing Do's and Don'ts
Use "We" Instead Of "I"
Inclusive language eliminates the lines between you and your prospect and creates an implied partnership. When you are on the same team, ideas are easier to open up to.
Validate Your Market Audiences' Stress
Show empathy for the difficulties they face every day and the obstacles they must overcome to achieve their goals. This shows support for the prospect as a person and helps you understand what they are going through. Talk about their end goal — everyone has a goal that they are driving toward. Understand what that goal is and show them how you can be a support system to help them get there — more on the 3 B2B personas that influence the buying process here.
Create Helpful Content
This has to be the main thrust of every communication. Being helpful implies accountability, creativity, resourcefulness, and care. If you approach outreach (and all other aspects of your life) with this basic mantra, good things will happen. See more examples of how your content can help with these 32 industrial lead generation tips, tricks, and ideas.
Use Marketing Automation
Marketing automation tools like Hubspot or Pardot can help you fulfill many marketing tasks like sending out mass email campaigns, posting to social media, testing across your site or identifying and updating the lifecycle stages of your contacts. Automation is time-effective and can provide your sales and marketing teams with the valuable insights they need to win new business.
Many automation tools will also have Customer Relationship Management (CRM) software to help track and manage your sales pipeline.
Read More about implementing marketing automation here.
Publishing Your Company On Online Business Directories
Much like looking at a restaurant review or an Amazon product review in the B2C world, many B2B buyers are now utilizing peer reviews on vendor websites when making business decisions.
Including your company on various directory sites, has a few benefits. The first benefit is that it will expand your digital footprint and the likelihood of winning new business. Secondly, including your company name, address, telephone and website link to external resources provides backlink value to your website for improved search engine optimization.

Online Business Directories You Can Use
Google My Business
Apple Maps
Facebook
LinkedIn Company Directories
Bing
Yelp
MapQuest
Super Pages
Yellow Book
Thomasnet.com
Out of all the online directories listed above, perhaps the most valuable for industrial suppliers is Thomasnet.com. The Thomas Network helps connect industrial B2B suppliers and buyers for a more streamlined product sourcing and supplier discovery process. List your business on Thomasnet.com for free.
Thomasnet.com simply delivers the purest industrial audience on the internet, and being there has helped us connect with new customers in new industries.
5. Educate Your Teams
The success of your go-to-market plans largely depends on your internal teams too. Schedule training sessions to get your teams to understand the new markets and your strategies fully. Involve them in the development process of your strategies too. They will need to understand any risks, legalities, and change in logistics. Preparation is key. Open, clear communication with your teams will help them feel valued and may bring new insight to items that may have been an oversight — ultimately bringing you success.
---
Why Should You Consider Market Expansion?
The manufacturing industry can be unpredictable. One minute you might be entering into a lucrative contract with a great new customer; the next, that customer could be going out of business — putting your own company at risk in the process.
The best way to guard against this risk is to diversify your business and expand into new markets — here are more reasons why.
To Build A Safety Net For The Unexpected Industry Downturns
Putting all of your eggs in one basket — whether that basket is a single customer or a single sector — can put your company in a perilous position. If the company crumbles or the sector weakens, you don't want to be left scrambling for new revenue streams.
Spreading your customer base across different industries can help you survive these unexpected shifts. And though the fallout of losing a big customer — or multiple customers — can still hurt, diversifying will ensure that your business is more resilient.
Another Angle: The Importance Of Marketing And Advertising During Economic Downturns
To Gain A Competitive Advantage
Diversifying isn't just a great defensive move for your business, it can also help you grow. Developing new products and new connections across industries (and even geographies) will unlock new revenue streams for your business.
Being the first to enter a new market or a new location will enable you to build valuable relationships.
Identify sectors and locations currently under-served by you and your competitors, and try to connect with prospects in those areas. Being the first to enter a new market allows you to showcase your expertise and gain valuable experience with little to no competition.
To Avoid Falling Into A Dependency Trap
Focusing too heavily on one customer or one industry can put your business in a restrictive box that you may not be able to escape.
For example, needs might shift the foundation of your business. You might tailor your processes and products for one company or industry, but those processes won't transfer to other potential customers. Before you know it, your services are so niche that it's nearly impossible to grow. This puts your business in the unenviable position of attracting customers and industries you aren't equipped to handle. By diversifying your business, you will have more control over your company's success.
Thinking About Market Expansion?
The beginning stages of market expansion and diversification may be challenging to navigate. Visit our specific industry resources below for more insight:
And be one step ahead of competitors with a free listing on Thomasnet.com where you can connect with buyers from various industries and geographies to help expand your new markets. In addition, our manufacturing marketing experts can help you penetrate new markets through strategic SEO programs and content marketing geared towards your target prospects.
Contact us for a free digital health check — we'll review your online presence, let you know what you need to engage customers in new markets, and compare your efforts with competitors.
"As a marketing department of one, it has been really helpful to have Thomas around to help with our marketing strategy as opposed to making it up as we go," said Jeff Collins, Partner at Renown Electric. A new online growth strategy has helped Renown Electric's website reach the top of Google search results, enabling them to reach new customers.
Did you find this useful?