How To Increase Sales For A CNC Machine Shop
The total industry market for CNC machining is expected to continue growing through 2024. But reaching target customers isn't the same as it used to be for CNC machine shops. Industrial buying habits are simply changing. So what can CNC machine shops do to help increase sales?
The first step to increasing sales is to evaluate your current sales metrics. See what growth methods you have tried in the past and the successes they produced. Understanding how your current or past methods worked will help you understand how you can improve and set expectations for your new sales goals. Next, it's time to reevaluate your business goals and document what you can do to support those goals.

Document A Lead Generation Strategy
It's important to have clear business goals — everything you do in your shop should tie to your unique selling proposition. It explains how your company can solve a problem, what makes products or processes unique, and the benefits a customer can expect from working with you. But are you communicating those efforts clearly to your prospects and your internal teams?
---
Alert: If your industrial business can support the production of essential supplies needed to combat the COVID-19 outbreak, please complete this form to notify us of your availability and willingness to dedicate resources to the ongoing effort.
---
Create a clear lead generation strategy that targets those customers' needs and challenges. Document what tactics you'll be using when and where. For example: "Next quarter, our shop will implement online display ads that will go live on Google and the Thomas Network targeting buyers in the aerospace industry." Take a step further and make your strategy measurable and attainable — will you plan on increasing online RFQs by 10%? Focus on ROI rather than fast results.
Like your sales metrics reports, documenting your lead generation strategy creates a clear picture of where you are, where you plan to be, and how you can improve later. It serves as a communication tool for business, sales, and marketing teams and can be effective for business process management.
Creating updated processes and effective growth methods takes time, especially if you're busy focusing on managing your shop. Consider investing in an industrial business partner to guide you and tackle your biggest lead generation challenges — there are budget options specifically for small machine shops. Learn more about how you can target customers in a specific industry with online display advertising here.
Use Your Website As A Selling Tool
A strong online presence isn't just for B2C companies or big retailers like Amazon or Walmart — it's for any company that wants to drive more sales. With the recent COVID-19 health crisis forcing almost all individuals and companies globally to "stay at home," more people are turning to the internet to do business. And this especially applies to manufacturers and industrial companies.
No one wants to do business with just any other shop — they're interested in what sets you apart from competitors. For example, what certifications do you have, how is your shop contributing to the environment, and what are the technical specs that your equipment can handle? Do you go above and beyond a customer's initial request and provide them with end-to-end support? Are you a machine shop that also provides engineering services? These are details your engineers, procurement managers, and MRO professionals all care about and should be clearly communicated on your website.
Your website should be just as strong as a selling tool as your top salesperson. Make sure your website speaks to all your shop's capabilities. Educate prospective customers with resources of your processes and incorporate pictures, graphics, and videos wherever possible.
Your website should include content marketing that addresses your customer's needs in formats that are engaging, clear, and easy to share. The idea is to design your website with content that explains what's in it for the customer. See how South Shore Manufacturing showcases their work in an online portfolio webpage.
Customers are more likely to continue doing business with a shop that's producing consistent resources and quality content. Then they're more likely to share the content with their network too — which means the possibility of more sales for you. Click here to check out 26 criteria industrial buyers evaluate you on before they contact you.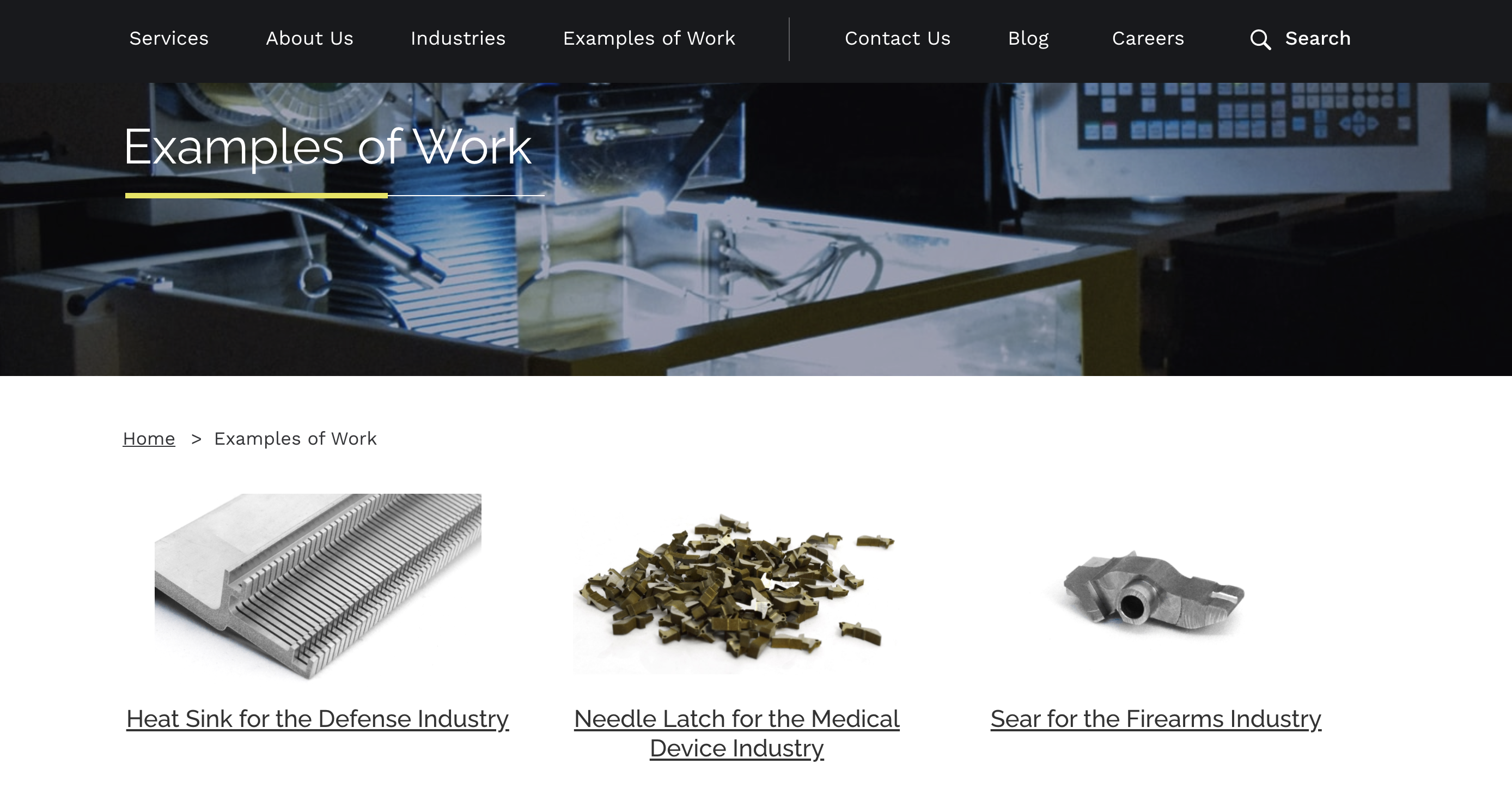 Use Emails To Nurture Leads Into Sales
In a business landscape of ever-changing ways to reach your customers, email marketing provides one of the only consistent links. A prospect may shut down their Facebook profile or grow tired of Twitter, but it's unlikely that they'll abandon their inbox.
Here are a few email best practices to increase sales for your CNC machine shop:
1. Don't Think Of Your Emails As A Sales Pitch
Readers don't need a weekly reminder that you're a sales organization. Instead, craft emails that your contacts will look forward to as sources of information, utility, and value.
2. Don't Keep Your Email In A Silo
Your marketing efforts are all connected. Look at the big picture and use email in tandem with your other marketing efforts — sensibly tie in white papers, your blog, and other useful content to nurture leads throughout their buying journey.
3. Don't Ignore Email Automation
Email automation platforms can save you time and effort, and more importantly, allow you to track metrics like open rates, click rates, and conversions, all of which you can analyze to tailor your messaging and move prospects down the sales funnel. For more info on how automation platforms help sales and marketing, read The Manufacturer's Guide To Increasing Leads and Using Marketing Automation
4. Create Clear Messaging
Email is not the place for long-form content — it's a place to get to the point. Starting with the subject line and your opener, let readers know exactly why they should read your message, and what they'll get out of it.
5. Don't Forget To A/B Test
Today's tools allow you to constantly fine-tune your messaging by learning what kinds of language and keywords will get the best response from your prospect base. Don't make the mistake of thinking that you've hit on the "perfect subject line" — there's always room for testing and improvement. More subject line examples and tips here.
6. Don't Rely On Design Over Copy
A picture is worth exactly zero words if no one sees it. You never know how your email images and formatting might display on recipients' devices — or if they will at all, due to a slow internet connection or reading on a mobile device. Focus on crafting effective copy, and keep it simple regarding design.
7. Don't Assume Your Contacts Are All The Same
Ready-to-buy prospects aren't interested in receiving generalized, top-level content — just as readers between purchase cycles may be more interested in industry news than product FAQs or equipment use cases. Email nurturing campaigns can help you engage in the right way at the right time.
Trade Shows Are Obsolete — Use Digital Marketing To Improve Sales
Email is one of the most personal online communication methods between you and your customer, so it's important to get it right. And branding and digital marketing are essential for machine shops, not just for B2C companies. But many job shops make the mistake of not investing in new technologies. It's understandable — why try something new when you've grown your business successfully in the past?
Learn More: What Can B2B Marketers Learn From B2C Marketers
But the reality is that buyers' habits are changing and new generations are no longer choosing vendors and partners the same way they used to. Studies show that more buyers, procurement managers, and engineers are doing their business online. And more industrial companies are supplementing their traditional methods of growth with digital marketing tactics to increase their brand awareness and get more sales.
Here are some ways CNC machine shops can increase their sales through branding and digital marketing. There are options for every budget size:
Additional Resources For CNC Machine Shops
Did you find this useful?