How To Grow Your Textiles Manufacturing Company (With Digital Marketing Examples)
It's an active period of growth for some textile manufacturers, especially in the U.S.
The pandemic, trade agreements, and changes in the economy have impacted the industry as a whole, but it's still on target for billion dollar growth in the years ahead.
Suffice to say, there's opportunity in this sector of manufacturing, and if you're looking to increase orders—of if you already have a five-year plan to double your business and expand your facility—here are ways textiles manufacturers can get more customers and stay ahead of the competition.
Know Your Margins & Make Them Known
It may sound obvious — but many job shop owners can't answer this question: "Which jobs do you make the most profit on?"
Know your high and low (or no) margin jobs, and then communicate the expertise and equipment that will maximize your returns. That means zeroing in on what materials you want to work in, what quantities and delivery schedules you're best equipped for, and so on.
In a recent Industrial Buyer's Search Habits Survey, one purchasing supervisor that "having more online information like specifications, pricing, lead time, and stock levels online are important when I'm vetting new suppliers and will make my job easier."
And with that insight, you should be running to update all of your information with what prospective buyers can expect when working with you.
Understand Your Current & Future Customers
Almost every textile manufacturer has dream customers they would love to land, but connecting with big companies may take some time.
If you want to increase your customer base, you must first understand your current customers, what they seek, and why. Understanding how you make your customers happy will give you insight into gaining new ones. Determine the types of companies you'd like to do business with, then focus on the optimal industries, company size, location, and other factors that work best for you.
If you're looking to expand your business into other markets, make sure your products meet industry requirements and you take the time to earn (and renew!) appropriate certification. Some buyers in industries have strict vetting requirements and will only work with suppliers who have specific certifications.
There are well-known standards like ISO and ANSI, but here's a list of some other quality certifications buyers look for to assess your organization and set you apart from competitors:
ACC (The American Chemistry Council)
CEN (European Committee for Standardization)
CSA (Canadian Standards Association)
EASA (European Aviation Safety Agency)
The Foundation for Food Safety Certification
(ITAR) The International Traffic in Arms Regulation
See More: The Complete List Of Diversity & Quality Certifications For Manufacturers
Make Sure Potential Customers Can Find You
With all the potential customers out there, create an ongoing presence for the early stages of the buying cycle so that prospects will find you when they're ready — places like product/industry news and information outlets, supplier discovery platforms, and social media.
Being everywhere your potential customers are will increase your brand presence and your chances of getting more RFQs.
Today's buyers are comprised of 70% tech-savvy millennials — they're searching for a new supplier anonymously online more than ever before. That's why online marketing components like digital ads and a company overview video build a strong positive impression of your brand and keep your business top of mind when they're ready to submit an RFI.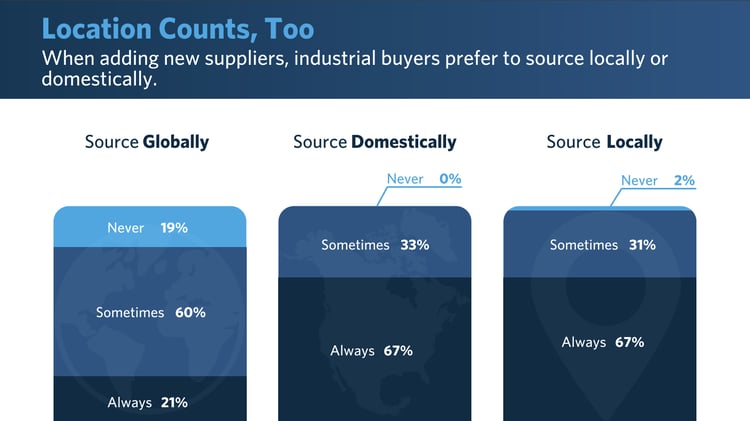 Make sure your name, address, and phone number are consistent on all online platforms. Having that consistency across all directory sites is a strong signal to Google about your exact location and makes it easier for local buyers to find your business at the top of Google search results, as seen in the example below for the keywords "textile manufacturer in Pennsylvania."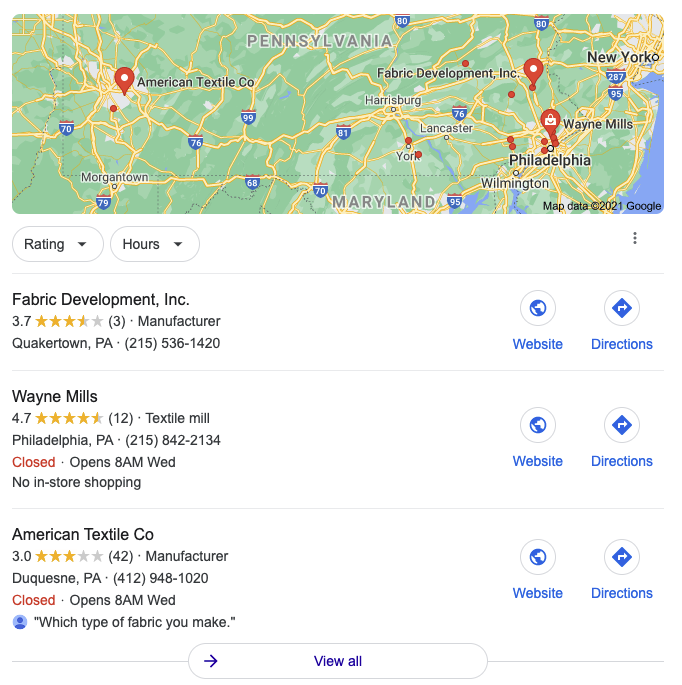 Make Buyers Contact You
Buyers are looking for a unique quality beyond just "what you do."
You're a textile manufacturer, but what else are you? Everyone has a different specialty, and yours is your selling point for some buyers out there. Think about what yours is, and make sure prospects know it when they find you.
Take Tex Tech Industries, for example. They use their website to amplify their messaging that they are a global leader in the research, development, and manufacturing of high-performance materials. Growing textile companies see benefits from building content with topics related to woven vs. non-woven products and their materials' processes.
In the example below, Tex Tech supplements their text-based educational information with graphics that detail the quality of their work and how they solve industry-focused challenges.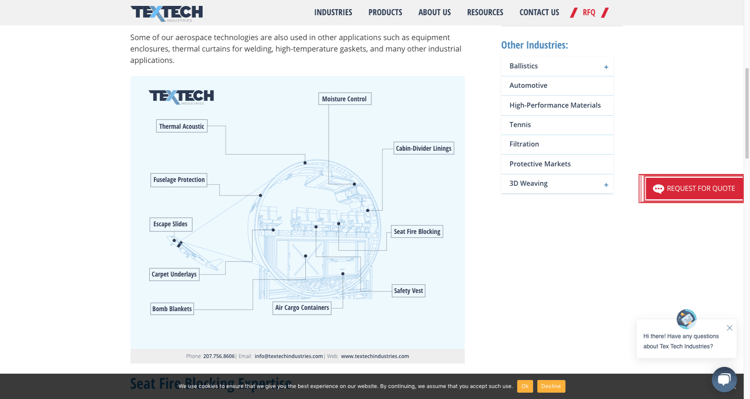 "Diversified content on our site has really helped us stand out as a leader in the industry," said Eoin Lynch, Executive Director of Sales and Marketing at Tex Tech Industries. "Some aerospace technology can be complex, but our graphics, datasheets, and videos from Thomas Marketing Services break it down for buyers to understand what they need and how we help them."
Do you have comprehensive options for mechanical finishes, treatments, and coatings for customers to customize what they need? Your website content should be very clear about what kinds of projects you've done in the past, what your capabilities are, and what you're willing to take on. Showcase your certifications too. Providing this information will also increase the quality of your leads, making you more productive by spending less time on low-quality queries.
Additional Resources To Help You Get Shortlisted:
Study Business Ethics And Culture
For those companies looking to expand globally, there are many challenges you need to consider and details you need to manage.
While there is trade potential in international partners, there are some risks with exporting goods, and today's businesses are more cautious than ever to ensure their supply chains are not disrupted.
Ensure you (and your internal teams) are educated in the legalities for each market and understand each region's border control and distribution laws. Business ethics, culture, and logistics vary and can often get overlooked when growing your business.
Grow Your Textile Business With These Marketing Basics
Your first point of contact with a buyer can make or break a deal. These days, that means your website and online presence are likely the first things they see. Partnering with industrial experts will ensure your platforms are strong and that each of your initiatives contributes to a real growth strategy.
Not sure where to start? We've compiled the below list of Thomas online solutions and resources that have been helping manufacturers grow and proven to engage B2B buyers, procurement managers, and MROs:
Still not sure where to start? Request a free Digital Health Check and we'll let you see how your online presence compares with your competitors. Your free Digital Health Check review will let you know exactly what you need to attract B2B buyers, convert them to leads, and earn new business.
Did you find this useful?