How Top Injection Molding Companies Drive More Opportunity With Digital Marketing
In recent decades, American companies offshored a huge portion of their injection molding, but today, many companies are weighing the benefits of reshoring versus offshoring, and there has been an upward trend of reshoring and demand for services in the plastics and molding services industry. Mergers and acquisitions in the industry are also contributing to growth.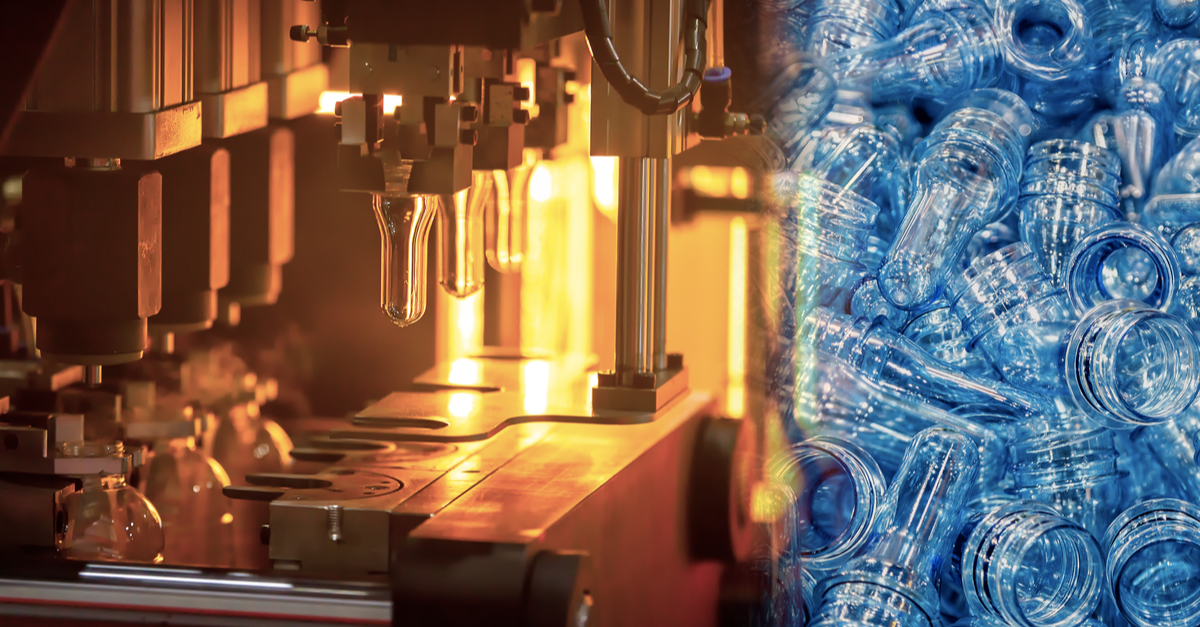 "Our goal in acquiring other companies is to increase our support and capabilities for our customers across the country, so, in return, they will bring their manufacturing business back to the United States," Plastic Molding Manufacturer (PMM) CEO George Danis told Plastics Today. PMM had deals of acquiring a plastic company with facilities across New England in 2020.
The industry's growth has an upward trajectory. Last month, RFI submissions on Thomasnet.com for plastics molding services were up 80% year-over-year. As U.S. companies find that they can manufacture injection molded products more profitably right here at home, how can these companies market their services to take advantage of the opportunities?
How Is Injection Molding Used In Industries?
Injection molding produces many products standard in everyday households and industries. Injection-molded parts can be found in military, defense, and aerospace applications just to name a few. In 2018, medical equipment sourcing spiked as the healthcare industry boomed, driven by an aging population's demographic wave requiring medical care. Then the COVID-19 pandemic accelerated the demand for medical devices and manufacturers turned to plastic injection molding to meet the demand for durable, lightweight, and malleable material.
UNLOCK: See which companies are looking for your injection molding services with our free customer in-market buyer report.
Injection molding plays a significant role in the automotive industry too, which will encompass a bigger electric market in the next few years. Common components that use customized injection molding applications in the automotive industry include glove compartments, door handles, wheel trims, and many more.
Related: Challenges & Opportunities In Lithium-Ion Battery Manufacturing
Solidify Your Expertise With Certifications
For some industries, certifications are a legal or contractual requirement. Injection molding companies seeking to increase their sales and expand their market share of other industries can solidify their expertise with quality certifications, like:
ITAR/DOD Compliance for the military and defense industry
ISO Class 8 Clean Room for the medical industry
ISO: 9001 2015 Certifications for quality standards
Companies who are certified ensure their customers consistently receive high-quality products and services and the benefits are two-fold because the requirements of certain certifications also benefit managers and employees. For example, because the ISO 9001 certification specifies the requirements for an effective quality management system, employees benefit from the improved processes and management garners the benefits of saved costs.
When labeling a product or system as certified to an ISO standard, don't just say "ISO certified" or "ISO certification." Be clear and say "ISO 9001:2015 certified" or "ISO 9001:2015 certification" (for example). Showcase the PDF certifications and icons on your website and Thomasnet.com Company Profile so you can effectively target buyers in the industries sourcing certified suppliers.
A Thomasnet.com Company Profile gets you in front of more than a million B2B buyers sourcing industrial services like plastic injection molding. Get Listed For Free.
Increase Your Brand With Content Marketing
How do you work? What's the quality of your services and products? Which industries do you have expertise in? Content marketing can persuade potential partners and influence buyers at every stage of the buying cycle.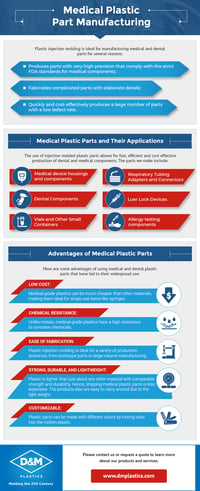 Use high-quality photos, graphics, and videos on your website to educate buyers on your expertise in:
Applications across different industries
Types of materials and their strength and durability
The advantages of plastic injection molding versus other materials
According to a DemandGen Report, 67% of B2B buyers rely more on content to research and make purchasing decisions than they did a year ago. That's why your website's content is crucial for lead generation to reach the right buyers and increase market share and profits.
See how D&M Plastics uses infographics throughout their website to simplify the complexities of plastic injection molding and engage B2B buyers looking for leading suppliers in that industry. B2B buyers like procurement managers research to familiarize themselves with new products or services. Rather than sifting through text-based information, a creative infographic presents all the data and stats buyers need in an engaging way.
Similarly, The Rodon Group optimized targeting for specific industries with videos to encourage engagement and diversify content. According to HubSpot, marketers who incorporate videos into their content strategies have seen 49% faster revenue growth than those who don't.
Thomas Tip: Get ahead in the plastic injection molding industry with videos of your services. Thomas offers video production for free with the purchase of an advertising program.
See More: 10 Content Marketing Ideas That Engage B2B Buyers
Digitally Transform Your Business
Content marketing encompasses blogs, eBooks, videos, and infographics, and contributes to a stronger online presence for your manufacturing brand when other digital marketing strategies like SEO and online ads work in tandem. Digital marketing ensures you stay connected with customers and continue getting seen by new prospects — and more manufacturers are investing in its technologies. Due to the in-person limitations of COVID-19, reports show that manufacturers are no longer able to avoid digital marketing's reach and effectiveness and have adjusted their approach from dated tactics like print ads to generating new customers using their website, social media, and digital ads.
According to MarketWatch, the Plastic Injection Molding Sales Market is the most booming and promising sector of the industry. So to make sure you're ahead of competitors, contact us for a free digital health check. Our industry experts have been connecting buyers and suppliers for more than 122 years.
"About half of our new custom work comes from Thomasnet.com leads. We could not have competed for — and won — all the new business we have without our strategic Thomasnet.com program."
Other Resources To Grow Your Business:
Other Industry-Focused Resources:
Did you find this useful?