Opportunities For Manufacturers In Solar Energy Equipment
In September 2020, Thomas reported sourcing for solar energy equipment on the Thomasnet.com platform had grown by 125% year-over-year and a substantial 171% over Q2 averages. In related category searching on the platform, solar collector panels were up by 157% year-over-year in Q3 2020 and 11% over Q2 2020 figures, and searches for inverters on the Thomasnet.com platform have grown 172% year-over-year and are currently up 88% over Q4 2020 averages.
More recently, searches for solar energy equipment on the Thomasnet.com platform were up 650% week-over-week.
Although reduced economic activity and changes in consumer behavior from the initial effects of COVID-19 caused shifts in the industry, renewable energy sources like wind and solar are growing rapidly. These buying trends are in line with the U.S. Energy Information Association, which reported developers and plant owners expect the addition of utility-scale solar capacity to set a new record in 2021.
Clean Energy In The U.S.
The U.S. has moved to increase the use of renewable energies that do not emit climate-warming. According to the Solar Energy Industries Association, in Q3 2020, the U.S. solar market installed 3.8 GWdc of solar photovoltaic (PV), up 9% from Q2 as the industry began recovering from COVID-19. Residential installations were up 14% from Q2 to Q3 2020 and non-residential installations were up 8% over Q3 2020. Consumers and companies alike are becoming better stewards of the environment.
For example, the Walt Disney company pledged to reduce their emissions by 50% in 2020 and installed a brand new 270-acre solar farm in Walt Disney World in Orlando, Florida.
Government Policies
Relatedly, government policies are promoting 100% renewable energies to keep global temperature increases at 2 degrees or less. On January 20, 2021, the U.S. rejoined the Paris Agreement, a legally binding agreement on climate change. Many U.S. states, plus Washington DC, Puerto Rico, and over 120 cities are committed to moving to 100% clean energy, and six cities are already at the 100% mark. According to the Solar Energy Industries Association, California by far leads the nation with the most solar PV capacity with over 26,000 MW installed, almost five times more than second-place North Carolina. California also has a solar mandate for new construction projects, creating opportunities for manufacturers to get more business.
ACT NOW: Get in front of local buyers in North America sourcing for solar energy products with a free company profile listing on Thomasnet.com
Custom Components And Primary Elements
A few primary elements in the solar panel construction industry present opportunities for metals, glass, and nonmetallic companies. These include:
Foam and sponges
Silicone
Electrical and thermal insulation materials
Adhesives and tapes
Currently, sourcing sessions for "foams" on Thomasnet.com are up 13.8% year-over-year. Similarly, sourcing sessions for "silicone" on Thomasnet.com are up 13.9% year-over-year.
Cables, connectors, conduit, and brackets are also needed to design and install a safe solar panel system effectively. If you're a manufacturer of these components, create a free company profile listing on Thomasnet.com to take advantage of the sourcing surge. More than a million B2B buyers use Thomasnet.com to source industrial products and services from North American suppliers.
---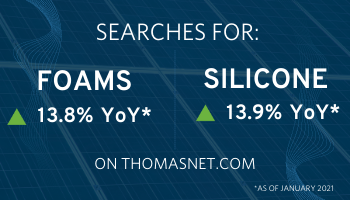 ---
"About half of our new custom work comes from Thomasnet.com leads. We could not have competed for — and won — all the new business we have without our strategic Thomasnet.com program."
Keep The Future Of Solar Bright
If you're a manufacturer of solar panel equipment, be conscious about your environmental impact (its production typically involves the use of industrial chemicals that must be cleaned up). And be clear about your sustainability efforts and your unique selling proposition on your website. While the solar energy industry can address climate change issues and economic recovery, today's new age of buyers similarly care about a company's "green-ness" too. In fact, 73% of buyers pay attention to your website when submitting RFIs. Create content that educates buyers about the industry and your commitment to their values that drive energy choices.
Get Inspired: 4 Small Business Manufacturers Dedicated To Sustainability
Affordable solar is key to the technology's long-term success, but manufacturers should keep scalable solutions in mind to keep up with the buying trends. COVID-19 brought actions on an unprecedented scale last year, and those companies who spread their customer base across different industries survived the unexpected shifts.
Advertising your business should never halt, and during economic shifts and challenging times, your brand can provide a voice that rises above others who cut their marketing budgets. Diversify content on your website on how your products serve other markets, continue email marketing campaigns, and stay up to date on sourcing activity so you can adjust your efforts as necessary. A free in-market buyer report lets you see which companies from other industries (or those in the solar industry) are searching for your products — which helps you make better, more informed business decisions. Request yours today.
"Thomasnet.com simply delivers the purest industrial audience on the internet, and being there has helped us connect with new customers in new industries," said Pete Elzer, President, Apex Plastic.
Other Industry-Specific Blogs:
Be one step ahead of competitors and learn how you can help buyers from various industries and geographies with the resources below:
Did you find this useful?