6 Ways Manufacturers Can Turn A Lead Into A Customer (With Examples)
You worked hard to market your capabilities and nurture your prospects. Now your sales team has a healthy list of leads. However, research shows that 40-50% of inbound sales leads are ignored and never followed up on, which can add up to a lot of lost revenue for your business.
Developing an effective lead follow-up process can ensure that you don't leave potential opportunities on the table. Here are the strategies that should be a part of your process.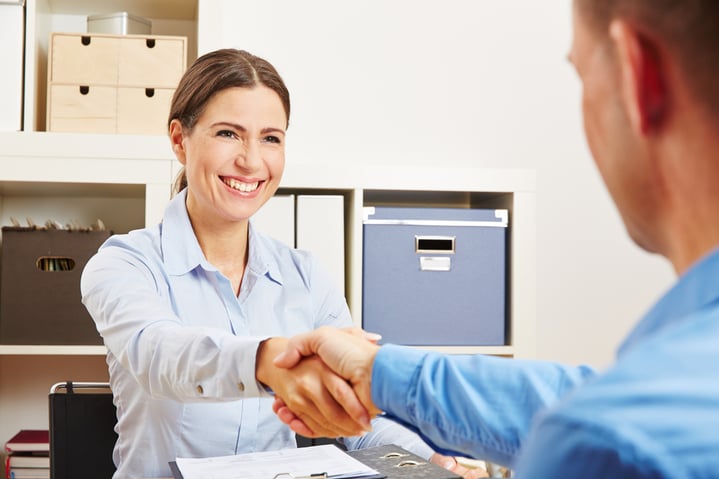 1. Be Quick To Follow-Up With Your Leads
Speed is the name of the game when it comes to following up with leads. According to The Harvard Business Review, companies that follow-up within an hour of receiving an online query from a potential customer are seven times more likely to have a meaningful conversation with a key decision maker than those who wait only an hour more. And according to Corporate Visions, 74% of buyers choose the rep that was first to add value and insight. So the faster you connect with your potential customers, the more likely your business will be top of mind when the prospect picks up the phone.
2. Qualify Your Leads And Segment Your Contact Lists
Not all leads should be treated equally. If someone subscribes to your blog, that doesn't mean they are ready to purchase from you yet. Each potential customer you interact with will have different budgets and needs — and their buying process can be long. Understanding your target audience's buying behavior and segmenting your leads will help you determine who is ready to buy and who needs more time to warm up to your business. When you understand where each of your lead groups are in their decision-making process, you can more effectively create content that engages with them and turn them into a customer.
If you're just starting to organize your leads and contact lists, begin by segmenting them into the groups below.
Subscribers
Subscribers are contacts interested in regular content updates about a particular topic or your company and have signed up to receive newsletters, blog updates, company announcements, etc. They are likely not ready to purchase yet (more on the long industrial buying process in a bit).
New leads
These are visitors interested in what you offer, but haven't yet purchased from you. They probably requested more information about a product. You'll want to share general, top of the funnel information with them, like one-sheets, "How-To" information, and product guides. Remember — these leads might be looking at other vendors as well, or might not even be looking to buy at the moment. Don't turn them off with a hard sales pitch.
Ideally, you should then break down your leads list into MQLs and SQLs — more on the difference here. Understanding the difference between MQLs (marketing qualified leads) and SQLs (sales qualified leads) can help you track ROI and align your marketing and sales teams with prioritizing which leads to contact and when.
Existing customers
They've bought from you before, so the purpose of nurturing this list is to make sure they keep the orders coming, preferably in larger quantities. Product comparisons, industry updates, and customer success stories all make great content to share with this list. They already know what you've done for them — make sure they repeat business with you through regular communication.
Former customers
Provided that you're approved to send them emails, former customers are also a wise audience to nurture. Buyers choose other suppliers for all sorts of reasons, and can return to you just as easily as they left. Not only do nurturing campaigns act as a "no hard feelings" olive branch — they can distinguish you from competitors as more than just another vendor.
Learn More: How To Build Effective Email Prospect Lists
3. Nurture Your Leads If They Aren't Ready To Buy
Although you may never know the exact moment when your customer will be ready to buy, a better understanding of their behavior trends can still put you in a position to win their business.
For example, design engineers research product details based on form, fit, and function for their projects. Traditionally, it was expected that an engineer would speak with a supplier about their need for a part or component. They'd talk through the exact dimensions that they required and the supplier would then provide a drawing by fax or email. Likely more time would pass with additional conversations to follow, along with additional drawings until both sides agreed on the "perfect fit." Each phase in that buying process is an opportunity for you to build your brand and turn them into a customer.
And advanced technology and online configuration systems today help internal sales engineers and customers configure products right from your website — in real time. The end goal? CAD model drive lead generation and more sales.
---
---
---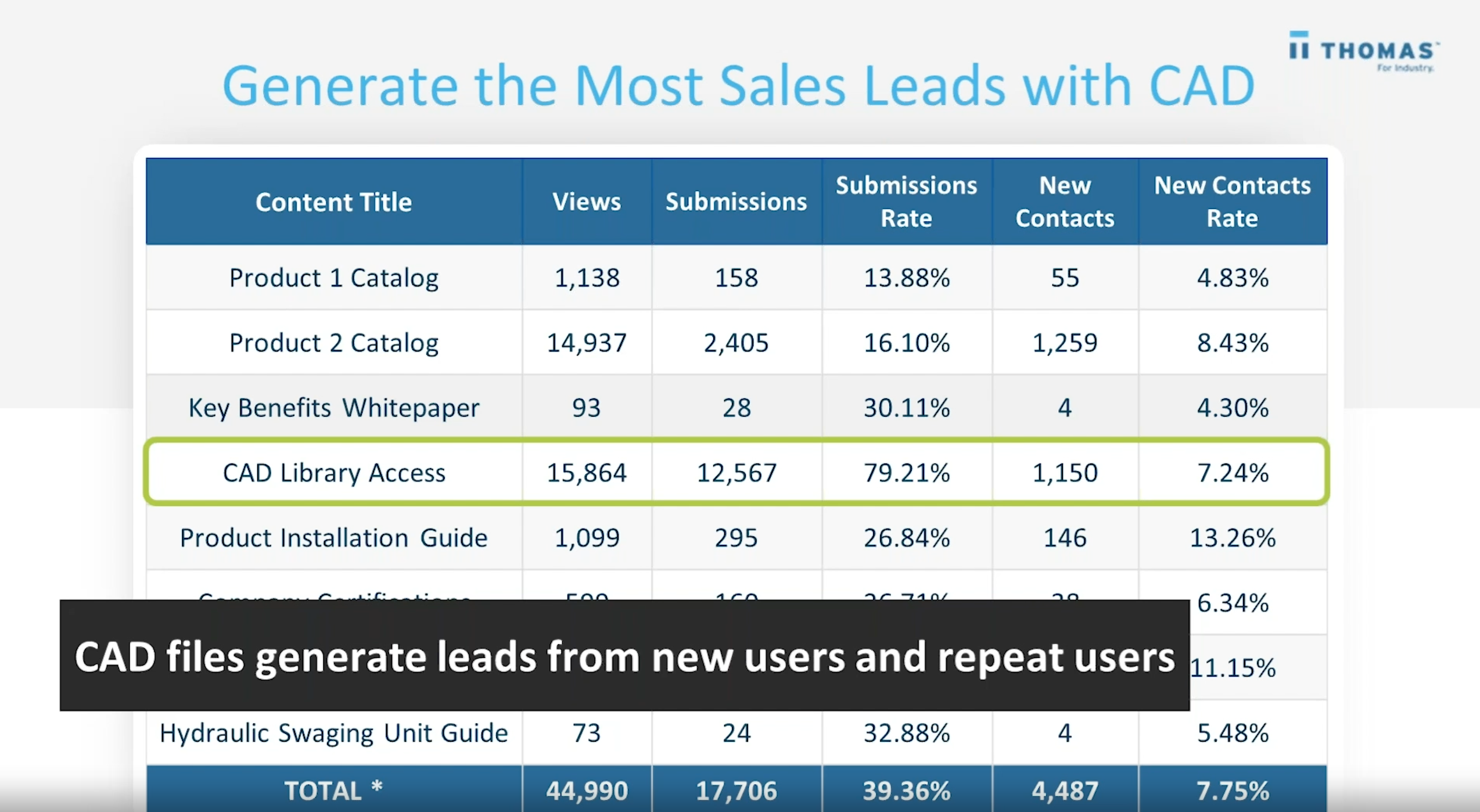 In general, there are many opportunities for manufacturers to generate leads and turn them into new revenue. An essential component to an effective lead generation strategy is showcasing valuable information to your leads when you follow-up. Provide them relevant content that addresses their needs each time you reach out.
Think about the questions that most potential customers have when they reach out to you, and have answers ready and in your back pocket. Being helpful and informative is a great way to earn trust with potential customers, which can be a key factor in their decision to do business with you.
---
Learn how one manufacturer increased leads by 285% after implementing an inbound marketing approach.
---
When creating content centralized around this idea of nurturing, it's best to generate different content depending on what problem your prospect is having and how you can help solve it at that specific stage of the industrial buying process. For example, if a prospect is in the need or research stage, you'll want to serve higher level educational content that is top of funnel instead of more sales and action oriented content better suited for someone in the shortlist or purchase stage.

Top Of Funnel Content For The Need & Research Stages
Situation: Your potential buyer realizes they need a specific product or service so they begin to do some research on their own to figure out exactly what they should purchase down the road.
Type Of Content To Create: For buyers at the top of the funnel, you want to provide educational content that distills complex concepts into useful insights like blog posts, 101 eBooks, and industry research. Send them links to your content to help them get their jobs done.
Air Innovations' utilized content marketing and SEO strategy to present their company as a thought leader in the industry while satisfying the demand from users looking for more information and users at the end of the purchasing funnel. With help from their industrial marketing agency, a "Knowledge Base" section on Air Innovations' website with quick guides like, "Negative and Positive Pressure Rooms 101" helped them gain a 2,060% year-over-year increase
in website clicks, resulting in a significant reach in more customers online than ever before.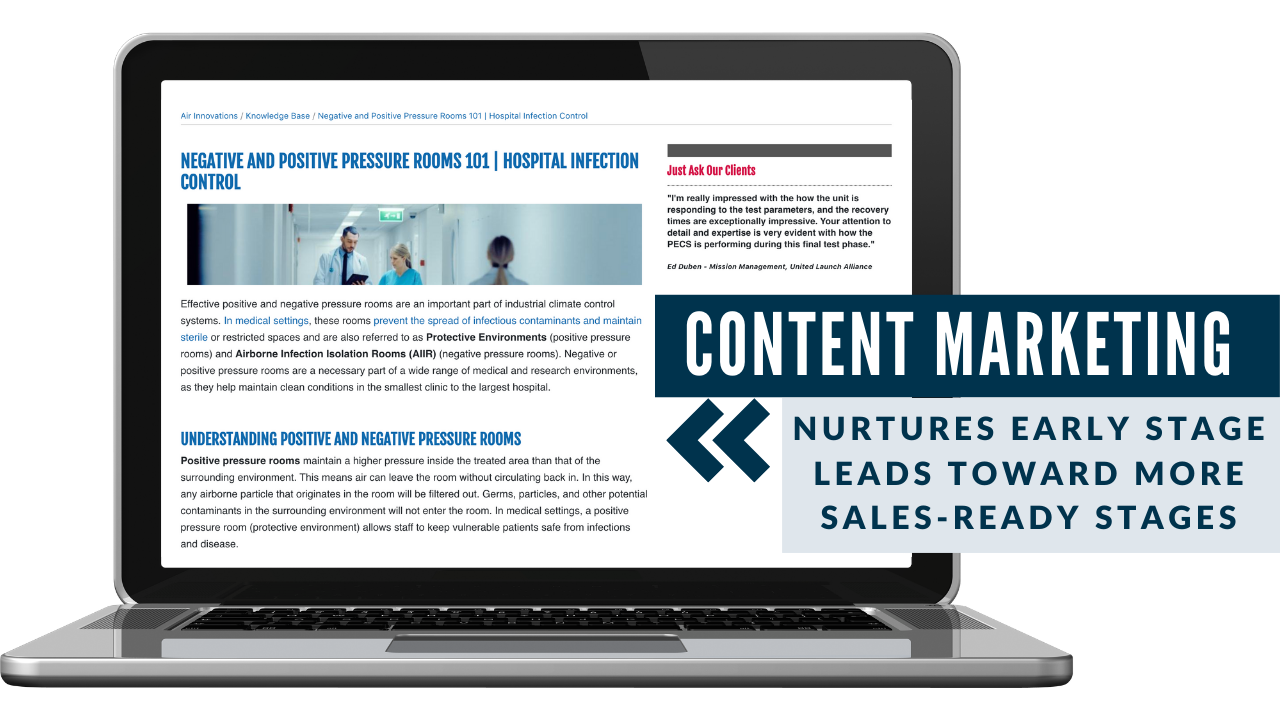 Middle Of Funnel Content For The Design & Evaluation Stages
Situation: If executing a new design, the buyer will need to get the latest product data and then evaluate potential suppliers aka size your business up to your competitors.
Type Of Content To Create: This is your chance to really build on your initial relationship, establish trust, and start to showcase what separates you from your competitors with a variety of content like comparison guides, case studies and buyers guides.
Engineering Specialties, Inc., provides an online Sample Gallery that portrays how highly qualified their services and products are for automotive, aerospace, medical, energy, and other fail-safe applications. Case studies, customer testimonials, and similar content can truly help your business stand out against other competitors as buyers are vetting which supplier to partner with.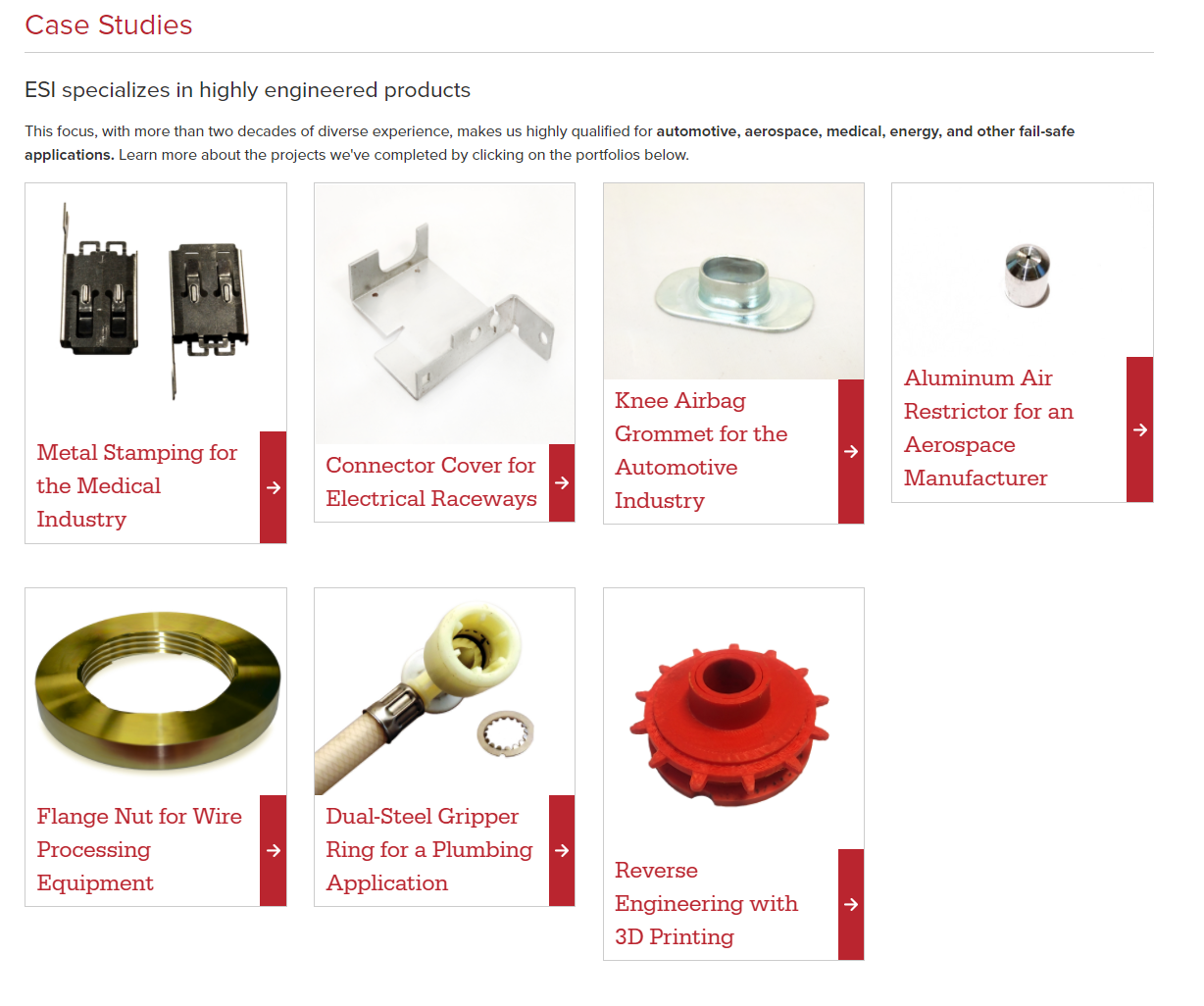 Bottom Of Funnel Content For The Shortlist & Purchase Stages
Situation: The buyer at this point will create a shortlist of some of the top suppliers they have evaluated, and you're in luck because you've made the list so this buyer makes a purchase and is now a customer, congrats!
Type Of Content To Create: This is it, your time to close the deal with the buyer. At these stages you can create content that is a little promotional like product videos, spec sheets and brochures. A product spotlight video like the one below has been a popular choice for manufacturers to make it easy for engineers and buyers to understand complex industrial components.
Instead of just writing paragraphs of content or posting pictures of your shop floor, videos can effectively promote your brand too — and grow your business. Studies have shown that companies who invest in video content grow revenue 49% faster than those who don't. Another important fact: more than half the engineers and technical professionals surveyed for the 2020 Smart Marketing for Engineers report indicated that they spend at least one hour per week watching videos for work (those 45 and younger reported spending the most time watching videos). So if your target audience leads list has engineers, you should supplement your sales efforts with videos.
See More: 14 Industrial Video Examples To Inspire Your Video Project
Additional Resources:
4. Use Marketing Automation To Make Your Efforts Easier
At a minimum, you should be sending some regular email communications to your leads lists and customer lists twice a month, and then up it weekly depending on your audience. We get it — that may sound like a lot of work, but manufacturers and industrials see high ROI from email types like transactional, and welcome notes.
If hiring some marketing help is out of budget, consider investing in a marketing automation platform to help you continuously send emails and keep other campaigns live.
You Might Be Interested In: 7 Common Ways To Spend Your Marketing Budget
Marketing automation is the process of using software to automate your lead generation efforts and usually goes hand-in-hand with email campaigning. Emails continue to be one of the top ways to nurture contacts into leads, stay connected with customers, and close new business. And according to Emailmonday, about 49% of businesses use some form of email automation.
With the rise of different marketing technologies over the past decade, automation allows businesses to produce better lead generation results without investing time in traditional outbound marketing and sales. The goal is to keep your business at the top of mind throughout your leads' buying journey.
Popular marketing automation platforms include: Hubspot, Marketo, and Pardot. Check out our comparison post: Choosing The Right Platform - HubSpot vs Pardot.
5. Update Your Google My Business Profile
If you're a machine shop in New York, your target customers may be closer than you think. Google's search results will show listings customized to your location depending on a variety of search terms. A buyer in the New York/New Jersey region who searches "machine shop near me" or "machine shop New York" will be able to see your relevant company listings in the area. Claim your Google My Business Profile here and make sure all your contact information is up to date so they contact you. Just as important to update is your free Thomasnet.com Company Profile too.
"About half of our new custom work comes from Thomasnet.com leads. We could not have competed for — and won — all the new business we have without our strategic Thomasnet.com program."

6. Find Out What Works Best And Track It
The leads you receive online should be high-quality if you're marketing on the right platforms, like Google and Thomasnet.com. But what's key to converting them into a paying customer is the alignment of your sales and marketing. At a minimum, make sure your teams communicate regularly and clearly to each other about your new online strategies, how your efforts are performing, and how the sales process is faring. Marketing needs just as much feedback on the leads as does your sales team. Alternatively, if your sales team doesn't have enough capacity to contact the leads, communicate your pain points too so your marketing team can scale back as necessary.
Once you start following up and leads start moving down the pipeline, be sure to keep track of your activity to fine-tune your process continually. A deep understanding of your personas and ideal customers will ensure you're reaching the right people at the right time with the right content.
While research from MIT shows that the best time to call a lead is Wednesday or Thursday between 4 pm and 6 pm, every company is different. Log phone calls, times, and conversions into your CRM and take note of trends to see what is most effective. The only way your sales will improve is if you know what works and what doesn't, and you document those efforts.
Now that you understand the best ways to stay in contact with leads, it's time to get to work. But if you still need some insight, request a free digital health check from Thomas Marketing Services to let you know exactly how you can improve your lead generation efforts.
For additional lead generation resources, check out the links below:
Did you find this useful?