Industrial Website Design Examples For CNC Machine Shops
According to Thomas' latest industrial buying habits survey, 73% of those surveyed pay attention to your website. One respondent said, "You MUST have a website. On it, be very clear and detailed about your supply capabilities and lower limits. Include all public contact and social media channels, locations and areas served, your business structure, history, and mission/vision."
As more manufacturers shift toward traditional growth methods to digital marketing tactics, here are some industrial website design examples to get your CNC machining website geared for more leads.
Simple, Clear Navigation
Today, millennials make up more than 35% of the U.S. labor force — the largest generation at work. For industrials and CNC machining companies, this drives the need to have an up-to-date, responsive website to fully engage your target audience of buyers, engineers, and MROs.
One Thomas industrial survey respondent said, "When designing your website make sure that it is informative and most of all easy to navigate. If I struggle to navigate a website you have about 30 seconds of my time and then I am gone."
There's a myriad of information on Helander's website that showcases the quality of their products and services, but the navigation is simple and straightforward enough for visitors to find their way around the site. From portfolios of completed products made from their components to the details of the CNC machining equipment available, Helander's website aims to get their customers' jobs done and generate leads.
Keeping your customers at the center of your business strategy is essential now more than ever — and one way Helander aims to accomplish that is with their COVID-19 Response Letter banner. In addition to communicating your business' coronavirus response efforts via traditional methods like an email or phone call, posting your company updates to your website is a good idea. Online updates let customers know how you're keeping your business' common areas clean, keeping your employees safe, and how you've maintained operations. Transparency is not only key for customer relationships, but for gaining new ones too.
Learn More: Ways Manufacturers Are Keeping Connected With Customers Through The Coronavirus Outbreak
Quality Website Images
Davenport Machine's website is also another excellent example of a machining company with clear website navigation. Their navigation caters to all types of website visitors — distributors, buyers, and even those interested in a career at Davenport Machine.
Davenport Machine's website incorporates clear, quality website images (and videos!) that take their website to the next level. The quality of your website speaks to the quality of your manufacturing brand.
Studies have shown that customers engage better with videos and are more likely to purchase a product after watching a video. We love that Davenport Machine's Resources tab contains mixed media to engage engineers depending on their needs and personal preferences.
CNC machining companies need to publish more than one type of resource because different audiences have different needs and job functions. More on the 3 B2B buyer personas here. Today, videos of shop tours help industrial companies close sales when there are travel restrictions in place.
Unique Homepage CTAs
There are many components to an effective website strategy to generate leads. For your website to truly be a lead generation machine, it needs to include great content, design, SEO, and paid campaigns. (Wink, wink. Thomas industrial experts can do all of that for you to generate high-quality leads.) Great content involves unique calls-to-action (CTAs) too. It's an important part that can make or break your chances of website visitors into RFQs or email subscribers. A call-to-action (CTA) is either text, an image or a button that links directly to a landing page so people can either download your offer submit a form for you to contact them.
MetalCraft Riverside's website has unique CTAs that encourage visitors to click. Instead of a traditional "Contact Us" button, their navigation has a "Get In Touch" button. We also appreciate their "The Built Right Process" CTA that is aligned to their business' tag line messaging. Clear, unique CTAs throughout your website and online campaigns should easily point prospects to digital sales tools, guides, and ultimately a lead and sale for you.
Back To Basics: Lead Generation For Manufacturing Basics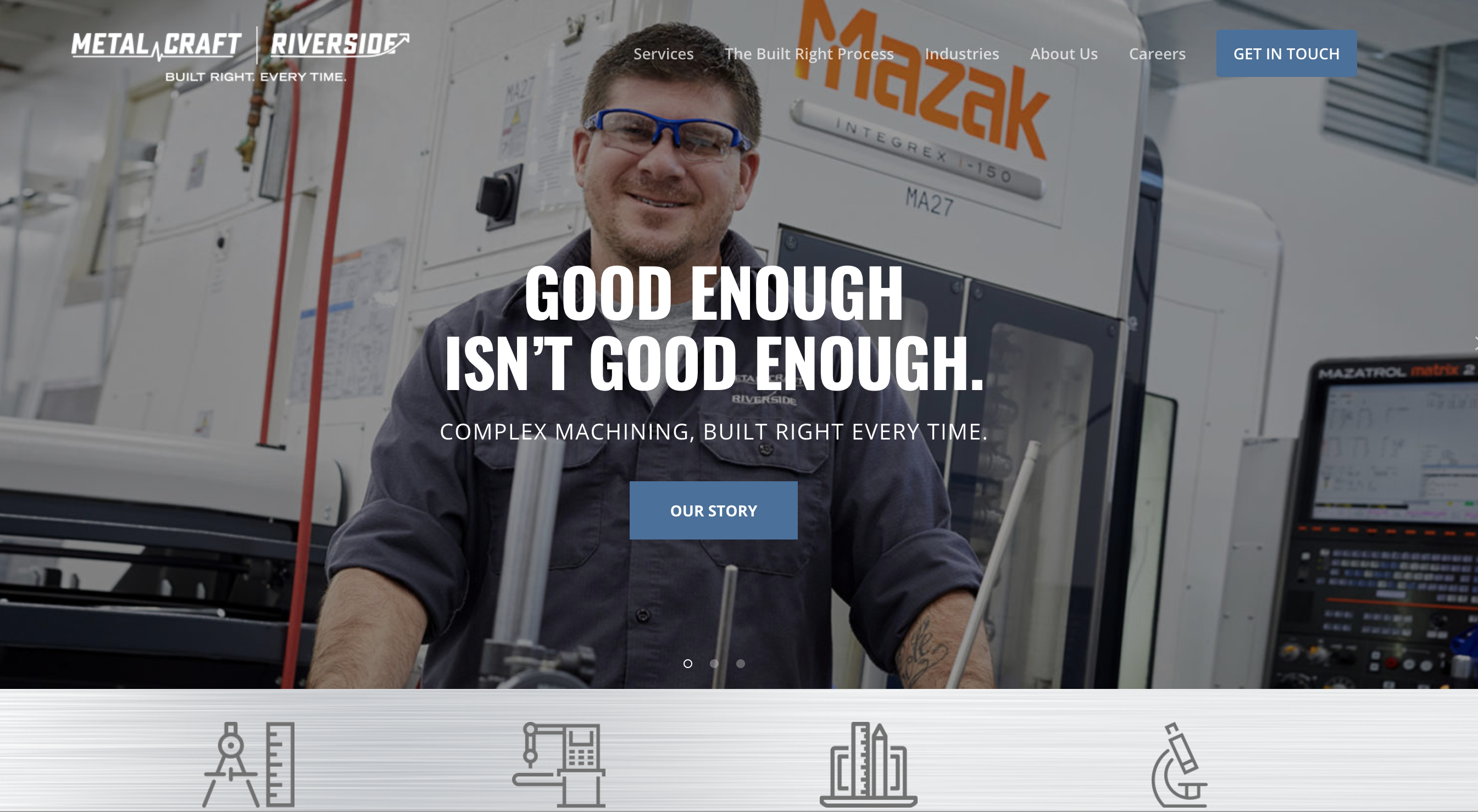 Facilities & Equipment
Including a facilities and equipment section on your website can show prospects the quality tools, machinery and state-of-the-art shop you're working with to help meet their needs. As more industrial buyers are researching companies extensively before considering forming a partnership, details like these can make the difference of taking you on as a supplier or not.
>Advanced Industrial is a distributor and fabricator of plastic shapes and CNC-machined components. This manufacturer's facilities page showcases the equipment that is on their shop floor. With two separate sections for CNC Mills, CNC Lathes and Metrology, Advanced Industrial provides site visitors with high-quality images and detailed information about each piece of machinery. Displaying this information in detail shows prospects that the manufacturer is thorough and can create high-quality products.
Ardel Engineering specializes in precision CNC machining to manufacture products from plastics, metals, and other engineering grade materials. This CNC machining company provides an extensive equipment list for different capabilities. While this page isn't as image heavy as the Advanced Industrial facility page, it is effective for its level of detail. Ardel also includes a video on this page to provide buyers with a "how-to"demonstration for their GibbsCAM software.
Both these manufacturers provide clear "Contact Us" CTAs on these pages to make it easier for users to reach out if they have questions or would like to partner while viewing the equipment listed.
Email Subscription CTAs
Astro Machine Works has multiple lead generation components on their website, especially on their homepage, like social media icons and a hyperlinked phone number with a contrasting color. But one of our favorite well-designed lead generation components on their website is their CTA for more email subscribers.
If you're looking to grow your email list, an eye-catching subscription form on your website is one of the most effective ways. We love that Astro Machine Works' CTA is a full-width banner and lets visitors know exactly what they're signing up for. The colors are on-brand but the banner itself is contrasting to the light background of the rest of the page that draws attention to the reader's eyes — extra design points that the banner is a subtle background image too.
Astro Machine Works nurtures email subscribers with new products and services news, partnership announcements, new facility locations, and more. These days, more manufacturers and CNC machining shops create resources for their buyers to help them do their jobs, and using email campaigns to nurture leads into sales.
Another Angle: 11 Tips For Growing Your CNC Machining Business
Examples Of Work And Customer Stories
Customer stories, case studies, and testimonials provide value to industrial companies, not just for B2C companies — and South Shore Manufacturing takes advantage of that with their Examples Of Work website page. Research has shown that strong emotional appeal can drive up to three times more word-of-mouth referrals. Customer stories published online that provide a point of view or share a need similar to what your audience is experiencing validates your company's services on a more personal level.
South Shore Manufacturing's website has a wealth of information to engage its target audience. Their CNC Machining Services page lists their specifications, industry focuses, and file formats. Part of an engineer's job function involves designing parts, assemblies, and creating new components, so seeing the available file formats clearly on a services page can help them — and acts as a lead generation component for South Shore Manufacturing.
Avon Machining manufactures medium to large-sized, complex, and high precision parts. While the Avon website boasts a useful Case Studies page detailing customer success stories, another element of the site that works really well is its "Markets Served" page. This simple, yet efficient page helps buyers understand the industries Avon serves and how best they can help with specific projects. Each specific industry page not only adds educational content, but provides the website with substantial SEO value for targeted industries.
Learn More: How CAD Models Drive Lead Generation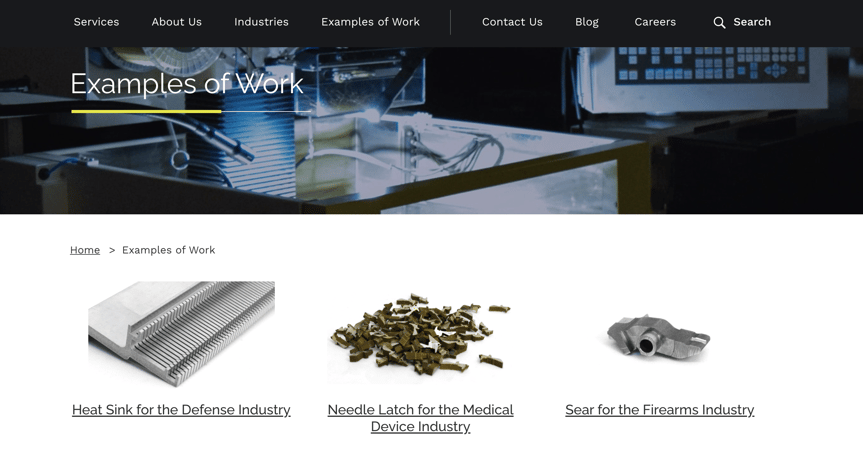 Videos & Multimedia
Now more than ever, the COVID-19 pandemic has made it more challenging to visit facilities for factory tours and to view machinery on shop floors; showcasing videos and multimedia elements online is essential for customer and prospect engagement. Thus, ideo marketing for industrial companies has become a great strategy to connect with customers.
Technox Machine provides machine shop operations to an array of industries. As one of the largest shops in the Chicago area, Technox has a video on its website showing their facility inside and out. This video displays the unique selling propositions of Technox, which is helpful for them as a supplier to stand out when buyers are vetting different companies to work with. This video also shows the Technox machinists and engineers to demonstrate expertise and experience. Machinery can only perform as well as its operators and designers, right?
Concorde Precision Manufacturing specializes in the custom machining of large scale castings and assemblies. This manufacturer took a different approach to utilize video content. Concorde provides customers a video that details their primary services, "Large Diameter CNC Milling and Boring Services." A product or services overview can be handy in showcasing your businesses' expertise, machinery, capabilities, capacity and bottom line. While this isn't a traditional "factory tour" similar to what Technox Machine displayed here, this video style still provides prospects with the facility's essence.
---
Get Started With Video Advertising
Thomas Offers Free Video Products With The Purchase Of A Video Advertising Program On Thomasnet.com
---
More Industrial Website Design Resources
Simply put, your industrial website should generate leads for you. If you're not seeing the results you're expecting, check out the resources below for more insight or contact us for a free digital health check. We'll let you know exactly how you can improve online to get quality leads and how your presence compares against competitors.
Did you find this useful?