The Role Of Color Theory In Marketing
The concept of "color theory" is not new. In fact, the term first appeared in the writings of Leone Battista Alberti and in the notebooks of Leonardo da Vinci way back in the 1400s.
Today, color theory is still prominently taught in disciplines like art and science. However, marketers can certainly benefit from learning about it as well. After all, no matter what industry you are in, colors can define your brand, influence your audience, and prompt people to take action. Here's a quick introduction.
The Importance Of Colors In Branding

When it comes to your prospects, you want to go beyond transactional communications; you want to build an emotional connection. The colors that you choose to use can help you cultivate these emotional connections.
Think of the company Caterpillar. Their logo is a great example of one that communicates powerful emotion with the use of just two colors. The yellow triangle represents joy and optimism while the black promotes excellence and power. Wouldn't you say that these two colors define the powerhouse machinery manufacturer?
Where To Apply Your Brand Colors
No matter what colors you choose, it's important for your branding to be consistent across all channels and materials. Here are some places that can benefit from your new color scheme:
Company Logo
Your Industrial Website
Storefront Or Shopfloor
In-Store Design
Staff Uniforms
Advertisements
Building A Brand Color Scheme
There's no right or wrong way to choose your company's branding color scheme. However, the following will explain a more structured framework to help you pick these colors. Brand color schemes typically have between 1-4 colors depending on the type of scheme you'd like. But usually, a basic scheme includes a base, an accent, and a neutral color.
Base:

When choosing your base it should resonate the most important and dominant personality trait of your brand while also appealing to the target audience you're trying to reach.

Accent: Your accent color is one that you will use the most besides your base color and can be a tad trickier to choose given that it has to pair well visually with your base.
Neutral: The last color you'll need to choose in a basic color scheme is your neutral. This will most likely be a background color on your website or in your logo. Typically, company's choose hues of gray, beige or white as their neutral colors.
Relationships Of Colors
Choosing the right colors for your business can be a little tricky. You will want to select colors that don't just appear great individually, but work together as a cohesive look.
Analogous - Colors of matching hues.



Monochromatic - One color is used, but the intensity and lightness vary.


Complimentary - Two colors opposite each other on the color wheel.


Using Color To Convert
The Von Restorff Effect, also known as the Isolation Effect, predicts that when multiple similar objects are present, the one that differs the most is going to stand out and be remembered. This is why using a highlight color that differs from your base color as a CTA can be very beneficial in driving conversions.
A great example of a site that uses color theory well in order to convert is Hudson Technologies, a manufacturer of deep drawn metal enclosures, cases, and stampings. The company uses blue as it's base color, white and gray as its neutral, and a bright orange as its accent color. This bold orange stands out against the blue since they are two complementary colors and using this highlight as the CTAs across the site engages users and converts more prospects to leads.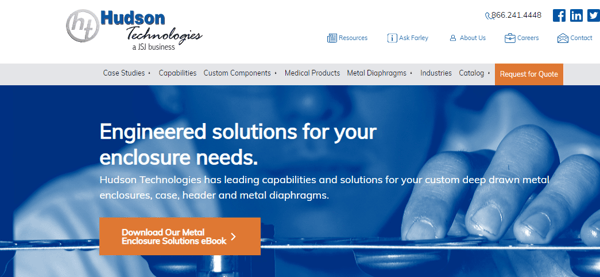 Learn More
Choosing the right colors for your brand and website can enhance your connections with customers. If you need help refreshing either, contact the Thomas Marketing Services team today.
Did you find this useful?