The Role Of Color Theory In Marketing
The concept of "color theory" is not new. In fact, the term first appeared in the writings of Leone Battista Alberti and the notebooks of Leonardo da Vinci way back in the 1400s.
Today, color theory is still prominently taught in disciplines like art and science. However, marketers can certainly benefit from learning about it as well. After all, no matter what industry you are in, colors can define your brand, influence your audience, and prompt people to take action.

The Importance Of Colors In Branding
When it comes to your prospects, you want to go beyond transactional communications; you want to build an emotional connection. The colors that you choose to use can help you cultivate these emotional connections.
Think of the company Caterpillar. Their logo is an excellent example of one that communicates powerful emotion using just two colors. The yellow triangle represents joy and optimism, while the black promotes excellence and power. Wouldn't you say that these two colors define the powerhouse machinery manufacturer?
Where To Apply Your Brand Colors
No matter what colors you choose, it's important for your branding to be consistent across all channels and materials. Here are some places that can benefit from your new color scheme:
Company Logo
Your Industrial Website
Storefront Or Shopfloor
In-Store Design
Staff Uniforms
Advertisements
Building A Brand Color Scheme
There's no right or wrong way to choose your company's branding color scheme. However, the following will explain a more structured framework to help you pick these colors. Brand color schemes typically have between 1-4 colors depending on the type of scheme you'd like. But usually, a basic scheme includes a base, an accent, and a neutral color.
Base:

When choosing your base, it should resonate with your brand's most essential and dominant personality trait while also appealing to the target audience you're trying to reach.

Accent: Your accent color is one that you will use the most besides your base color and can be a tad trickier to choose given that it has to pair well visually with your base.
Neutral: The last color you'll need to select in a basic color scheme is your neutral. This will most likely be a background color on your website or in your logo. Typically, company's choose hues of gray, beige or white as their neutral colors.
Relationships Of Colors
Choosing the right colors for your business can be a little tricky. You will want to select colors that don't just appear great individually, but work together as a cohesive look.
Analogous — Colors of matching hues.


Monochromatic — One color is used, but the intensity and lightness vary.

Complimentary — Two colors opposite each other on the color wheel.

Industrial Companies That Use Colors To Convert Prospects To Customers
The Von Restorff Effect, also known as the Isolation Effect, predicts that when multiple similar objects are present, the one that differs the most will stand out and be remembered. This is why using a highlight color that differs from your base color as a CTA can be very beneficial in driving conversions.
Original Equipment Manufacturer [OEM]
Amphenol Nexus Technologies is an OEM that manufactures custom and stock connectors, pushbutton switches, electro-mechanical devices, and commercial telephone plugs and jacks.
The company uses blue as it's base color, white and gray as its neutrals, and bright orange as its accent color. The choice to use such a bold orange was a deliberate choice since it complements the blue base color and is utilized in its global navigation. Using this highlight as the CTAs across the site engages users and converts more prospects to leads.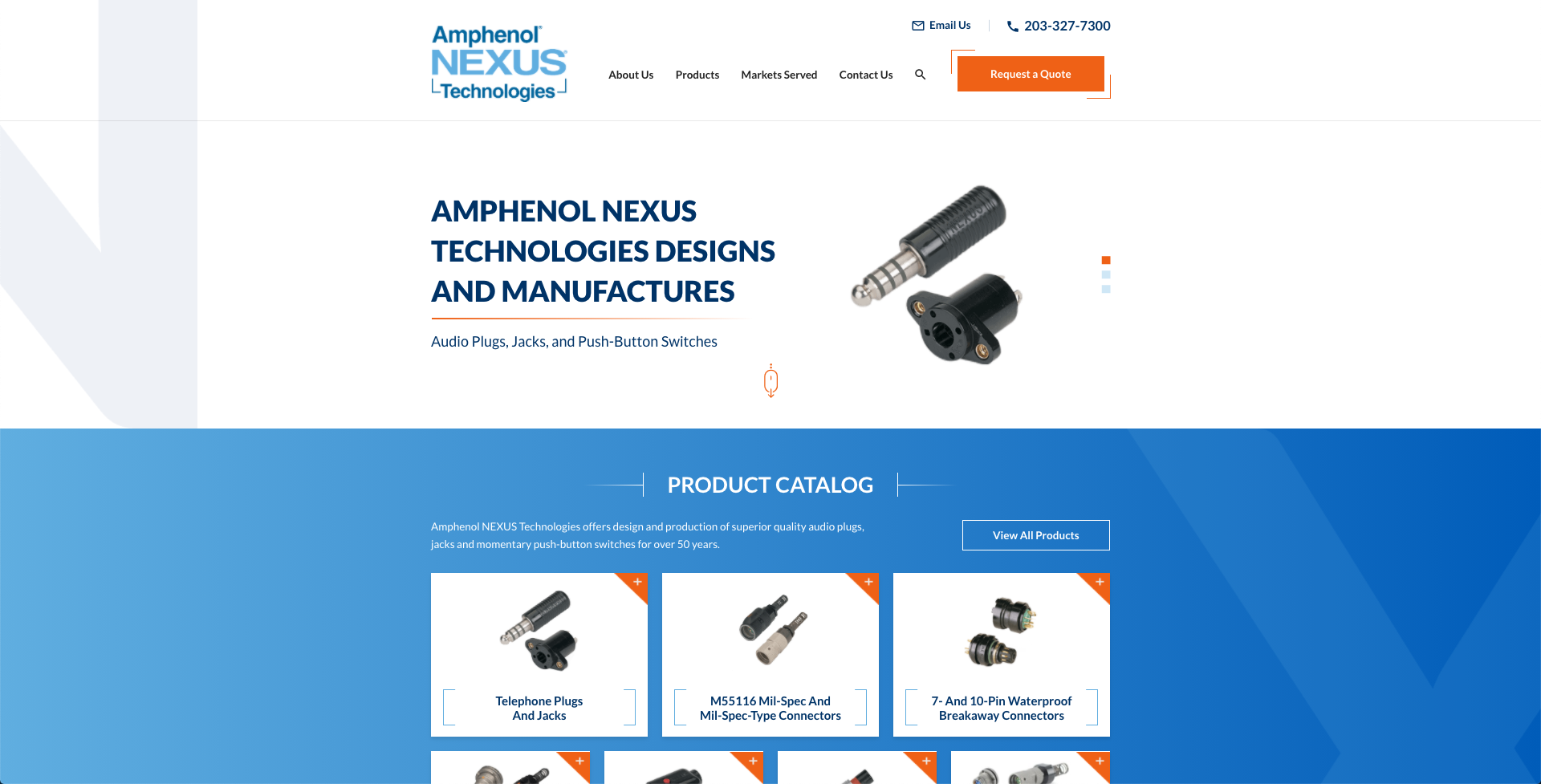 Service Company
U.S. Clean Lab provides cleaning services like ultrasonic, pressure flush, wipe and high-pressure pump flush cleaning for parts and components
U.S. Clean Lab has a clean and modern website design that uses a monochromatic approach with different cool colors to stand out against a white background. Both the "Request A Quote" CTA in the navigation and the "Precision Cleaning" CTA overlayed in the header image have a slight gradient that starts with a darker blue on the left and fades to a slightly lighter blue on the right. Although this is strictly a stylistic choice, it's worth knowing that it's an option when implementing this on your industrial site.
Something unique to the "Precision Cleaning" CTA is the hover effect. Triggered by the mouse hovering over the CTA, the background and text colors flip flop — the blue background becomes white while the white text becomes blue. This effect can be attention-grabbing enough for prospects to click on the button and convert.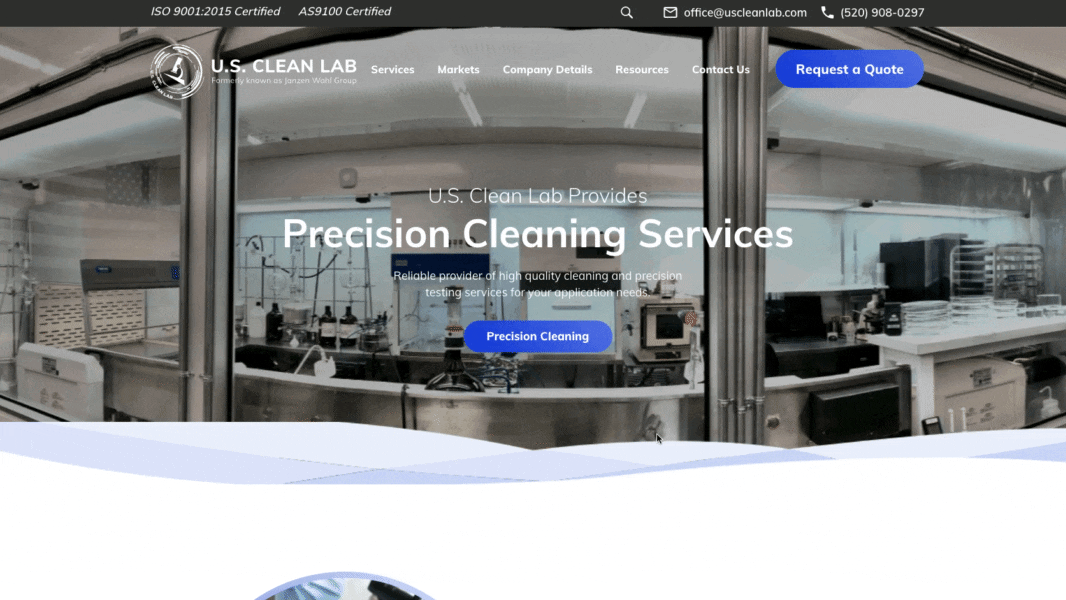 Custom Manufacturer
A great example of a site that uses color theory well to convert is Hudson Technologies, a manufacturer of deep-drawn metal enclosures, cases, and stampings. Something Hudson Technologies does really well is it's lead generation efforts utilizing content marketing.
Hudson Technologies has a module on its homepage entirely dedicated to promoting a top eBook, "Seamless Solutions: Deep Draw Manufacturing." Again, we see the best practice of using a contrasting color for their "Download Now" CTA.

Using eye-popping CTAs is not only useful across your website pages and product catalogs. Color can be used on your landing page forms as well. By collecting site visitors' information on landing pages, Hudson Technologies can increase the contacts in their lists and nurture them into customers. The orange "submit" button included on this form is screaming to be clicked.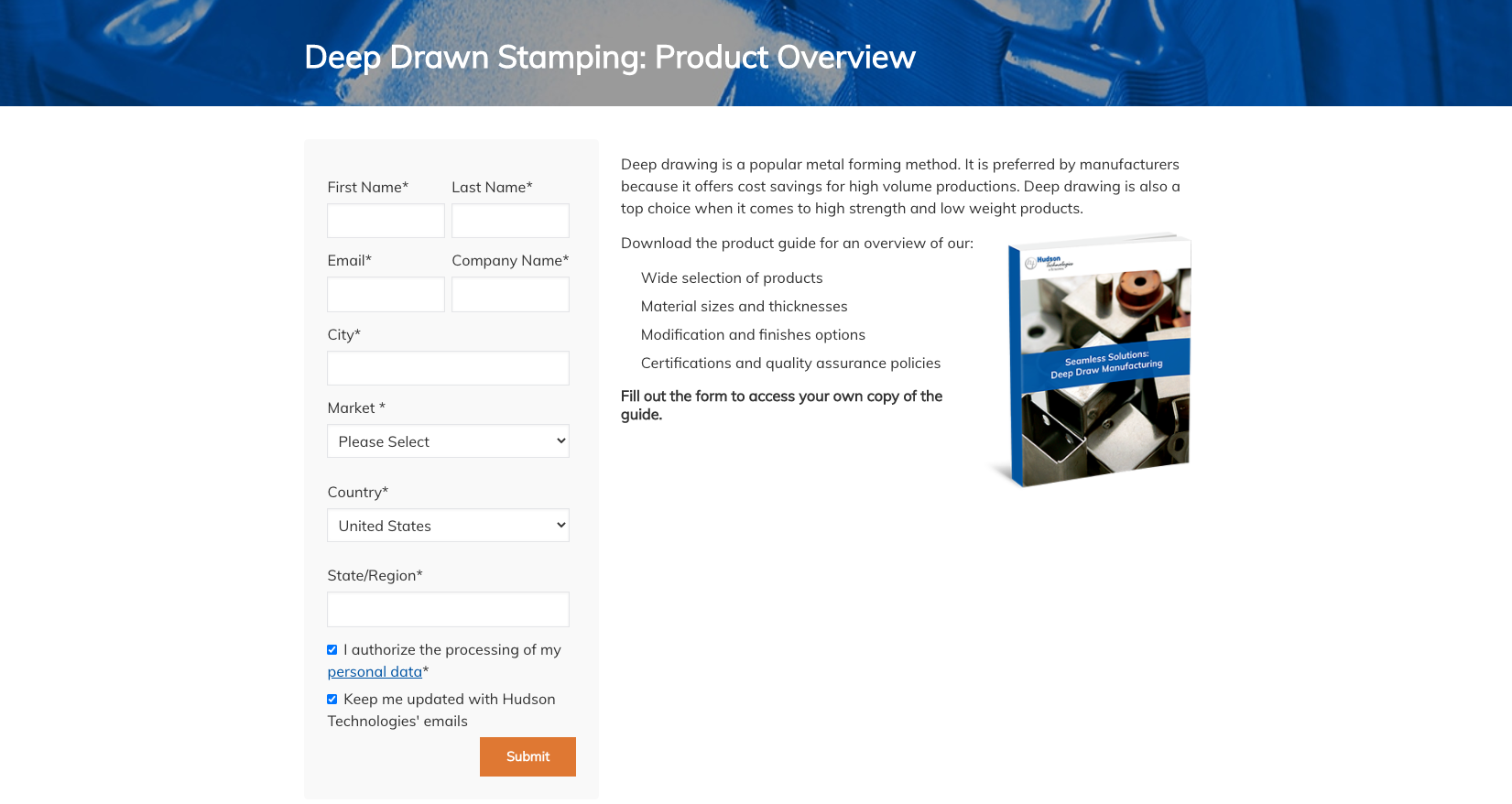 Industrial Distributor
Schroeder Industries is a manufacturer and distributor of advanced fluid conditioning solutions that sticks to its core brand colors across its site from the homepage to product catalog.
First off, Schroeder has a product catalog that is both effective and organized — what all manufacturers should strive for online. It makes it easy for procurement professionals to request information and engineers to get the specifications they need for their design projects.
Schroeder utilizes the global navigation of the site to call attention to an RFQ button, but also uses a similar CTA in it's product catalog to "Request Information." The outstanding red is also used for critical links throughout the product catalog to help guide site visitors to eCommerce tools like "Express Ordering," "Quotes," and "Shopping Cart."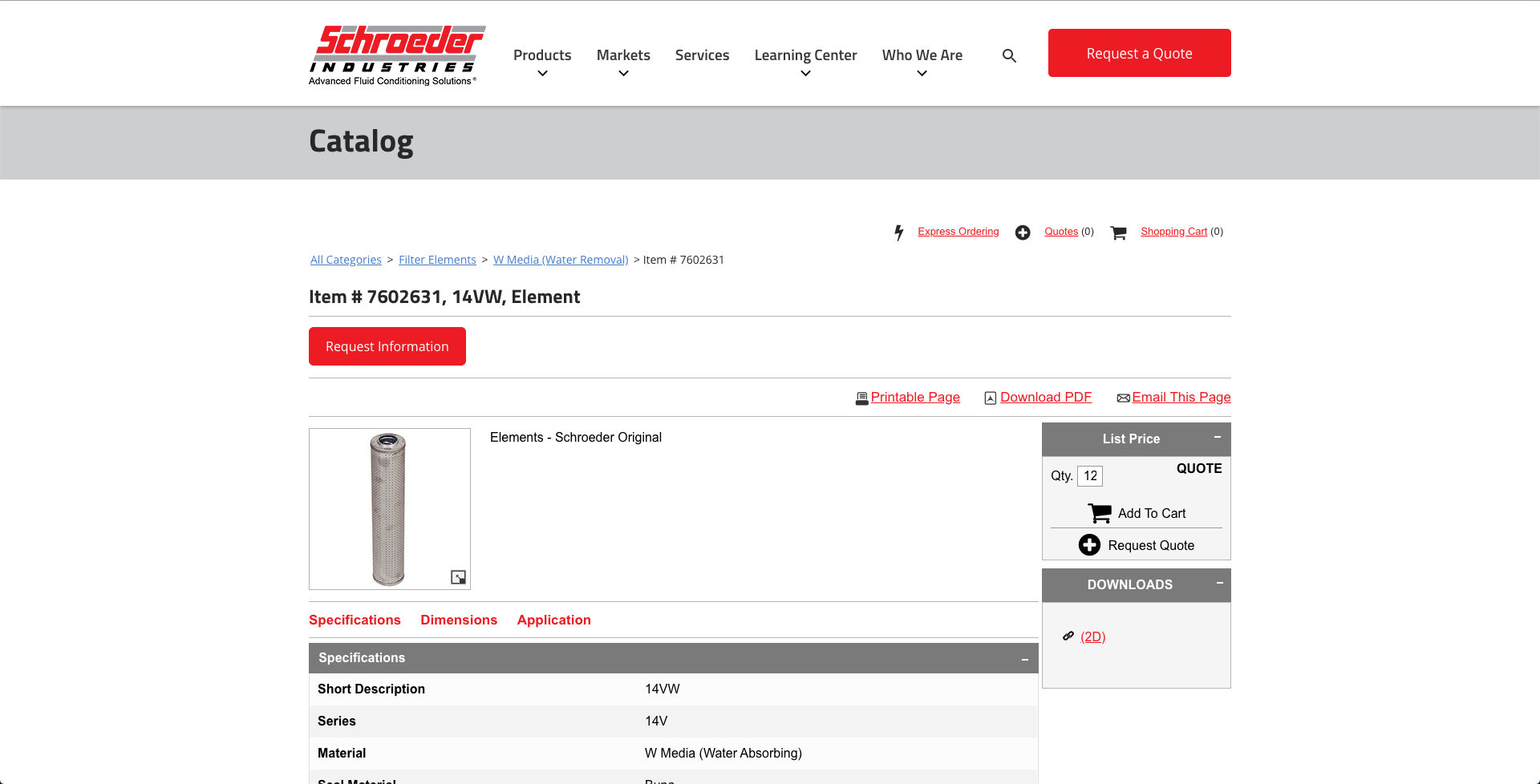 Learn More About Using Color To Increase Web Traffic
Choosing the right colors for your brand and website can enhance your connections with customers. Luckily we have marketing experts who can look at your industrial website and give you tips and tricks on using color theory best practices.
Get a free digital health check of your digital presence today to learn what you can improve on your website to engage more buyers or reach out to our Thomas Marketing Services team for a full website overhaul. Our marketing experts are supported by degree engineers so we understand the complexities of your industrial business.
"A key thing about Thomas is the ability to generate a lot of leads across various industries. We wanted to help educate our customers," said Renown Electric. "Through eBooks, blogs, a revamped website — they actually drive our own knowledge out and customers appreciate the insight."
Did you find this useful?