How To Meet The Needs Of B2B & Industrial Buyers [Updated 2022]
No matter your role — sales, marketing, operations, or leadership — you have a lot to accomplish.
And so do the buyers of your company's products or services.
By understanding what your buyers have on their plates, you can more easily accomplish one of your most important tasks — generating more leads and contributing to your bottom line.
We have more than 120 years of expertise in connecting industrial buyers and suppliers, and we're happy to help share all we've learned from our data and relationships over the years. In this post we'll share what you should know to meet their needs and create more meaningful connections to win more business.
Understand The Industrial Buying Cycle
From a supplier's perspective, the industrial buying cycle is a two-step process:
1. The buyer realizes a need.
2. The buyer finds a supplier to purchase the product or service.
But that's an oversimplification.
A lot of it depends on what type of materials, products, services, or company is needed, but at a high level, the complete industrial buying process actually involves six distinct phases:

The buyer defines a need for a product or service.
The buyer performs research to learn about possible solutions.
If executing a new design, the buyer researches product data.
The buyer evaluates potential suppliers.
The buyer creates a shortlist of the best suppliers.
The buyer makes a purchase from the winning supplier.
That's not it, though — through our research with Strategyn, we could go even further, identifying 15 distinct steps within the buying process.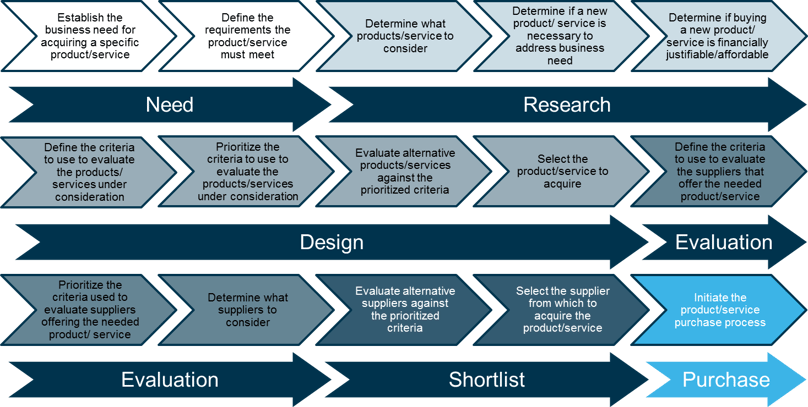 While moving from phase to phase and from step to step, buyers must accomplish a series of more than 225 smaller tasks. Sounds exhausting? This is what buyers do every day.
Be Everywhere Your Industrial Buyers Are
How do you search for information when you already have a general idea of what you need?
Often, you go right to a niche source rather than conducting a web search. For example, if you need yesterday's basketball scores, you might head right to ESPN.com.
Well, many industrial buyers get started the same way.
To make an impact on the second stage of the B2B buying cycle, the search phase, you need to know where savvy buyers prefer to source, and what kind of information they're entering when they get there.
In general, at this early point, they have one broad question in mind: Can you do what they need you to do? They want to know that you're qualified before they take any next steps.
Here's how you can make sure you come up in their search results:
Online Business Directories
There's an opportunity to tap into local buyers in your area searching for you online, and a business listing in an online directory helps get your business found.
Search engines like Google will show your business on search results depending on how well your location content matches what someone is searching for, how far away their location is to you, and how strong your overall online presence is.
Some of the free business listing platforms we recommend include:
Online Sourcing Platforms
The online landscape is full of platforms for making specific connections — ticket exchanges like StubHub, freelance marketplaces, dating apps, etc. The same thing exists for industrial buyers and suppliers.
Listing your business on Thomasnet.com lets you share your capabilities and products with the serious prospects who often go directly there to start their very specific searches.
More than a million in-market buyers visit Thomasnet.com to source industrial products and services, and find their next supply chain partner.
Impact The Industrial Buying Process Before The Sales Funnel
Let's start right at the top of the funnel — or even above it — with the broadest and potentially longest-lasting stage — education.
Depending on the specific industry you're in, your prospects might linger in this phase for a while. But just think about the benefits of establishing yourself as a valued and trusted source of content before they identify a purchasing need.
A hypothetical equivalent in the consumer space would be Ford or GM publishing a blog with car repair tips, objective industry updates and news, and reports on innovations coming down the pike. You probably only buy a new car every few years or so, but Ford's blog would be a resource you'd turn to again and again in between. And when it does come back to purchase time, well, who are you going to think of first? (Note to car manufacturers: You're welcome).
That's what's called a cohesive content marketing strategy. You can give prospects a better look at your business through the content you create and share — without a hard sell. Whether it's offering free eBooks or white papers, or connecting with prospects through social media, you're able to prove your value differently — while improving your chances of moving to the shortlist.
Become A Thought Leader With Blog Content
Want to get potential buyers reading between buying stages?
Don't try to pitch to them, but address the pain points they face in their day-to-day jobs, like troubleshooting, efficiency improvements, common problems, and so on.
New trends and innovations are always popular topics, and the place of your industry in the larger economic landscape is also an ever-changing subject of interest.
If you already have a blog, check out 16 Ways To Improve Your Blog to make sure you're not missing out on an important lead generation component — like a call-to-action (CTA).
Document Your Offerings With White Papers
Much more in-depth than a blog, but also potentially more valuable to your prospects — and eventually to you are white papers. We suggest two key factors to consider in writing a white paper:
Be unique. Ensure that you're adding something to the conversation (or even better, starting a completely new one).
Be an expert. Choose a topic that you know inside and out — you'll have plenty of material to draw upon to educate readers and differentiate yourself.
Put effort into creating a fantastic title that grabs the user's attention — just make sure it isn't misleading.
For example, "Beginner's Guide to Sheet Metal" and "7 Tips For Choosing the Right Sheet Metal Supplier" are clear titles and signal to the prospect your expertise in the metals industry.
Gating your offers on a landing page with a form ensures you capture the visitor's information. No one wants to submit their information for something that isn't valuable so there should be a lot of planning, creativity, and strategy behind your content creation.
Note how Swift Glass has unique eBook covers for each of its content offers below, as well as topics that are both educational and showcase their industry expertise.
List Out Your Comprehensive Capabilities
Buyers want to know your specific capabilities before they contact you.
That means part dimensions, tolerances, machinery used, materials worked, finishing services, diversity information, and quality certifications.
Quality is among the most critical factors that buyers consider when evaluating new suppliers. Therefore, if you aren't highlighting your quality certifications prominently online, you're likely to get crossed off the shortlist.
Offering an index of ISO numbers is a good start, but you should go beyond that to offer the greatest peace of mind and give you the best chance of moving on in the evaluation process. Allow potential buyers to view the actual certification documents or, better yet, download them for future reference.
Lastly, always make sure your certifications online are current and up-to-date to eliminate any doubts and uncertainty — and don't forget to update them on all the business directories you're listed on too, like Thomasnet.com, Google, Yelp, etc. (as we mentioned above).
Validate Your Previous Successes With Case Studies
Would you bring your Dell desktop to get repaired at an Apple store or vice versa? Probably not. That's because you want to be certain that the people working on your product have specific experience with it.
The same holds true for industrial buyers.
They feel more confident when they see you have experience with customers in their industry, whether it be automotive, food and beverage, medical, aerospace, etc.
Thus, you should make your vertical experience readily apparent and cite case studies or testimonials whenever possible. If you don't have specific experience within an industry, but your capabilities and quality standards are transferrable, make that clear as well.
For products or services, using case studies to illustrate past work you've done can give buyers a better idea of just how you work — and what you're like to work with. Let your ingenuity and expertise shine for you here.
Start simple.
You could place quotes from customers and their logos (with their permission!) on your website and work your way to writing a narrative as the next step. Client testimonials show value in your reliability, competence, and solutions.
Check out how ESI, a metal stamping company, organized their case studies in the screenshot below.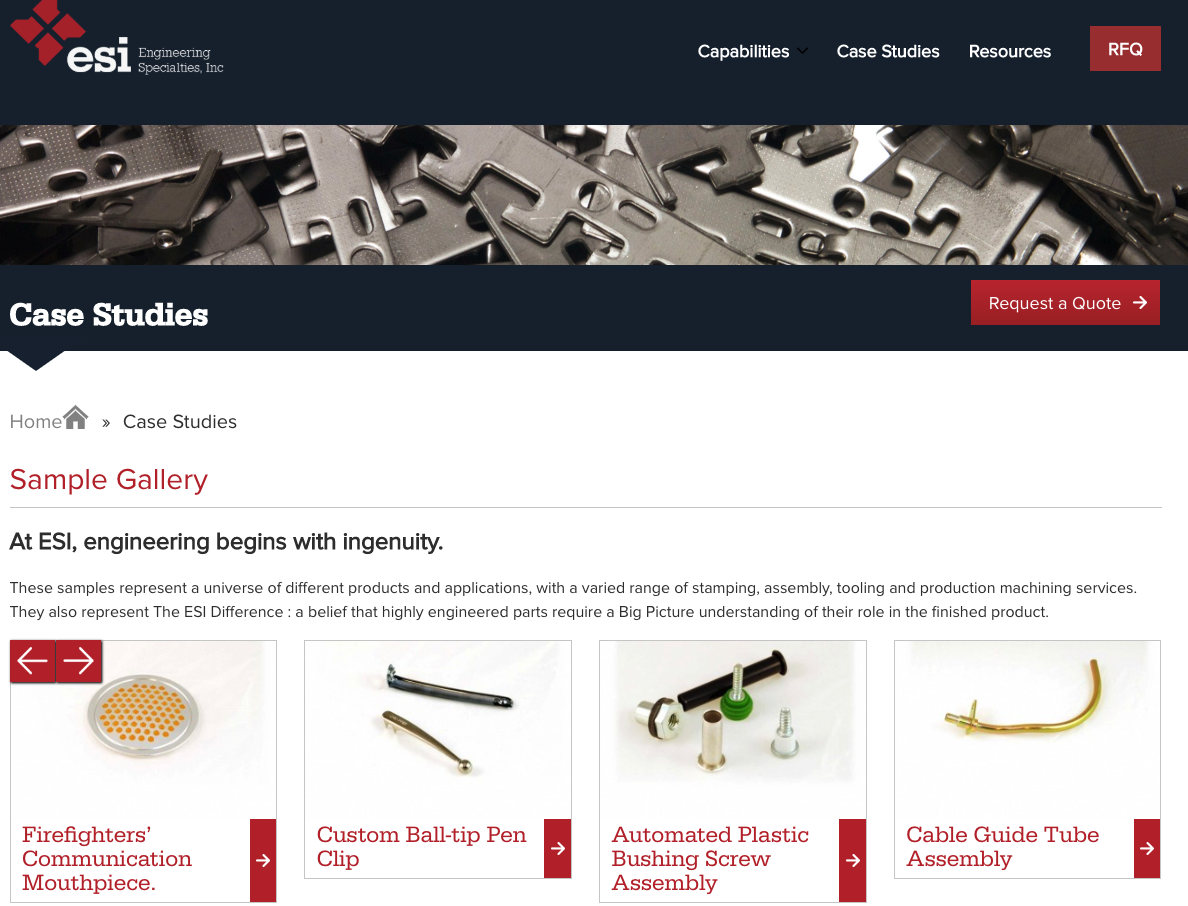 Publish News Releases To Keep Your Buyers Up-To-Date
Regularly communicating your product news and company updates to your buyers helps you stay top-of-mind at purchase time.
Keep them in the loop with email newsletters — whether it's a weekly recap or a monthly roundup, newsletters help nurture existing customers and engage new ones.
Whether you're in Indiana or the middle of New York or you're an MRO professional or a CNC machining business owner, savvy buyers always need to be aware of what's going on in their industry.
Build Your B2B Industrial Network With Social Media
Whether for news or a little bit of downtime, more and more buyers regularly use social media. As a younger crop of workforce joins the industry, they expect a digital experience throughout their day-to-day — in fact, more than 70% of today's B2B buyers are millennials.
To keep up with the digital transformation of sales and marketing and reach a new market of buyers, more B2B marketers are learning how to use social media to promote their manufacturing brand to new networks.
But social media is not the place for sales pitches — it's the place to forge an association and a future relationship by establishing your value as an information source. Work your social strategy into your full marketing plan to drive your company's growth. All your online efforts should be aligned.
Learn What Industrial Buyers Are Really Looking For
During the third stage of the industrial B2B buying cycle, evaluation, buyers have identified a need after a high-level, general search. You've got a possibility to reach their shortlist — but you're still not locked into a sale. Buyers need to see that it's worth their time to keep considering you. How? It's all in the details.
Think about the last time you went out to a movie. You identified a need and laid out general parameters — 1) I want to see a movie, and 2) I'd like to watch, for example, an action film tonight.
From there, you really evaluate just how to spend your evening: maybe you want a movie under two hours long, you'd like to see a favorite actor, and you don't like any sci-fi mixed up in your action movies. With the wealth of information that's typically available, now you can narrow down your options.
But imagine if some descriptions had all that additional information you were looking for — running time, cast, subgenre, reviews — but others gave you nothing more than the movie title. Would you bother calling up the movie theater just to find out more about those "empty listings?"
Probably not. And as a supplier, the same theory applies: if you're not giving buyers the detailed information they seek, that doesn't mean you're piquing their curiosity or conveying that you can "do everything" — it means you may be taking yourself out of the running before you even have a chance.
The most important takeaway is that your website is an important foundation of all your growth efforts. In fact, 40% of B2B buyers surveyed said a supplier's website matters a lot. One procurement professional said, "Having more online information like specifications, pricing, lead time, and stock levels online are important when I'm vetting new suppliers. The ability to order products directly onsite with an online catalog also makes my job easier."
For example, buyers in the defense industry are concerned with counterfeit parts, inaccurate data, and incomplete quotes. Alleviate their concerns with industry-relevant website pages that detail your product data, sizing dimensions, performance curves, etc. Engineers want to see how your components and parts can fit into their final project, but projects in the defense industry are super complicated. Help engineers get their jobs done (and simultaneously become a lead for you) with infographics, videos, and final product photos.
Stand Out On Industrial Buyers' Shortlist
Put yourself in the buyer's shoes. What's most important to them when sourcing? Early on, speed and efficiency are key — researching their terms, without worrying about an email or a callback. That doesn't change once they reach the shortlist stage — they're still not ready to spend time on queries. In fact, you likely won't even know you're on the shortlist until the first time they contact you.
How does the shortlist work, and how can you improve your chances of getting on the shortlist — and getting selected?
No matter how large or small a company is, and what size supplier they're looking for, they all use a shortlist to make purchasing decisions. It's the most efficient way of narrowing down a sea of choices, and it no longer just means scribbling the names of contenders down on a piece of paper. Powerful applications like the Shortlist tool on our platform let serious buyers move seamlessly through the buying cycle — and keep them moving toward selecting you.
Keep in mind that price is only one factor that buyers consider when making a shortlist — and it's not even the most important. Here are some other considerations that buyers say they value above cost:
Relationship and dialogue with a supplier
Industry expertise
Responsibility and reputation
Innovation and potential for long-term partnership
Buyers aren't searching just for a "vendor" or a "supplier" — they want a partner. In the industrial space, more than anywhere else, the success of each partner in a supply chain relies on that of the others. The lowest immediate price or quote doesn't always mean the best results.
What can you do to communicate your value and potential as a true partner, and get buyers to take that last step of contacting you?
Illustrate Your Value Beyond Price
Post your company history, past successes with other partners, industry expertise, and informative content on your Thomasnet.com company profile, your website, and social media. Don't wait for the opportunity to prove the intangibles — it's never too early to build your brand as a trustworthy and reliable partner.
---
Buyers often want to know about more than just the product or service you offer; they want to know about the people behind the scenes who will be supporting their orders and their businesses.
List the key contacts across your departments, such as engineering, sales, operations, and other areas, online. Even better, create detailed profiles with contact information so that buyers can reach out to you and your team members directly if they have any questions.
Use Videos To Showcase Your Facilities And Shop Floor
Your facilities say a lot about you, and buyers want to hear all about it. For example:
Are your production facilities modern and well maintained?
Is your plant layout optimal for workflow?
Do you have CAD, CAM, or flexible manufacturing systems in place?
While buyers interested in long-term partnerships will typically review your facilities during an onsite visit later on, showing them facility photos and videos while they're anonymously evaluating you online is a plus that can help you stand out.
And with trade shows no longer the same attendance and value as they were pre-COVID-19, more manufacturers these days are using videos to connect with customers — and they've been proven to close more sales, especially when it comes to touring the factory floor during regional travel restrictions.
(Reminder: Thomas can create a free video for you with an advertising program just like the one below!)
Be As Detailed As Possible
Through all the steps in the buying process, if a buyer is left with any questions remaining about you, they may not inquire further — they may cross you off the list. Ensure that your company's online information includes all the detailed information about product dimensions, tolerances, capabilities, and other specifications that buyers seek out.
If you have secondary capabilities to offer, make sure buyers know it. Do you provide engineering services? Design assistance? Installation? Repair services? Inventory management? Private labeling? Packaging? Kitting? These value-added services can set you apart from the pack and set you up to make the shortlist.
Our guide, How To Get On The Industrial Buyer's Shortlist, details the 26 critical aspects to include in your online presence to make the best first impression on potential buyers. Your new efforts may help you expand into new markets.
How To Close The Deal With Industrial Buyers
Although the RFI process represents the end of the B2B buying cycle, it's actually another beginning in many ways. Often, it's the first time a prospect will contact you. It's the start of the "face-to-face" process of closing a sale. And ideally, it commences a long and productive partnership between you and the buyer.
Just like each step leading up to it, however, it's important to treat the RFI as an important component of the overall process, not merely a formality on the way to a sale.
How can you give buyers the tools they need to feel confident in taking this last step?
Think of the RFI as the keystone of the buying cycle: each of the other steps leads toward it as an end goal, and if it's not handled properly, the entire process falls apart. The RFI is more than just a form to fill out— it's the common goal that both you and a prospective buyer are working toward.
Ask yourself these questions:
Is Your Contact Information Highly Visible?
Don't make it a chore for prospects to figure out how to get in touch with you. Each page on your website should include several ways to contact you — phone number, email address, and link to your RFI form.
Make sure your free company profile on Thomasnet.com is complete with all of your qualifications and information as well. Different people prefer different modes of communication.
Are Your Calls-To-Action (CTAs) Clear?
One of the keys to successful lead generation is a clear call-to-action (a text link, button, or image that encourages visitors to complete an action). If you're offering a quote, does your CTA say "Request My Quote" or "Submit."
"Request My Quote" is more specific to the action and increases the chances of the prospect actually doing it.
You want your CTA to convert so make sure your message is clear throughout all the components of your lead generation strategy.
Are You Giving Your Leads The Attention They Deserve?
Research shows that the difference between calling a buyer right away and waiting even as long as one minute after an information request can affect the chances of qualifying them by as much as 150%.
Make sure your website is up-to-date with lead monitoring, tracking, and notification tools (like HubSpot and Thomas WebTrax) that will provide you with data about the prospect and help you close a sale.
The right industry-leading tools let you capture and track the activity of your buyers as they engage with your various digital marketing efforts and online content. Qualifying manufacturers can use WebTrax for free — learn more here.
Engage More Buyers With Digital Marketing
The industrial buying process can be complex, but each step is an opportunity to position yourself as the best partner.
However they arrive at your website — whether from Thomasnet.com or an organic web search — buyers don't want to have to hunt around for the information they're seeking. Ensure your website is updated, well-organized, and content-rich to proactively answer the preliminary questions that a buyer might have. A good rule of thumb? Try to mimic your in-person sales process with your website.
According to a McKinsey study, leaders are going where their customers are — and that's increasingly online. In the same study, 68% of outperformers combine traditional and digital channels in the customer journey. And a Thomas Industrial Survey, found that 84% of manufacturers are using their website more to connect with customers after COVID-19 started.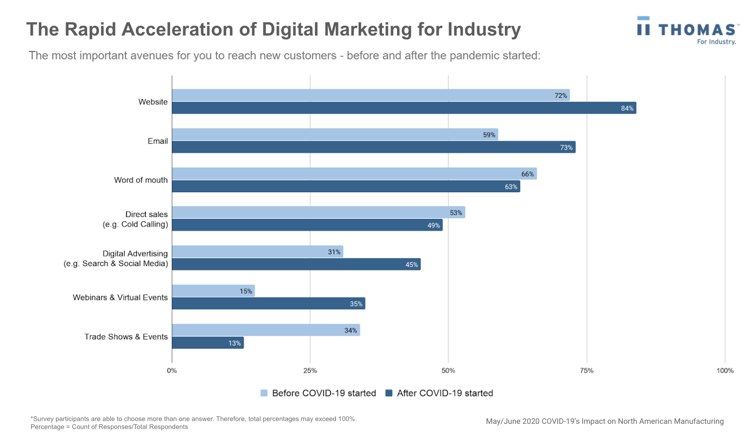 Your entire growth strategy should be designed in a buyer-centric, digitally-focused way: taking their concerns, needs, and user experience into account and helping them intuitively get the information they need about your products or services before they proceed to contacting you.
Chances are, you will compete with lots of other suppliers for the same job, and many of these shops will offer the same product or service as you. As a supplier, your expertise can deliver value by helping buyers accomplish their most important tasks while reducing their headaches and challenges throughout the buying process. Determining your perfect buyer and understanding what is on their plates, helps you more easily create the content they're looking for — it's key to making the connections and keeping your business top of mind.
Then, additional marketing factors like your branding and messaging can come into play (especially if you've established yourself as a useful source and connection during the Education phase) — if a prospect sees you as good partner material, and you can meet their sourcing needs, you're in good shape to move forward as they fine-tune their search.
The engineers and marketing experts at Thomas can help tailor your entire marketing plan to target those prospects. Unsure of the first step you should take? Contact Team Thomas and request a free Digital Health Check. We'll let you know exactly how you can improve online to meet the needs of your buyers.
Did you find this useful?