26 Must-Have Digital Marketing Apps And Tools (Including Free Ones)
In the very competitive world of marketing, it's crucial to stay ahead of the curve. Fortunately, there are many great tools out there to help you and your team stay on top of your game and play an integral role, helping you be more productive, efficient, and strategic.
Here are some useful applications for eight critical aspects of industrial marketing areas.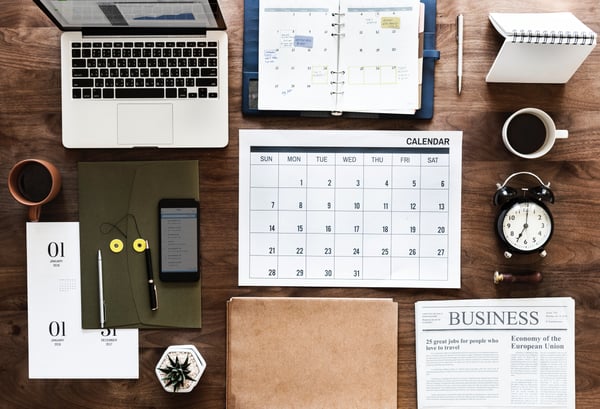 Content Writing Tools For Better Organization
1. Hemingway Editor
The Hemingway Editor is an app that makes your writing bold and clear. This handy tool highlights lengthy, complex sentences and common writing errors.
2. Grammarly
A great free option for those who want their writing to be mistake free, Grammarly integrates across platforms like Gmail, Facebook, Twitter, Linkedin, and other places you write on the web. The app scans text for common grammatical errors while explaining all your mistakes, along with a weekly progress report. You can upgrade your Grammarly account with a paid option for more features.
3. Hubspot Blog Ideas Generator
Coming up with the perfect content idea can be challenging. The Hubspot Blog Ideas Generator allows you to enter up to five different nouns that will automatically provide you with some great content titles to help you start writing.
4. PlagiarismCheck
This important plagiarism-checking tool uses advanced algorithms to provide interactive results and reports to avoid plagiarism-related issues.
Marketing Tools For Website Analytics
5. Google Analytics
Google Analytics is most likely a platform you've heard of. This web analytics tool tracks and reports your website traffic, which can be beneficial in keeping a pulse on your site's health.
6. Thomas WebTrax
Thomas WebTrax is the first Opportunity Intelligence tool built specifically for industrial manufacturers and suppliers. Going beyond analytics, Thomas WebTrax can help you turn the anonymous visitors that come to your site into actionable leads.
It lets you track buyers throughout their buying journey, from Thomasnet.com to your website, to RFIs and phone calls. You can also identify the opportunities that matter to your business, refining visitors by industry, geography, company size, and other filters. Armed with all of this insight, your sales team can engage prospects in more meaningful conversations that drive wins and revenue.
Qualifying manufacturers and industrial companies can use WebTrax for free. Request your WebTrax account here.
Tools To Manage Your SEO Traffic
7. Ahrefs
If you are getting serious about search engine optimization, Ahrefs can be a very helpful resource.
Ahrefs offers a range of tools, including keyword, backlink, content research, and competitive analysis, rank tracking, and web monitoring. It makes it easy to see why your competitors are outperforming you so that you can tailor your digital marketing approaches.
8. Link Explorer
This powerful link building tool can help you plan your link building strategy, allowing you to rank higher in search engine results pages (SERPs). It also provides robust reporting, including competitive research, individual link analysis, opportunities, and more.
9. SEMRush
This search analytics software, which is geared for more experienced SEO professionals, can provide detailed information about your website. Use it to keep track of your search engine visibility, optimize your PPC budget, and spot issues, like 404 errors.
10. Keywords Everywhere
This free keyword tool is offered as an extension on Chrome and Firefox. The extension provides useful google keyword search volume, cost-per-click information, and competitor data.
11. Google Search Console
While you do not have to sign up for Google Search Console to be found via a Google search, this tool is a must-have if you want to continually monitor, maintain, and enhance your site's presence in search results. With Google Search Console, you can understand how Google views your site so you and your team can optimize accordingly.
12. Screaming Frog SEO Spider
This SEO tool is a website crawler and auditor that automatically searches website links, images, CSS, script, and apps, all of which affect your onsite SEO.
---
Are you looking for SEO tips? Increase your SEO traffic in 30 days with our 30-day planner.
---
Visual Content & Design Apps To Enhance Your Creatives
13. Canva
One of our personal favorites, Canva is a design tool that can help you create professional-looking digital and print marketing collateral. With access to more than one million stock photos, graphics, and fonts, you can easily create professional quality media for your business.
If you find Adobe Photoshop daunting, Canva is the tool for you. This online design tool offers plenty of customizable templates, easy drag-and-drop formatting, free photographs, graphics, and fonts. Use Canva to create graphics for:
Social media
Presentations
Flyers and brochures
Business cards
Blog graphics
Email
14. iMovie
For all Mac users out there, this basic video editing software allows you to do a lot without paying for it. This is an excellent option for those without the budget to buy Adobe Premiere or Final Cut Pro. iMovie still includes features to modify and enhance video color, crop, rotate, and stabilize clips and has different effects options.
15. Lumen5
We probably don't have to tell you (again) how vital video marketing is today. What we can tell you, however, is that creating videos isn't as difficult as you would expect.
Lumen5 automatically generates videos using your existing blog articles and other content, using AI to match words with images and other media. The results are engaging, social media-friendly videos that look professional but take only minutes to create.
Conversion Rate Optimization Tools To Help You Convert Leads
16. FullStory
This tool uses heatmaps and site recordings to understand what users want and how they interact with your site. You can see just what users click, tap, and interact with on this site, and with detailed reports, you can optimize your website to convert your prospects more effectively.
FullStory is deeply ingrained into our optimization process," says Julian. "It's integrated with Optimizely, which allows us to see both the respective A/B test and variation that a user is bucketed into along with a link to a replay of the user's session.
17. Optimizely
Successful digital marketing is all about testing, learning, and, ultimately, improving. This mantra applies to your website, your emails, your forms, landing pages, etc.
Optimizely is the world's leading experimentation platform and is a front-end A/B testing and multi-page experimentation product. Changes to your site shouldn't be based on gut instinct. A/B testing can optimize your site and let the data do the talking when making changes and updates.
18. Visual Website Optimizer
VWO is a testing and optimization tool that allows you to create A/B tests and geo-behavioral targeting campaigns. The best part is that no technical or HTML knowledge is required to use the tool. The multivariate testing software has several additional tools like heatmaps, usability testing, and other conversion rate optimization products.
Social Media Marketing Apps To Grow Your Networks
19. Buffer
Buffer will help you get all of your social media tactics in order, allowing you to make the most of your social presence across various platforms. Buffer gives you the power to schedule publications in advance, set up auto-posting, and analyze your social media activity across different channels, including Facebook, Twitter, Instagram, LinkedIn, and Pinterest. This type of marketing automation lets you take advantage of optimal post timing and targeting. Pricing ranges from free to $399 per month.
Read More: What's The Difference Between Facebook vs LinkedIn vs Twitter
20. Brand24
Brand24 lets you monitor and analyze your social media accounts in real-time, allowing you to keep track of conversations about your brand and products while collecting valuable social data from several sources. With this app, you can get email alerts, infographics, customer insights, analyses of influence, metrics for buzz and sentiment, and PDF reports. After the free two-week trial, expect to pay $49, $99, or $399 per month depending on your specific needs.
21. Hootsuite
Another social media management platform, Hootsuite also allows you to schedule social posts, track social ROI, and build workflows.
Productivity Apps To Organize Your Marketing Efforts
22. Trello
Well-thought-out project management is crucial for ensuring successful industrial marketing. One of the best apps out there for project management, Trello, is free to use and comes with an interactive manual to help you learn your way around, so there's no excuse to ignore this resource. It lets you quickly set up project "boards" with detailed checklists, dole out tasks to your team, control workflow, and schedule important notifications, all while remaining highly intuitive and easy-to-use.
It's a tool many of the teams at Thomas use to productive project management.
23. Google Docs
Need to fix that 2 p.m. presentation but stuck on the road all day? Google Docs can help. Compatible with Microsoft Office's Word, Excel, and PowerPoint, Google Docs allows you to create and edit any of these file types. Users can do project work in groups, operate offline, and auto-save work to mobile and desktop devices, as well as the cloud. The best part? Google Docs is entirely free to use.
Communication Apps To Collaborate With Your Team
24. Slack
This group messaging tool is great for enhancing team communication and collaboration to better organize workflow. Slack allows you to message your team — either one-on-one or in groups — to share and edit files and images, easily discuss projects, and better organize work. This app integrates nicely with Dropbox, Google Drive, Twitter, and other platforms. You can also try out Slack for free to decide whether it's a good fit for your business and budget. Then, depending on your needs and billing preferences, you can stick with the free version or upgrade, which will cost up to $15 per user, per month.
25. Google Hangouts
Google Hangouts is a popular messaging app for both Android and iPhone users, allowing you to communicate through messages, phone calls, SMS, and video conferences with up to ten people. You can even pinpoint geolocations, allowing users to share their locations with a single tap. Hangouts is free to download and use, so it's a great tool for establishing communication with people outside of your organization, such as clients, suppliers, and third-party partners.
Bonus: Here's The Marketing Software We Use
26. HubSpot
HubSpot is an all-in-one inbound marketing software program that combines everything your business needs to create and deploy successful marketing campaigns. HubSpot's CRM, marketing, sales, and customer service hubs provide full-service solutions for all aspects of your business.
In particular, HubSpot's marketing hub can help you automate many everyday marketing tasks — tracking visitors, scoring leads, triggering emails. It also makes it easy to make changes to your website or content via a friendly user interface. Lastly, HubSpot's built-in analytics can gauge the performance of all aspects of your marketing, including website performance, email campaigns, social media, etc.
Read More: How The Rodon Group Uses HubSpot To Double Their Sales Growth
Marketing Apps And Tools Make Your Job Easier
In today's digital-driven landscape, business can happen anytime, anywhere. That means you — and your marketing — need to be operating at their peak at all times and be everywhere your buyers are.
These apps can help you become a more productive industrial marketer. However, all of these disciplines — content writing, analytics, SEO, design, CRO, social media, etc. — take a lot of time and expertise. If you need more than just an app or tool, the Thomas team can help you meet your goals. One of the first steps in assessing what you need is getting a digital health check. Request a free digital health check with Thomas to see exactly how you can improve your marketing presence.
Did you find this useful?