How To Begin Successful Industrial Marketing
Digital industrial marketing drives customers to your business' products and services through coordinated design, content, social media, and SEO tactics. Many manufacturing and industrial companies may think that digital marketing would be more suited toward consumer goods and B2C than the industry space, but that's not the case. With the digital transformation of sales and marketing, successful B2B companies are now seeing marketing as a direct influence on revenue generation and more manufacturers are aligning their efforts with today's digital world.
In fact, most industrial manufacturers are practically already set up for a marketing campaign — they just don't know it yet.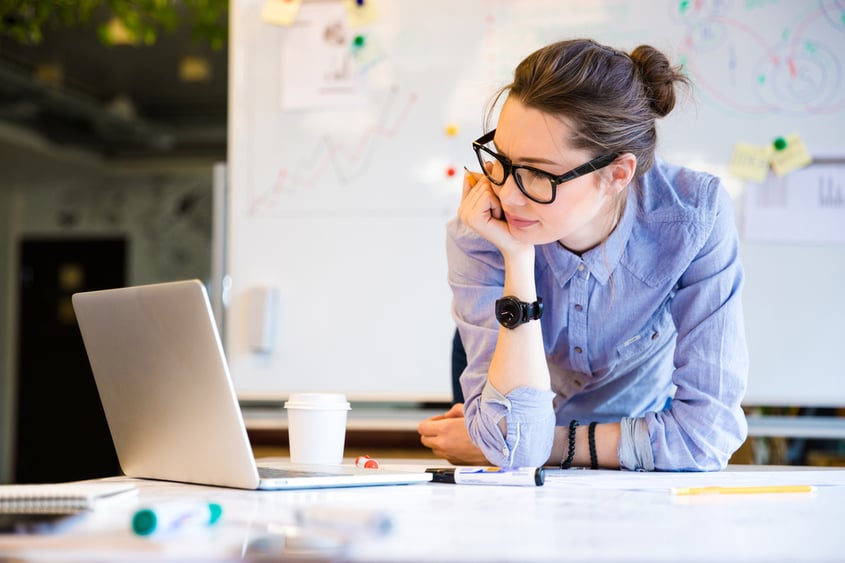 Think about all the spec sheets, research, data, and product catalogs you have just lying around on a desk or in a drawer. These materials can be converted into valuable marketing content to help drive your business forward — these materials just need to be set up the right way.
We're here to lay out some steps to turn the resources you already have into powerful online lead generation tools.
What Is Industrial Marketing?
Let's start with the basics, what exactly is industrial marketing and who can benefit from it?
In its simplest form, industrial marketing or business-to-business marketing is the marketing of goods and services from one business to another. Think advertising between buyers, suppliers, or OEMs. B2B marketing differs in many ways from business-to-consumer (B2C) marketing, which focuses largely on selling goods directly to consumers.
A key difference that makes industrial marketing unique is the average length of sales cycles. Typically, industrial marketing and sales involve large orders, and the relationships between buyers and suppliers are more long-term so that the sales process can take many months or even years. However, having a digital presence can surely boost your marketing efforts and help you end up on your prospects shortlists more quickly.
Whether you hire marketing services or decide to tackle the reaching out to buyers on your own, you and your team can get started with industrial marketing in five easy steps.
Step 1: Analyze Your Current Strategy
Let's see what you've got.
This means taking a complete audit of all your existing marketing collateral — from old-school paper pamphlets and drawings to the pages of an existing website. You've had to answer customers' questions for years, which has manifested in all the material you've created — charts, graphs, and calculators.
Take a look at what you've done, and see what questions it answers. Ideally, you're looking for inspiration to create content (or expand on what you currently have) that will help attract buyers and convert them into customers. This research phase will help you set the foundation of a successful marketing campaign.
Want to see how your digital presence weighs in against your competitors? Get a free digital health check.
We also recommend looking into what your competitors are doing. See what they're doing and learn how you can do it better.
Step 2: Decide Who You Are Marketing To
Target audiences or personas are fictional but well-researched representations of your ideal customer. Personas can vary by industry, job function, and personality. Content that's planned with specific personas in mind will yield higher conversion rates and more valuable leads. Your content must target specific audiences, as different content types can be more appealing to different people.
For example, 89% of consumers purchase a product after they watch a video. If you're an OEM, you're definitely looking to get in front of a design engineer or a procurement manager to get on the approved vendor list. You'll need videos that break down your complex parts' functions and designs and explain how they help an engineer's end need.
Thomas Fact: Manufacturers who use videos in their Thomasnet.com Company Profile receive more RFQs than those that don't. Contact us to learn how you we can produce a video for you for free with an advertising program.
Think about your current top customer. What are the job functions of the decision-makers in the company? What are their stereotypical personalities? The most basic information you should have about your personas should be their business objectives, obstacles, weaknesses, and strengths. If you can tap into these other aspects of their personality and reach them on a more personal, engaging level, you're already a step ahead of the game.
Related Info You Should Bookmark:
Some aerospace technology can be complex, but our graphics, data sheets, and videos from Thomas Marketing Services break it down for buyers to understand what they need and how we help them.
"Diversified content on our site has really helped us stand out as a leader in the industry," said Eoin Lynch, Executive Director of Sales and Marketing at Tex Tech Industries. "Some aerospace technology can be complex, but our graphics, data sheets, and videos from Thomas Marketing Services break it down for buyers to understand what they need and how we help them."
Step 3: Set Up Reporting & Establish Metrics & Goals
Data is everything when it comes to marketing. Why continue your marketing efforts if you can't track and prove your ROI? Setting up reporting early in the game is best practice to have a lifetime view of your campaign metrics. You'll thank yourself later when you're trying to pull year-over-year metrics.
Setting goals is the other half of reporting that should be clear and specific. We call these goals, SMART goals because they are "specific, measurable, relevant, and time-bound." Instead of having a goal be "increase leads," establish your goal more clearly: "To increase leads 20% by the end of Q2."
Some Basic (And Not So Basic) Metrics To Track
Website Traffic: It's good to track the traffic coming to your website by source. Where is your most qualified audience coming from? Is it organic search? Paid campaigns? Referral traffic from your Thomasnet.com profile?
Landing Conversion Rates: Landing pages typically have a form to capture user information so you can further nurture those leads. It's good to know how many visitors a landing page is receiving and better yet, how many people are converting by filling out a form.
Cost Per Lead: This is especially important when running paid marketing campaigns. Whether you're running ads on Google, Bing, or across social media, you ideally want to generate high-quality leads at a low cost.
Industrial Marketing Tools
The most successful B2B companies, manufacturers, and industrial companies use a variety of digital marketing tools to give them a complete view of what website pages visitors are spending the most time on, which channels need more work, which landing pages get the most leads, etc.
How are your lead generation efforts faring? Read the 2020 Industrial Marketing Benchmarks For Manufacturers & Distributors.
At a minimum, you should pull your reports from Google Analytics and Thomas WebTrax. The two platforms complement each other. Thomas WebTrax identifies buyers who engage with your company online — both on your Thomasnet.com Company Profile and your website — so that you can track them throughout the buying journey. Think of it as an ongoing live feed of the buyers who are engaging specifically with you.
Google Analytics is great for monitoring the health of your website by keeping track of visitor metrics, bounce rates, and page performance. Use both together to continually optimize your website and continually replenish your sales pipeline with leads.
"WebTrax lets us see what our target customers and target industries are looking at on our website so we can be prepared to answer their questions on those issues and even order advanced inventory," said Julia Mace, Marketing Leader at SUS America, Inc.
Qualified manufacturers and industrial companies can create a free Thomas WebTrax account to manage their industrial marketing lead generation efforts more effectively. Learn more here.
Step 4: Optimize Your Existing Marketing Assets
Ideally, you already have a website that's ready to house all of your content, but you may need some updating:
Your pages should be presented simply and cleanly, have CTAs that drive to your offers (eBooks, charts, white papers, etc.), and lead your prospects to fill out forms. As you organize your existing marketing and sales assets, keep things in order with project management tools.
A/B Testing Examples
A/B testing uses data to determine the best performance across a website, email, or other digital marketing assets. In its simplest form, a marketer will create two versions of an asset. Once both variations are live, marketers analyze results like submissions rates, open rates, etc. to see which version performed best.
Here are a few examples of what you can A/B test across your industrial website or marketing materials:
Copy length

Imagery

Subject lines

Colors

Form location
Speaking of form location, we helped Engineering Specialties, Inc. test the location of a form on a "Contact Us" landing page. Specifically, we wanted to see how aligning the form left or right would affect conversion rates and bounce rates. Check out the results here: Left vs. Right Aligned Forms On Landing Pages.
Blogging
Companies that blog multiple times per month with prominent CTAs and hyperlinks to landing pages can see a significant increase in lead volume. Plus, the content is already right at your fingertips — your existing brochures, portfolios, and other materials are excellent sources for new blog topics.
By consistently updating older blog material and creating new long-form content on your blog, you can help maximize your companies SEO efforts. By showcasing your expertise and writing content that search engines like Google deem valuable, you increase your chances of ranking in a top position in SERPs, search engine results pages. That's exactly what Air Innovations did with their Knowledge Base.
Air innovations created a Knowledge Base, (similar to a blog) to present the company as a thought leader in the industries they serve, while at the same time providing high-quality content to potential leads. With the help of some backlink juice from Thomasnet.com their post, "Negative and Positive Pressure Rooms 101," was able to earn a spot as a "Featured Snippet," for the long-tail keyword, "positive vs. negative pressure," and improve the visibility of the Air Innovations website.
Read the full success story here.
---
But what if you need to create more content? Here are 9 Content Marketing Examples that can kickstart your inbound marketing strategy.
---
Step 5: Get More Traffic To Your Website
Now that you've got everything set, let's get more eyeballs on your content — and get more prospects for your sales team to call. Digital marketing is a web of tactics that includes PPC, SEO, content, blogging, social media, and email — each strategy supporting the others and working together to gather valuable leads.
While each of these channels requires careful individual consideration and content development, there are a few best practices you can leverage to get your campaign off the ground and start capturing visitor info.
Online Company Profile Pages
Online users love leaving reviews on Google when they experience great customer service. Make sure your Google My Business profile is up to date and has all your relevant company information for new buyers to contact you and leave reviews. A Business Profile will help increase your chances of getting found online — plus, a high customer rating will increase your chances of actually getting contacted!
Similarly, your Thomasnet.com Company Profile with a link to your website will increase your RFQs from qualified engineers, procurement professionals, and MRO managers. Every second, a buyer searches for industrial supplies and services so make sure your company profile has all the necessary info they're looking for, like a full product catalog, your certifications, and supplier diversity programs.
Utilize Paid Advertising Like PPC
Do you have the budget to put some paid behind your marketing efforts? Pay-Per-Click may be a great option for you. Paid advertising allows you to target specific audiences based on interests and intent. Paid advertising can potentially give you the most qualified traffic and leads to your site if implemented correctly.
Search Engine Optimization (SEO)
Search Engine Optimization or SEO isn't about quick fixes, to rank on Google. A good SEO strategy takes time and requires refinement over weeks, months, and even years. Pick a primary keyword to focus on for each landing page. Place that keyword in your header and subheader and within the body content, page URL, and image alt text.
With a consistent, and keyword-focused SEO strategy, Renown Electric elevated its product page for "Vertima Balance" to the first position of Google — even outranking Vertima's own website homepage. The Thomas Marketing Services team helped strengthen Renown's SEO strategy by reinforcing internal and external linking methods.
Tools such as Ahrefs or Moz are great for doing this keyword research, but click here for some SEO basics for manufacturers if you're new to the game.
Social Media Marketing
Believe it or not, many of your potential customers are already on Twitter and LinkedIn, ready to engage with you. Use tweets, hashtags, and discussion forums to create human connections with your prospects and familiarize yourself with the dialogue around your industry. Social media is a great tool for community building. Here are 4 steps to grow your social media audience.
Email Marketing
Sending prospects valuable offers such as discounts and educational content, and giving them the option to share them with a colleague, is a great way to reach new leads.
But what do you do if your contact list isn't full of the buyers you need to reach? A great option to boost traffic to your website is to utilize industrial newsletter advertising options. Newsletter advertising allows you to promote your great content in someone else's daily, weekly, or monthly newsletter and filter based on the audience you'd like to reach.
All of these tactics can be supercharged by coupling them with industry trends and knowledge. And Thomasnet has the industry insight and data to power the results. With more than 1 million registered buyers on the platform, it's no wonder why so many B2B manufacturing and industrial companies list their business for free to get seen by the right audience.
---
Need some tips, tricks and ideas on generating industrial leads? Here are 32 Ways To Generate Leads.
---
Step 6: Collaborate Your Industrial Marketing With Sales
As much work as you've put in to get there, your job isn't done once you've gotten leads; your sales team still needs to close them. You need feedback on the leads, and you'd probably like to quell your curiosity on how they're moving through the sales funnel.
Managing your leads becomes infinitely easier when using a Customer Relationship Management (CRM) tool to keep your growing contact list organized. With a CRM, your team can evaluate new prospects through a scoring system, send tracked emails, and make calls to the most qualified leads.
At a minimum, make sure your teams communicate regularly and clearly to each other about your new online strategies. Alternatively, if you're working with a marketing agency, make sure they don't leave you in the dark about how your campaigns are going and what improvements are being made. It's crucial to close the loop for effective marketing to understand which initiatives and tactics are most successful in bringing in new customers.
Read More: What To Expect When Hiring A Digital Marketing Agency
Supplement Your Traditional Methods Of Growth With Industrial Marketing
Don't get stuck with your old process. Staying ahead of your competition doesn't mean just optimizing efficiencies on the plant floor. There are opportunities for growth within your marketing and sales departments too. And having a strong digital industrial marketing plan in place future proofs your business in terms of appealing to investors too. Contact us to learn how we can help — we've been fueling the industry for more than 122 years.
Need more insight into how you can supplement your traditional sales tactics with the above steps? Request our free digital health check where we'll give you details on exactly how you can promote your industrial business, products, and services online to more buyers.
Related Resources For Industrial Marketing:
Did you find this useful?