Using Google Docs, Slides, & Sheets For Marketing
Word documents, slide decks, data spreadsheets. What do these things have to do with industrial marketing? You might be surprised.
If you're in charge of content marketing for your business, chances are you're writing a lot of the copy in Word documents, presenting your ideas from slide decks, and analyzing data with spreadsheets.
While these tools are already a dramatic improvement from letting piles of papers stack up on your desk, you could be using them in an even more strategic fashion — and Google's G Suite tools, like Docs, Slides, and Sheets, make it easy.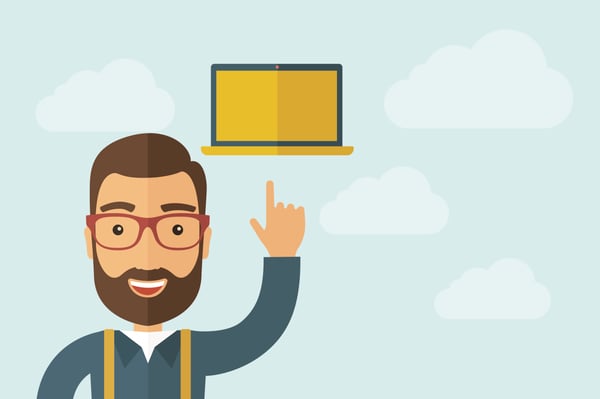 G Suite vs. Microsoft Office 365
At their core, G suite and Office 365 products are very similar; they provide you with cloud-based services for project management. Both services offer businesses with applications to create documents and collaborate with your team while 'in the cloud'— meaning the files can be saved remotely, not on your computer. This frees up space on your computer's hard drive and makes it easy for your employees to edit the same documents at the same time — aka real-time collaboration that will help bridge the gap between your teams.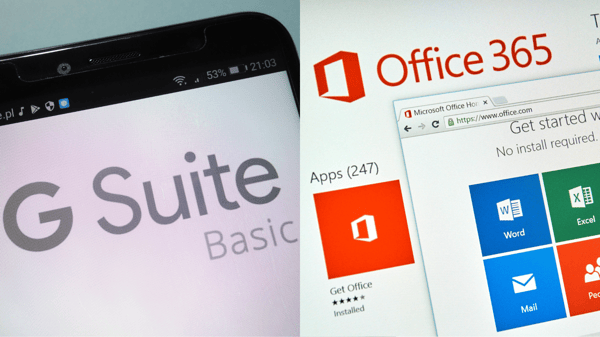 Microsoft has been the dominant player for a long time, but Google Apps, now known as G Suite, has been gaining popularity in recent years.
The key driver behind this growth has been Google's focus on collaboration. With Office 365, the applications need to be downloaded to your computer locally first. Rather than living on your desktop, Google's products are hosted in the cloud. This allows multiple people to work within the same document, slide, or spreadsheet simultaneously without having to save, rename, and resend multiple versions back and forth.
Cloud-based work also frees you from the constraints of a single device. Instead of emailing yourself large files to work from at home or on the road, for example, you can access them from anywhere on any device just by logging into application using your Google account.
G Suite offers tiered editions to meet the needs of individuals, small businesses, and large enterprises — as well as free versions of its apps, which offer similar functionality.
Google Docs vs. Microsoft Word for Marketing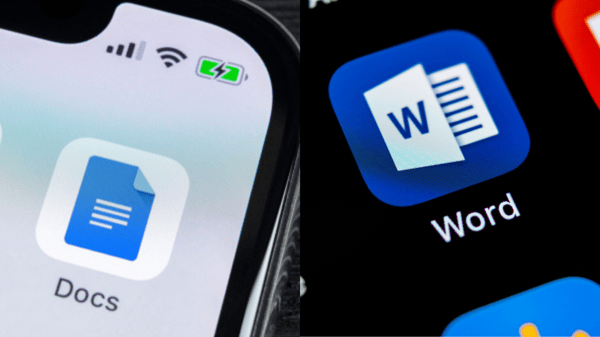 Have you ever opened a document to find your work erased because someone else saved their work over yours? Have you ever had difficulty trying to find the most up-to-date version of a document because more than one person was making edits at the same time by save their files separately? If you answered yes, then you already know the pains of version control. Google Docs offers similar word processing functionality as Microsoft Word, but alleviates this headache by allowing online collaboration for editing and updating. When working in a Google Doc, you can actually see your peers typing and highlighting text in real-time.
You can "suggest" edits for the author to approve, as well as leave comments, tag people to flag their attention, and assign sections of content to different stakeholders, so different subject matter experts can work on content simultaneously. It's definitely a step up from Microsoft Word's "track changes" feature.
Google Sheets for Marketing Management
Sheets make for effective, affordable project management tools across your business. You can use them to set up an editorial content calendar, a paid ad campaign budget, or an overall project plan for all of your marketing activities with assigned owners.
It's also easy to create graphs and charts that will give a visual flair to your marketing collateral. And, like Docs, Sheets automatically updates a single shared version for all team members.
Google Slides for Marketing Content Creation
Sure, Slides can help you create fancy presentations to share your ideas, but what we like most about it is that it can be used in place of traditional PDFs to create beautiful eBooks to share on your website and social media channels.
Slides offers templates you can fill with content and imagery, and lets you easily embed charts, graphs and tables from Sheets, YouTube videos, and other interactive elements. With Slides, version control is a snap because you can make edits on the fly without having to manage multiple files, and once you're done, you can simply save the whole file as a PDF. It's a time saver to get you right to the next step of promotion.
Streamline Your Collaboration Tools
Leveraging G Suite's tools like Docs, Sheets, and Slides is just one way you can modernize your industrial marketing strategy. To make sure you're setting yourself up for success with a robust campaign framework, download our complimentary guide The Ultimate Guide To Marketing For Manufacturers where we go through everything you need to know to create a strong online presence to generate leads, what campaigns have been the most successful, and what tools are must-haves for success.
For additional insight on content creation and marketing tools, check out the below resources:
Did you find this useful?