Blog Posts Vs. eBooks Vs. Webinars: Which Is Best For Content Marketing?
To effectively reach buyers and generate valuable leads, it's critical to employ a dynamic, multifaceted digital marketing strategy — and that means creating a robust content marketing campaign.
A crucial tool for collecting valuable user details, content marketing is essentially a means of trading information; users provide data — their business, goals, their contact information — and in exchange you provide them with insights and actionable advice in the form of checklists, educational eBooks, or in-depth whitepapers.
Providing this type of content not only helps you get a better idea of where users are in their buying journeys — allowing you to better tailor your content and offerings — it also helps establish yourself as a knowledgeable thought leader in your industry.
Three of the most popular, versatile content offerings — blog posts, eBooks, and webinars — can be highly effective for gaining leads and keeping your company top of mind among industry professionals. While it's critical to offer a mix of different types of content, it's important to first have a solid understanding of the various pros and cons of each type.
Industrial Marketing Blog Posts
Short-form and easy-to-read, blog posts are ideal for presenting top-of-funnel content. Users in the beginning stages of the buying process aren't looking for detailed product or service information; they're taking stock of different brands and comparing company's resources and offerings.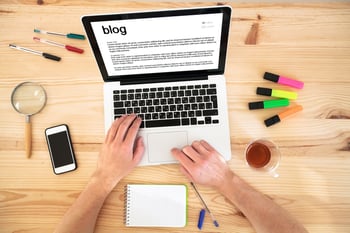 Blogs provide the ideal vehicle for organically promoting your business, since offering useful industry advice and information will help set apart from the competition. Plus, keeping a regularly updated, current blog shows that you're committed to staying abreast of new trends and innovations.
Blogs provide a great opportunity to ramp up your SEO efforts by increasing your website visibility and improving your rankings. Even posting just once a month on relevant topics can be highly effective in driving traffic to your site and developing brand awareness. Requiring no special design or technical skills, creating blogs is quick and simple. On the downside, blogs aren't the best platform for obtaining user information, making it hard to gauge visitor interest and actively gain new leads.
Manufacturing eBooks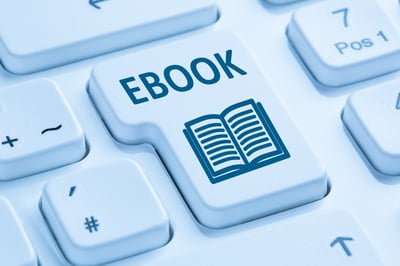 Ideal for presenting more in-depth information or explaining complex concepts, eBooks allow you to showcase your brand's expertise and industry experience. Usually serving as a "gate" between you and website visitors, eBooks offer valuable content — whether in the form of case studies, troubleshooting guides, or Q&As — in exchange for users' contact information prior to downloading. Be sure not to ask for too much in return, though; if you're offering a fairly simple one-and-a-half-page checklist, for instance, you shouldn't require users to provide a large amount of information in order to access it.
A well-written, engaging, and directly useful eBook helps position you as an industry expert and is more effective for building credibility than a short-form blog post. Be sure to follow through on what you offered users in exchange for their information; visitors downloading eBooks are seeking specific information or resources and will take note of thoughtful, helpful content.
Although eBooks are relatively inexpensive to create, they do require time for research, writing, and careful proofreading. Putting out subpar content will harm your reputation and put off visitors, so it's critical to take the time to craft an engaging, well-developed eBook. And if you're looking to offer a sophisticated, visually appealing eBook, time and resources must also be allotted for design elements.
Industrial Webinars
Offering webinars, on the other hand, makes for a very different user experience and can serve as a powerful means for increasing lead generation. In a recent Content Marketing Institute and Marketing Profs study, webinars ranked as the second-most-important content marketing strategy, with live events coming in at #1. Webinars, or web-based seminars, as the name implies, can be offered either live or prerecorded and allow for a more personal presentation of information.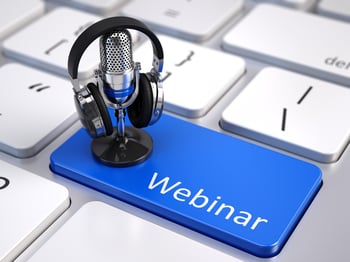 Enabling you to reach users worldwide, webinars are particularly effective for presenting products and services, allowing for demonstrations and visual illustrations of complex concepts. Whether showing how a particular products works, demonstrating application fixes and troubleshooting, or answering commonly asked questions, webinars can be highly effective for illustrating your expertise and showcasing your brand personality. Because viewers can connect with each other in comment boxes during live presentations, webinars help bring together industry professionals while establishing you as a knowledgeable leader.
Although relatively inexpensive to produce, putting together a successful webinar — especially if it's airing live — takes thorough planning and practice. If you don't have a confident, engaging presence "on air," you risk boring your viewers and losing potential leads. Regardless of your level of preparedness, though, there's always the risk of technical glitches during live webinars, so keep this in mind when planning your strategy.
Learn More
While you may be immediately drawn to blogs, or know that your target demographic will respond positively to webinars, it's important to offer various types of content. This will keep your site feeling fresh and current, while allowing users to access valuable resources at any point in their buying journey — which is critical for attracting site traffic and generating new leads.
Need help creating a content marketing strategy, or looking to enhance your current offerings? Thomas Marketing Services can help. Contact us today to discuss your needs with an expert.
Did you find this useful?