13 Ways To Improve Your Manufacturing Blog (For Beginners)
A great blog can serve as the foundation of your industrial content marketing strategy and fuel lead generation. For most manufacturers and industrial companies, the primary goal of a blog is to drive quality website traffic from search engines — so make sure you understand the goals of your blog. It will influence the way you craft the content.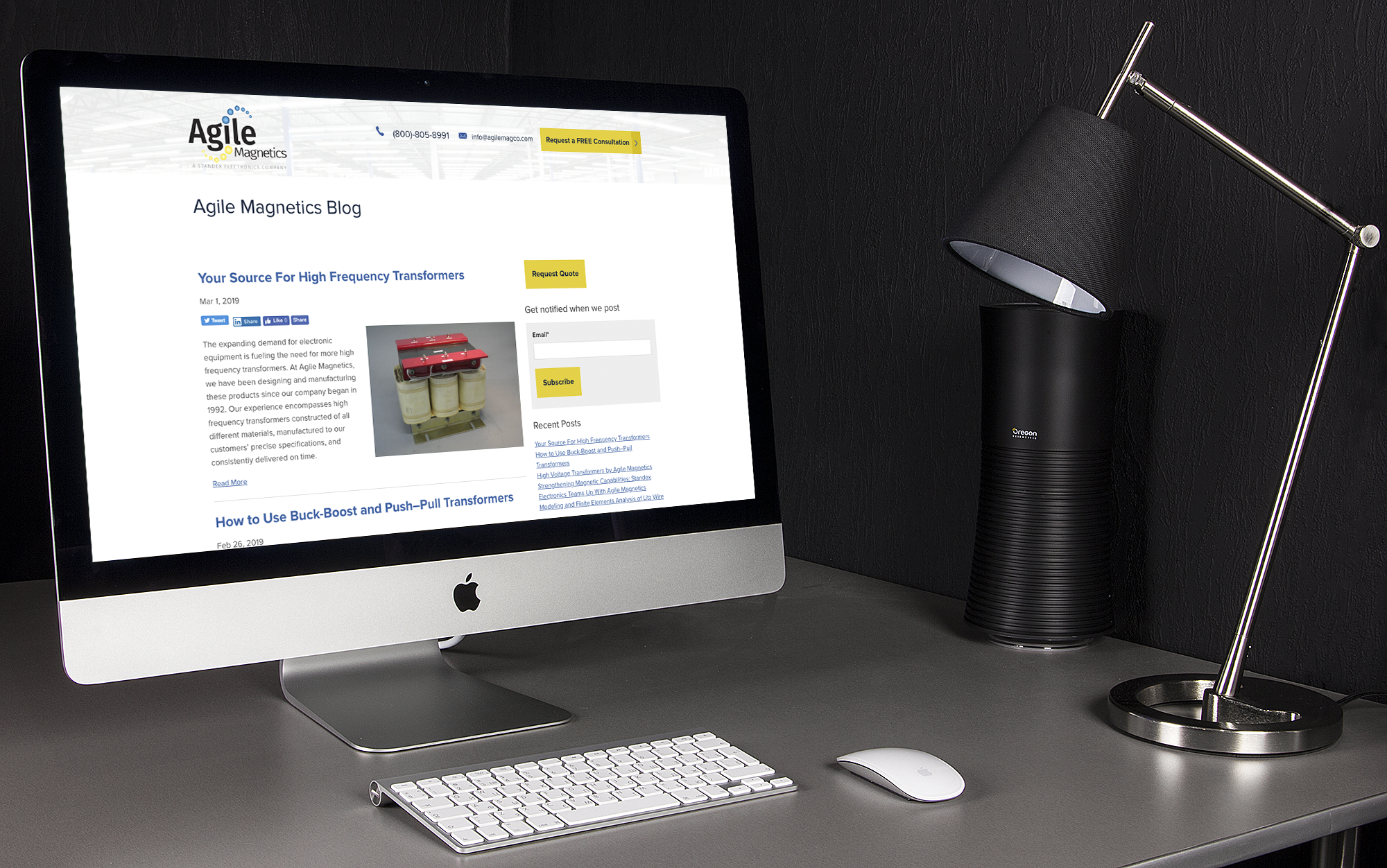 Blog posts can also strengthen your SEO strategy by updating your website with fresh, new content that Google likes. "Freshness" is one of the most important factors taken into consideration when search engines rank your website.
There are other goals that a solid blog can help you accomplish. For example, it can help solidify your credibility by showcasing your expertise, building trust with prospects and existing customers alike. It's also a great tool for branding, as you can establish your unique voice to distinguish yourself in the marketplace. So let's dive into some beginner ways you can improve your manufacturing blog.
How To Improve Your Manufacturing Company's Blog
1. Write With Your Buyer Personas In Mind
Personas are targets or companies most likely to engage with your content and turn from a lead into a customer. Establishing a well-thought-out buyer persona will allow you to reach your target audience more effectively with content that is made just for them, increasing your chances of turning leads into customers.
Here are the three B2B personas that most we see most typically influence manufacturers, distributors, and OEMs' buying processes.
Design Engineers
Procurement Managers
MRO Managers
For example, procurement managers are concerned with cost, quality, delivery time, and reliability. Create content that addresses their pain points, helps them understand cost-effective alternatives and provides research to familiarize themselves with a new industry product or service. When qualified website visitors see you as a reliable resource, they're more likely to do business with you.
➡️ We Did A Little Research For You: See The 2021 Industrial Buyer's Search Habits Survey Results And Learn What Buyers Really Want From You
2. Build A Blog Content Calendar
Starting a blog isn't hard. Committing to a blog, however, is a different story.
Your prospects want factual, educational content regularly and it's up to you to make that happen. Just like the machinery on your shop floor, your content should run like a well-oiled machine. Creating a blog content calendar can help you organize your content ideas, keep you accountable by staying consistent and better help you develop a content strategy that converts.
You can use Google Sheets (there are loads of templates!), the free version of Trello, or Airtable if you're feeling fancy.
See More: Must-Have Marketing Apps And Tools (Including Free Ones)
Commit to updating your blog at a pace that works for you, your budget, and your resources. Google even favors websites that at least update monthly, so start by posting a blog once a month — it's one of our top lead generation tips.
3. Ensure Your Blogs Have A Strong Word Count
If you think you can crank out a couple of quick paragraphs and publish them as blog posts, you might want to sit down. Posts under 300 words are not recommended for SEO, and may subject your site to ranking penalties for "thin content." When your SEO efforts aren't strong, new customers can't find you online. So that means your posts should be 301 words long, right?
Not exactly.
To have enough "weight" to rank in search engines, blog posts should be around 700 words in length. However, making your posts even longer is highly recommended; longer content is not only better for your rankings, but it can also be better for lead generation.
While the length of your post certainly does matter, the quality of your post matters even more. The time people spend on-page reading the article plays a huge role in your rankings, and if your content is awful — whether it's 2,500 words of awful or 25 words of awful — people won't read it, and Google takes note of that. Many manufacturers partner with an SEO expert who knows the industrial world to ensure no opportunities are overlooked. (Thomas offers a free digital health check to see exactly what efforts you can improve online!)
"We tried other people with our website, SEO, marketing but found their focus wasn't on manufacturing, and Thomas is. We get a lot of activity now and steady results weekly — a lot of inquiries thanks to Thomas and our online marketing efforts," Ron Delfini, President at Engineering Specialties, Inc.
4. Link To External Sources — And Your Own Content!
Links serve various purposes; they help guide readers through a story, provide credibility for statistics and information, tie together relevant posts, and drive potential customers to conversion pages.
Here are some guidelines for using links on your site:
Internal Links: Include links to other pieces of your content marketing — eBooks, whitepapers, videos, etc. — in every blog post. You should include links to core website pages whenever it is appropriate. Work keywords into the text that you are linking from for maximum SEO impact.
Other Links:

It's important to cite sources and link to other high-quality sites to give your blog credibility. However, do remember that these links take your visitors away from your page. So, with that in mind …

Set All Links To Open In A New Window:

Opening links in a new browser window helps readers navigate to related content without taking their focus off your page. Add a target="_blank" tag to all links.

Use Absolute Links:

Content management systems such as WordPress and HubSpot give you the option to use "relative" links, which means you don't have to enter your domain name.

So "

https://yoursite.com/blogpostyoushouldread

" becomes just "

/blogpostyoushouldread."

While relative links take less time to create and may offer some other advantages, absolute links are preferred. There is much less chance of them breaking; they are easier to bookmark, and eliminate any issues when search engines crawl your site.
Learn More:
5. Use Images & Visual Elements
You know the old saying that a picture is worth a thousand words? When it comes to your blog, that's 100% not true. You can't just have one visual on your page. Guide your readers through the page with multiple images to enhance the story, break up text, and keep them engaged.
Images and visuals play an important role in improving the time users spend reading your blog and interacting with other pages. This can, in turn, improve your SEO and help you maximize traffic.
With that in mind, here is some guidance:
Make Content Skimmable:

If a reader lands on your blog and sees nothing but long, unending blocks of text, they're likely to get intimidated. Make your blog posts appear more approachable by breaking things up with subheads (which should be your H2s), bullets, tables, quotes, and other content elements. Also, use paragraphs of varying lengths to improve flow.

Use More Than One Image:

Every blog post should include at least one image. For longer posts, try to use one post for every 350 words of content. Make sure all images you use include alt text, which appears in place of images when they can't load or are blocked.
Also, did you know you can embed videos into your blog? It keeps readers on your page longer and improves SEO. More industrial marketers are using videos in their content marketing strategy because they're easy to share and effective at increasing sales.
Marketers who incorporate video into their content strategies, for example, have seen 49% faster revenue growth than those who don't.
---
💡 Thomas offers free video production with an advertising program — click here to learn how you can get a free company profile or factory tour video like the one below.
6. Get Familiar With Basic SEO Principles
Look, we'll be honest: search engine optimization (SEO) is an incredibly technical discipline with tons of nuances and constantly changing guidelines, but as you've noticed, we've mentioned it so many times already in this post because it really is important.
We don't expect you to keep up with all of the changes and become an SEO expert — after all, you've got a lot of other things to do. However, some core SEO keyword best practices have stood the test of time and can drive qualified traffic to your website, likely resulting in them contacting you.
💡 Trending Post: Is SEO Worth It For Manufacturers In 2021?
Of course, there's no denying that coming up with new content ideas can be tricky. Online tools like Google Search Console and Google Trends make for two great places to find the inspiration you need.
Google Search Console is a tool that reports and measures your site's traffic performance, indexes pages, and fixes issues to optimize your website better. With this tool, you can see the search queries that show your site in search engine results, but don't drive traffic. Using these keywords, you can create more detailed and specific content on your website that will perform better in Google and because it's more specific, it will engage users more and drive traffic to your site.
Google Trends on the other hand allows you to research and analyze popular search queries. By exploring terms specific to your business, products and services you can see which popular topics may be lacking on your website.
When your prospects sit down at their computers and begin sourcing for new suppliers, what terms do they use? Those are the keywords that you want to rank for. Each blog post you write should focus on one of these terms while using up to three other related keywords.
For example, let's say you're a CNC machine shop for the aerospace industry, and you'd like to bring in more customers from that target. A B2B buyer searching for those services may use service-related terms like "precision cnc machining services," or industry-related terms like "aerospace precision machining." That's an opportunity for you to create industry-specific content using those keywords.
When writing your posts, keep in mind that your priority is to engage your readers. Therefore, write as naturally as possible, and include keywords where they make sense. Don't overdo it.
7. Take The Time To Write Clear Blog Titles And Headings
Your title is the first thing people see when landing on your blog post and it's also the first thing search engines crawl to get an idea of what's on the page.
Thus, the title of your post is the single most important text element for SEO purposes. Try to work your keywords into your title (without letting it get awkwardly long or distracting).
Depending on your blogging platform, your title and your first heading may be the same. On platforms where these differ, be sure to work keywords into your first heading as well, and utilize the proper HTML tagging (<title> and <H1>).
Similarly, h2 and h3 tags (heading 2 and heading 3, respectively) also have some value for SEO, as well as for conversion and usability. Use these to break up the topics in your blog post to make it more readable (instead of using bold text), and, when possible, naturally work keywords into these headers as well.
Learn More: How To Create Quality Engaging Website Content
8. Don't Forget About Adding Metadata
You may have heard of the term "metadata." In addition to sounding like the name of a villainous conglomerate in a bad Sci-Fi movie, the term simply means data that describes other data. It helps search engines make sense of your web pages so that they, in turn, can help visitors make sense of them in search results.
Here are the types of metadata that your blog posts should have:
Title Text:

Your title text should be no more than 70 characters. Try to work in a keyword naturally, if possible.

Meta Description:

This is a short, focused description that should be about 156 characters. Again, write for the reader first, but try to work in keywords if you can.

URL:

Don't just use an auto-generated URL (

www.yourblog/post7232382938

doesn't have a great ring to it). Instead, write a brief, keyword-rich, relevant URL.
9. Establish A Consistent Style
Establishing a consistent style makes the writing and editing process a lot easier. This is especially important if you make use of guest bloggers or freelancers.
Here are some things to consider:
Capitalization:

Should your title and subheadings be written in "Title Case," (W

here Every Word Is Capitalized Like This)

or "

Sentence case," (

Where only the first word is capitalized like this)

? There are good and bad arguments for both sides, but everyone agrees that YOU SHOULD NOT MAKE EVERY LETTER CAPITALIZED. Pick one style and go with it.

Fonts:

Choose a font that is easy to read. Don't use Comic Sans (we warned you).

Colors & Treatments:

Use different colors or treatments (bold, italic, underlined, etc.) for your H1s, H2s, and links. Ideally, this should be part of the style sheet for your blog (called a CSS).

Tone:

The tone of your blog should reflect you, as a company. Are you authoritative? Casual? Sincere? Approachable?

Grammar:

Nothing gets people irrationally riled up like a typo. Make sure you proof your work. If you have grammar questions, the

AP Stylebook is a great resource. We've also rounded up 6 Tips For Self-Revision And Editing.
10. Structure Your Blog Clearly In A Consistent Format
While having a consistent style is important, your posts don't have to look identical. Naturally, a post focusing on a video needs to appear different from a blog post breaking down the findings of a research study.
However, there are some core elements that all of your posts need to have:
Title: Make sure it can appeal to your target audience, and include a relevant keyword if possible.
Introduction:

Set the table for the rest of your post upfront, and work in relevant keywords if you can.

Images:

The first image you use should appear near the top of the post, but not directly below the title as this can harm your SEO. If your blog platform supports it, be sure to select a featured image, which will be displayed when your post is shared on social media.

Body:

This is the meat and potatoes of your post. Again, strive to keep the content skimmable and easy to digest. Don't forget about the goals and purpose of your blog — make sure your content is valuable to your reader.
11. Create A Quality Control Checklist
You wouldn't push an order out the door without making sure it was up to your standards. Take the same approach before clicking "publish" on your blog.
Creating a quality control checklist will help make sure nothing is overlooked. Here's a basic checklist you can use, but feel free to customize it for your needs, style, and blog guidelines:
| | |
| --- | --- |
| 1. | Is your blog post at least 500 words long? |
| 2. | Did you run a spell check? |
| 3. | Does the title include a targeted SEO term? |
| 4. | Does your post include at least one image? |
| 5. | Do all images have proper alt tags? |
| 6. | Have you set a featured image for the post? |
| 7. | Did you double-check all your links to make sure they work? |
| 8. | Are all links set to open in a new window? |
| 9. | Do all subheads look correct and consistent? |
| 10. | Does the post include a CTA? |
12. Close With A Call-To-Action
A call-to-action (CTA) is either text, image, or a button that links directly to a landing page or "Contact Us" page so your industrial leads can find and download an offer or contact you for more information. It's a lead generation must-have that turns your blog into an online growth channel. You can place CTAs throughout your entire blog post, but remember — don't be overly promotional. Drop a CTA about a related eBook in the middle of your blog post or add a CTA to the end of your blog post.
13. Promote Your Blog Content
Help prospects find your helpful content by promoting it using a multi-platform approach. If you're new to digital marketing and your website's domain authority is low, you can't rely solely on organic search results.
Promote your content on platforms you know your buyers will be. Think industrial spaces like Thomasnet.com (a free listing can put your business in front of 1.3 million buyers).
"We set a record for quotes in Q1, increasing them by 197% over the previous year," said Ken Carlton, VP Corrugated Metals. "The average value of quotes has grown. We have received orders in the same day. The sales team can't believe how many good opportunities they have now. Being present on Thomas has changed the way I market my business."
"Because we manufacture and sell specialty coatings and composites, we are always looking for ways to be in front of decision-makers when they need our products. We started our internet marketing with Thomasnet.com at the suggestion of our largest customer, Boeing. They assured me that Thomasnet.com was where their engineers went first to find information on suppliers. Thomasnet.com is an efficient and effective way for us to do that. We have added customers every year and increased our sale per customer at the same time. Thomasnet.com is perfect for companies that do not have national sales forces. Thomasnet.com acts as our sales force," said an executive at Tiodize.
Other platforms to promote your blog content:
Social media sites like LinkedIn, Facebook, Twitter, etc.
Email marketing campaigns
Newsletter advertising (

Reach +300K industrial buyers

by sponsoring the Thomas Industry Update Newsletter)
Display advertising opportunities
Press releases
Pay-Per-Click ads
What Else Can You Do To Improve Your Blog?
Following these suggestions will help you form a solid foundation for your blog and get you on your way to increase your website ranking and found by industrial buyers. However a blog is just one component of a great content strategy — and although great content is the heart of every inbound marketing strategy, it can take a lot of time, effort, and resources to execute especially if you're a beginner. Not sure where to start? Request a free digital health check — we'll assess your website for free and let you know exactly what you need to improve your website and engage with buyers online.
"Thomas saw our blindspots that we didn't know existed and filled them with data and technology to help us to fuel our sales and marketing efforts," said Brad Godwin, CEO of E2Global. "The leads generated are qualified and real."
In the meantime, visit the below resources for more tips.
Did you find this useful?