Onsite SEO Vs Offsite SEO: What's The Difference?
A polished, modern, and optimized industrial website can help you generate leads and grow your business. However, just having a great website isn't enough — you need qualified buyers to actually visit your site.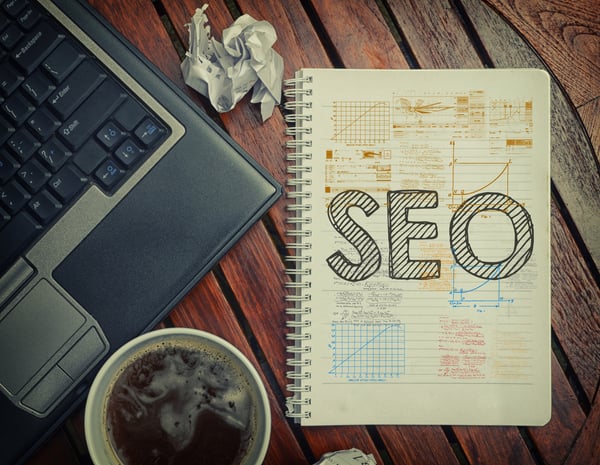 That's where a smart, targeted SEO strategy comes in. An effective SEO approach can help you rank higher in search results, increasing your visibility and the likelihood that buyers will come to your site. In order for that approach to be effective, it needs to encompass both onsite SEO and offsite SEO tactics.
What Is Onsite SEO?
Onsite SEO, also known as on-page SEO, involves optimizing the content on your own site.
On-Page SEO Ranking Factors
Relevant Content: Nothing plays a bigger role in your SEO efforts — and the success of your inbound marketing strategy overall — than the quality of your content. After all, that's why people come to your site in the first place. Providing helpful, engaging, and, most importantly, relevant content is essential if you want to be found in search results.
Keywords: Keywords are the search terms that you want to rank for. Include them throughout your website, and incorporate them strategically into some of the elements described below. However, don't overdo it — keyword "stuffing" is highly frowned upon, and may actually end up hurting your site's visibility.
Titles & Title Tags: The title of your site and individual pages have a tremendous impact on your rankings. Try to work core keywords into your titles whenever possible.
Headings: Search engines place more weight on headings than other text within your site. Be sure you are using the appropriate heading tags (H1, H2, H3), and work in keywords here as well.
URL Structure: One of the most frequently overlooked — and underutilized — aspects of onsite SEO is URL structuring. How your URLs are structured — and the words that they contain — can seriously influence your SEO results. Structure your URLs in a way that make it easier for search engines to crawl your site, and include relevant keywords. Avoid generic URL strings, such as "yourshop.com/page1234343" and instead use "yourshop.com/cnc-machining-services."
Meta Description: A meta description is the small blurb of information that appears directly below your page's title in search results. You can easily edit this information in WordPress, HubSpot, and other website publishing tools.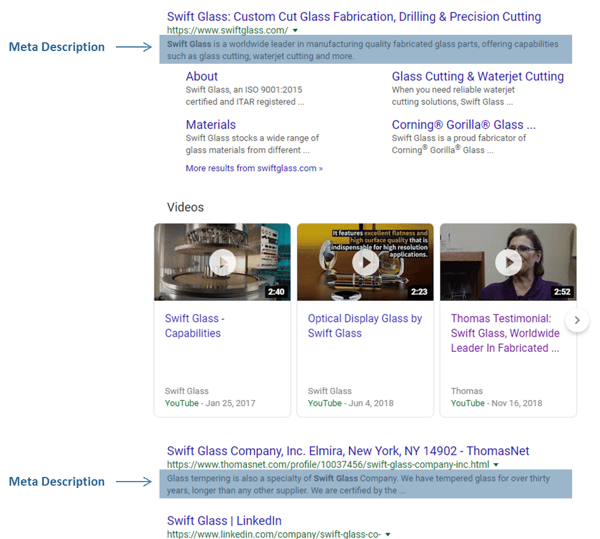 Page Load Speed: Believe it or not, how fast your page takes to load is a significant ranking factor. Ideally, your pages should load in less than three seconds. If yours is taking longer than that, it could cause frustration for your visitors and hurt your site's performance. One simple way to speed things up is to reduce the sizes of your images using free tools like tinypng.
Alt Text: Speaking of images, you want to use them as an opportunity to boost your SEO rankings by including keyword-rich and relevant alt text — essentially a text summary of an image — for every visual on your site.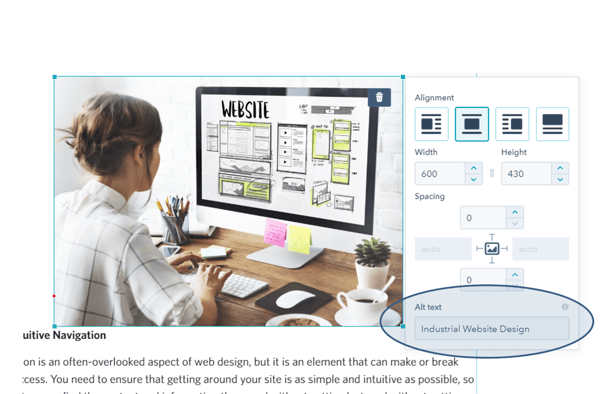 SSL Encryption: A relatively new ranking factor, website security is important not only to search engines, but to your visitors as well. Be sure to convert your website from HTTP to HTTPS.
What Is Off-Page SEO?
While on-page SEO focuses on improving the quality of your website, off-page SEO focuses on leveraging other sites and places across the web to improve your position within search rankings.
Off-Page SEO Ranking Factors
Backlinks: The core of off-page SEO, backlinks are links to your site from other sites. Having a backlink from a high-quality site can help give your own site a boost. One of the best ways to acquire backlinks is to produce content that other people want to share. You can also consider submitting guest blogs to trusted industry websites, or getting listed on popular and respected industry sites and platforms.
Leveraging Video: The second biggest search engine in the world isn't Bing or Yahoo — it's YouTube. By establishing a company YouTube channel, publishing engaging videos, and linking back to your site, you can make a positive impact on your SEO.
Add video tours of your shop floor to your website and Thomasnet.com Company Profile — they have been proven to increase sales. Take a look at the example below from a manufacturer who took advantage of our free video advertising services to increase their RFQs.
Social Media: Promoting your content on your own social media accounts won't necessarily help you shoot up the search rankings, but if your content is picked up and shared by the right influencers, that can be huge.
Connecting The Dots
Seeing your site rank higher in search results is a great sign, but it can be difficult to measure the real bottom-line impact of on-page and off-page SEO efforts.
Thomas WebTrax, a new, free Opportunity Intelligence tool, can give you some clarity, as you can use it to identify in-market buyers who are engaging with you — both on your site and on Thomasnet.com. You can also track these buyers throughout their entire buying journey and pass all of this information along to your sales team, allowing them to engage in more meaningful conversations with prospective buyers. So instead of merely measuring traffic, you'll be generating actionable leads for your business.
Learn More About Increasing Your SEO Traffic
Understanding the difference between onsite SEO and offsite SEO can help you improve your search engine rankings. However, if you want to improve your overall digital marketing strategy, there are a lot of other critical terms you need to know. Our resource, The Essential Dictionary Of Industrial Marketing Terms You Should Know, can help fill you in.
If you'd like to learn more about increasing your SEO traffic, check out our other related resources below:
Did you find this useful?