The Manufacturing Leader's Step By Step Guide To Driving Website Traffic
Driving qualified buyers to your website is critical to increase interest, drive leads, and grow your business. As you probably know, a page-one result on Google doesn't happen right away — just because the content is online doesn't mean traffic will immediately visit the page. There needs to be a strategy behind each content piece for effective promotion. If you want quality website traffic to bring you better business opportunities, there are several cost-effective ways to supplement your ongoing strategy of getting your business found online.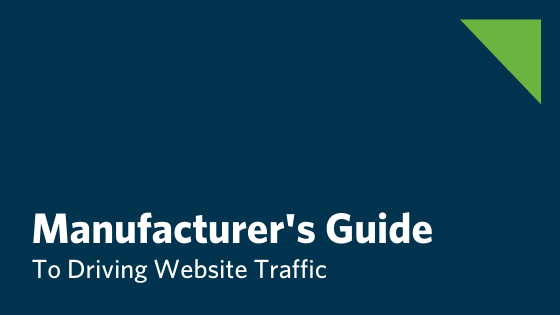 As more and more industrial buyers turn to the internet for supplier research, it's imperative that your business is able to be found online. In addition, you need to actively work on making sure that your website is showing up in other online search results when potential customers type in keywords relevant to your manufacturing business.
Drive Qualified Buyers And Engineers To Your Website
Now that you've got a website that is built to educate and drive leads, it's time to start finding ways to best drive qualified, relevant buyers that will be more likely to engage with your content and, more importantly, engage with your sales team.
By taking a strategic approach to what your site says and how it says it, you can make efforts to force Google to rank you ahead of your competition for keywords that relate most closely to your business offering. Higher ranking leads to increased traffic of users who are in the market researching and evaluating potential suppliers to your site. To maximize your website efforts, many companies use a combination of owned, earned, and paid traffic.
There's also traffic sources that drive visitors to your website:
Organic
Referral
Email
Direct
Social Media
Manufacturers who are just starting out their online marketing efforts may only be able to create paid traffic until they increase their brand awareness and implement strategic SEO best practices. Let's go through some key definitions.
What Is Paid Traffic?
Once you have earned traffic in place, it can be helpful to build a paid advertising strategy that targets the keywords that are most important to your business. With proper paid advertising steps, a little extra money can go a long way. Use keywords that include your highest margin products or services, those you are looking to grow your business around, and are critical to keeping your business going.
Paid Advertising Options For Manufacturers
Advertising Campaigns And Promoted Content
The days of irrelevant pop-up ads have changed. Consumers don't want an ad preventing them from browsing a website — they want to be able to choose the content they read and watch.
Enter native advertising, a form of advertising that's taking over the online media landscape. Native advertising is media that looks like another informative article or video on a publication but is actually paid for by a third party. The reason for native advertising's success: the content is compelling and relevant to the publication's audience. Native advertisements don't try to disrupt the consumer's experience — they blend in with their surrounding content and contain helpful, informative, or interesting information.
To launch a native ad campaign, find a publication that fits your industry of focus, as well as your targeted persona. The metal stamper we mentioned earlier may decide that while an engineering publication has plenty of news about metal stamping, it doesn't resonate with the distributors or procurement managers that it's trying to attract. The company may have better success is an email newsletter like Thomas Industry Update (TIU) that gets read by more than 310,000 subscribers who are engineers and procurement professionals.
Take a look at the below example of a promoted content in TIU,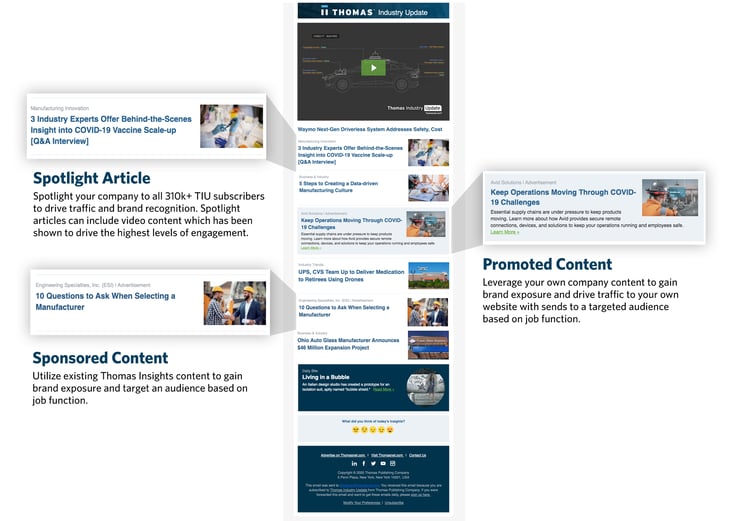 Display Advertising On Thomasnet.com
A display advertisement on Thomasnet.com that points visitors to a company's new metal stamping services page is likely to get an increase of high-quality traffic faster than a new services page with no advertising campaign to support it. That's because a display ad on Thomasnet.com is put in front of buyers, suppliers, and procurement managers who are actively searching for manufacturing products and services.
Display Ads and Search Ads On Google
Similarly, display ads and search ads on Google can be targeted to reach as broad or as niche of an audience as the manufacturer wishes. But the main difference between display and search ads is intent. The display ad network creates demand while search ads answer to the demand — both with the goal of driving traffic to your website.
That's why it's important to understand who your target market is, which platforms they do their jobs, and what information is it that they're seeking. This is called persona targeting and will help you place the right ads at the right time with the right content your prospective customers are looking for.
Curious to see who's searching for your products and services right now? Click here to request a free In-Market Buyer Report.
What Is Owned Traffic?
To impress a search engine like Google, you'll need to create strong content to establish yourself as an authority in your industry and build owned traffic. Owned traffic is from properties you own, like blogs and online guides on your website. They are extremely valuable marketing strategies that deliver consistent long-term traffic for your website and is an important baseline to build through the use of search engine optimization (SEO).
What Is Earned Traffic?
Earned traffic cannot be directly controlled and includes organic traffic from search engines and third party sites like social media, press, or reviews. Think of it like when a customer publishes a review of your service on their Facebook recommending your company to their friends.
Get Started With A Paid Advertising Campaign
PPC (Pay-Per-Click advertising) is a great tool for reaching customers online that acts as a pull marketing technique to bring customers to you based on their searches. Through PPC, advertisers pay only when a user clicks on their ad; these clicks increase website traffic and, ultimately, also increase the chances of converting these leads into buyers.
Using Google's quick setup guide can be helpful for setting up your first campaign, but many manufacturers are new to the online advertising world and there are a few additional tips we wanted to share with you so you don't burn through your budget. Remember, before you start any campaigns, you should have an optimized website with clear goals of what you'd like to accomplish, and know exactly who you are trying to reach.
After creating your Google Ads account and set up the basic settings, we recommend the following tips for effective campaigns.
Segment your campaigns, ad groups, and keywords to target different factors like keyword variations, device type, time of day, locations, and even budgets.

Match your ad copy to the landing page copy so your messaging is clear.

Use highly relevant keywords where the intent of the searcher is a lot more clear and relevant to the products you sell.

Choose where you want to advertise — country, state, region, zip code, etc. If you only have a limited budget, try targeting a broader audience first.

Choose when you want to advertise. Online advertising success depends on the right content at the right time. Most sourcing is done during the weekdays, so schedule your ads accordingly.

Add negative keywords to prevent your ads from showing up in unwanted queries and eating up your budget.

Utilize ad extensions to promote locations, phone numbers, and various landing pages to further drive traffic.





Optimize based on performance. Don't set your campaigns and forget them! Track them often to see how many page visits you're getting and the engagement that's happening on your website page. If you're not getting the results you expect, change your content or filters accordingly.

Don't be afraid to test. There are a lot of factors that can change your ad results and your website traffic.
Look Into Traffic Sources And Backlink Opportunities
If you head over to Google and type in some keywords related to your business, you may find some of your competitors ranking above you in this search engine. How are they doing this? There are many ways companies boost their rankings. Having high quality, long-form content is one way (which is why you should at least start blogging if you haven't already). And link-building is another. The two often go hand in hand since Google favors websites that are considered authorities in their industries and also have high-quality links going back to their web pages.
Once you know which companies are ranking highly for the search terms you'd like to target, you're on track to start your own out-ranking strategy. Explore other backlink opportunities using digital marketing tools. Keep a record of the URLs for each competitor you find in your search, and then head over to Ahrefs.com (a must-have digital marketing tool) to analyze backlinks. You'll be able to enter a company's URL to see how many backlinks they have and which sites they have backlinks from. From there, you can analyze the links to see if they are worth pursuing your own link-building efforts — an important one is on Thomasnet.com.
We've covered getting listed on Thomasnet.com in our Step By Step Guide To Getting Found Online. A listing on Thomasnet.com helps increase traffic to your website too. More than a million buyers, engineers, and procurement managers search for suppliers on Thomasnet.com, which means there's a high amount of traffic on there — a company listing backlink with your website on a high-traffic platform like Thomasnet.com will add value to your own website.
In fact, compared to organic visitors from search engines, visitors from Thomasnet.com who click on your website link from your Thomasnet.com company profile:
Bounce from your website 40% less often
Spend 65% more time on your website
Convert into sales leads 210% more often
List your manufacturing business for free to start driving more qualified traffic to your website. "Thomasnet.com simply delivers the purest industrial audience on the internet, and being there has helped us connect with new customers in new industries," said Pete Elzer, President at Apex Plastic.
According to Moz, "a backlink is a link created when one website links to another." They are also referred to as "inbound links" or "incoming links" and are important to building search engine optimization (SEO) traffic. Backlinks to your website will tell search engines that your website is worth linking to and will increase your ranking on search engine results.
Optimizing your website for search engines can be difficult, especially with all of the changing algorithms search engines use to rank web pages ("algorithms" are the formulas used by search engines to determine the search results). Since the industry is constantly changing, it's more and more important to keep your website's content fresh and neatly optimized.
Increase Your Social Media Presence To Drive More Website Traffic
Believe it or not, social media plays an important role in driving traffic to your website. Manufacturers are increasing their presence on LinkedIn, Facebook, Twitter, and YouTube because industrial buyers are using social media to look for products and services. Research is taking place here and business deals are being formed. Social media is not just for consumers anymore.
Thomas regularly surveys industrial buyers and suppliers to understand the latest buying trends. A recent survey reported that 41% of industrial companies said social media helps potential customers gain more information about their products/services. In some cases, it is information on a specific company or brand. "[I use social media] to get the names of potential suppliers and sometimes to better understand what is available," said one survey respondent.
Other buyers use social media platforms to get peer reviews and testimonials. "By networking within the 'groups' I can get first-hand reviews on companies and products," said a buyer. Another stated, "Opinions of others counts when researching products/producers with which I have little or no familiarity. It nearly always saves steps and helps to avoid pitfalls others may have experienced or likewise, benefits they have had."
Growing your social media networks takes time, but it's an investment that's hard to ignore. Social media makes it easier for customers and potential customers to get questions answered while simultaneously driving traffic to your website and increasing the volume of your sales funnel.
Increase Your Visibility By Driving Qualified Users To Your Website Today
There are many proven methods that drive quality traffic to your website that manufacturers are already using today — and it all starts with building a strong digital presence. If you're still one of those manufacturers that haven't tapped into the power of digital marketing and advertising yet, ask us for a free digital health check. We'll assess your current online presence and see exactly how you can improve — or click here to download the full marketing guide!
More In The Manufacturing Leader's Step-By-Step Guide Series:
Did you find this useful?