Advertise With The Thomas Industry Update Newsletter
Thomas has been dedicated to connecting industrial buyers and suppliers for more than 120 years, and our solutions today continue to drive that mission. With Thomas Industry Update Newsletter advertising, manufacturers and industrial companies have the opportunity to reach over 310k engaged readers to increase their brand, highlight new capabilities, launch a product, or announce an expansion or acquisition — whatever their business or marketing goals are.
What Is the Thomas Industry Update?
Thomas Industry Update, the industry's leading daily email newsletter, delivers the most popular industry news and trends from Thomas Insights including product announcements and information on the latest innovations to 300,000+ active subscribers. In particular, the email is personalized for each reader and features video and multiple articles focused on different topics to help them complete their jobs in the manufacturing and industrial space. In addition to personalized news content, it features original daily stories about trending topics, including:
Supply Chain
Engineering & Design
Career & Workforce
Manufacturing & Innovation
Industry Trends
Sales & Marketing
Readers subscribe to TIU for actionable information to successfully lead their businesses, find new industry partners, and advance their industrial careers. This presents opportunities for manufacturers and industrial companies to promote their business to the most qualified industrial audience on the web and target their most important buyers.
Newsletter Advertising Campaigns Designed For Your Manufacturing Business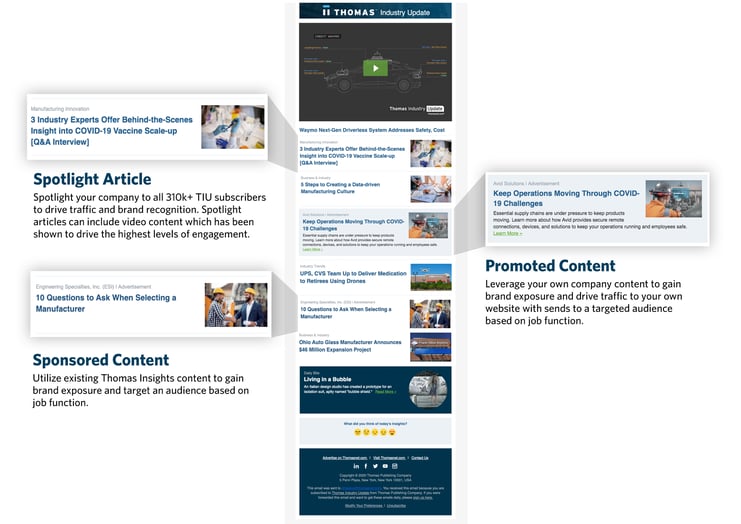 With Thomas Industry Update Newsletter advertising opportunities, manufacturers and industrial companies can choose from three advertising options to promote their company to targeted, opted-in professionals and the most qualified prospects in industries like aerospace & defense, automotive, electronics, food & beverage, and more. TIU subscribers customize their experience by selecting attributes of interest to them, choosing from many manufacturing and industrial product/service categories, and self-identify as being from 18 industries, and 5 job functions. This means you can precisely target the buying audiences that are most likely to engage with your content and become your customers.
Company Announcement
Businesses who choose the Company Announcement option will work with Thomas writers to create and promote your company's latest news in a press-release-style article that will direct readers to either your Thomasnet.com company profile or your website.
(Click here if you don't have a Thomasnet.com company profile yet.)
Promoted Content
If manufacturers have existing website pages and original marketing content to share with our audience, they can use our Promoted Content offer to increase their online presence. Businesses can share any unique content — a blog, landing page, online guide, etc. — and promote it in our email newsletter to gain brand exposure and target audiences by job type from different industries. This is an excellent way to reach out to new prospects and establish your brand as a thought leader in your space that can assist customers in completing their projects.
Spotlight Articles
For permanent exposure in our popular Thomas Insights section on Thomasnet.com, manufacturers and industrial companies choose our Spotlight Article offering to increase product exposure or highlight new service or product capabilities. Our Spotlight Article includes a custom article about your company professionally written by Thomas. Our technical writers and industry experts will collaborate with you to create a Q&A style article that will increase your brand exposure and drive traffic to your website. The article will get premium placement at the top of a TIU send and will be sent to all 310k+ subscribers.
Take Your Content Directly To The Most Qualified Prospects Today
The Thomas Industry Update Newsletter allows manufacturers and industrial companies to reach decision-makers that have specifically identified an interest in the product/service categories you offer. This is an excellent way to instantly expand your reach and hit new prospects from the professions that are most important to growing your business.
Promote your business to the most qualified industrial audience on the web and target your most important buyers with a custom newsletter advertising campaign today — click here to get started.
Did you find this useful?