Display vs. Search vs. Social Ads vs. PPC in Paid Advertising
Pay-per-click (PPC) advertising and other forms of paid advertising have become popular — and effective — marketing tools for many manufacturing companies.
However, if you're new to paid advertising, it's important to know that several disciplines fall underneath this umbrella. Understanding the differences and figuring out which industrial paid strategy will work best for your company isn't always easy or straightforward. We'll explore the advantages and disadvantages of each below.

The Basics Of PPC
Before we delve into the different types of paid advertisements, let's clarify what PPC advertising is.
The PPC advertising model places a company's advertisements in search results or on another website to generate more traffic back to the advertiser's site. The ads are usually tied to certain keywords in a search engine or placed on websites with similar content to the ad's products or services.
Rather than pay a standard fee for the ad, the company pays per click — that is, they pay each time someone clicks on the ad and goes to their website. PPC can be an effective manufacturing marketing tool because it can quickly and easily find potential new customers interested in the products or services that your company already offers. Because industrial PPC ads take potential buyers straight to your website, they also provide a direct connection with new customers without the hassle of trying to find them on your own.
With that in mind, executing, managing, and optimizing PPC can differ depending upon the type of advertising you are doing.
What Are Search Ads?
With the ubiquity of Google, Bing, and Yahoo, it's little wonder that search ads have become the most common form of paid advertising. Search ads are linked to certain keywords, and they appear along with your search results when a certain keyword or phrase is entered into the search engine. This particular form of advertising is especially smart because it places your ad in front of people who are already interested in your industry, service, or product.

With this approach, search ads can provide strong, high-quality leads for new customers. And because these individuals are already searching for a related item, there is a much higher likelihood that you'll be able to convert these leads into actual sales. These types of ads are also very simple and straightforward in their design — usually just a set amount of text — making it easier to use as a marketing strategy.
This simplicity can also be a drawback, however, as the lack of visuals and images in the ad itself can make it harder for your ad to stand out among others and engage new customers. Despite the simplicity, search ads can also be fairly expensive, as there is usually a great deal of competition surrounding them.
Pricing points vary, and since you're paying for each individual click, those clicks can add up — especially if you're not able to convert the majority of click leads into sales. Also, because the ads are linked to certain keywords or phrases, it can be difficult to get your message out to a wider audience.
Related: 5 Places To Advertise Your Manufacturing Business
What Are Display Ads?
Display ads are another popular form of industrial paid advertising that many companies use. These types of ads appear at the top, on the side, and in the middle of web content on almost every website. Display ads are known for their effectiveness — they reach more than 90% of people who surf the internet.
In fact, this high visibility gives them a wide reach among users to generate new traffic to the target site. Since these types of ads are fairly common, they face less competition and are less expensive than search ads. They're also much more dynamic than search ads — allowing you to use a mix of images and text to create an ad that can really engage your audience. With fewer limitations, your ads can be personalized to fit your brand.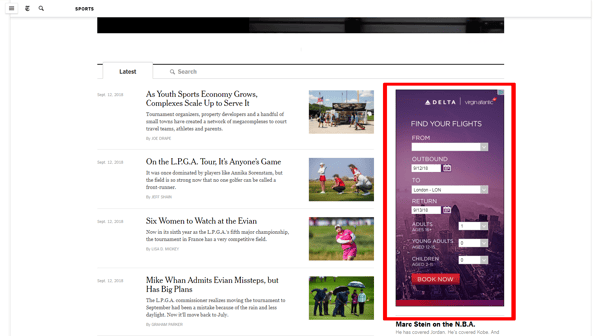 While the wide presence of display ads means that they can get you a lot of exposure, their prevalence can also be their downfall. Because they have inundated people's screens for so long —what feels like since the beginning of the internet to some — many people don't notice them or ignore them altogether. This can translate to a very small number of actual clicks on the ad.
The prevalence and oversaturation of display ads have also made many people associate them with spam, making internet users less likely to click on them. Many people go so far as to install ad-blocking plugins on their internet browser to limit the amount of ads that filter through to their screen. If your targeted audience uses an ad-blocking plugin, you could be wasting your manufacturing marketing budget on ads that might not even be seen.
What's key to making display ads work for you is choosing a platform that specifically has the buyers you want to do business with. Your advertisement should also be created with your buyers' needs in mind — don't make the ad all about you. For example, if you're looking to land a big company as your customer, the Thomasnet.com registered user audience includes buyers from 93% of the Fortune 1000 and could be the ideal platform for your ads.
Learn More: How To Meet The Needs Of B2B Buyers
---
Reach 310,000+ buyers
with an advertising campaign in the daily email newsletter,
Thomas Industry Update.

Learn How One Manufacturer Gained 100+ Qualified Industrial Sales Leads From One Newsletter Send.
What Are Social Ads?
Social ads are the fastest-growing segment of paid advertising, thanks largely to the growing popularity of different social media platforms among internet users. Many social media sites, such as Facebook, Twitter, and LinkedIn, are programmed to target specific audiences based on their network, hobbies and interests, and professions, among other factors. As a result, social ads effectively get your message to your intended audience quickly and effectively.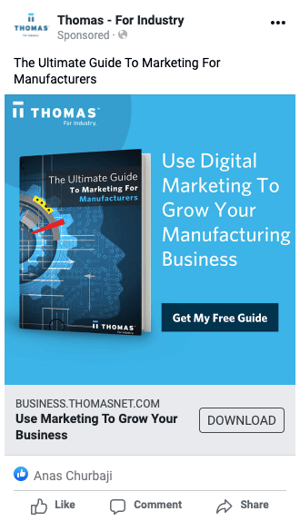 Social ads are also easy to use — making them accessible to nearly any size company or business. They're also very effective at reaching your targeted audience and have a high click rate. The ads themselves also have a certain degree of flexibility in terms of design and content — allowing you to really show your brand through your ad.
Since social media is a relatively new media and considered to be more popular among certain age groups, its use as a marketing tool might be met with some resistance by your company's leadership or stakeholders. Many people are also hesitant to adopt social media marketing because of its very different platforms and unique approaches to content. Thus, it might take more to convince your marketing managers or executives to invest in this particular form of industrial paid advertising.
Social ads can also be more time-consuming to create. Because new content is always being posted on social media at a very high rate — with different keywords and topics trending at a given moment — it's important to stay current with the latest content being posted. Additionally, social media networks are notorious for introducing new ad products, removing old ones, and changing specs, so you'll need to keep up at all times. Check out our eBook, The Complete Guide To Social Media Marketing to learn how to build your social network and your reputation as a thought leader.
Which Ad Type Is Best For Your Business Goals?
Depending on your target audience and your specific intentions, different advertising methods and platforms may be more worth your time and marketing spend. How do you make a decision on which type is best for what you're trying to achieve? We've broken down the options for you to make the right decision based on your specific needs:
Advertising On The Thomas Network
We've already discussed the effectiveness of display advertising, but we'd like to stress that advertisements like this work best when targeted. For just about every form of advertising, you should showcase what you have to offer in the places your prospects are going to be.
Display advertising on the Thomas Network allows B2B advertisers to target industrial buyers, procurement managers, and engineers in a space they are searching for the products and services suppliers. In this way, advertising can eliminate wasteful spending and increase your chances of getting found, evaluated, and shortlisted.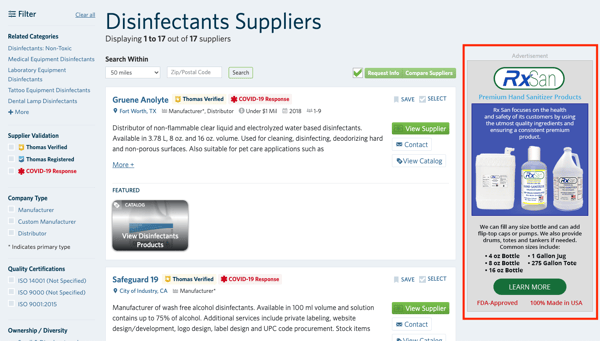 Get Started: Place highly targeted ads across the Thomas Network and on category search result pages that matter most to your business.
Display Vs. Search Ads
Some advertisers debate the value of classic PPC vs. display ads, but this can easily be decided depending on your business objectives. The main difference between display and search ads is intent. The display network creates demand while search ads answer to the demand.
Search network ads work best for intent-based searches meaning the user needs something ASAP and has searched something to help solve a problem. Intent-based search queries will more than likely have them click from a SERP to a specific landing page. You as the advertiser need to identify the terms that your buyers and target audience is searching for. Search ads are great for driving sales and seeing a huge ROI.
Display ads on the other hand are best for building awareness and can be bought on different models including CPM, and PPC. This type of ad format is usually seen while a user is browsing the web and forums. They may not be actively searching for your product, but display ads are like dropping little bread crumbs to your site. The user may not know who you are or that they need your product so it's your job as the advertiser to show them that there is a need for what you have to offer them. At this stage of the game, you're not trying to immediately generate the sale, but rather offer valuable content that will help build awareness. (More info about the content that aligns with each stage of the customer journey like awareness here!)
Search Vs. Social Advertising
Search and social advertising are both forms of paid advertising, but they each offer unique benefits, so understanding which is better for a niche industry is important. As we mentioned before, traditional search ads are best for targeting users who already know what they want.
Meanwhile, social advertising is increasingly coming to the forefront as a high contender of paid marketing efforts. To refresh, social media marketing allows you to connect with your existing industrial customer base and potential customers, ultimately driving leads and revenue. Similar to display ads, social advertisements are for a more passive buyer, yet this as a paid effort allows users to interact and improve click-rates with your content. This level of interaction from users and potential buyers on the actual social media platforms (Facebook, LinkedIn, Twitter) makes social media advertising different from any other paid marketing strategy. Considering that social sites like Facebook have over 2 million active users, it's clear that this is a growing platform to boost your business with some paid efforts.
Read More: What's The Right Mix Of Social Media Content To Post?
Begin A Paid Advertising Campaign Today
A strategic and targeted PPC program can be an effective part of your industrial marketing strategy. However, it can also be challenging, and without the right knowledge, those clicks can add up quickly. Plus, you'll want to make sure that the money you do spend helps you attract real, actual B2B buyers — not bots.
When done right, all of the above recommendations can help you drive industrial leads, but there isn't one particular formula that works for everyone. Many manufacturers and industrial companies have seen success with promoted written content to an audience targeted by job function (more on that campaign solution here) while other companies combine that type of paid campaign with video content.
Download our free eBook, 12 Tips To Begin PPC On The Right Foot for more ideas on a paid advertising campaign or check out the additional sources below:
Advertising options from Thomas to get seen by more buyers, engineers, procurement managers and MROs:
Did you find this useful?