Social Media Marketing Trends For 2018
If you're looking to boost your manufacturing sales this year, social media isn't just an option — it's a requirement. But the world of social media is constantly changing and evolving, with new trends cropping up every day. What worked in 2017 won't work in 2018. To stay ahead of the competition and set your company apart, it's critical to stay up-to-date on the latest trends and best practices.
So, what can we expect in social media marketing in the year ahead?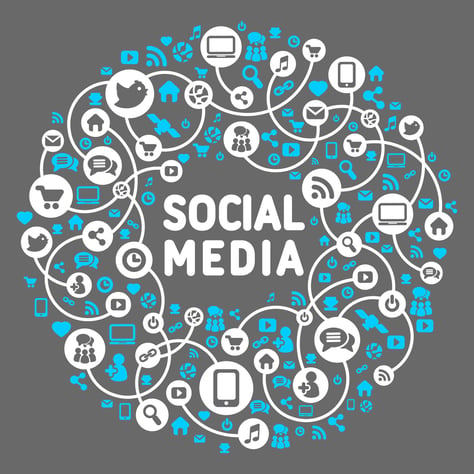 Organic Reach Will Get Shorter
It wasn't that long ago that a company's social media reach — meaning the number of people who see a post — largely stemmed from free, standard posting. This is no longer the case. The folks operating social media platforms have since discovered just how lucrative it is to prioritize paid content over organic content.
In fact, by 2017, as much as 98% of all Facebook reach was paid, and this trend shows no signs of slowing down. So if you're serious about establishing a strong social media reach to connect with potential clients, you're going to have to spend some dough. Test the waters with paid social advertising in 2018, paying close attention to your ROI.
Videos Will Rule
Assuming you have a pulse and an internet connection, you've probably been inundated with a lot of videos the past year. Offering video content has become standard practice for industrial companies looking to expand their reach, allowing brands to offer educational, directly useful information in a highly engaging medium. And where are people finding these videos? You guessed it — social media, where videos are 40 times more likely to be shared than other types of content.
But this isn't just about creating a video on your lunch break and slapping it up on Facebook. You need to create a cohesive video marketing campaign that actually works. Keep videos short and sweet, and engage your audience with a story that matters to them and their business. You'll want to avoid coming across as a salesperson; with so many other options out there, people won't sit through a promotion. Keep in mind standard video marketing best practices, and start experimenting.
If a 13-year-old can make a short film with their iPhone, then you can come up with a compelling and engaging piece that people will want to share and discuss on social media. Here's a good place to start:
Live Streaming Will (Finally) Come Into Its Own
Apps such as Periscope introduced live streaming on Twitter. Facebook soon added live streaming as well. Users are picking up on the value of these services, but marketers have wildly underutilized this tool. Why? It could be that they were turned off by the seeming complexity of live streaming, or perhaps by the need for expensive camera equipment or smartphones. But as technology improves and becomes more affordable and accessible, the industrial marketing world is beginning to familiarize itself with this unique capability.
In 2018, more and more companies will likely be swapping out the standard webinar for a more interactive, modern live stream. We may even see a surge in the use of Google Hangouts, an app released in 2013 that allows multiple people to video conference at once. The app struggled to gain adoption due to various technological restrictions but has been gaining momentum in the past couple of years. New group video chat apps like Houseparty will likely become more popular as well.
Personalization Will Be A Must
Every day, your customers are subjected to social media streams that are packed to death with content. If you want to stand out from the crowd, you'll need to provide content that directly resonates with your audience and their specific needs and goals. Think about what your target audience struggles with on a day-to-day basis, and what they hope to achieve by accessing your content. How can you make their lives easier and make their business more successful?
Making use of persona targeting practices can greatly improve engagement, allowing you to target specific groups of people at different stages of the buying journey. This will help establish you as a knowledgeable industry leader attuned to the various needs of the industry.
Learn More
All of these tips can help you stay ahead of the curve in 2018, but keep in mind that trends come and go quickly in today's age of rapid innovation. Want to know the best way to stay on top of new tools and trends? Watch your own social media feed. See what's emerging and play with it; don't be afraid to experiment.
Need some help keeping up with these innovations and advancements, or just need some general guidance on social media marketing for industrial companies? We're here to help; contact the team at Thomas Marketing Services today to discuss how establishing a strong social media presence can help grow your business and attract new customers.
Did you find this useful?