SEO Vs. SEM Vs. PPC For Manufacturers: What's The Difference?
The industrial manufacturing sector is constantly seeing new technological innovations and advancements as businesses compete to stay ahead of the competition and at the forefront of their industry. Similarly, digital B2B advertising and marketing practices undergo the same rapid rate of change and advancement. But with so many options and platforms available today, getting started can be daunting — especially if you're new to the industrial marketing world.
Some of the most common questions we field at Thomas involve a slew of acronyms — SEO, SEM, and PPC: What's the difference between SEO, SEM, and PPC, and what can they do for my company?

What Is SEM?
Search engine marketing (SEM) is the umbrella under which all digital marketing tactics fall, whether free or paid. The ultimate goal of SEM is to increase your company's website visibility on search engines — and by search engines we mean Google, Yahoo, and Bing. SEM is also referred to as search marketing, and Google is the most popular search platform.
Search engine optimization (SEO) and pay-per-click (PPC) fall under the SEM umbrella. SEM has become a crucial part of a company's marketing strategy — the majority of new visitors to a website find it from a Google search. This presents an opportunity for manufacturers — buyers are researching you online and since they enter search queries with the intent of finding information, they are in the right position to receive marketing messages (but make sure your content connects with them or else they simply won't click!)
What Is SEO?
Search engine optimization (SEO) is the implementation of various techniques designed to increase your ranking on search engine listings; smart SEO strategies are what help get companies on the first page of search results. The trick — and this is where the pros come in — is to design a comprehensive marketing campaign that utilizes a variety of keywords to enhance your relevance. So if your company provides tooling services, you'd use a different set of keywords than a company involved in lubricants or petroleum products.
The benefit here is that you have some level of control over how you drive traffic to your site, as SEO also analyzes user behavior, allowing you to adjust, or optimize, your messaging and website to increase the relevancy of your links and keep them as high up on the list as the search engine allows. If you do your job right and manage to place high on the more widely used search engines, you'll significantly increase your credibility. Users trust Google, and if your links are listed high in their search results, they'll also trust your the validity of your content and your business.
Learn SEO best practices for your URL structures and rank higher on Google
SEO is a relatively low-cost SEM option, especially compared to PPC. When developing an SEO campaign and optimizing your content to reach your targeted audience best — and, therefore, increase website traffic — you can either create the content on your own or contract the work out to professionals specializing in digital marketing.
Of course, there are some challenges involved in creating an effective SEO marketing campaign — check out this post for Getting Started With SEO Basics! For one, it requires constant vigilance. Search engines such as Google constantly update and alter their algorithms to maintain neutrality, eliminate scams, and so on. And there's no guarantee that your efforts will generate actual, qualified buyers. However, if your goal is to increase visibility, then you're on the right track.
Learn More: How To Increase Your SEO Traffic (An 8 Day Planner)
Industrial SEO Examples
Air Innovations Earns A Featured Snippet With A Strong SEO Strategy
Air Innovations is a manufacturer of environmental control systems. With ~2,000 sessions to their website per month, Air Innovations needed a plan to boost quality organic traffic. With the help of Thomas Marketing Services, they developed an ongoing SEO strategy based on keyword research and a content plan focused on diversifying content.
The Thomas content team created a comparison blog titled, "Negative and Positive Pressure Rooms 101." This blog focused on long-tail keywords, and with the help of a supporting backlink from Thomas Insights, Air Innovations started to see results — one that even earned them a "Featured Snippet" on Google.
Read the full success story here.
Terms mentioned that you should know:
Long-tail keywords: key phrases that are specific and often searched for. These keywords tend to be longer meaning they may get less search traffic, but they can boost conversion rate because the words are more specific and less competitive.
Backlink: A backlink is a link from one website to another website that will help improve your SEO. Receiving backlinks from a high authority site like

Thomasnet.com

will help make your content more discoverable and boost page rankings in SERPs.
Triad Magnetics Gets A Website Overhaul To Increases Website Traffic And Generate More Leads
Triad Magnetics is a manufacturer of transformers, inductors, high frequency magnetics, and power supplies. The team at Triad Magnetics was seeing very little growth from website metrics and knew that it was time for a website redesign. They hoped to increase page views and overall site speed — both metrics that would contribute to Tridad's overall SEO.
Google rewards websites that produce long form content that is updated regularly. With a newly designed website developed by Thomas website experts, Triad increased traffic to its website with an organized product catalog that elevated lead gen efforts.
Read the full success story here.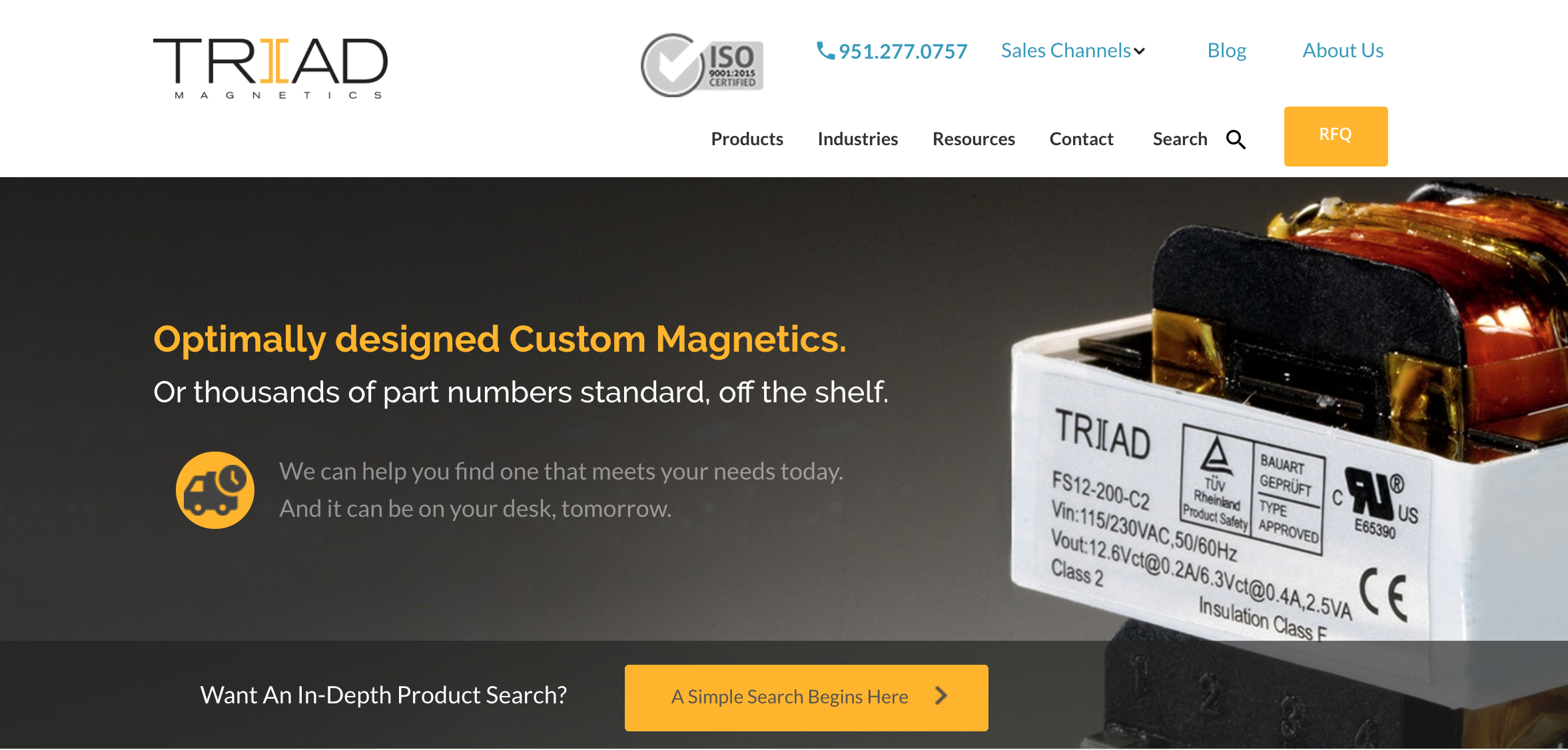 What Is PPC?
Pay-per-click marketing is a different animal. PPC uses a formula to gauge the price of an online ad, and advertisers then pay a fee each time a user clicks on that ad, regardless of the outcome. Companies pay for the click no matter what, whether the user ends up putting in a massive order or immediately exits the site. The PPC advertiser can enter a bid on specific keywords — which plays a significant role in determining what the cost per click will be — or they can pay a fixed rate per click, which will depend on the specific network or publisher they're working with.
PPC ads are typically the banners you see on the edges of a window when you search, and often the first listings you'll see in search engine results; they'll be marked as ads or sponsored results. Certain websites will also offer PPC opportunities. There are also different kinds of PPC ads — generally referred to as display advertising. For example, one display ad can be a mix of an image, video, and text. What works best for you will depend on your ultimate goals.
Read More: Display vs. Search vs. Social Ads vs. PPC in Paid Advertising
The primary benefit of PPC is that you're paying for the ad space, so you can be sure you'll be prominent in user searches. PPC is also fairly simple to set up and understand when compared with the complexities of SEO. However, PPC fees only guarantee visibility; as mentioned earlier, you pay regardless of the outcome of the click. And, compared to SEO, you have less control over the the type of traffic you garner.
Bonus: At Thomas, we use Bannersnack, an online banner maker to create display ads for our own brand. This easy-to-use tool allows you to create custom layouts, and animate your designs. If you're still asking yourself, what is a display ad? this tool may be great for you.
Reach More Buyers With Digital Marketing Campaigns
Like any other business undertaking, industrial marketing requires careful planning and a fair amount of trial and error, especially when just starting. In today's increasingly competitive landscape, it's important to remember that digital marketing doesn't involve quick fixes to get your business found. The industrial buying process is complex, and to reach them effectively at all stages in their journey, you must be where all your buyers are.
If your goal for now is to simply boost visibility and traffic, then SEM, SEO, and PPC offer a good foundation. If you're more concerned with getting actual results and understanding the reporting behind it all, though, we can help bridge that gap. We know how industrial buyers think, work, and search. Read more about the three B2B buyer personas that influence the buying process here and contact us to find out how we can create customized paid and organic strategies to attract your target customers.
Thomas offers a free digital health check for manufacturers to see exactly how they can improve their online tactics and how their online presence compare against competitors — request your free digital health check here.
Learn more about digital advertising options from Thomas to get seen by more buyers, engineers, procurement managers and MROs:
Did you find this useful?